Podcasts are a great way to broaden your mind and expand your knowledge on a variety of subjects without the investment of a lot of time or money. Our Best Business Podcasts by Women list is an excellent resource for those who are working towards their business degree, in the corporate world, or just stepping out into their entrepreneurial journey.
The podcasts that we chose were all created by successful women from a variety of industries and backgrounds. The hosts give actionable steps that are relatable to business women and business men on many levels. Some shows focus specifically on tactical advice while others dive into subjects like love, being a working parent, financial literacy, and more.
You will find that the women on our Best Business Podcasts by Women list have all experienced immense success, as well as periods of trial. The stories that they share combined with their expert guests create an endless library of learning.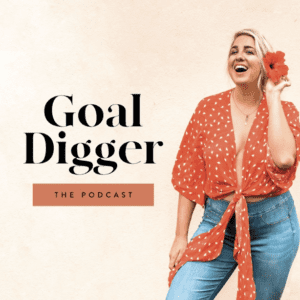 The Goal Digger Podcast is hosted by Jenna Kutcher, a momma from Minnesota who left her corporate job and became the CEO of a multimillion-dollar organization. Jenna has a passion for helping other women reach their personal and professional goals. Recent podcast episodes have discussed relevant topics like-how to utilize Instagram in 2021, manifesting and positive thinking, enforcing healthy boundaries, limiting beliefs, and more. A few of the notable guests who have joined the show are Amy Porterfield, Cathy Heller, Jamie Ivey, and Melyssa Griffin.
The Podcast has over a million downloads and 10,000 plus positive reviews with an average rating of 4.8 out of five stars. In the reviews, the show has been noted for being inspirational, down to earth, educational, and relevant to those in many areas of business. The show is geared towards entrepreneurs but definitely offers information that is useful to those in any positions related to marketing, management, communications, creative endeavors, and more.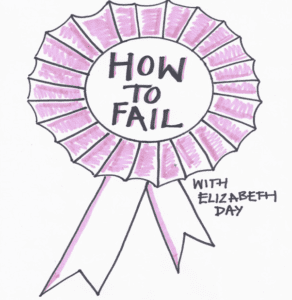 Elizabeth Day hosts the How To Fail Podcast. The show focuses on learning from failures and using them to propel future business endeavors. Each week Elizabeth interviews people from all walks of life who have overcome failures and struggles. In recent interviews, she has spoken with Annie Nightingale, Mohsin Zaidi, Ruby Wax, and Leanne Hainsby. Each episode of the How To Fail Podcast is unique. The guests share their personal experiences, but the wisdom behind those struggles is easily applicable to people at any point in their personal development or professional journey.
Of nearly 6,000 reviews, the show holds an impressive 4.8 out of five stars. Recent responses praised the show as binge-worthy, uplifting, and honest. To learn more about the host of the show, Elizabeth Day, listeners can check out her website, four novels, and most recently, two non-fiction books that offer a truly unique view of failure.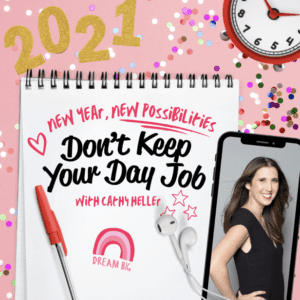 The Don't Keep Your Day Job Podcast helps listeners turn their passions into profitable full-time career opportunities. Every week Kathy Heller shares her microphone with successful entrepreneurs who have taken their creative side gigs and turned them into flourishing businesses. The goal of the Podcast is to offer listeners practical steps to make their dream job a reality.
With over 350 episodes to date, there is never a dull moment on this show. Throughout the show, there have been many notable interviews with professionals from a variety of fields, such as blogger Seth Godin, Starbucks' Howard Schultz, designer Jonathan Adler, Shark Tank's Barbara Corcoran, and Gretchin Rubin. Recent topics on the show have included interesting chats about abundance, money, how to build engagement, the law of attraction, and more. Out of more than 4,500 reviews, the show is recognized as life-changing, inspiring, enthusiastic, and motivating.
Online Marketing Made Easy with Amy Porterfield is a top-rated podcast with nearly 400 episodes and an average rating of 4.9 out of 5 stars. Listeners have recently said that the show is practical, inspiring, and a fan-favorite. Thousands of listeners tune in weekly to listen to expert interviews, behind the scenes snippets, and actionable tips and tricks for those in the business field.
One of the highlights of the Podcast is Amy's ability to break down strategy and big ideas into step by step plans that help listeners reach their goals at a faster rate and with less stress. Recent episodes have covered relevant topics like sales page struggles, common Facebook ad mistakes, messaging, VA solutions, and more. The Podcast's website makes it easy to find episodes related to your needs through curated collections that address the topics for new businesswomen related to starting strong, scaling fast, and selling more.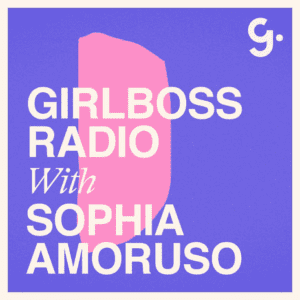 Girlboss Radio podcast has had more than 23 million downloads to date. There are currently more than 200 episodes to choose from, and the show has more than 1,000 reviews. Listeners who wrote reviews commented that the Podcast was unique, motivating, and interesting. Many reviewers commented on the powerful women who are on the show. The host, Sophia Amoruso, interviews boundary-pushing women with many areas of expertise. Recent guests have included Claire Vivier, Saweetie, Amy Pascal, Emma Grade, and Melissa Grady. Each guest brings their unique experiences, strengths, and stories to the table.
Those looking for more great content can head over to Girlboss.com and check out the blog. This is another great free resource that is easy to access. Busy boss babes will love the articles that can typically be read in around 15 minutes. The articles fall under the categories of beauty, identity, life, money, wellness, and work and tie in nicely with many of the subjects discussed on the Podcast.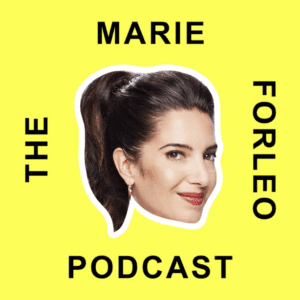 Marie Forleo is the CEO of one of Inc.'s 500 fastest growing companies, MarieForleo.com, and was recently named one of Oprah's thought leaders for the next generation. In the Marie Forleo Podcast, guest share strategies for a greater life in all areas, including but not limited to motivation, success, productivity, love, finances, fulfillment, and more.
The Podcast focuses on walking listeners through both their business and personal successes and struggles. Listeners can even go to marieforleo.com/marietv to request show topics and ask questions. A few of the discussions held recently were about setting reasonable goals, how to live without regrets, moving forward after failure, money mindset, and more. The Podcast is uniquely interwoven with Marie's MarieTV platform. It allows listeners to watch many of the episodes as they are happening. The MarieTV website also serves as a powerful tool to podcast listeners because episodes are conveniently categorized by categories like Strengthen Your Soul & Mind, Focus & Be More Productive, Overcome Fear and Self Doubt, and Grow Your Wealth.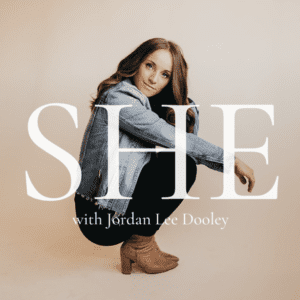 The host of the SHE podcast, Jordan Lee Dooley, is a national bestselling author, speaker, and encourager to women. The podcast covers an array of topics that are relevant to businesswomen everywhere, like creating a successful brand, business strategies, cultivating healthy relationships, faith, and money management.
The show is a great mix of featured guest speakers and straight talk from Joran. Recent episodes featured recognizable guests like Melissa Lin, Lysa TerKuerst, Morgan Maxey, Rachel Cruze, and Myquillin Smith. Discussion topics are as diverse as the guest list. They have covered how to set boundaries to avoid burnout, leaving a legacy, building a healthier home, improving financial health, and more. With an average of 4.9 out of five stars, it is no wonder that the SHE podcast has an average of 50,000 downloads per episode and over 4,000 happy reviews. You can learn more about Jordan through her bestselling book, Own Your Everyday.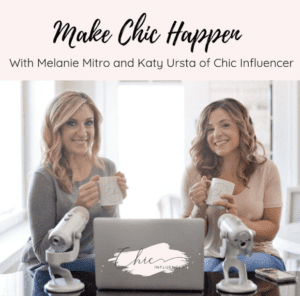 The Make Chic Happen podcast is hosted by dynamic duo Melanie Mitro and Katy Ursa. The show focuses on all things related to female entrepreneurship, including juggling boss life, mom life, and wife life. These ladies have over seven years of successful business experience and offer tactical advice for busy women.
Recent episodes have tackled meaningful topics like how to deal with friends who don't support your business, tips to make the algorithm work in your favor, common social media mistakes, network marketing, and passion projects. With an average rating of 4.8 out of five stars, it is no surprise that recent reviewers raved about Make Chic Happen's no fluff strategies, inspirational topics, and general encouragement for reaching your business goals. Nearly every episode is under 35 minutes, making it easy to listen to an entire episode on your commute, a run, or while at work.
So Money with Farnoosh Torabi has been recognized as a Top Female Hosted Podcast by Entrepreneur Magazine, Financial Podcast Award by Plutus Awards, and as a Top Podcast to Grow Your Business by Inc. Magazine. There are an impressive amount of episodes, with the current number sitting just above 1,175.
Farnoosh is a best-selling author, TV host, and award-winning financial strategist. In each episode, she brings together her personal business savvy and top authors, business minds, and influencers. A few of her recent guests have included Margaret Cho, Queen Latifa, Barbara Corcoran, Tim Gunn, and Kara Swisher. Episode topics are varied and have included conversations on finding your dream job, money fluency, creating a healthier money mindset, smart ways to earn a passive income, and managing student loan debt. There are more than 1,200 positive reviews for the So Money podcast. Listeners have commented on the show as being life-changing, inclusive, refreshing, and motivational.
The chart-topping Influencer Podcast is hosted by Julie Solomon. The show has 250 episodes currently and offers an innovative focus on starting, growing, and expanding your brand and business. Of the 1,200 reviews, the Podcast has an average rating of 4.7 out of five stars and has been noted as purposeful, helpful, motivational, and inspirational.
Episodes are a mix of Julie's expertise and guests like blogger Danielle Silverstein, content planner Kat Gaskin, e-commerce experts Zac & Nicole Long, and renowned speaker and author Brianna Weist. Listeners can dive into interesting topics such as legal concerns for content creators, creating an impact as a new blogger, starting an e-commerce business, and mindset shifts to help you grow your business. Solomon was recently named among the Top 100 leaders in influence marketing. She splits her time between Nashville and Los Angeles and offers a variety of resources for entrepreneurs who are looking to level up their business with efficiency and heart.
For those women who may be considering earning a business degree at the bachelor's or master's level, our Best Business School's for Women ranking is a great place to start your research. Business degrees offer flexibility and versatility that is not often found in other career paths. The schools on our ranking are all AACSB accredited and mentioned among the best in the nation on various levels. They also have support systems within their programs that specifically support women.
With women currently creating more than 50% of the overall workforce in the United States, it is imperative for females to have role models and guides for navigating the field of business, which has previously been dominated by men. There are also more than 12 million female-owned businesses that operate in the U.S. today. These businesses contribute an impressive $1.8 trillion per year to the economy. Recent BLS data shows that financial operations and business occupations will be on the rise by five percent from 2019 to 2029. This is expected to create over 450,000 new careers, half of which will be taken by women.
For those who are already crushing their career goals, we also have a list of Top Successful Business Women to check out for more inspiration. As women, it is important to embrace our own unique journey, skills, and creative talents, but there is also much to learn from those who have paved the way before us. Our list of Best Business Podcasts by Women represents thousands of episodes and hours of content created just for women like you. Each Podcast is just as unique as the women who run it, and our hope is that you will find a program and career path that will resonate with you and help you elevate and reach your personal and career goals.
Related Resources
Best Business Schools for Women
Top Successful Business Women