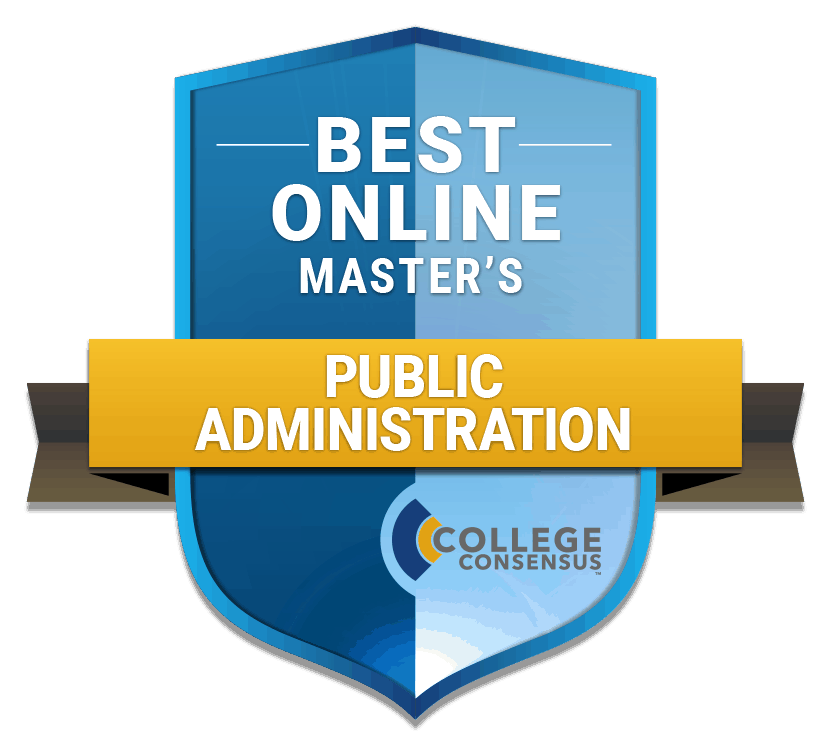 An Online Master's in Public Administration program provides a variety of rewarding career choices. The MPA degree allows graduates to make an impact on society through the management of important issues and problems that affect the general public. Specifically, online MPA degrees provide robust educational foundations for public policy managerial and leadership positions in nonprofit and public sectors. Graduates of these degrees go on to work in government agencies, nonprofits, public management, health and human services, and nongovernmental organizations.
Graduate students seeking a Master's in Public Administration, online or on-campus, receive the approved professional credentials for public service that professionals wanting to advance into mid-level and upper-level management positions need. Any MPA program worth its salt will be one that delivers the knowledge of values, practices, roles, and skills that will help students become ethical, inclusive, intelligent, and creative leaders in public service through a practical and innovative curriculum. Graduate students should expect to engage with faculty, form community partnerships, and have access to a vibrant alumni network.
Online Master's in Public Administration students will build a solid foundation of core competencies focused on management within the field of public service. This degree's curriculum will include core business management topics, similar to an online MBA. These topics include human capital management strategies, the role of strategic planning and management, budgeting, and accounting. But the curriculum will also be particular to the public sector, with topics such as the dynamics and structures of public service organizations, leadership ethics, and value-based problem-solving techniques. They will also cover financial management of nonprofit and public organizations, statistical tools for conducting research and analyzing data, and effective management practices for government and nonprofit leaders.
Graduates from an Online MPA will be equipped to lead at all levels of government and in the nonprofit sector. The Online Master's in Public Administration is an exciting program that has countless benefits for distance learners. Here are 25 of the very best programs in this field of study.
Methodology
To find the best Online Master's in Public Administration programs, schools offering distance-based MPA and EMPA programs were examined. These programs were ranked upon their reputation, convenience, and affordability.
Reputation
To find a consensus on each program's reputation and prestige, data was combined from US News and World Report, The Princeton Review, and each school's College Consensus Score. This data was averaged and placed on a 100-point scale. The Reputation Score for each online MPA attributes to 33% of the final ranking score.
Convenience
Each MPA's convenience was calculated from two factors: whether it can be completed in a 100% online format, and if the GMAT/GRE test score requirement is waived or omitted during the admissions process. Each MPA's Convenience Score attributes to 33% of the final ranking score.
Affordability
The affordability for each MPA is correlated to the base tuition. All financial data was taken from each individual university's website. The tuition was inverted and placed on a 100-point scale. The MPA's Affordability Score attributes to 33% of the final ranking score.
A degree like the Online Master's in Public Administration is designed to help leaders enhance their skills and knowledge to make a positive difference in their lives and the communities they serve. While pursuing this degree, individuals can develop the skills needed to aid them in leading teams and making critical decisions within many types of organizations, including law enforcement agencies, governmental agencies, city departments, and nonprofits. Within today's expanding industry, there are more reasons than ever to consider an Online Master's in Public Administration.
Here are Five Reasons to Consider an Online Master's in Public Administration
1. An Online Master's in Public Administration Broadens Career Options
This type of degree provides graduate students with several influential and intriguing opportunities within industries like nonprofit management, the federal government, law enforcement, and state/local governments. Within each of these industries, professionals can discover positions as fiscal managers, organizational leaders, municipal governors, public workers, criminal justice officers, and public safety officers. Workers in these fields will often be able to advance into other roles as well. An Online Master's in Public Administration can provide a solid education that will launch graduates into careers as human resources and communications experts.
2. An Online Master's in Public Administration Enhances Salary
There are many motivations behind why a professional might pursue an advanced degree like the MPA. These motivations may include making a difference and developing new knowledge and skills; however, salary is another vital consideration. On average, MPA graduates earn a salary of approximately $67,000. Other positions within the field report lucrative salaries. Government affairs executives are at $200,000; Human Resources managers report $113,000; social and community service managers at $70,000, and purchasing managers report annual incomes at an average of $67,600.
3. An Online Master's in Public Administration Capitalizes On Robust Market Growth
An essential factor to consider when researching a career in public administration is the growth of the job market. According to the U.S. Bureau of Labor Statistics, the public administration industry is steadily increasing and developing a number of opportunities for Online Master's in Public Administration graduates, such as a plethora of career opportunities, high potential for advancement within an organization, and opportunities for entrepreneurial or leadership roles. The market has grown above the national average for social and community service managers, which reports a 10 percent job growth rate, human resources directors with a nine percent job growth rate, and administrative services managers with an eight percent job growth rate.
4. An Online Master's in Public Administration Student Benefits from an Accredited Online School
While pursuing an online program, graduate students can balance work, their personal lives, and school, all while interacting with and learning from other students across the country. Online education also offers the convenience of self-paced learning as graduate students can study and work through class assignments when and where they want. When considering an online program, it is essential to find one that is NASPAA accredited or at least offered by a regionally-accredited college to ensure the quality of the degree. Many accredited online degrees feature an identical curriculum and list of instructors as their on-campus counterparts. Program researchers seeking further confirmation can look into the Commission on Peer Review and Accreditation, which provides a comprehensive list of all certified Master of Public Administration programs.
5. An Online Master's in Public Administration Will Establish & Expand a Network
An online program's format enables graduate students to interact and network with peers from diverse skill sets and backgrounds. Distance learners obtaining an Online Master's in Public Administration also have the benefit of working alongside and networking with prestigious faculty, many of which are often well-respected leaders in their scopes of influence. Through these professional and academic relationships, students have the chance to establish personal and professional connections that prove beneficial for potential career opportunities in the future. Students are often given access to alumni networks where they can network and connect with established professionals in several industries.
Online Master's in Public Administration programs often attract a special kind of individual—one who is determined to become an agent of positive change by serving the public in government or nonprofit leadership positions. Master's degree holders in public administration can grow as public sector leaders who help implement policies and procedures and design and administer public programs. They assess the needs of vulnerable and at-risk groups while collaborating with other agencies and resources to offer needed solutions and services.
The current job market for public administrators is developing across a wide variety of government agencies, from health and social services to emergency management. Online MPA students with a passion for serving the public become city managers, government relations officers, budget managers, department heads, public health administrators, operations managers, management analysts, and human services agency managers. Some graduates of Online Master's in Public Administration programs choose careers in nonprofit and nongovernmental organizations (NGOs). As they operate independently of government organizations, nonprofits and NGOs can often be more flexible and innovative in their range and choice of policies and programs.
GrantSpace is a social sector learning community. It speaks into the activities of an NGO as having most to do with human rights, environmental, advocacy, and social work. NGOs can work to promote political or social change on a broad scale or at the local level. They play a critical part in developing communities, improving society, and promoting citizen participation.
Nonprofit organizations must learn to deal with their unique issues, including funding programs, lobbying for legislative reforms, recruiting and retaining volunteers, and analyzing public policy. Professionals and students considering a career in the nonprofit sector might opt to complete an Online MPA with an emphasis in nonprofit management and leadership. As you can see, there are some excellent reasons to consider a degree like the Online Master's in Public Administration. The program provides students with the skills and knowledge they will find valuable for the extent of their careers.
Related Resources: