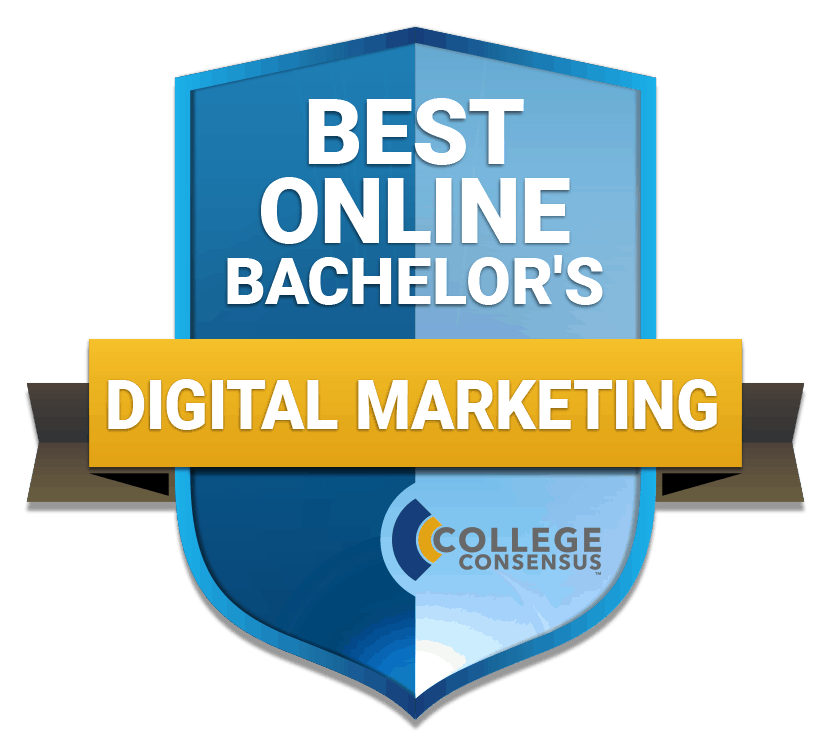 A bachelor's degree is often the first step towards any career. There is so much innovation related to the field of marketing that a four year degree will cover all of the bases to get your foot in the door for this lucrative discipline. The Bureau of Labor Statistics has projected a minimum of an 8 percent increase in marketing jobs (which includes advertising, promotions, and marketing) between 2018 and 2028. This statistic expresses a more rapid growth then the average career. This is a pathway for those who are interested in leaving their mark while supporting businesses and organizations to grow and thrive. Marketing students will learn how to assess the vision behind any business and come up with a brand that will engage audiences. This includes the use of storytelling, search engine optimization, and data analytics.
There are more programs available in flexible online formats these days. In fact, there are countless digital marketing degree programs that are delivered in a flexible online format. Many of them are designed to be convenient enough to participate in while working full time. This includes programs that can be logged into at any time using an asynchronous format. We have ranked the best online digital marketing degrees using the following metric:
Cost
Reputation
Graduate Success Rate
How Do I Choose a Digital Marketing Degree Program?
As you can see from the above schools that we have ranked, there are so many excellent choices when it comes to looking at the best digital marketing degree programs. It is important when investing in an academic trajectory that you look deeply at what your goals are within a program and also following the completion of the coursework. The concept of the best digital marketing degree is a personal choice, as everyone has their own nuanced idea of what it is that they are trying to achieve in school and beyond. Some people might be looking for flexibility, while others are interested in prioritizing a hands on learning experience. This includes the option participating in an internship and/ or working within a company or organization that focuses on marketing. You will also notice that some degrees on this list have more of an emphasis on the arts while others prioritize business and business analytics and strategy as they relate to business administration and marking. The other thing that is preferential when it comes to finding the best digital marketing degree program is if the student is interested in studying in a synchronous or asynchronous format. This means that students might want a program where they can log in at any time versus one that has set class times. 
Is a Digital Marketing Degree Worth It?
This is again a very personal question. You may be asking yourself Is a digital marketing degree worth it? Well, there are many ways to gain the skills to work in the field of marketing. This can include primarily utilizing hands on experience or achieving a digital marketing certificate, or one might choose to go the route of getting a digital marketing bachelor's degree. While a digital marketing certificate is much more economical, it is hard to enter the workforce in many circumstances without a bachelor's degree. If you already have a bachelor's degree in another field, maybe a certificate is a better fit, but if you are starting from scratch, I would go as far as to say, yes. It is worth it. Though don't quote me, because this is of course a subjective question. If you do not have a bachelor's degree and are interested in the comprehensive field of marketing it would certainly be beneficial to take the path of achieving a marketing bachelor's degree. 
How Much Can I Make with a Degree in Digital Marketing?
According to payscale, a digital marketing degree salary is on average $69,166. This, however, offers a wide range. A digital marketing degree specialist makes something within the ballpark of $51,000, while a vice president of marketing might make something like $153,000. This is to say there are many variables in this field, but set your standards high. You can even think big when it comes to a digital marketing education. It is an achievable goal to get a masters degree in digital marketing as well, if you are interested in leadership roles. Experience and education are huge factors when it comes to achieving a high digital marketing degree salary. There are many ways to approach this career path, and as you can see, many focal points that are addressed within related bachelor's degree programs. 
Related: