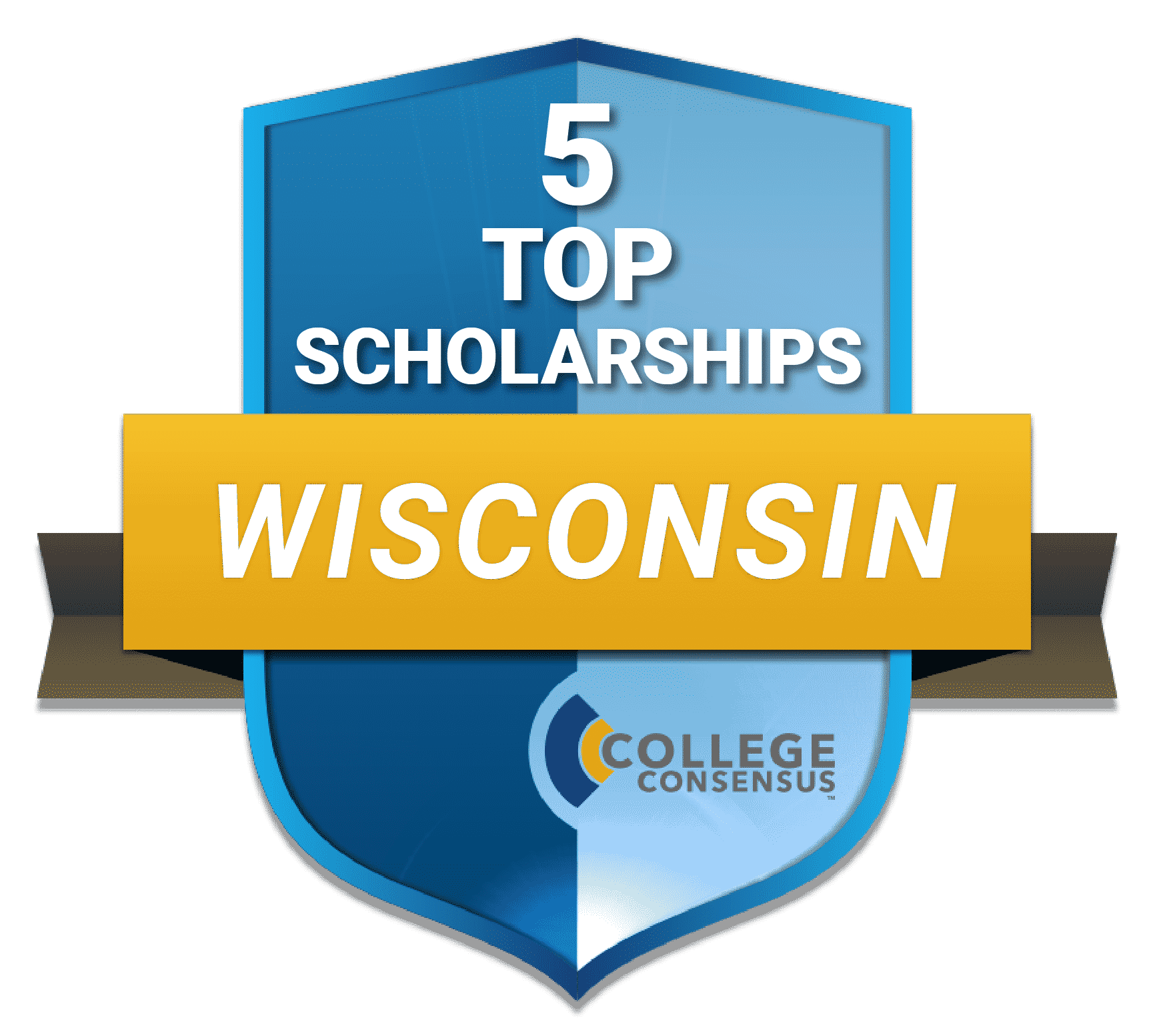 Despite the wealth of available scholarships for Wisconsin residents, students across the state are taking on thousands – sometimes tens of thousands – of dollars in debt for the privilege of obtaining a college education when there are over a dozen state-sponsored scholarships and grants that they could be taking advantage of. There's no reason for it, in a state that not only has some of the highest-ranked and most affordable public universities in the US, but a wealth of scholarship opportunities. If you're looking for Wisconsin college grants and scholarships and you live in Wisconsin, you're in luck. 
The College Consensus list of the Top 5 Wisconsin Scholarships is just a taste – there's a lot more out there for first-generation, nontraditional, minority, and every other kind of student. We have listed programs alphabetically by title.
See Also: Best Scholarships for Online Students
Does the State of Wisconsin Offer Grants and Scholarships?
Here are all of the grant and scholarships for Wisconsin students available through the state:
Carson Scholars Fund, Inc. – Deadline: 12/20/2019 – Amount: $1,000
Presbyterian Student Opportunity Scholarship – Deadline: 5/15/2020 – Amount: $3,000
Richard Weinreis Memorial Scholarship – Deadline: 3/31/2020 – Amount: $300
Tall Clubs International Student Scholarships – Deadline: 3/1/2020 – Amount: $1,000
Upper Midwest Emmy Chapter/Foundation Scholarships – Deadline: 2/5/2020 – Amount: $3,000
Vincent L. Hawkinson Foundation Scholarship – Deadline: 3/15/2020 – Amount: $5,000
Wisconsin Indian Student Assistance Grants – Deadline: Varies – Amount: $1,100
Wisconsin Minority Undergraduate Retention Grants – Deadline: Varies – Amount: $2,500
Wisconsin Talent Incentive Program (TIP) Grants – Deadline: Varies – Amount: $1,800
Zonta Club of Madison Young Women in Public Affairs Award – Deadline: 8/1/2020 – Amount: $40,000
As you can see, there are plenty of opportunities to obtain scholarships for college students in Wisconsin. If you live in the state and are seeking to improve your career prospects through higher education, state of Wisconsin scholarships are your best bet.
Do I Need Good High School Grades to Get a Scholarship?
If you're looking for valedictorian scholarships in Wisconsin, but haven't got the grades, there is still hope for those seeking financial aid in obtaining a college education. You might also look outside of the regular values for your scholarship.
There are, for example, organizations that look at more than just your GPA to determine whether or not you are scholarship material. Consider the "A GPA Isn't Everything Scholarship." The requirements are that you should be enrolled in high school or college or plan to still be enrolled within the next 12 months. The scholarship is worth $1,000 and they look at extracurricular activities and your broader background when considering applications. There are also scholarships available through companies like Coca Cola and the GSMP. These look at extracurricular as well as your GPA. These are terrific scholarships in Wisconsin for high school seniors.
Also, when it comes to GPA, not every organization, looks down their nose at everything below a 3.0. Some state scholarships consider GPA starting at 2.0. So, if you're worried that the Wisconsin excellence scholarship is beyond you, you still have options.
Are there Scholarships for Nurses in Wisconsin?
There are many types of scholarships available for students in Wisconsin, not the least of which are Wisconsin nursing scholarships and grants. Becoming a nurse is a rewarding and secure way to make a living, and there are at least three worthwhile nursing scholarships in Wisconsin that you should look into if you are interested in a career in nursing. Also, with national recognition of the need for professional nurses to have the ability to work across state borders increasing, the future for nurses in training is looking brighter than ever.
These include:
The Wisconsin Higher Education Grant: Grants are based on the applicant's financial need and are offered to students attending Wisconsin Technical Colleges, University of Wisconsin, and Tribal Institutions on at least a part-time basis. Grants are worth between $250 and $3,000.
The Wisconsin Tuition Grant: This grant program is virtually identical to the one above, except that it applies only to students attending independent Wisconsin based colleges or universities.
The Nursing Student Loan Program: This program is tailor-made to serve nursing students and is worth between $250 and $3,000 per academic year.
Are there Scholarships for Women in Wisconsin?
There is broad recognition that promoting the success of women in academics is important for the health of our society, and the state of Wisconsin is no exception. There exists a wide range of scholarships in Wisconsin for women and other programs designed to help women get a leg up in their efforts to obtain higher education.
Current programs include but are not limited to:
American Association of University Women
For financially distressed minority women – $5,000 to $20,000
Jeannette Rankin Foundation
For applicants who can demonstrate ambition and financial need – $1,500
The Sunshine Lady Foundation
Primarily for battered women and victims of violence – Amounts Vary
Grants for the Arts
For women pursuing an education in arts and/or science – Amounts Vary
Minority Grants & Scholarships
Primarily for Black and Hispanic and other women of color – Amounts Vary
With all of these wonderful programs on offer for students in Wisconsin, opportunities for women and minorities to obtain higher education have never been better.
Related Rankings: