As you start your journey through higher education, you're likely to encounter the need for financial aid to pay for your tuition and associated school costs. You'll start with the Free Application for Federal Student Ait (FAFSA) which provides you with grants that don't need to be repaid along with a federal loan that has to be repaid. The main drawback to federal loans is the fact they have a maximum loan amount that may not be sufficient to cover all of your tuition and other costs. That's when a private student loan comes into play.
Students can borrow money from the federal government and take out private student loans after maxing out federal loans. The best private loans for students usually cover the entire amount of tuition and incidentals, offer competitive interest rates, and flexible repayment terms. Many of the best private student loans also have features and benefits that reward the student for making on-time payments, getting good grades, and have the option to release a cosigner after a certain period of time. Following is a look at the best private loans for students and why they're worth filling out an application:
1. Ascent Co-signed Student Loan
The Ascent Cosigned student loan is up front about how this student loan product works: you need a cosigner to acquire the loan. What makes it different is the fact that it has an option to release the cosigner provided certain terms are met. The option to release the cosigner after two years of payments makes this one of the best private student loans for borrower and cosigner. Those terms include:
The first 24 consecutive and regularly scheduled full principal and interest payments are made on-time
Meet program requirements for a solo student borrower
Make payments through automatic debit
Student loan types offered by Ascent include:
MBA
Medical
Dental
General PhD
Law
Prospective borrowers need a minimum credit score of 540, and has a fixed or variable APR option. The interest rates for a fixed APR are anywhere from 3% to 11.4% and the variable APR is 1.50% to 9.58%. The fixed APR stays the same for the life of the loan while the variable APR changes every month, and also changes the monthly payment amount.
2. SoFi Private Student Loan
SoFi Private Student Loans are designed to help students get funding for college without worrying about fees such as origination, late fees, and insufficient funds fees. The lender offers four different types of loan products that are aimed at students with specific funding needs. They include:
Undergraduate loans
Graduate loans
Law & MBA loans
Parent loans
SoFi loans are applied for entirely online and a cosigner can be added with a few extra steps. Students can get the entire cost of their attendance covered by the loan, and interest rates are competitive. Borrowers can choose from a fixed or variable APR with autopay. SoFi does not disclose the minimum credit score for borrowers. The fixed APR ranges from 2.99% to 10.66% and the variable option is 0.99% to 11.22%. Interest rates change based on the prevailing interest rates.
3. Sallie Mae Private Student Loan
Sallie Mae used to be a government-backed lender, but was spun off to the private sector in 2010. It now provides private student loans for multiple student loan categories that include:
Undergraduate
Career training
Parent loans
Professional
Law
Medical
Graduate school.
Sallie Mae loans are private loans offered through various lenders, and borrowers need a credit score in the mid-600's. A borrower has to apply for the loan, undergo a hard credit pull, and find out if they qualify. The benefits of a Salle Mae private student loan come in the form of full coverage of tuition and low interest rates. Terms range from 10 to 15 years of principal and interest payments. The APR range for variable rate loans is between 1.13% to 11.23% and the APR range for fixed rate loans is 3.5% to 12.60%. The actual interest rates differ slightly for each type of loan offered by Sallie Mae.
4. College Ave Private Student Loan
College Avenue private student loans make the loan process easy with a simple, 3-minute application process with an instant decision. Borrowers can pick how long they want to take to repay the loan with choices that range from five to 15 years. Students can take out a loan that covers all of their attendance costs including fees, tuition, housing, books, and other related costs. Loan products include
Undergraduate
Graduate
Parent
Career
Law
Health professions
Refinancing
There are no application, origination, or disbursement fees associated with the loan. Interest rates for fixed APR loans range from 2.99% to 12.99% and 0.99% to 11.98% for variable APR loans. The minimum credit score for applicants is in the mid-600s.
5. Discover Private Student Loan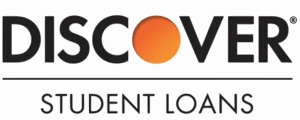 The Discover student loan is one of the best private loans for students with its student-friendly features. The student loan is a fee-free loan that offers cash rewards for good grades, a 0.25% interest rate deduction for auto-pay, multiple payment options with no penalty for prepayment, and an easy application process. A multi-year option enables pre-qualified students to borrow money for future academic periods without the need to go through the application process again. Student loans from Discover cover up to 100% of certified college expenses for loan categories that include:
Undergraduate
Graduate
MBA
Health professions
Law
Residency
Bar exam
Parent
Discover does not state their minimum score requirement, but does note that students with no credit history or a low credit score may have difficulties qualifying on their own. The lender encourages students to get a cosigner to improve their chances of qualifying. The variable APR is 1.12% to 10.22% and 3.49% to 11.59% for the fixed APR.
6. CommonBond Private Student Loan
CommonBond student loans seek to make the private student loan process easy and affordable. The lender offers undergraduate, graduate, MBA, dental and medical loans. Applicants and their cosigner can apply on any device, and the application process takes a few minutes to complete. There are no application, origination, or prepayment fees associated with the loan. CommonBond offers flexible repayment options and terms, and also has a six-month grace period with a 12-month payment postponement option, making this one of the best private loans for students. Borrowers can apply to release their cosigner after two years of on-time payments.
The minimum credit score for applicants is 660. The interest rate for loans with a fixed APR range from 3.99% to 12.78% and the APR for variable rate loans is 4.13% to 9.64%.
7. Earnest Private Student Loan
Earnest private student loans are designed to help students with their tuition needs for a variety of degree programs along with multiple repayment options. The lender offers loans for undergraduates, grad school, MBA, medical school, law school, and cosigned loans for students with poor or no credit score. Students can request loan amounts to cover most or all of their tuition. An Earnest student loan has features that include the option to pick your payment date, the option to skip one payment a year, the choice of loan terms, no fees, and a 9-month grace period.
Applicants need a minimum credit score of 650 to apply. The interest rate for fixed APR loans is 2.99% to 12.78% and 0.99% to 11.44% for variable APR. Borrowers who opt into auto-pay can get a .25% reduction on the interest rate for certain loan products. Cosigners are encouraged to help applicants apply through shareable online application and increased approval rates for borrowers.
FAQs
How do I Choose a Private Student Loan Online?
There are a lot of lenders who offer student loans online and can make determining which lender offers the best interest rate and repayment terms can be difficult. Identify the most important criteria of a loan first, then look at the lenders who offer all or most of your criteria. Some lenders have generous features and terms that take the stress out of repayment while others aren't as generous, but have a feature that is most important to you. Keep a look on repayment terms and make sure that the private student loan you're looking at has flexible repayment terms that won't affect your credit if you have to ask for forbearance of some type. The best private loans for students are ones that meet your schooling and repayment needs.
How do I Qualify for a Private Student Loan?
It's a given that you'll need to borrow large sums of money to fund your schooling, but you may not have much of a credit score due to age or lack of access to credit. You may need a cosigner to obtain a private student loan if your credit score is low or non-existent. Look into loans with cosigner release to help you get the loan, then release them later. For example: you need a cosigner, but you don't want them connected to your loan as a guarantor for any longer than necessary. A private student loan that allows you to release your cosigner after you meet the requirements is going to be the best private student loan for your needs.
Are There Bad Credit Options for Student Loans?
You're not out of luck with getting the best private student loans in the event you don't have a cosigner available to you. There are student loan products for borrowers with bad credit, but you're more likely to pay higher interest on the loan for both variable and fixed APR's.
What's the Application Process for Private Student Loans Like?
The best private loans for students feature a fast application and approval process for borrower and cosigner. The application is filled out online, asks for key details, then goes to evaluation and underwriting. Some lenders send out a determination email in a short period of time after the application is submitted while others take a little longer.
Related:
How to Be Money Smart as a College Student