Many people going to college consider it a new adventure, but it's not without it's ups and downs. Having a good financial literacy foundation can keep things on track. College students often run into problems when budgeting or learning about money. Learning the basics with information on financial tips for college students can help make sound decisions throughout a college career and beyond.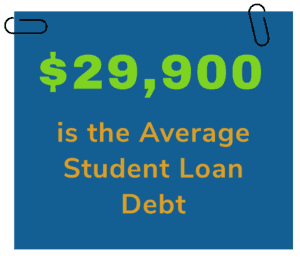 Making the Right Money Choices as a College Student
Making the right financial literacy choices starts with education. College students can learn a lot by reading recommended best financial books for young adults. This list includes:
O.M.G.: Official Money Guide for Teenagers
The Motley Fool Investment Guide for Teens: 8 Steps to Having More Money Than Your Parents Ever Dreamed Of
Financial Basics: A Money Management Guide for Students
Broke Millennial: Stop Scraping By and Get Your Financial Life Together
Why Didn't They Teach Me This in School? 99 Personal Money Management Principles to Live By
You Are a Badass at Making Money: Master the Mindset of Wealth
The Personal MBA
Rich Dad Poor Dad: What the Rich Teach Their Kids About Money That the Poor and Middle Class Do Not!
The Total Money Makeover
I Will Teach You To Be Rich
Each one of these books teaches financial tips for young adults, providing financial help for students at college. Financial literacy tips for college students is very helpful moving through the process of finding money for college, managing money for college, and keeping debt under control. The right financial tips for students helps them become more aware of how money can be an asset instead of a liability when used correctly.
Saving Money as a College Student
While there are tons of articles on how to save money as a college student, how many actually take time to read them? Some of the most key money-saving tips college students need include
not buying new textbooks
using their student ID for discounts
limiting excessive spending
not eating out as much
using campus facilities
meeting scholarship and financial aid deadlines
This is not an exhaustive list, as there are many money-saving tips for college students that help learn how to save money as a student, how to manage money in your 20s, and beyond. One the quickest hacks students don't consider is testing out of taking a class. This not only helps speed up the amount of time left in college but frees up schedules to take classes that require more concentration. Other money-saving tips for young adults include making a wish list of things needed instead of frivolous wants. That way, they will have less expenses to worry about while on or off-campus.
Here are 5 key saving money tips for young adults that work in and out of college: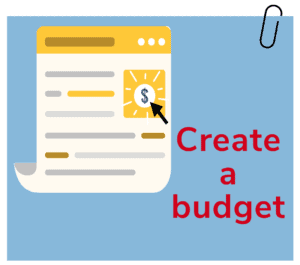 Create a Budget
While most young adults cringe at the thought of a budget (mostly because they aren't used to paying their own bills), there comes a time when being responsible with money is a priority. Just because a student is on a budget doesn't mean they can't do fun things, it means they have to be a little creative in knowing how they spend and where their money is going. There should be a little going to savings every month – even if it's only $5.
Save and Invest NOW
Just the thought of saving a few dollars a week can be huge for a struggling college student, but it all adds up. Using a budget will help see how much money can be placed into savings every month. Some students also have jobs where they receive benefits. If an employer-sponsored 401(k) is on the table, it should be used to their advantage.
Many young adults and college students aren't aware of how much they should actually save. U.S. News recommends saving at least 1/3 of any money earned. This helps college students with those incidentals that may come up while in school.
Create an Emergency Fund
Having an emergency fund is one of the best things a college student can do. Having money in a high-interest bearing savings account, money market account, or CD can help when in a pinch.
Stay Out of Debt
College students can easily get into debt by using credit cards or getting student loans they don't need. While students are doing the right thing by creating an emergency fund, it's also important to avoid piling on debt and paying off any existing debt.
Get Out of Debt
Students can easily avoid debt if they pursue scholarships and grants to pay for their education. Unfortunately, some students have to take student loans to continue with their education. This can cause problems down the line when it's time to start paying back the money they owe. They don't think about that money until it's due, which makes it easier to take out student loans they really don't need.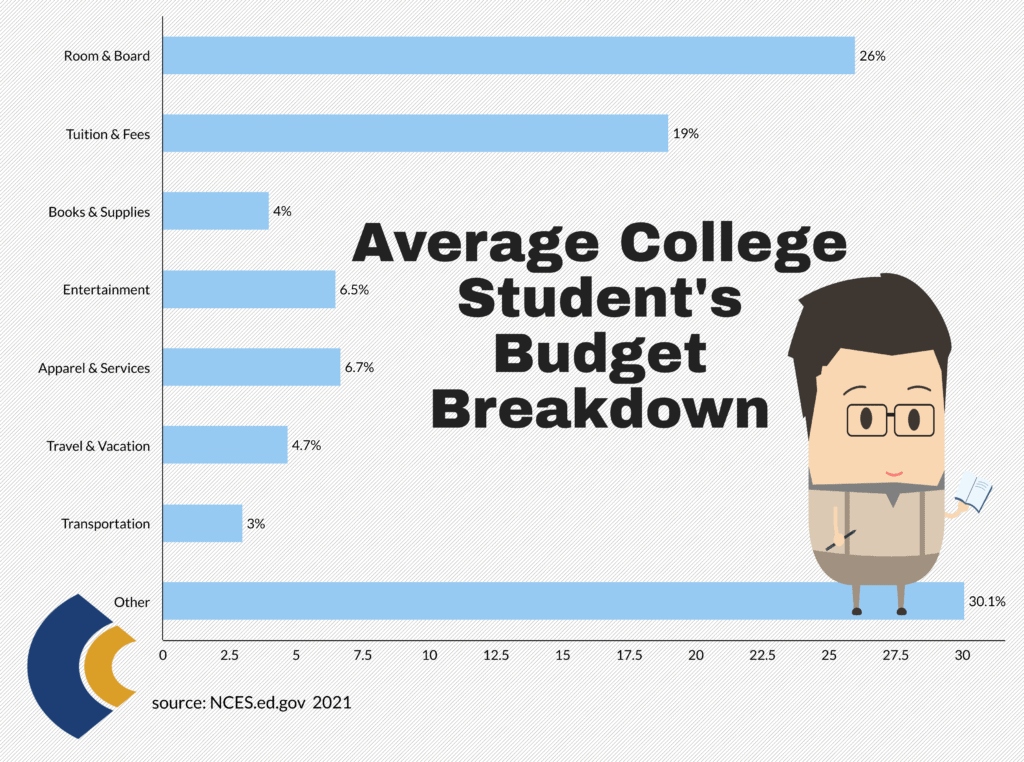 Using a Credit Card to Build Credit as a College Student
Students usually start establishing their credit records while in college with a credit card. If they must obtain a credit card, there are some deemed best credit cards for college students. It's important to note that credit cards should be used wisely and not to splurge. When students take the time to use them correctly, they can build credit responsibly. The best credit cards for young adults include:
Discover it Student Cash Back – This card will automatically match all the cash back earned at the end of the first year, including 5% cash back on everyday purchases at different places.
Discover it Student Chrome – This card offers unlimited cashback match, 2% at gas stations and restaurants, good grades rewards and no annual fee.
Chase Freedom Student Credit Card – Students receive a $50 bonus after the first purchase made within the first three months of having the card, 1% cash back on all purchases and no annual fee.
Journey Student Rewards from Capital One – Students earn 1% cash back on all purchases and $5 per month for 12 months on select stream subscriptions.
Although these are the best credit cards for beginners and the best credit cards for first timers, students should focus on building a good credit history with these cards in order to make the next moves which could possibly be a big purchase such as a home or car once they leave college. Credit is very important, even when attempting to rent an apartment. Credit card companies want to see some form of income to ensure you have the means to pay back the money borrowed on the card.
When students do not qualify for a regular card, the next step would be obtaining a secured credit card. A secured credit card requires a deposit to be put down, which protects the issuer in the event the bill is not paid. These cards are less risky and helps students build their credit.
Making Some Side Cash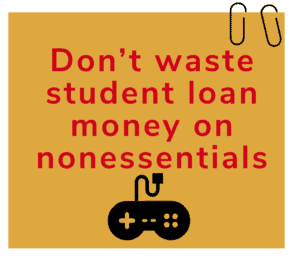 It's no secret college students learn how to survive quickly. This means they are familiar with side hustles and making side cash. Some students are paying their own way through school and don't have a traditional schedule. That means they have to be creative in coming up with ways to finance their education and additional bills for everyday living.
It's hard enough trying to figure out how to manage finances as a student, but more often than not, students have to find their way and learn how to make money in college without a job. There are ways to make real money that are honest and legal, it's just a matter of knowing where to start. So, how to make money in college? Here are a few ideas on how to make money when in college:
Become an Entrepreneur
How many times have you heard of businesses getting their start in dorm rooms? It's not unheard of and is one of the many ways of how students make money. With so many opportunities on the web, getting started is easy. The real challenge comes when it's time to put in the work to sustain the venture. Students have started blogs or websites that can be very lucrative. Getting a domain is easy (don't infringe on anyone's trademark) and read all you can on the internet on how to get started.
Become a Notary
Becoming a notary public is easier than most people think. In fact, a traveling notary can make up to $200 just for signing their name and verifying identification. You can get the application online, fill it out, take the short exam and voila! The next step is to find places that need those services. Loan signing agents are always in need. Students can list their names in a database and when there is a need in the area, they get called. It's a great way to make quick cash, probably more than $500 per month.
Freelance Writing
Students who are good at writing can find themselves in high demand. Writing for blogs and businesses is a growing industry where businesses look for writers to help with all their writing needs. There are sites like Upwork and WriterAccess that hire freelance writers to write on a variety of topics. All you need is a great profile and proof of your work and students can open the doors of opportunity. It's an awesome way to build their resume and portfolio.
Become a Virtual Assistant
The digital transformation has made virtual assistants a high-demand job. There are so many businesses and entrepreneurs who need the extra hands to help them manage the day-to-day operations of their business. From responding to emails, handling social media, research, and more, students can earn a lot of money by being an assistant from their dorm room.
Become a YouTuber
No one really knew how much money people were making from YouTube, but it's an excellent way to establish themselves as an authority while making cash at the same time. Video bloggers on YouTube usually make almost $8 for every 1,000 views. That means YouTubers who are always engaging their audiences and have something interesting to say are getting paid. TikTok is also good.
Do Voice-Overs
Voice-over artists make a LOT of money. With video and podcasting continuously blowing up, there are many people who need voice-overs. Students with nice speaking voices and who know how to pace themselves with tone and inflection can make a nice salary doing this for entrepreneurs and established businesses.
Rent Your Stuff
Students are being very creative when it comes to making money, and that includes renting their stuff. AirBnB started an entire revolution on renting out a home. Now, students are renting out their rooms or their apartments when things are going on in town. They are even renting out their cars for people to get around. All that's needed is a listing on one of the sites and they'll be in business. Rentals don't stop there – students are renting their clothes and other items that are in high demand.
Rent Your Services
Students can list themselves on places like Steady to rent out their services. This ranges from washing cars, doing laundry, tutoring other students, mowing lawns, and cleaning. These are tasks people need done that will help college students make the money they need to survive.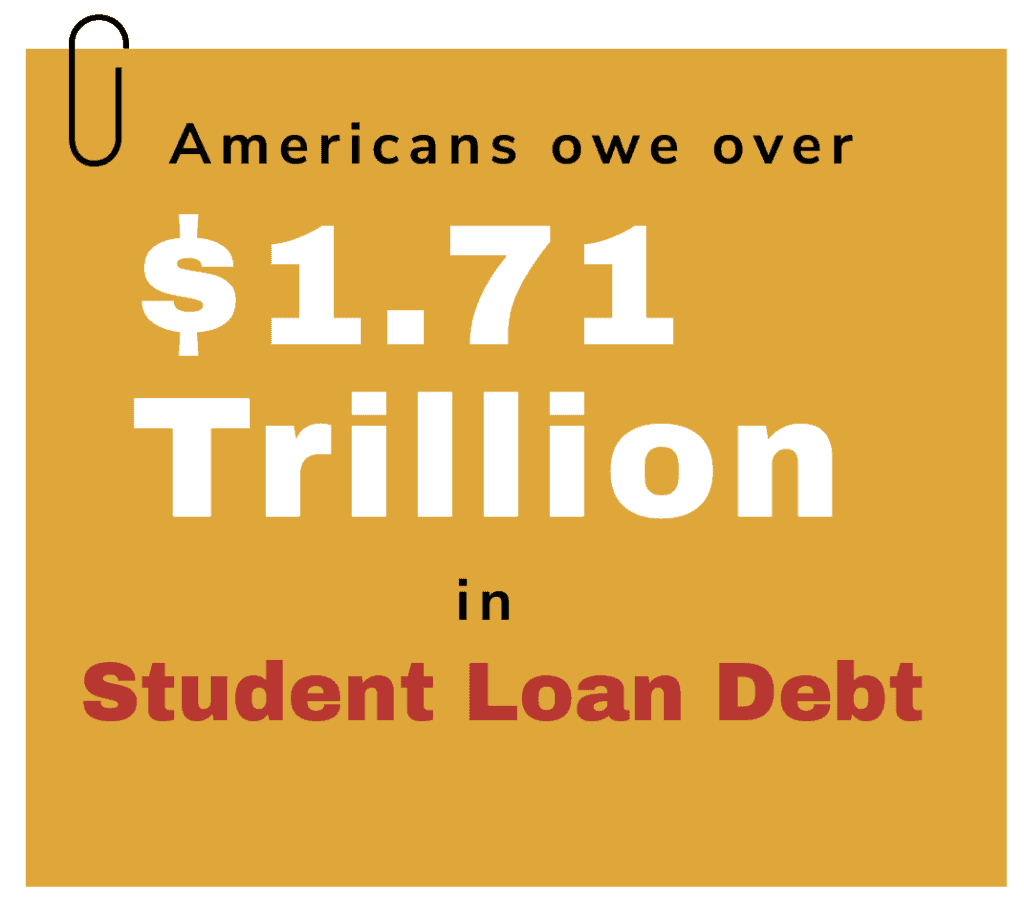 Participate in Studies
Market research is huge. Students can sign up with market research companies and get paid to give their opinions and use products. This is a huge business for these types of companies, and students earn gift cards and other incentives.
Become a Driver
Uber, Lyft, and Instacart are very popular for college students who have access to an automobile. They can make a lot of money on their downtime to pay for tuition, toiletries and other things they need. This is a great way to meet people and learn about the city. With so many people not wanting to go out in public places, Instacart has become a go-to staple for many families.
Sell on Craigslist, Marketplace, etc
Craigslist and other sites like Offer Up allows students to sell their things for a decent price. Why throw things away when there are individuals who probably need them as well? This is a great way to sell things and get money for them.
Sell Your Class Notes
Students who take great notes in class can join an online service to sell their class notes in almost every subject under the sun. There are certain lecturers on college campuses who also pay students to take notes for them which can be distributed in class. This is a very lucrative opportunity that usually garners between $5,000 to $10,000 just from selling class notes. Not bad at all.
Sell College Papers
As long as there is a disclaimer on plagiarism, students can make a lot of money from selling their old college papers. These papers can give new students perspective and inspiration for their own papers. If you write multiple papers during the semester, students taking the class in the future can really benefit from finding papers that made good grades.
Sell Crafts
Students are very creative, and that means crafters have a unique opportunity. Some students love using machines like the Cricut to make t-shirts, jewelry and other odds and ends that can be sold throughout the year. Students who participate in the weekly bazaar on campus can make a lot of money doing what they love to do.
Babysit
College students can plug into a network of other students and provide babysitting services while they are free. Babysitters are making good money to the tune of about $20 per hour, which can be more than they make at a part-time job.
Sell Photography
Students who have an eye for photos can sell their services around town and campus. Many lifestyle bloggers need these types of freelance photographers to help them create a great aesthetic. These types of photographers are also very busy around graduation time when students want to have personalized photos to remember. This is also a great opportunity to start a stock photo website where people can pay for certain types of photos. Many entrepreneurs use these types of sites to do their images for social media.
Temp Work
Depending on the type of schedule students have, they may be able to do temporary work by signing up at a temp agency. This is quick, easy money and the student can control how long they actually work at certain jobs. Many businesses need seasonal workers, or just fill-ins for a short time. This is a win-win situation for both parties.
Mystery Shopping
This is a very lucrative business where students can sign up to mystery shop at restaurants and stores, fill out surveys and get rewarded with cash to do this. The perk is students get to eat at a lot of different restaurants and enjoy free items they have to purchase to do the review.
These are just some money-making for college students ideas that have worked and helped students not only manage their money, but make good money on their journey to financial literacy.
Related: