Earning an affordable Online MBA from a top New York business school is a gateway to networking connections and skills that can help graduates transition into advanced business positions. The following ranking covers the Most Affordable Online MBA Programs in New York State. New York has many business schools to choose from, but with this list, students will be able to quickly find the most affordable distance MBA programs that also boast great reputations and high accreditations. Many professionals have plans of earning senior management positions. But, these top-level jobs often require a graduate degree, specifically a Master's of Business Administration. An Online MBA is the perfect option for those who are already busy professionals in New York with limited time.
Recommended Online MBA Programs
Contact schools for information on enrollment, tuition, aid, and more
The Most Affordable Online MBA Programs in New York
It can be difficult to commit to earning a traditional campus-based MBA program, especially in New York. Career goals and family responsibilities often prevent students from getting started with traditional on-campus MBA programs. Distance learning comes with the added benefit of fewer added fees like parking, gas, or lodging. Finding an affordable Online MBA from one of New York's top business schools could be the perfect solution. Each program on this list is accredited and offers the majority of coursework completely online. Students can also choose from accelerated options that allow students to complete their degree in as little as one year, or they can take their time with part-time programs. Our hope is that you find this ranking of the Most Affordable Online MBA programs in New York useful as you plan your budget and degree.
Methodology
This ranking of the 2021 Most Affordable Online MBA programs in New York is based entirely upon each degree's base tuition cost. The MBA programs used for this list are the most prestigious degrees ranked from top MBA rankings systems. The order for this list is based upon the base tuition of the MBA, which does not take into account program fees and required books. All tuition information was found on each university's website. The Affordability Score is informed by the online MBA's tuition cost and offers a view of where each program's cost sits relative to others.

SUNY Oswego's School of Business offers an AACSB accredited Online MBA for less than $23,000. Online concentrations for this program are available in General MBA, Health Services Administration, and Nursing Home Administration. The Public Accounting MBA is offered in a hybrid format that requires on-campus courses but offers several classes online. U.S. News recently ranked the Online MBA at SUNY Oswego #1 in Online MBA's for Public Institutions in New York State. All of the Online MBA options offer rolling admissions with start dates in fall, spring, or summer. Once enrolled, students will start with the core curriculum, including classes like Marketing Management, International Business, Managerial Finance, Management Information Systems, and International Business. For the General MBA, there are three credits of Advanced Tools, 12 elective credits, and a three-credit capstone. There are many choices for elective courses, such as Futures and Options Markets, Labor Relations, Supply Chain Management, Brand Experience Management, and Technology Innovation Management.
Affordability Score
100.00

The Online MBA offered through the School of Business at SUNY New Paltz is a flexible program with part-time options. Students can begin their studies in summer, fall, or spring. Summer courses last only five and a half weeks, while spring and fall are traditional semesters. Online MBA students at SUNY New Paltz have the ability to complete their degree in just two years and may also participate in on-campus courses if they desire. The online program follows the same comprehensive curriculum as the School of Business's on-campus program and is offered at an affordable price point under $25,000. The SUNY New Paltz Online MBA begins with foundation courses in statistics analysis & decision theory, financial statement analysis, and business economics for managers. There are then 24 credits of core courses that cover essential topics such as marketing management, quantitative methods for business research, corporate financial management, and managing in a global environment. Lastly, students complete elective courses that can include internships or independent study in addition to traditional coursework.
Affordability Score
100.00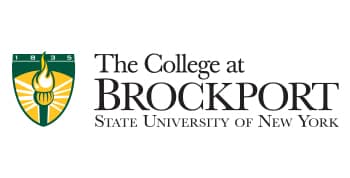 SUNY Brockport's budget-friendly Online MBA is a distance degree that also includes three days of face-to-face seminars per semester. Even though the program is online, students work with an assigned cohort throughout their degree. This allows students to forge strong connections with their peers within the program. The goal of SUNY Brockport's Online MBA is to increase the management and leadership skills of mid-career professionals who strive to grow from their current positions. Students take six credits per semester which places them on a two-year graduation timeline for this 36-credit hour degree. This AACSB-accredited program begins with business basics like Leadership & Organizations, Applied Business Data Analytics, Operations & Project Management, Internal & Financial Controls, and Applied Financial Analysis. During their final semester's students will also work on a comprehensive Capstone Project. To apply, students must submit an online application, application fee, official transcripts, statement of objectives, letters of reference, and a resume.
Affordability Score
100.00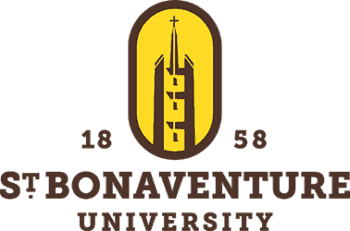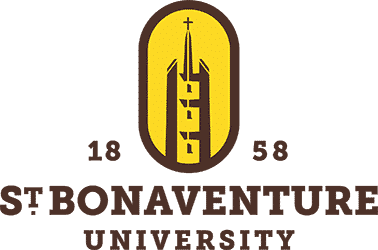 St. Bonaventure University's Online Master's of Business Administration is offered at an affordable price point of less than $25,000. Students who participate in this well-recognized OMBA can expect to advance their skills, cultivate specialized knowledge, lead more effectively, improve decision-making skills, and develop a global mindset. U.S. News recently ranked St. Bonaventure at #19 in Regional Universities and #3 Best Value in New York State. Their Online MBA carries the same esteemed AACSB accreditation as on-campus options and offers concentrations in Accounting, Business Analytics, Finance, or Marketing. The general curriculum consists of nine credits of foundation courses in Quantitative Foundations of Management, Accounting & Finance Foundations, and Economics Foundations. The next step is a business core which covers key topics like financial management, organizational behavior, marketing management, and business policy. Eighteen elective credits help students focus on their area of interest from the categories of legal & ethics, accounting, finance, business analytics, and marketing.

Graduate students at Niagara University can earn an affordable and completely online Master's of Business Administration degree. Applicants will be encouraged to know that those with above a 3.0 GPA can apply for a GMAT waiver, making getting started easy. Many students choose to work towards their OMBA on a full-time basis by taking three to four classes per semester. This course load aligns with graduation within a year to 18 months. The Niagara Online MBA does require 18 credit hours of prerequisite coursework. However, those who have successfully completed comparable courses that cover topics like management principles, economics for managers, law & business ethics, and communications for executives may be able to waive this requirement. The business core provides a well-rounded knowledge base of economics, accounting, finance, marketing, organizational structure, and management information systems. After completing the business core, students then move on to an elective course, as well as concentration courses, and a Capstone over Business Research, Strategy, and Planning.
Recommended Online MBA Programs
Contact schools for information on enrollment, tuition, aid, and more
SUNY Polytechnic Institute offers a highly recognized Online MBA for around $30,000. This AACSB accredited program can be completed in two years on a full-time basis or in up to four years for those who choose to take a part-time course load. SUNY Poly's distance Master's in Business Administration offers a unique Technology Management concentration that is designed to help students leverage technology and prepare for leadership and management positions. This thoughtful curriculum begins with Technology Management Core courses like Project Management, Innovation & Entrepreneurship, Strategic Planning, and Leading Organizational Change & Innovation. The Business Management Core includes relevant topics such as accounting for managers, marketing management, quantitative business analysis, and multinational economics of technology. There are also many concentration course options that allow students to customize their degree plans. Students who live near the Utica, New York campus may be interested in applying for one of several graduate assistantships available on campus. Participating in an assistantship can earn students $2,000 per semester and help reduce tuition costs.

The Online Master's of Business Administration offered through Manhattan College is an ideal option for students without a business background. The program is open to students from all disciplines and can be paired with a unique MBA Bridge Program. The MBA Bridge is a set of accelerated courses that go over the foundations of business in four convenient online courses that last for 14-weeks during the summer semester. In addition, to support students with alternative undergraduate degrees, the O'Malley School of Business' Online MBA is offered at a reasonable price point of less than $50,000. OMBA students have the opportunity to choose from a General MBA or concentrations in Finance & Economics, Business Analytics, or Organizations, Markets, & Sustainability. Outside of concentration courses, students will dive into relevant subjects like professional ethics, accounting for business decision making, financial management, and marketing strategy. The MBA program ends with a culminating Capstone project focused on leadership and organizational behavior.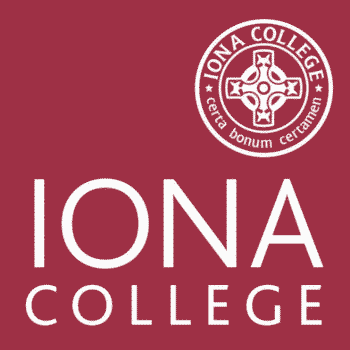 At Iona College, graduate students can earn their Online Master's of Business Administration for around $43,000. This affordable degree carries esteemed AACSB accreditation and is well recognized in the business education community. Students who take two or three courses per trimester can complete this fast-paced distance program in just 18 months. There are four annual start dates with rolling admissions making any time a great time to get started. There are no GMAT requirements, and students can expect an interactive experience through the program's online community portal. The Business Core includes an array of classes that dive deep into subjects like business perspectives, information systems, marketing management, finance for managers, and strategic management. In addition to the General Master's of Business Administration, students can choose an area of concentration in Accounting, Business Analytics, Financial Management, Information Systems, Management, or Marketing. Advanced certificates can be completed in Business, Business Continuity and Risk Management, Entrepreneurship & Innovation, or Health Care Management.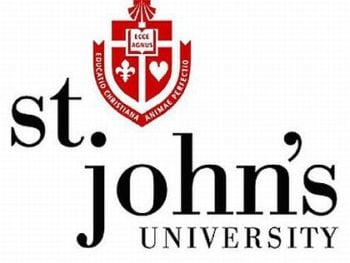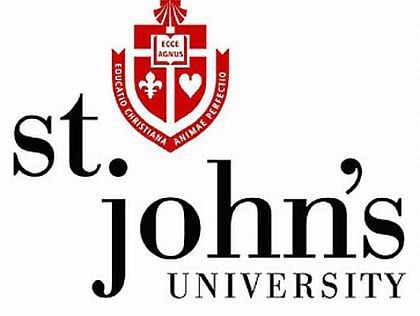 The Tobin College of Business at St. John's University offers an accredited and accessible Online Master's of Business Administration. Distance learners have many options through the Online MBA or the unique FLEX MBA. Through the Online MBA, students can take courses synchronously or asynchronously while still maintaining the flexibility to enroll in onsite courses as well. The FLEX MBA allows students to enroll on-campus, onsite, or through FLEX courses. Flex courses offer the best of both worlds through seven weeks onsite followed by seven weeks of distance learning. These courses also come with a focus on real-world applications and hands-on learning opportunities. Both the Online and FLEX MBA offer many concentrations, including but not limited to Risk Management, Strategic Management, Enterprise Risk Management, Business Analytics, and Taxation. Full-time students can expect to complete their Online MBA in three semesters, while part-time students generally take around three years.

The Clarkson University Online Master's of Business Administration program is housed within the Reh School of Business. The Clarkson Online MBA is flexible and AACSB accredited. U.S. News recently listed this distance degree among the Top 90 Online MBA Programs in the nation. Students can choose to pursue their degree on a part-time or full-time basis with start dates in September, January, March, and June. Students who are on a budget will appreciate the program's price point at less than $50,000, as well as the fact that all students who apply for School of Business programs are automatically placed in the running for merit-based scholarships. The curriculum for the Clarkson OMBA includes ten courses of business foundations and four elective courses. The business foundations are broad and include classes like Leadership and Organizational Behavior, Corporate Ethical & Social Responsibility, Marketing Management, and Global Supply Chain Management. For 27 additional credits, students can complete a combined OMBA and MS in Data Analytics.
Online MBA programs in New York vary in cost, format, and length. The OMBA's included on our list of the Most Affordable Online MBA Programs in New York were either completely online or hybrid programs. Each also carries esteemed AACSB accreditation and was offered at a base tuition cost below $50,000. Before getting started, here are a few things to consider when searching for an affordable online MBA degree in New York.
What will an online MBA program in New York cost?
When researching distance learning programs in New York, remember to evaluate the price per credit hour. From there, you can figure out the total cost by factoring in the length of the program. Reputable business schools offer transparent pricing, but some may have additional fees to consider, such as out-of-state tuition fees, books, or technology costs. The U.S. currently has over 600 Online MBA programs. The average base tuition price rests around $30,000, with many programs costing over $75,000. The average expected tuition for this ranking is close to the national average, with all options falling under the $50,000.
What is the job outlook for those who complete an Online MBA?
Recent data from the Bureau of Labor and Statistics shows that the average annual salary for business and financial occupations was $69,820 as of May 2019. This is significantly more than the average yearly wage for all other fields, which was only $39,810. Earning an Online Master's of Business Administration prepares students for success in academics while also creating opportunities for invaluable networking connections. The programs included on our list also offer real-world skills needed for top-tier management positions. Earning a Master's of Business Administration online can be a budget-friendly choice with the added benefit of flexibility for busy lifestyles.
Are distance learning programs as reputable as on-campus degrees?
OMBA's offered through accredited business schools deliver the same well-rounded educational experience as on-campus options. Hybrid programs also offer the benefits of on-campus programs with the ability to complete assignments at your own pace. The faculty who teach on-campus classes are frequently those who deliver online courses. Many distance programs have real-time video components that allow students to actively listen and participate in lectures without having to be physically on campus. When earning a Master's of Business Administration degree, the delivery method is simply a matter of preference. However, accreditation and overall prestige are still important aspects to consider. Luckily the programs on this list have already been vetted. Although they are affordable, the schools included in our Most Affordable Online MBA programs in New York are highly regarded.
What area should I specialize in while working on my OMBA?
A concentration area allows students to take a deeper look into an area of interest. Choosing an area of specialization can be done based on what field you plan to enter into or simply something you would like to learn more about. According to some, the biggest leaps in pay after completing a Master's in Business Administration come from industries like Food, Beverage, & Tobacco who see an average of a 65% increase in pay. The fields of Investment Management and Consulting also have a significant salary boost at close to 50%.
If you are looking for a flexible, notable, and affordable Online Master's in Business Administration, New York has many high-quality options.
Related Resources:
Recommended Online MBA Programs
Contact schools for information on enrollment, tuition, aid, and more