The importance of sustainability cannot be underestimated. Learning about sustainability gives students a fundamental look at how humans impact the environmental world and the interplay between business, technology and the environment.
The importance of environmental sustainability lies in its ability to teach us how to develop policies that reduce our footprints on the planet. More and more, sustainability is becoming not just a matter of preserving the natural world but preserving the world for future generations of people. The importance of sustainability draws on economics, politics and philosophy as well as the sciences. Environmental awareness is the key to learning how to integrate jobs and business goals with the impact on the surrounding landscape.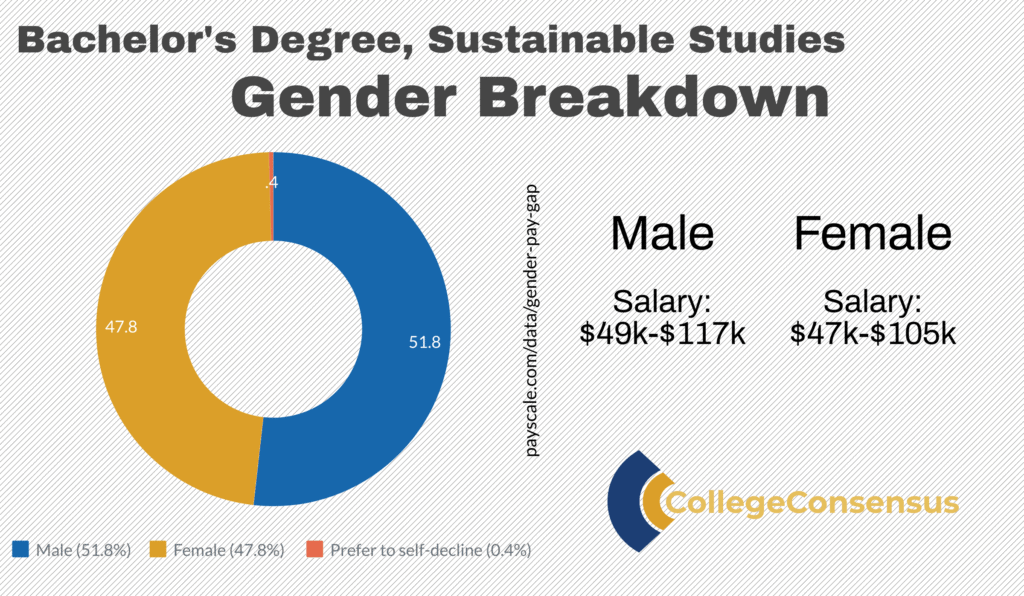 Due to the importance of environmental sustainability, sustainability graduates go on to become civic planners, environmental consultants and hold many other jobs in agriculture, nonprofit organizations and government agencies. Entry level jobs have been on the uptick in recent years as the new generation recognizes the importance of sustainability. For undergraduate and graduate students looking for a meaningful career, the importance of sustainability may entice them to consider this field.
Choosing a Program
Accreditation is important for any university program. There are several regional accrediting agencies and there are also national agencies that handle accreditation for higher education institutes. Choose a program with sustainability accreditation at a national and regional level.
The Council for Higher Education Accreditation (CHEA) also recognizes various accrediting agencies. If you want financial aid or to pursue graduate school, it's best to choose a school with the appropriate sustainability accreditation.
Kinds of Degrees in Sustainability
Associates
Students who wish to get a green technology associates may have a tough time finding a program in their area. Many green technology associates programs focus on specific job skills such as environmental technology, a program available at Cascadia College in Washington that focuses on reduction topics.
Renewable energy associates degree programs may be more in demand as companies focus on renewable energy. These degrees focus on hands-on skills that prepare students for the workforce after graduation. An associates degree in renewable energy can land you a job in the industry, including being hired by companies that produce renewable energy such as wind and solar power.
While pursuing an environmental sustainability associates degree, you may not get a broad education in politics and humanities but you will learn key skills to succeed in the industry. Many students start with green technology associates degrees to see if they are suitable for the field. You can build on a two-year degree and earn a renewable energy associates degree, then apply to four-year colleges in the same or similar fields. An associates degree in renewable energy can open up doors if you have a job in a different field and want to switch careers. With an environmental sustainability associates degree, you can work in the private or public sectors.
Bachelor
 Schools offering a bachelors in sustainability include:
University of Wisconsin
Kogod School of Business
Columbia University in New York
National University
A bachelor of science in sustainability covers topics related to climate change and other environmental hot topics. Online bachelors in sustainability are a convenient way to achieve this multidisciplinary career. The bachelors degree in sustainability appeals to students who want to become educators, social justice activists, entrepreneurs, scientist and other professionals.
The bachelors in sustainability is among the top choices for corporations looking to hire subject matter experts in environmental impacts and corporate policies to mitigate them. Getting a bachelor of science in sustainability might lead to more lucrative jobs than getting an associate's degree alone. With many programs such as the one at the University of Illinois offering online bachelors in sustainability now is the time to seize the day and follow your heart. With a bachelors degree in sustainability, students can plug into many different industries.
For students also interested in law, there are many labor associations that higher employees with a sustainability background. A four-year sustainability program lays the foundation for a masters degree which can give you additional leadership credentials.
Master's
Masters in sustainability programs give you expertise in a relatively new field. However, there are hundreds of job roles that require a masters program in sustainability. For example, you can become a sustainability manager or project manager for our non-profit organization. In masters programs in sustainability, successful graduates gain a comprehensive understanding of the link between environmental and social issues. Pursuing a masters in sustainability online may be a great career choice for someone whose company is looking to groom a chief sustainability officer.
Individuals who decide to pursue an online masters in sustainability can work in private or public sectors with government and charitable organizations. Many candidates for a masters degree in sustainability also get their MBA. This opens their job opportunities to corporate leadership. Many Fortune 500 companies specifically higher candidates with a sense of environmental responsibility.
The requirements of masters in sustainability programs include environmental science, ecology, business and related fields. Some masters programs in sustainability require these courses as prerequisites to the program. Others accept people from a variety of undergraduate backgrounds. Masters programs in sustainability vary in their course content.
Those enrolled in masters in sustainability online programs have more flexibility of when they study and prepare for class assignments. Learn leadership, communication and collaboration when you attend a masters degree in sustainability program on campus or online.
Certificate
If you already have a masters degree, you may want to consider getting a graduate certificate in sustainability. With a graduate certificate in environmental management and sustainability, you can quickly move up in your existing position or seek out new management roles.
 Stanford's online graduate certificate in sustainability is one of the to programs in the country. UCLA has a graduate certificate in sustainability that can be taken online, and the University of Illinois also has a competitive graduate certificate in environmental management and sustainability. Choose an online graduate certificate in sustainability to save time and money while you work and manage your family without interruption.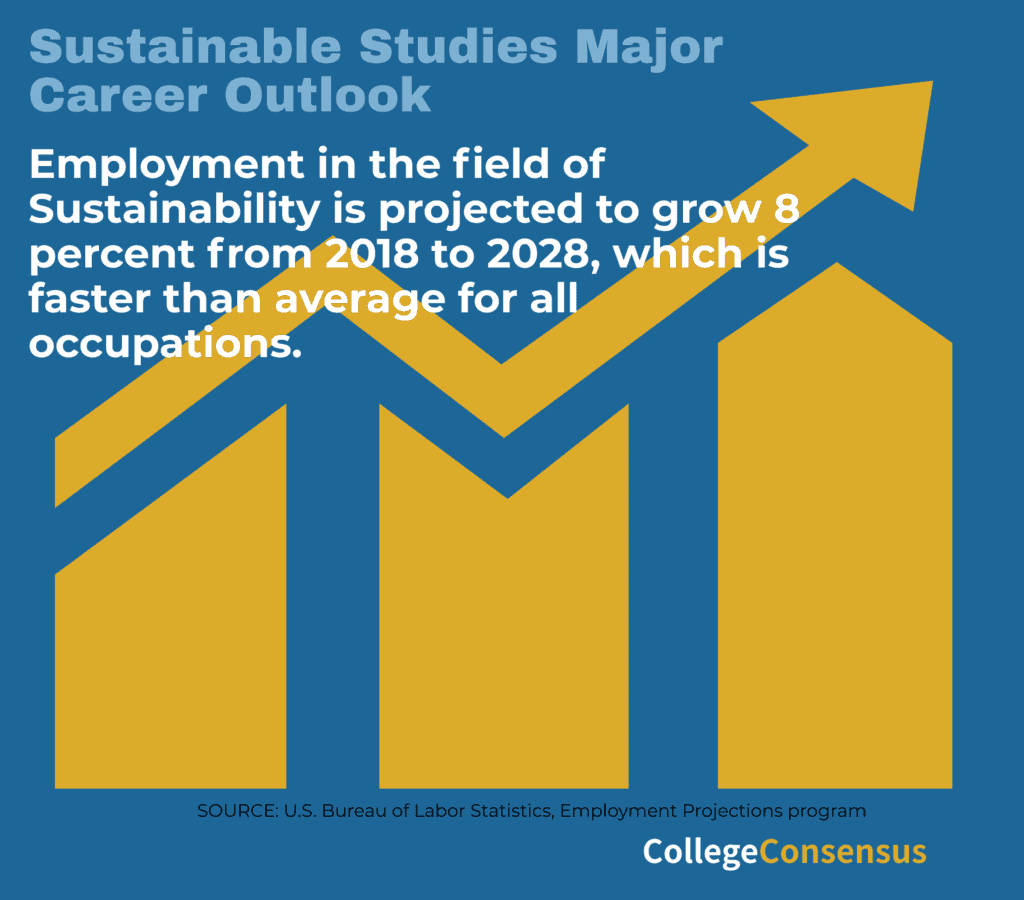 Careers in Sustainability
According to the U. S. Bureau of Labor Statistics, major careers in sustainability include water conservation, sustainable forestry, and biofuels.
Nothing could be more basic than protecting the nation's waterways. This is one of the top options for a career in environmental sustainability. Without fresh water, life would not be possible for humans and many other species. For those interested in a career in water conservation, jobs in sustainability are easy to get with the proper educational credentials, discussed above. Help ensure that water supplies remain in place for wildlife and people in future generations.
Jobs in corporate sustainability might come with higher salaries, but sustainable forestry workers ensure that the nations remaining virgin growth and overharvested species are conserved.
Biofuels reduce dependence on petroleum-based fuel. They are more friendly to the environment and are made of biological raw material. This is one of the newer careers in environmental sustainability. Jobs in sustainability are becoming more common as the years go by. If you want a career in environmental sustainability, you could get a private or corporate job and work in the environment that's comfortable for you. Many sustainability specialists now work in offices leading initiatives to improve recycling and reduce waste.
What jobs in environmental sustainability interest you? Many green technology jobs come with on- the-job training and excellent opportunities to increase your knowledge and skillset. Jobs in corporate sustainability, such as jobs in food sustainability, aim to produce enough resources for the planet's growing population without crowding out other species.
Are you wondering how to start a career in sustainability? For entry level jobs in sustainability, an associates degree may be enough to get your foot in the door. Once you have a job, you can take online courses to get your bachelors and develop a better career in green technology, or move into managerial roles with a master's degree or graduate certificate in sustainability.
Those wondering how to start a career in sustainability should start by focusing on their goals so that they can choose the right careers in green technology. Many savvy students obtain an MBA as well as a sustainability degree to pursue jobs in green technology within corporations.
What Green Technology Job Is Right for You?
Choose from green technology jobs that match your interest and skills. For example, if you are comfortable with technology, you may want to consider green solar technologies jobs. because the field is so new, you can count on excellent green technology jobs training.
If green technology sales jobs appeal more to you then the science behind innovative products, then you can become a sales representative in help consumers understand the importance and convenience of clean, green energy.
Careers in sustainability include agriculture and forestry. Consider a career in natural pesticides and aquaculture. Green technology job training can bring you up to speed on concepts such as carbon capture. These careers include storing carbon emissions to prevent pollution. Green energy technology jobs in this field include jobs at power providers hoping to expand the use of integrated gasification combined cycle (IGCC) technique.
Green technology job opportunities sometimes focus on energy efficiency. Jobs in sustainability consulting give experts in this field an opportunity to increase energy efficiency by using smarter grids. Jobs in sustainability management also include careers in energy trading. Careers in environmental sustainability include buying and selling energy, and jobs in corporate sustainability sometimes involve carbon trading to meet federal regulations.
Entry-level jobs and sustainability and advanced careers in green technology both require knowledge of best practices to protect the environment. For those searching for a career in green technology, awareness of climate change adaptation and air quality standards are needed to succeed. This knowledge can be obtained in a reputable online or on campus program in environmental sustainability.
Green technology job categories include government and private and public organizations. Jobs in green technology include a focus on conservation and prevention of pollution. Green job technology also enforces regulations at the local level if applicable. These jobs include advocacy and policy analysis.
Careers in environmental sustainability jobs include positions in construction of installing green technology in homes and commercial buildings. Green technology jobs training could include the analysis and design of green buildings and retrofitted properties. This category could also include green technology sales jobs.
Green technology job training in manufacturing is needed for careers associated with developing energy efficient operations. Those looking for green technology job opportunities may not have far to look in the future as energy efficiency becomes the norm rather than the exception.
With an associates degree or bachelors in sustainability, students can qualify for entry-level green energy technology jobs. Jobs in sustainability consulting and jobs in sustainability management present opportunities for growth for those who approach their education from an incremental standpoint.
Green technology jobs are out there for those willing to get the education or certification to qualify for them. Keep reading to learn more about salaries in green solar technologies jobs and other sustainable careers.
Other green energy jobs include recycling and waste reduction. sustainability jobs in transportation will open up careers to those who want to reduce the environmental impact of public transportation.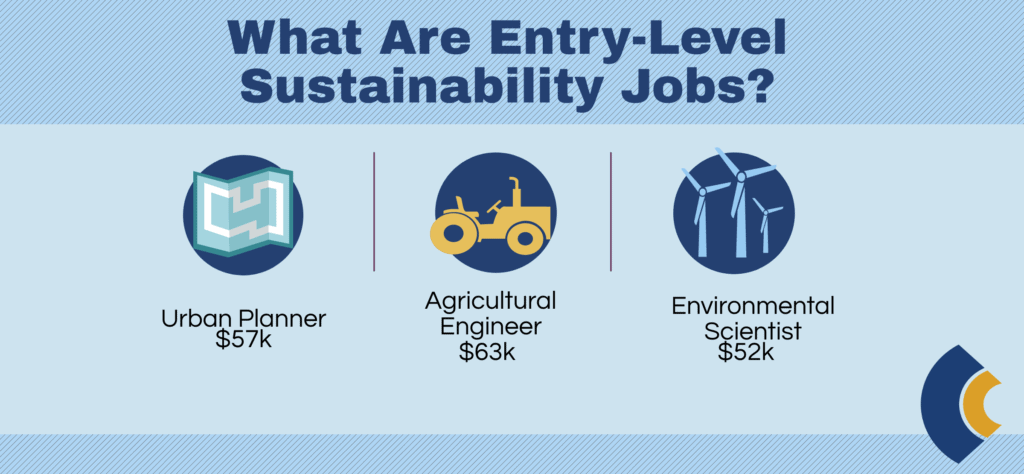 Salary Potential in Sustainability Careers
Naturally, those looking for eco-friendly jobs would like to know what they can expect from a sustainability job salary. While a sustainability management salary may be out of reach for those first obtaining their associate's, bachelors, or master's degree, getting the proper education can also boost your salary for entry level jobs.
The sustainability degree salary for common positions include the following from salary.com:
To receive a sustainability engineering salary, job candidates must attend an accredited university. A sustainability analyst salary also runs high and there's plenty of room for growth. The average sustainability director salary Will be higher than a lower level sustainability job salary.
Factors influencing a sustainability consultant salary include the following:
certifications
education
number of years in profession
location
The director of sustainability salary varies by region. For example, a sustainability director salary in New York City ranges from $110,000 to $176,000. The average salary for this position is $139,000. How much graduates make depends on their job role and responsibilities. For instance, a sustainability coordinator salary at a small firm may not pay as much as a job with more responsibilities yielding a higher masters in sustainability management salary.
With a few years' experience, students may consider a nomadic life that yields a sustainability consultant salary. A sustainability consulting salary depends on the budget of the company that hires the student. In general, sustainability management salary is on par with that of a consultant.
When considering sustainability manager salaries, write a list a pros and cons for each position you wish to pursue, including the following:
sustainability manager salary
sustainability specialist salary
chief sustainability officer salary
chief sustainability officers salary
To earn your sustainability engineer salary, you design buildings, products and systems that comply with certain specifications. Before accepting a sustainability analyst salary, check to see whether they have a LEED building certification or a BREEAM standard.
A sustainability analyst uses research and training to recommend changes for corporate sustainability projects. A sustainability analyst draws from different disciplines to make recommendations for corporate stability. A sustainability analyst can save the company money on fuel cost by developing a program to make the building more energy efficient. A sustainability analyst salary varies greatly depending on what job roles they are performing.
Are you wondering about what you can do with a bachelors and masters in sustainability? Here are just a few of the job titles that you can consider:
Sustainability specialists deal with issues such as green building practices, procurement and corporate sustainability issues. This could be a good move for those who already work in architecture, interior design or real estate.
As a climate control analyst, students deal with studying the effect of climate change on the earth. This could prove to be a lucrative field for students who studied natural sciences.
Some accountants become sustainability specialists and work to procure effective strategies to recycle and reuse as many assets as possible.
Climate change analysts manage awareness campaigns, legislation recommendations and review policy development for political candidates.
Although sustainability analyst salaries vary wildly, many carry average salaries of 80,000 or $90,000, not to mention a high percentage of jobs that pay more than $100,000. If evaluating energy related projects for cost and performance efficiency sounds good to you, you may have a high likelihood of doing well in this or a related field.
If you have a passion for conservation and finding innovative ways to fuel homes and businesses, a sustainability director salary maybe in your future. That's particularly likely if you already have leadership skills.
Director of Sustainability Salary
You may start with an entry level job earning a sustainability coordinator salary or climb up the ladder until you receive a promotion as a top sustainability officer. No matter what your position entails, you are working in one of the most sought-after fields that also helps you feel good about what you are doing for the environment.
If you are a self-aware, organized or caring person, you can help recruit other people to become sustainability experts.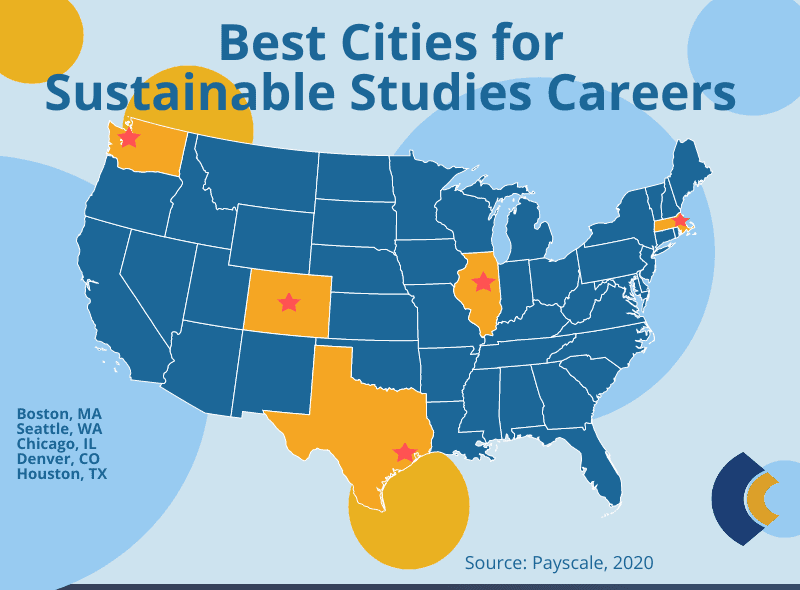 What Can a Masters in Sustainability Management Do for You?
Earning a hefty sustainability degree salary can be a big motivation for taking a masters in sustainability management. This also gives you an opportunity to work and earn a sustainability consultant salary. However, a sustainability consulting salary often depends on what you can do for your employer using the knowledge and skills obtained in a masters in sustainability program.
You can become a volunteer or research coordinator for a nonprofit or government agency. You can also teach sustainability lessons to local high schools, churches and other groups that may benefit from your knowledge.
A masters in sustainability management can combine your academic background with practical tools regarding policy and professional experiences. Also, students transferring from other majors bring a wealth of knowledge to the field.
What Is the Most Serious Problem in Sustainability?
Tackling the biggest challenges takes a comprehensive education such as available in a masters in sustainability or a bachelors in sustainability program. With these degrees, students graduate ready to plan processes for corporations and governments in just a few years.
What you do with your degree will depend on your goals and career opportunities. While some salaries are respectable an even lucrative, keep in mind that the project you choose of your own free will and good conscious may not pay as well as more established jobs.
Plan What You Want to Do Before You Graduate
Some people aim to work in environmental, social and governance roles. This includes preparing disclosures and sometimes managing investments. In this way you can help quantify the impact of your efforts.
There is a personal relationship facet of this field. Encouraging others to become more socially aware can help mobilize communities, States and nations to bring sustainability back to the mainstream. Scientists say we may be running out of time to become more responsible planetary citizens. With a degree in sustainability, you can earn great money while pursuing your personal goals and solving some of the problems face by our environment.
Fortunately, jobs in sustainability or sustainability management are becoming easier to find. Even major job boards are listing open positions that focus on sustainability. If making a six-figure salary appeals to you and you are interested in making a difference or leaving a legacy behind for future generations, a career in sustainability is probably a good call.
Related Rankings:
Best Online Master's in Sustainability Studies
Best Online Bachelor's in Sustainability Studies
Best Online Associate's in Sustainability Studies
Best Online Sustainability Studies Graduate Certificates
Best Online Master's in Environmental and Sustainability Management
Top 25 Green, Sustainability, and Alternative Energy Careers