Today's college students feel strongly about sustainability as a responsible practice to help eliminate the amount of waste going into the environment. They care strongly about their impact on the planet, and feel that college campuses should engage in sustainable practices as well. Even as students turn to online college, schools have a responsibility to the environment. Their desire to leave the world a better place than what they found has echoes in the Keep America Beautiful campaigns that debuted in the 1970s. That movement faded over time, but social media and improved connectivity have turned the concept of responsible trash disposal and sustainability into a way of life.
Issues such as the Great Pacific Garbage Patch, climate change, waste streams full of unrecyclable materials, and pollution from various sources have caught the attention of college-bound students. They find themselves looking for ways to minimize their impact on the Earth, how to use and waste less, and engage in small habits and practices that have a cumulative effect on the planet.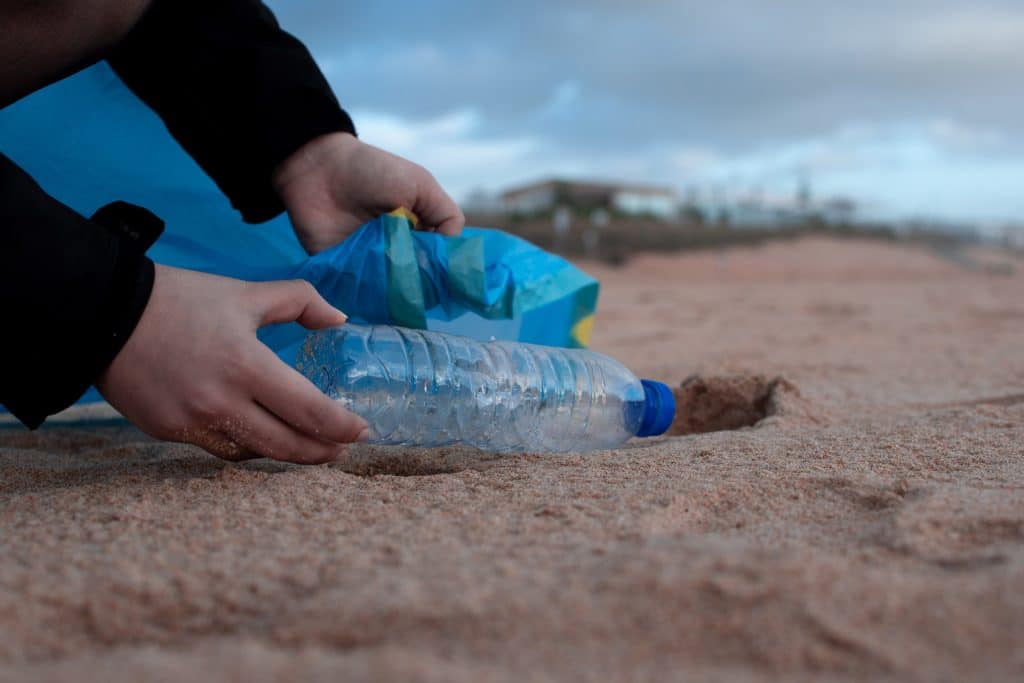 Regardless of your college major, you can make an impact by engaging in various actions and activities that reduce your carbon footprint, lower the amount of trash you throw away, put more items into the recycling stream, and ultimately save you money. Read on to learn more about the sustainability movement, where you can find more information, scholarships, and degree programs in conservation and sustainability to help guide your decision-making process while you attend college.
Living Sustainably in College
Being sustainable while attending college can present challenges, especially if you're starting your first year on campus, or you're commuting. The following list of tips contains plenty of ideas that help you find ways to engage in sustainable practices as you attend school. Don't hesitate to adapt the tips to fit in with your campus lifestyle and use them as starting points to find your own sustainable practices.
8 Ways for a College to Go Green
This article outlines eight ways for a college campus to go green. The practices outlined in the article include installing water bottle refilling stations, encouraging the use of reusable water bottles through giveaways, recycling programs, carpooling connections, and reducing the use of paper.
Sustainable Living as a College Student
An intern for EarthHero wrote this blog post to provide sustainability tips for both new and seasoned students. He covers the sustainability challenges students face as they live in the dorms for their first year, and gives sustainability advice for students living in off-campus housing. The author also provides a list of money-saving tips.
15 Tips for Green Living in College
The Princeton Review offers 15 tips to help a college student to live a sustainable lifestyle on campus without going to extremes. The tips show a student how easy it is to make decisions and choices that keep things from finding their way into the waste stream.
10 Ways College Students Can Live More Sustainably
The Years Project highlights actions such as not eating meat for one day a week to reduce carbon dioxide emissions to joining a campus campaign or group that works on sustainability awareness and projects.
12 Tips for Living Sustainably in College
Brightly's list of 12 tips comes directly from students who found ways to live sustainably on campus. Some of the tips include bringing reusable containers to the dining hall to save leftovers, exhaust notebooks and pens of their paper and ink, and using a digital notebook for writing class notes.
Just Energy
Just Energy offers sustainability tips that are easy to integrate into daily life on campus. Some of them include taking short showers, use a laptop or netbook instead of notebooks, buying reusable food and drink containers, and only doing full loads of laundry.
The College Kid's Guide to Living Sustainably
The Green Program offers practical sustainability tips for daily life on and off-campus. They range from going to paperless statements to printing double-sided term papers, studying outside to use daylight instead of indoor lighting, and getting into a community garden for fresh veggies.
Student Sustainability Guide From New York University
The Student Sustainability Guide is a list of resources that includes information on how to join organizations, connect with the Office of Sustainability, apply for funding for projects, research, and internships, and tips for sustainable living on campus.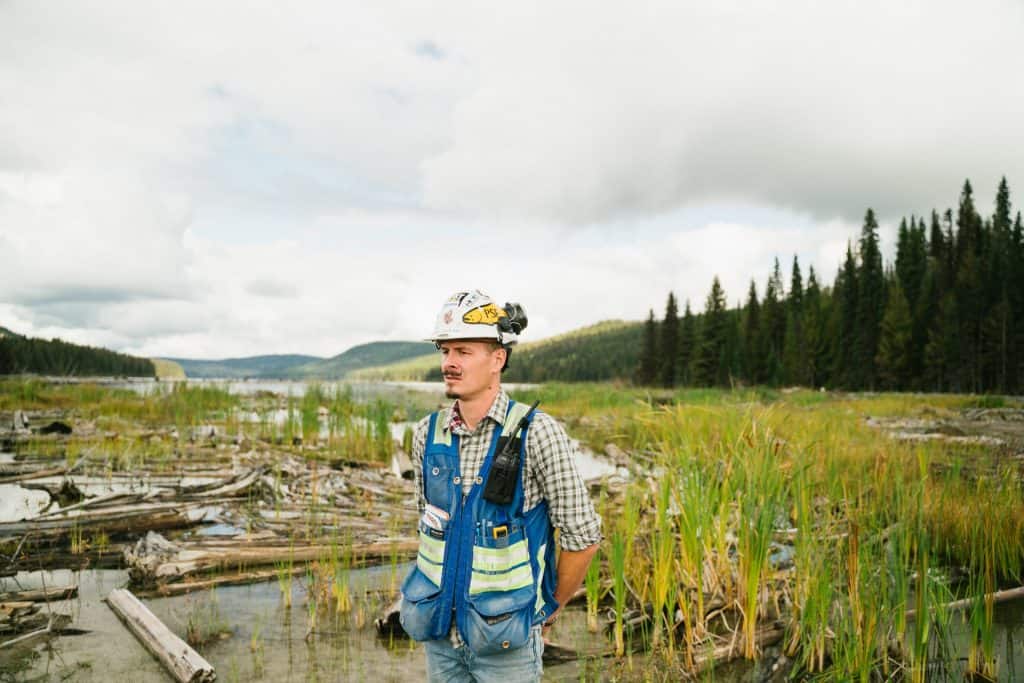 Scholarships Related to Sustainability
If you find the field of sustainability is something you'd like to do as a career, you can take advantage of scholarships to help you save on your tuition. Sustainable education scholarships range from those with specific criteria for application to ones that are more general. As you search for scholarships, make sure to look for ones that are local to the state or county you live in, as there are foundations that seek to help local students in their quest for a career in sustainability.
Allegheny Mountain Section Air & Waste Management Assn. Scholarships
The association offers a $4,000 scholarship to students who are pursuing a career in environmental science, engineering, or law at the post-graduate level.
Society of Women Engineers – Lehigh Valley Section
The SWE-LV provides a $5,000 scholarship to females graduating from high school who live in a specific set of zip codes and are enrolling as first-year students in an ABET-accredited engineering program.
EPOC Environmental Scholarship Fund
The EPOC scholarship is available to all Connecticut residents and family members of an EPOC in good standing and are attending an accredited college or university in an environmental field of study.
Friends of Moraine Hills State Park Scholarship in Environmental Studies
The fund awards two $1,000 scholarships to high school graduates who are entering the field of environmental studies and live in one of three listed counties in Illinois.
Blandy Experimental Farm Undergraduate Research Education Program
The Blandy Experimental Farm at the University of Virginia offers a scholarship to study and engage in research for the advancement of understanding the natural environment.
Harry Hampton Memorial Wildlife Fund Scholarship
The scholarship is awarded to a South Carolina high school student who intends to study in the areas of wildlife, forestry, environmental science, marine science, biology, zoology, or a related field.
DOE Computational Science Graduate Fellowship
The Department of Energy offers a fellowship to train graduate students in their chosen field of scientific study and eventually find employment in a DOE laboratory or in private industry and educational institutions.
The Virginia W. Smith Scholarship
The scholarship will be awarded to a Long Island student in the twelfth grade who has maintained a satisfactory grade verge and has a desire to study horticulture, conservation, and environmental issues in college.
Ohio EPA Scholarship
The Ohio EPA Scholarship offers a $5,000 award to undergraduate students admitted to a public or private Ohio state university and show their knowledge and commitment to careers in environmental sciences or engineering.
RTK Scholars Program
RTK Environmental Group offers a $1,500 scholarship to students who are studying environmental science, biology, engineering or a related physical science major and are attending an accredited educational institution.
Sustainability Sources for College Students
Research is an important part of sustainability, and keeping up with the latest news in green practices helps students stay informed of the latest trends, news, and events. Private foundations, government agencies, and universities offer a wealth of information in the form of articles and statistics that help guide a student as they advance their education in sustainability.
Science Daily
Science Daily publishes a page of the latest headlines in sustainability news. The page is updated daily, and covers all topics related to sustainable and green research, practices, and advances in green technology. The page also pulls articles from related publications.
U.S. Environmental Protection Agency
The EPA hosts the Database of Sustainability Indicators and Indices (DOSII) that consists of an inventory of sustainability indicators collected into one system. The EPA also promotes sustainability as a means of protecting the natural environment for current and future generations.
Environmental Science.org
Environmental Science.org provides an overview of the concept of sustainability, why it's important, and how it affects our daily lives. It also provides a list of schools with degree programs in sustainability and related fields.
United Nations Sustainability Development
The United Nations (UN) features a program known as Sustainable Development Goals that improves living conditions for people around the world while reducing the effects of climate change. The program also seeks to help developing countries engage in sustainable practices as they build their economies.
Medium – Explaining Sustainability
This article from Medium.com is a long guide that explains the concept of sustainability and why it's so important that society changes its practices as a whole. Topics covered in the article include the original concept of sustainability, how it's evolved over the centuries, and how it can slow down the damage being done to the planet.
Purdue University's Sustainability Resources You Need to Know
Purdue University has a list of 45 websites that focus on a particular area of sustainability. The resources range from government sites to find energy ratings for home appliances to climate change topics.
Sustainability Degrees
You can get a degree in sustainability at all degree levels, and find employment in just about every field due to the flexibility and importance of the discipline. Sustainability is something that affects every aspect of the world; economies, businesses, and governments are incorporating sustainable practices in their day-to-day operations in order to reduce their impact on the environment. The field of sustainability is a relatively new one, but it's being offered as a major or minor at just about every university to meet the growing demand for individuals who can create solutions and plans to help an organization become greener.
The degree levels for sustainability majors include:
Students can decide to get a degree in sustainability, or engage in a major that combines two disciplines into one. Some of the hybrid degree programs include:
Environmental Engineering
Environmental engineering is a branch of engineering that includes biology, ecology, hydrology, microbiology, and related topics under one umbrella.
Food Systems and Sustainable Agriculture
Focuses on the four pillars of food security and how to help farmers engage in sustainable farming practices.
Renewable Energy
Renewable energy covers the collection of energy from renewable sources such as wind, sun, and water.
Sustainable Business
A sustainable business degree combines business classes and how to incorporate sustainable principles into the operation of a business.
Sustainable Public Policy
Focuses on the creation of sustainable public policy at the local, state, and federal levels.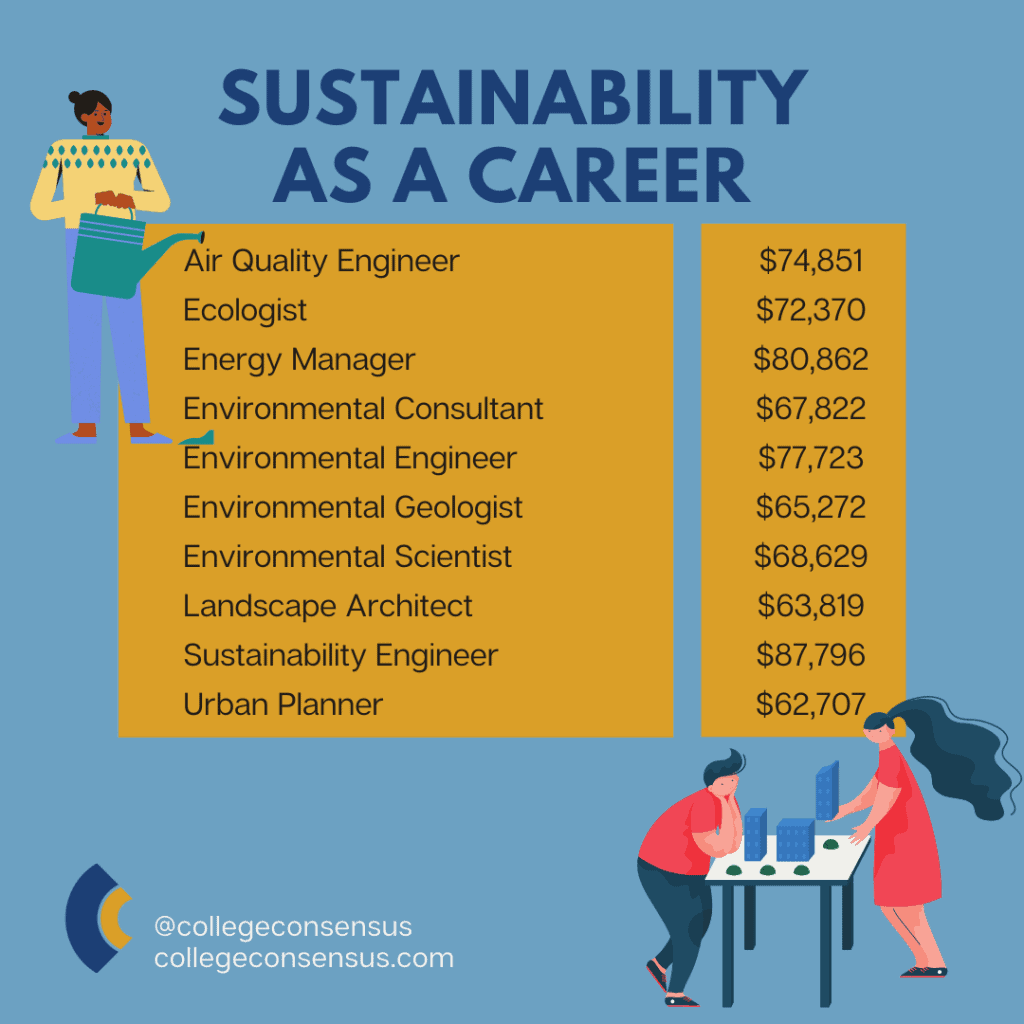 Sustainability as a Career
A degree in sustainability can lead to a number of career paths that provide excellent pay and long-term job prospects. Sustainability itself is a future-proof career as it is going to take decades, even centuries, to undo the damage that humanity has done to the plant. Some of the careers include:
Air Quality Engineer
National average salary: $74,851 per year
An air quality engineer, also known as an air pollution control engineer, uses their training and skills to develop and deploy air quality monitoring techniques along with data collection.
Ecologist
National average salary: $72,370 per year
The role of an ecologist is to study how organisms exist within a given environment and their impact on the said environment.
Energy Manager
National average salary: $80,862 per year
Environmental Consultant
National average salary: $67,822 per year
Help in the creation of government policy to protect the environment from hazards created by pollution.
Environmental Engineer
National average salary: $77,723 per year
Applies principles of engineering, chemistry, soil science, and biology to find solutions to environmental issues such as toxic site cleanups.
Environmental Geologist
National average salary: $65,272 per year
Protect soil and groundwater contamination during the construction of landfills and other sites dedicated to the disposal of toxic waste.
Environmental scientist
National average salary: $68,629 per year
Environmental scientists use their education and skills to find ways to protect the environment and the health of humans and animals.
Landscape Architect
National average salary: $63,819 per year
Designs open spaces to create pleasing outdoor environments ranging from parks, gardens, and even construction sites.
Sustainability Engineer
National average salary: $87,796 per year
A sustainability engineer designs, creates, and engages in the production of buildings, systems, and products to sustainability specifications.
Urban Planner
National average salary: $62,707 per year
Develop plans for land use over time to create new communities and revitalize existing communities, parks, businesses, and more in urban environments.
---
New Green Jobs with Projected Future Growth
| New Green Jobs | Typical entry-level education | Annual occupational openings | Projected growth 2019-29 |
| --- | --- | --- | --- |
| Solar Photovoltaic Installers | High school diploma or equivalent | 2,300 | 50.5% (much faster than average) |
| Environmental Scientists and Specialists | Bachelor's degree | 8,900 | 7.8% (faster than average) |
| Biochemists and Biophysicists | Doctoral or professional degree | 2,900 | 4.0% (as fast as average) |
| Geoscientists | Bachelor's degree | 3,000 | 4.9% (as fast as average) |
| Environmental Engineers | Bachelor's degree | 3,700 | 3.1% (as fast as average) |
| Environmental Science and Protection Technicians | Associate degree | 4,300 | 8.4% (much faster than average) |
| Hazardous Materials Removal Workers | High school diploma or equivalent | 5,600 | 8.2% (much faster than average) |
| Conservation Scientists | Bachelor's degree | 2,300 | 5.1% (faster than average) |
| Source: U.S. Bureau of Labor Statistics, Office of Occupational Statistics and Employment Projections. | | | |
Living Sustainably at Home
Engaging in sustainability practices doesn't have to stop when the school year ends and you return home for the summer, or when you take off on your study abroad. You can introduce the lifestyle into your family home and get everyone engaged in green practices without upsetting the household routines.
Medium's Beginners Guide to Sustainable Living
This guide offers tips and advice on how to reduce waste, shop for foods that are compostable, and re-use food containers such as glass jars. Other tips include buying toiletries to make your bathroom sustainable.
The Nature Conservancy's Everyday Sustainability Guide
The Nature Conservancy offers a free guide that has seven easy tips you can use for sustainable living at home. It offers tips on what can be recycled, and how to handle food scraps.
Good Housekeeping: A Foolproof Guide to Sustainable Living
This guide from Good Housekeeping teaches you how to become a savvy green consumer and actions you can take to reduce your carbon footprint. Some of the advice includes how to find products in sustainable packaging and how to buy from ethical clothing manufacturers.
CDC's Healthy Communities Program
The CDC offers a guide to help community leaders find ways to encourage their community to engage in sustainable practices. The guide helps community leaders develop realistic visions and goals, define what sustainability means to the community, and how to determine the effectiveness of a sustainability initiative.
United Nations 17 Goals for Sustainable Development
The United Nations 17 Goals for Sustainable Development focuses on improving the quality of life in a sustainable fashion in developing countries. However, the information in the guide can be adapted for life at home in a developed country.
Harvard's Sustainability at Home Guide
Harvard University offers a guide for living sustainably at home during a time when more people are going to school and working from home. Some of the actions to take include finding energy drains, putting in LED lightbulbs, bringing plants into the home to filter the air, and buying environmentally friendly pet toys.
How to Be Sustainable While Traveling in the U.S. and Abroad
Traveling around the country or studying abroad makes it more challenging to act sustainably, but it's not impossible. The following tips and guides help you identify destinations that focus on sustainability, how to travel in a sustainable manner, and engage in sustainable practices no matter where you happen to be staying.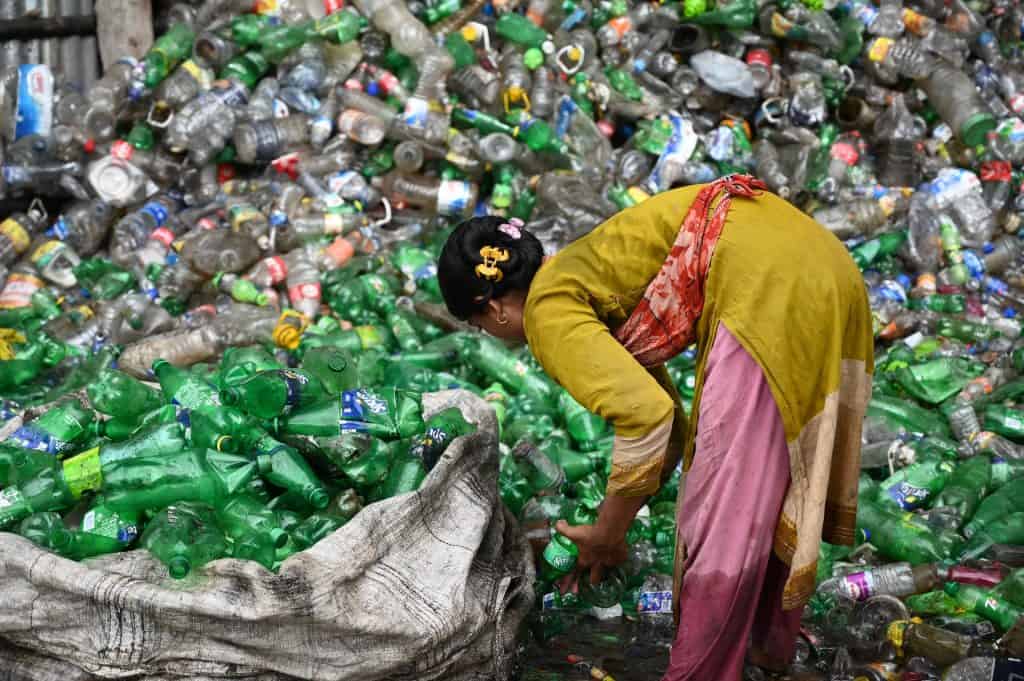 Sustainable Travel International's 10 Tips for Sustainable Travel
This travel guide offers sustainable tips such as avoiding major tourist attractions which are known sources of pollution from visitors, staying longer at a destination, and staying in accommodations that use sustainable practices.
The New York Times Be a More Sustainable Traveler Guide
This guide from the NY Times highlights destinations that make a point to engage in sustainable practices around the world, how to get there and how to get around, and how to pack.
The Lonely Planet Sustainable Travel Page
The Lonely Planet features a web page that has links to different travel topics that include exploring sustainable cities, destinations that put sustainability first, and sustainable travel goals.
Adventure.com's Sustainable Travel Guide
This guide from Adventure.com takes a more conservative approach to travel with discussions about minimizing air travel to reduce emissions, traveling close to home, how to be an untourist, and eating more plant-based foods while on vacation.
Green Global Travel: 40 Green Travel Tips
Green Global Travel offers a comprehensive guide and list of tips to help you travel in a sustainable fashion. Tips include staying in LEED-certified hotels, conserving water, green hiking, and even green shopping.
Tilted Map: The Lazy Guide to More Sustainable Travel
This guide from Tilted Map provides you with ample tips to help you maintain sustainability without going out of your way to do so. The spirit of the guide is to be as sustainable as you can, but don't try to be perfect.
Beeco: The Complete Guide to Sustainable Travel
Beeco's guide discusses the concept of sustainable travel and how it differs from eco-tourism, how to spot greenwashing, and how to plan a trip to destinations that focus on sustainability in its different forms.
Related:
Ultimate Guide to Sustainable Studies Degrees
Top 25 Green, Sustainable, and Alternative Energy Careers
Best Online Associate's in Sustainability Studies
Best Online Bachelor's in Sustainability Studies
Best Online Master's in Sustainability Studies
Best Online Sustainability Studies Graduate Certificates