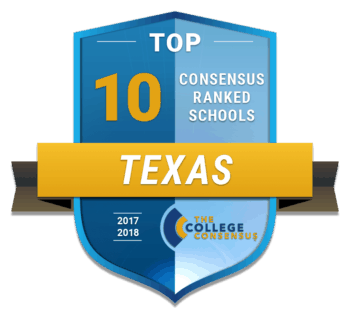 To identify the Best Colleges in Texas for 2017-2018 we averaged the latest results from the most respected college ranking systems with thousands of real student review scores from around the web to produce a unique College Consensus rating for each school. You won't find a more comprehensive ranking of the top colleges and universities in Texas anywhere. Read more about our rankings methodology and sources at our about page.
Colleges & Universities in Texas
Texas has a lot of land, a lot of people, and a lot of need for higher education opportunities to keep the state's professionals, leaders, and workers up to date and productive. And, in grand Texas tradition, the state has done it in a big way, with no less than six public university systems. The University of Texas and the Texas A&M systems are the largest and best-known, funded by the highly lucrative Permanent University Fund (which is fueled by oil and mineral rights on public land). Other public university systems in Texas include:
Texas State System
Texas Tech System
University of Houston System
University of North Texas System
Texas also has a wealth of private research institutions, like Rice University 75 , and religious universities, from Catholic to Baptist, including the University of Dallas 67 , Texas Lutheran University 72 , and Saint Edward's University 66 . Texas is known as a highly religious state, and these Christian colleges and universities are a deeply-rooted part of Texas' educational and cultural identity.