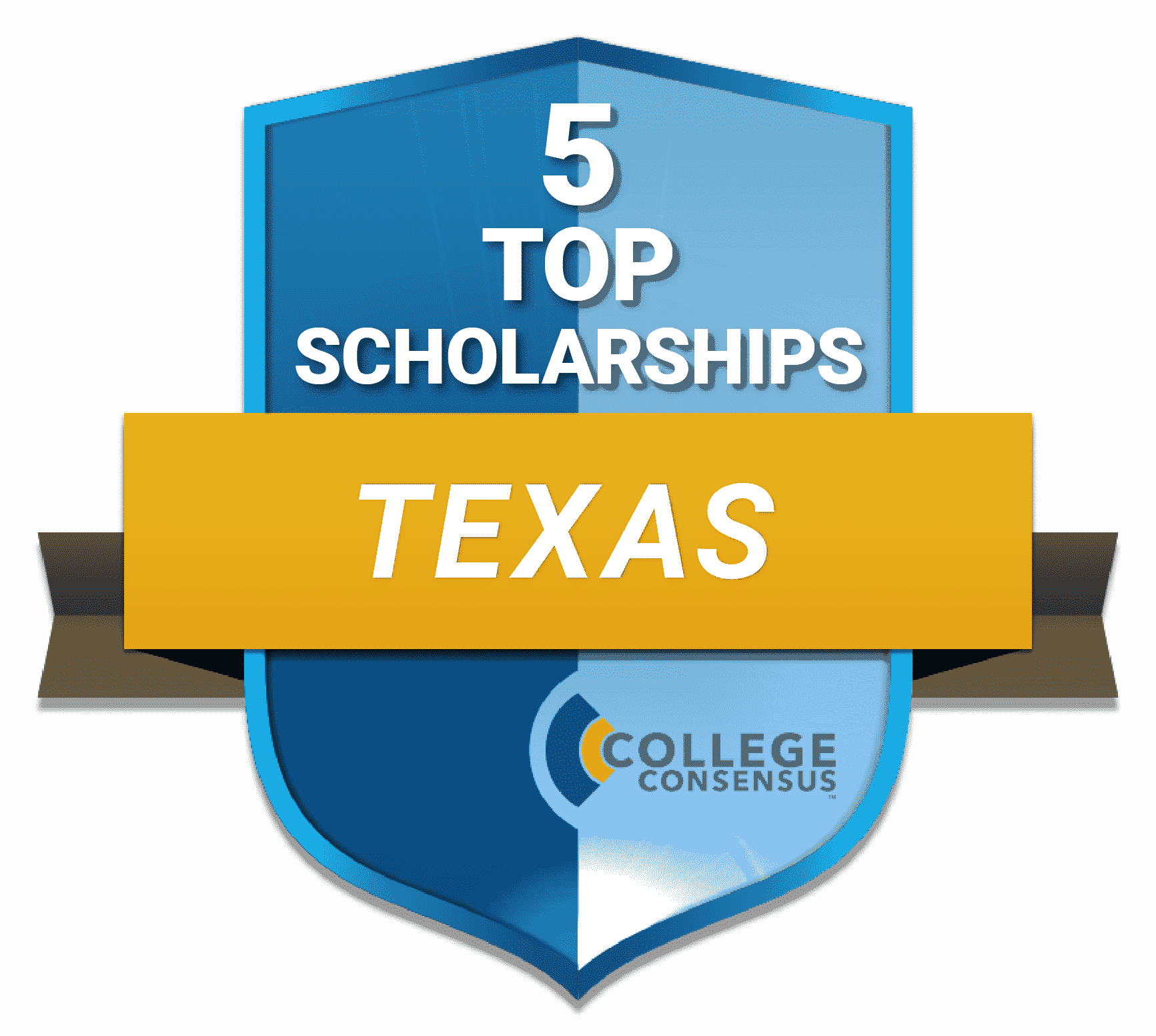 Texas is a big state, with a highly diverse population and a highly diverse economy as well. Educational opportunities abound from some of the nation's best public and private universities, but for everyone in Texas to benefit – especially minority students, first-generation learners, and busy working adults – scholarships are critical. College students in the state of Texas and those seeking a college education are keenly aware of the high cost of secondary schooling. The good news is, there a wide variety of college scholarships for Texas students. Federal, state, and university Texas grants and scholarships are available to help pay for the rising costs of obtaining your post-primary school education.
College Consensus knows how important scholarships are for Texas students. The Top 5 Texas Scholarships list is intended just to start the research process for students; our many other scholarship pages continue. Programs are in alphabetical order.
See Also: Best Scholarships for Online Students
1
Association of Texas Leaders for Education Scholarship
The Texas Association Leaders for Education Scholarship is awarded to a high school senior with a GPA of at least 3.0. Applicants must have demonstrated acts of service to their school and community and plan to attend an accredited university, college, or technical school in the state of Texas full-time. The award amount is $1,000 and financial need may or may not be considered. Students must submit their applications by March 15, along with their high school transcript, two letters of recommendation, and a personal essay.
The Association of Texas Leaders for Education provides information and puts on presentations to help inspire Texas youth to pursue higher education. The organization seeks to promote a culture of educated citizens throughout Texas. ATLE is dedicated to making sure that every Texas student is able to achieve the dream of a college education and pursue a successful career with that education. The organization offers scholarships in Texas to help make that vision a reality.
2
Austin Alliance for Women in Media Scholarship
The Austin Alliance for Women in Media Scholarship is open to college students attending a university within 40 miles of Austin. Applicants for this Texas scholarship must have reached at least the sophomore level in college and be studying a field related to media to be eligible. The scholarship provides $5,000 in tuition assistance to one student each year. Applicants must have at least 60 hours of college credit and a 3.25 or higher GPA. To apply, students must submit an application, transcript, and letters of reference by March 31.
The Austin Alliance for Women in Media is a nonprofit organization for professionals in the Austin area who work in media. The organization promotes positive change in the field of media by encouraging thought leadership and helping to promote career development for women in media. The AWM strives to improve the quality of media, spark change by creating content that speaks to the need for diversity in media, and improve the status of women in the industry.
3
Fifth Year Accounting Student Scholarship Program
The Fifth Year Accounting Student Scholarship Program was developed to encourage students to pursue additional training in the field of accounting and to increase the number of certified public accountants in the state. Applicants must live in Texas and be attending a Texas college or university at least half time. To qualify, students must have at least 120 hours of completed college credit and have filed an Application of Intent to take the CPA exam. This Texas scholarship awards up to $5,000.
The Texas State Board of Public Accountancy ensures that people who receive the designation of Certified Public Accountant possess the skills and knowledge required to perform their duties competently. The agency does this by requiring CPA applicants to meet certain standards, including passing the CPA examination.
4
Ozarka Natural Spring Water "Every Drop Counts" Earth Science Scholarship
The Ozarka Natural Spring Water "Every Drop Counts" Earth Science Scholarship was started by Nestlé Waters North America as part of the company's commitment to Texas and to the preservation and conservation of water. The company awards these Texas scholarships to students who are studying hydrogeology and other fields related to water preservation at a four-year university or college. Last year, there were two $10,000 scholarships and three smaller $2,500 scholarships.
Nestlé Waters North America bills itself as the healthy hydration companyTM. The company has made a commitment to use 100% recycled plastic for its Poland SpringR natural spring water by the year 2022. The company has achieved gold certification from the Alliance for Water Stewardship at eight of its facilities and is working to get all sites certified by 2025. AWS certification recognizes companies for gathering information on water challenging, developing and implementing a stewardship plan, and evaluating and disclosing the results.
5
Texas Education and Training Voucher Program for Youth Aging out of Foster Care
The Texas Education and Training Voucher Program was created help youth aging out of foster care become successful young adults. To be eligible, students must meet certain requirements based on current or past foster care experience. In addition, the student must be under 23 years old and enrolled in at least 6 semester hours at an eligible institution. The voucher program provides up to $5,000 per year. The application deadlines are October 1 for the fall term, March 1 for spring, and July 1 for summer.
The Texas Department of Family and Protective Services works with families to bring about the safe return of children to their homes when possible. However, sometimes it is necessary for children to be placed in foster care either permanently or temporarily. DFPS manages the foster care system in the state of Texas, including working with people who want to become foster parents or adopt from foster care. Above all, DFPS ensures that all Texas children have a safe place to call home.
Does the State of Texas Offer Grants and Scholarships?
The following scholarships for Texas students are awarded based on financial need. Most take other considerations into account as well, such as GPA and extracurricular activity.
Scholarships for College Students in Texas
Federal Pell Grant – Eligibility is based on the number of undergraduate hours with a maximum award of $6,195
Iraq Afghanistan Service Grant – Available to students whose parents or guardian dies during military service in Iraq. The maximum award is $5,717.
Federal Supplemental Educational Opportunity Grant (SEOG) – For students working on a first undergraduate degree. The maximum award is $2,000.
Texas Public Educational Grant (TPEG) – This grant is based chiefly on financial need. The maximum award is $5,500
Texas State Tuition Grant – This grant is based chiefly on financial need. The maximum award is $5,500
Toward Excellence, Access, and Success Grant (TEXAS Grant) – Eligibility requirements are chiefly academic and described here. The maximum award is $5,000.
Undergraduates looking for more information on how to apply for Texas scholarships can find it here.
Do I Need Good Grades for a Scholarship?
Not everyone gets great grades in high school. In fact, many of our best minds and greatest academics did poorly in high school. While extending scholarships to students with poor grades is a risk- there are some organizations which recognize that a student is far more than the sum of his or her grades. Alternative scholarships look at extracurricular activity, some look at specific talents, and others consider community service.
The Don't Mess with Texas Scholarship is a great example of a community service-based scholarship. Working in partnership with Keep Texas Beautiful, the 2019 Don't Mess With Texas Scholarship is designed to reward high school students who have taken a leadership role in litter prevention and cleanup. This is just one example of the many scholarships for high school seniors in Texas.
There are also many Texas scholarships for high school seniors and scholarships for juniors in high school in Texas. These include:
Education Matters $5K Scholarship – Total: $5000
Discover Student Loans Scholarship Award – Total: $2500
Del Tally HSE Scholarship – Total: $2000
George Gustafson HSE Memorial Scholarship – Total: $2000
Gulf Coast Past President's Scholarship – Total: $2000
In addition to these, there are many scholarships available to students of specific school districts all across the state of Texas.
Are there Scholarships for Single Mothers in Texas?
Single mothers, there are a lot of them out there and it's tough to balance the responsibilities of parenthood with work and going to school to get ahead at the same time. The good news is, if you are a single mom looking for scholarships in Texas- there are lots of Texas scholarships for single moms just like you.
The first thing you might want to do is visit an aggregator of information on scholarships for single moms in Texas like SingleMothersGrants.org. They have the largest directory of scholarships for Texas women that you're likely to find anywhere.
Grants published on their website are gathered from state, federal, non-profit orgs and learning institutions. If you're looking for education grants, make sure your application is submitted on time. Some grants have deadlines that must be met to qualify.
Are there Scholarships for Nurses in Texas?
If you're interested in becoming a nurse in the state of Texas, you've got a bright future in front of you. Nursing is a well paying, satisfying, and secure career with lots of opportunities for specialization, travel, and advancement. What's more, there is so much demand for dedicated and well-trained nurses that scholarships and grants for aspiring nurses are everywhere. Many healthcare organizations such as hospitals and healthcare networks offer scholarships and grants- and the medical community in Texas is no exception.
Nursing scholarships in Texas are exceedingly abundant! Your first step is to choose a nursing school and get accepted. After that, you can work with that educational institution through the Financial Aid Office. They will have all of the resources you could need.
Related Rankings:
Best Online MBA Programs in Texas