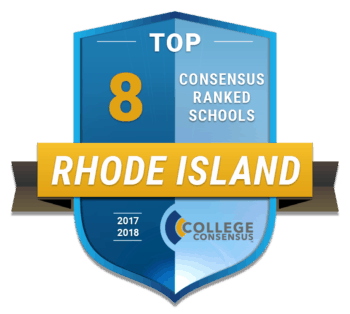 To identify the Best Colleges in Rhode Island for 2017-2018 we averaged the latest results from the most respected college ranking systems with thousands of real student review scores from around the web to produce a unique College Consensus rating for each school. You won't find a more comprehensive ranking of the top colleges and universities in Rhode Island anywhere. Read more about our rankings methodology and sources at our about page.
Colleges & Universities in Rhode Island
The best colleges and universities in Rhode Island are few in number, but long in quality. To prepare Rhode Island's leaders, the state is home to one of the oldest institutions in the nation – Brown University 80 , a Colonial College and Ivy League research university – and a top-tier public research university – the University of Rhode Island 55 , the state's official land-grant institution. Alongside these world-class universities, Rhode Island has two excellent Catholic institutions – Providence College 76 , originally an all-male college, and Salve Regina University 63 , originally an all-women's school. Two of the nation's most innovative business schools also call Rhode Island home; Bryant University 67 and Johnson & Wales University both began as pioneering private, for-profit business schools in Providence, RI, before expanding their programs and becoming known regionally and nationally for their variety of programs and their unique approaches to business and other fields.
At this time, only eight institutions in Rhode Island has sufficient rankings and reviews to generate a Consensus Score; as the College Consensus is dynamic, more colleges and universities may be added in the future.
Here are the top colleges and universities of the Ocean State.