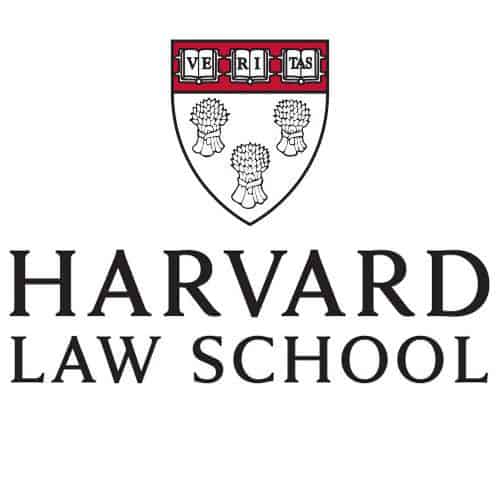 13%
Admissions Statistics | Acceptance Rate
3.9
Admissions Statistics | GPA (Median)
97%
Bar Exam Statistics | School's bar passage rate
76%
Bar Exam Statistics | State overall bar passage rate
92%
Employment Statistics | Graduates employed 10 months after graduation
$180,000
Full-Time Starting Salaries | Private Sector (Median)
$60,000
Full-Time Starting Salaries | Public Sector (Median)
7.6:1
Students & Faculty | Student-to-Faculty Ratio
1,737
Students & Faculty | Total Students
$64,978
Tuition and Expenses | Tuition
$24,508
Tuition and Expenses | Room and Board
= Average
Harvard Law School opened its door in 1817 and has continued educating lawyers for over 200 years. Over its history, Harvard Law has educated 21 Supreme Court Justices as well as President Barack Obama. Harvard Law is located in Cambridge, Massachusetts, part of the Boston metropolitan area. The Law School accepts roughly 550 new students each year and boasts a faculty of nearly 400 professors. It is one of the largest law schools in the world as well as one of the most prestigious.
Education
Due to the size, the first-year class is divided into seven groups of roughly 80 students. All first-year students receive instruction in the traditional core classes of the 1L curriculum: civil procedure, constitutional law, contracts, criminal law, legislation and regulation, property, and torts. In addition, first-year students participate in a variety of practical courses including a legal research and writing class as well as an experiential education seminar that emphasizes practical skills and self-reflection. During the second semester of their first year, law students are allowed one elective course. Finally, first-year students participate in ungraded reading groups that focus on areas outside of the traditional legal education.
Second and third-year students at Harvard Law School choose one of seven different pathways through the final two years of their legal education. These pathways combine theoretical and practical knowledge to allow students to focus on their particular area of expertise. Third-year students are encouraged to participate in high-level seminars and writing projects that are aimed at tackling challenging legal issues.
Additional Programs
Along with its Juris Doctor program, Harvard Law also offers a Masters of Law (LL.M) and a Doctor of Juridical Science (S.J.D). The Masters is intended for law school graduates who want to build on their J.D. to develop additional skills in a particular area whereas the S.J.D. is intended for graduates who are interested in becoming professors of Law or continue the academic study of law and legal theory. Harvard Law also offers a Masters of Law in conjunction with Cambridge University.
Harvard Law School offers five joint degree programs in conjunction with the Business School, School of Government, School of Health, School of Design, and the Graduate School of Arts and Sciences. Students must be accepted into both programs for admission into a joint degree program.
Careers and Career Placement
Harvard Law reported that 569 of 590 of its 2018 Graduates were employed within 10 months of graduation. Almost 90% were employed in jobs requiring a law license. More than half of those were employed in large law firms with over 500 attorneys.
Harvard Law School has a dedicated Career Services office that includes over 15 persons on staff as well as student advisers. The Career Services department guides students through every aspect of career placement and produces a host of material including a practice area podcast and a career blog.
Experiential Learning/Distance Education
Students in their second and third year may participate in legal clinics under the supervision of practicing attorneys. Harvard's legal clinics are tied into classwork such that students receive academic and clinic credits for their work. Clinics provide practical training in over 30 areas of law including both public and private sector law.
All Harvard Law students are required to complete 50 hours of Pro Bono work prior to graduation (clinic hours do count towards these requirements).
Student Life
Harvard Law School is located in the Boston metropolitan area which offers a robust setting for a vibrant student life. On campus, Harvard Law provides students lounges, a dining hall, the law library, plus a number of student spaces including outdoor plazas and study areas. Harvard Law also provides its students with their own, state-of-the-art gymnasium. Students are welcome to participate in any of the 100+ student groups on the law school campus. There are a limited number of dormitories for students who prefer living on campus while nearby Harvard Square is a busy area for shopping and dining.
SEE ALSO