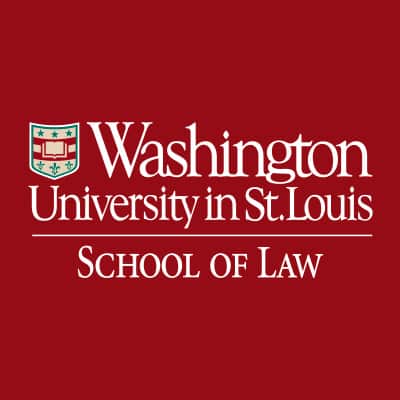 30%
Admissions Statistics | Acceptance Rate
3.8
Admissions Statistics | GPA (Median)
96%
Bar Exam Statistics | School's bar passage rate
86%
Bar Exam Statistics | State overall bar passage rate
90%
Employment Statistics | Graduates employed 10 months after graduation
$162,500
Full-Time Starting Salaries | Private Sector (Median)
$57,000
Full-Time Starting Salaries | Public Sector (Median)
6.8:1
Students & Faculty | Student-to-Faculty Ratio
728
Students & Faculty | Total Students
$57,445
Tuition and Expenses | Tuition
$14,400
Tuition and Expenses | Room and Board
= Average
The first law school founded west of the Mississippi River, the Washington University in Saint Louis School of Law (WashULaw) has been in continuous operation since 1867. The school is housed on the Danforth campus just a few minutes from Forest Park, Saint Louis' 1,300 acre park that houses the world renowned Saint Louis zoo as well as a host of other outdoor recreational sites. The School of Law is one of the most competitive in the country consistently ranking as one of the top 20 law schools in the country with a top ten clinical program and a highly regarded focus on international law. The Juris Doctor program admits roughly 225 students each fall. The school also offers several advanced degrees as well as a unique online program for their masters degrees. During its long history, the School of Law has a strong tradition of educating future US Senators and Congressman.
Education
In their first year of law school at Washington University in St. Louis, students take 24 credit hours covering six core courses of their legal education. Additionally, students take two semesters on the practice of law, focusing on analysis and reasoning during the first semester followed by a semester on advocacy. Students also take courses on negotiation and legal research methodologies.
In their final two years, law students focus on one of 12 practice areas. For each area, the school offers suggested courses, clinical programs, externships, and even potentials for continuing education in a dedicated Masters of Law program. The combination of upper level coursework paired with practical skills provide students with a solid foundation for their future careers.
Students are required to complete both an ethics requirement and a senior level writing assignment prior to graduation. Six hours of experiential education is also required as well as six semesters of residence. In total, students must complete 86 hours of coursework while maintaining a 3.0 grade point average. Students may elect to complete up to 19 hours of their required coursework in other departments.
Additional Programs
Washington University in St. Louis School of Law has one of the most unique Masters of Law (LL.M) programs in the country with numerous offerings and a range of online education opportunities. The School of Law offers two masters for international students. The first is a one year program for students who want to improve their understanding of international law and American jurisprudence. The second is targeted for non-English speakers and combines legal training with language immersion as well as an introduction to the local legal community. The School of Law also offers a concentration for international students with a focus on alternative dispute resolution. Finally, the school offers a Juris Scientiae Doctor (JSD) degree for LL.M graduates who wish to pursue a career in legal academia.
The School of Law has also created one of the most comprehensive online learning offerings for Masters studies in the field of law. The School of Law currently offers six different Masters that can be completed online. The online degrees allow for live classroom learning as well as options to visit campus for additional learning.
The School of Law offers four joint degree programs that combine the J.D. with an MBA, a master of Social Work, an LL.M in negotiation, or an LL.M in taxation. These joint programs allow for specialization and interdisciplinary work to bolster the legal curriculum.
Career and Career Placement
Washington University in St. Louis School of Law produces graduates who quickly find employment in the legal industry with almost 98% of their students finding employment within 10 months of graduation and 94% of those careers requiring either a law license or degree. Roughly 60% of the graduates pursue employment in law firms although the firm size varies widely with more students choosing medium or small sized firms to larger ones. Graduates also find work outside the traditional legal roles with close to 24% of their graduates pursuing work in business roles, government, or public interest programs.
The School of Law's Career Services Center has a staff of over 10 full time persons who manage all aspects of the career placement process. The Career Services Center also has a dedicated staff to coordinate judicial clerkships. This staff has had tremendous success with over 10% of graduates accepting clerkships in either the Federal or State court systems.
Experiential Learning/Distance Education
WashULaw has one of the most comprehensive experiential learning programs with almost 20 distinct clinical programs or externship programs. The School of Law's clinical program offers students the opportunity to work directly with clients in real world legal situations. The program is widely considered to be one of the best in the country for training lawyers. The externship program allows students additional real world experience by working with government organizations.
The School of Law also provides its students with hands on legal training through simulations that mimic real world legal problems and challenge students to use their advocacy skills to solve these issues. The simulation program also incorporates WashULaw's trial advocacy program and award winning Moot Court program.
Student Life
Students at Washington University in St. Louis are immersed in a campus dedicated to community and relationships. The Law School sits on the beautiful Danforth campus to the east of downtown St. Louis and just off the edge of Forest Park, one of the largest metropolitan parks in the country. The law school has a dedicated office for students which manages not only their academic courses but a bevy of student run organizations as well as a robust health and wellness program.
The campus of WashULaw is full of life with the Law Cafe operating as a social hub. The Cafe offers fresh made food options as well as an informal space for students. The law school building houses the law library and a range of open spaces for students to study and socialize.
Life in Saint Louis offers law students the opportunity to take advantage of bustling midwestern city with a long tradition of art, music, cuisine, and professional sporting events. Housing is abundant around the law school as is recreational opportunities due to the proximity of Forest Park.