There was a time when working professionals had to sacrifice well-paying, established jobs to go pursue a degree in business management somewhere else in the country or perhaps come to terms with the fact their careers may never meet their full potential without more high-quality training. But with the growth of online MBA programs, students from all over the country and world can benefit from the high-quality programs hailing from the state of Louisiana.
The State
The state of Louisiana gets its name from explorer Sieur de La Salle who named the region for King Louis XIV in 1682. Louisiana joined the Union in 1812 as the 18th state and today is known as Sportsman's Paradise. Hunting and fishing opportunities abound in the state as there are many forest areas, marshes, lakes, and rivers. The city of New Orleans sees over 17 million visitors each year who want to take in the music, food, and culture of the "Big Easy." In the city that is widely known as a melting pot of French-Canadian, African, and American cultures, one very popular event which takes place each year is Mardi Gras.
Louisiana and Mississippi were hit by a devastating hurricane named Katrina on August 29, 2005. The damage was extensive to both states, and the city of New Orleans saw its population drop by 50% after the storm. Relief efforts stalled early on after the storm, but many residents of the famous city committed to staying and rebuilding their lives after the devastation.
Other unique features of Louisiana include being sectioned off by parishes instead of counties, and the state capitol building is the tallest in the nation at 450 feet from sea level.
The Online MBA
With its storied past and current rich culture, Louisiana offers excellent online MBA degrees at some top-shelf universities across the state.
These best of the best online MBA programs in Louisiana provide students an excellent chance to take courses through virtual learning without having to sacrifice in the areas of flexibility and convenience. Many online MBA students maintain full-time work schedules within a number of professional organizations. And online students no longer have to sacrifice quality for convenience. Every program in this list is backed by the AACSB, placing them among the top business schools on the planet. Here are some of the very best online MBA degrees that Louisiana has to offer.
Methodology
To find the best Online MBA programs in Louisiana, over 570 online and hybrid MBA programs were examined and ranked, first upon their location within the Pelican State, and then upon their tuition affordability, MBA reputation, and overall convenience.
Affordability
All base tuition information is calculated for the entire online MBA degree and taken directly from each university website. This data only covers the base tuition and not fees, books, or lodging. To find the Affordability Score, this data is put on a 100-point scale and then inverted. This attributes to 33% of the final ranking score.
Reputation
This information is based upon national MBA ranking sources: Bloomberg Businessweek, US News and World Report, and The Economist. Ranking data was converted to scores on a 100-point scale, and then averaged to find a balanced consensus for each online MBA. This averaged score was put on a 100-point scale, and attributes to 33% of the final ranking score.
Convenience
Each MBA program's convenience is figured upon if it can be completed in a 100% online format and if the GMAT/GRE score requirement is waived or omitted during the application process. Each MBA's an online format score and GMAT score are averaged to make the Convenience Score, which attributes to 33% of the final ranking score.
1
University of Louisiana at Monroe College of Business and Social Sciences - Monroe, Louisiana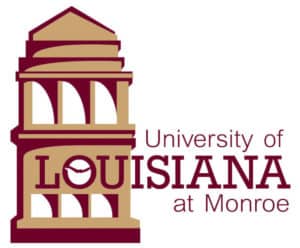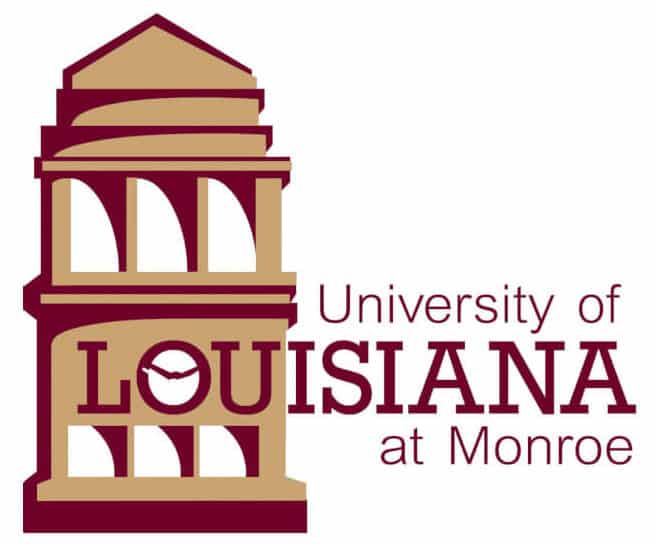 An online MBA with emphases in Business, Criminal Justice, Public Administration, Educational Leadership, Psychology, Gerontology, and Nursing Health Care is offered through the College of Business and Social Sciences at the University of Louisiana at Monroe. Management Information Systems, Strategic Management, Economic Environment, Multinational Leadership and Management, Accounting Analysis for Decision Making, Global Operations and Supply Chain Management, Financial Analysis, and Marketing Strategy are some of the courses that make this online MBA the very best in the state of Louisiana. Distance learners can expect to benefit from the academic excellence and reputation of the business school, which is accredited by AACSB-International. The base tuition for this degree is under $20,000, revealing a great value for an online MBA of this caliber. Students seeking regular admission to the College of Business and Social Sciences are not required to submit GMAT or GRE test scores to the business school during the application process, while those seeking conditional acceptance will need to report a GMAT score.
Affordability Score: 92.13
Convenience Score: 100.00
Reputation Score: 100.00
2
University of Louisiana at Lafayette B. I. Moody, III School of Business Administration - Lafayette, Louisiana


The B. I. Moody, III School of Business Administration at the University of Louisiana at Lafayette provides an online MBA. A GMAT waiver is provided for qualified applicants, which can save a business school student time and money by not having to prepare for taking the GMAT or GRE placement test. All course requirements for this 33-37-credit hour program are provided 100% online so students enrolled in the B. I. Moody, III School of Business Administration can take classes from virtually anywhere in the world without having to travel to the school's campus in Lafayette, Louisiana. Some of the amazing concentrations distance learners can pursue within this online MBA include Sales Leadership, Project Management, Human Resource Management, Hospitality Management, Health Care Administration, Finance, and Global Management. Online MBA students less interested in an emphasis may pursue this degree as a general MBA. The tuition rate for this AACSB-International accredited program comes in at less than $15,000 in tuition. Students taking courses at an accelerated pace can graduate in just 15 months.
Affordability Score: 94.52
Convenience Score: 75.00
Reputation Score: 100.00
3
McNeese State University College of Business - Lake Charles, Louisiana


The College of Business at McNeese State University delivers an exemplary online MBA. The curators of this excellent 30-credit hour distance degree have blended a wonderful mixture of academic training and experiential learning. The online MBA centers on practical applications, while focusing on decision-making techniques and real problems in business, designed to make it reality-based and relevant. Graduates will finish this 100% online MBA fully equipped to meet the challenges presented by a strong and growing global marketplace. Graduate students can expect to be exposed to conflicting values, the latest technology, and hyper-demographic diversity among customers and within a team of employees. Decision Making, Marketing Management, Operations Management, Organizational Behavior, International Business, Managerial Economics, and Financial Management Policies are a few of the courses distance learners will be presented in this degree's award-winning curriculum. McNeese's business school does provide qualified candidates with a GMAT waiver if certain requirements are met.
Affordability Score: 91.14
Convenience Score: 75.00
Reputation Score: 100.00
4
Loyola University New Orleans Joseph A. Butt, S.J., College of Business - New Orleans, Louisiana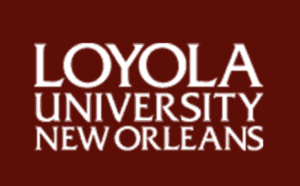 An online MBA is delivered at the Joseph A. Butt, S.J., College of Business at Loyola University New Orleans. This 40-credit hour online MBA features an attractive tuition rate of just over $30,000. The Joseph A. Butt, S.J., College of Business receives its impressive business accreditation through the AACSB-International. Students typically take two years to complete all program requirements. The areas of marketing, entrepreneurship, accounting, and management are highlighted within this program. Online MBA students desiring to move quickly through the degree can enroll in courses which take just six or eight weeks to complete, while those with more professional and personal commitments can move at a slower pace and take classes as a part-time student. The Princeton Review acknowledged the College of Business at Loyola as one of the nation's very best business schools in 2018. This 100% online degree is divided between 12 elective hours, 24 core credit hours, and four immersion week hours. The core courses offered within the degree feature classes like Organizational Behavior & Leadership, Strategic Marketing, Financial & Managerial Accounting, and Competitive Strategy.
Affordability Score: 72.92
Convenience Score: 75.00
Reputation Score: 100.00
5
Louisiana Tech University College of Business - Ruston, Louisiana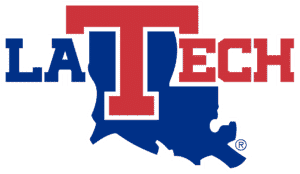 The College of Business at Louisiana Tech University provides an online MBA. This 30-credit hour online MBA is the most affordable degree in this ranking with a base tuition rate of less than $10,000. The program is also an excellent value as the business school at LaTech is accredited by the AACSB-International. Students with a business education background can complete this program by taking just 10 courses, while students needing leveling courses may be subject to 15 credit hours of foundational prerequisites. Accounting Analysis for Decision Making, Global Perspectives in Management, Financial Management, Managerial Economics, Information Resource Management, Contemporary Management, and Marketing Management are all courses found in this 100% online MBA. The business school at Louisiana Tech does offer students remarkable flexibility in course delivery from a fully online format, to classes in the traditional classroom setting, or a combination of the two in a hybrid learning format. Nearly 13,000 students are currently seeking degrees at Louisiana Tech University.
Affordability Score: 100.00
Convenience Score: 50.00
Reputation Score: 100.00
What Are Some of Louisiana's Major Contributions to American Culture?
Ever since President Thomas Jefferson purchased Louisiana from the French in 1803, the Louisiana Purchase has proven to be an excellent buy for the American people. Here are just some of the excellent contributions that New Orleans and the state of Louisiana have made to the United States.
New Orleans is the Birthplace of Jazz Music
Commonly referred to as the "Birthplace of Jazz," the city of New Orleans is credited as being the location where this truly American art form got its roots. The exact date when jazz came into existence is not commonly agreed upon. Some say in 1895 with Buddy Bolden, while others contest that jazz wasn't formed until 1917, when "Livery Stable Blues" was recorded by Nick LaRocca and his Original Dixieland Jazz Band. No matter when it was originally played, this truly American music is still growing and appreciated all over the world. Even now, one can walk down Bourbon Street and hear a trumpeter playing familiar jazz notes in a swing time, which conjures memories of countless musicians playing in bars and alleys years ago.
Cajun and Creole Food is Amazing
Some people use the term "Creole" and "Cajun" interchangeably when referring to the tasty foods made famous in Louisiana and New Orleans, but a quick look at the two types of cuisine show some important differences. The simplest way to differentiate between Creole and Cajun is to think about Creole being more "city food" while Cajun is more "country food." Cajun can find its roots in the Acadian people of French Canada and Creole is more specific to New Orleans with lots of other influences from other cultures.
The Aftermath of Hurricane Katrina Proved the American Spirit
One of the worst natural disasters in United States history took place on August 29, 2005, when Hurricane Katrina hit the southern coast of Louisiana and the heart of the city of New Orleans. The storm is credited with taking 1,833 lives and damaging billions of dollars of property leaving many homeless after the storm. Katrina was a Category 3 hurricane when it made landfall, and it brought with it 120 mph winds and devastating rains that flooded many acres of land and broke the levee in New Orleans. Since Katrina, improved communications have been put in place in Louisiana, and Congress reorganized FEMA. The city of New Orleans has also instituted a better communication and evacuation system to give residents a better chance of staying safe from another natural disaster of this magnitude. Tourism is back up in New Orleans as millions of visitors visit the Crescent City each year.
What Does Business Look Like in Louisiana?
In addition to travel and tourism, other top industries in the Louisiana include the medical, technology, and design sectors. Top businesses and organizations include the LSU Health Sciences Center at Shreveport, Centurylink Inc., the Isle of Capri Casino and Hotel, and many cutting-edge hospitals, clinics, and cancer centers. With a population of over four million and over 50 million visitors each year, Louisiana is a prime spot for growth in industry and infrastructure. With this in mind, Louisiana is a great destination to work and study. Even students who do not reside in the state, can still benefit from the business growth mindset in an online program like the MBA.