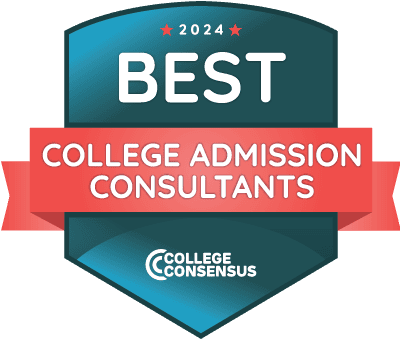 The best admissions consultant programs offer practical tools that assist students in choosing the right career path. A college admissions consultant's job is to help students evaluate their career goals and then match them to a degree program that will provide them with the skills and abilities they will need to reach their goals.
Many students enroll in generic degree programs because they aren't quite sure what career they want. Some start school and then explore their options once they have taken a few courses. It isn't until they have gotten a taste of what their degree program is really like that they make the final decision concerning their final career choice.
Who is Using College Admissions Consultants?
Many parents might think college admissions advisors are just for the wealthy, or for super-driven students who want to get in to an Ivy League school or one of the most prestigious research institutions. But, high-profile scandals at elite schools notwithstanding, that's not at all the case.
College admissions are competitive, the process can be long and confusing, and many parents don't know how to get their kids into college. This is especially true for parents who didn't go to college themselves. That's why the best college admissions consultants offer a range of pricing options and services, from essay help to a complete package. So, parents and students have a lot of possibilities.
---
NOTE: The college admissions counseling programs featured here are presented in alphabetical order. Interested in an MBA? See our list of the Best MBA Admissions Consulting Firms.
What is a College Admissions Consultant?
When students need help applying to universities or colleges and require assistance during the interview or financial aid application process, an admissions consultant may be hired. While high school guidance counselors provide some college application support and advice, most schools need counselors for the express purpose of advising university-bound students through the challenging process as an admissions consultant does. 
The best college admissions consultants take students from the exploratory phase through the multiple application and interview steps and follow up with students as they navigate college acceptances and secure financial aid and scholarships. This degreed professional may work independently or with a firm or an agency. Still, all will be well-versed in the "inside track" information needed to get into a wide variety of colleges and universities successfully.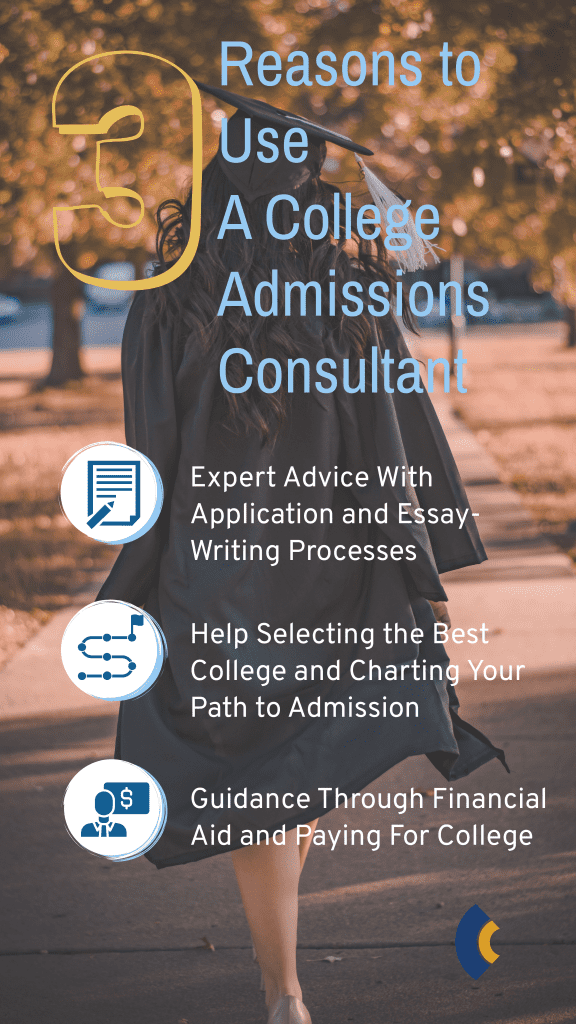 What Makes a College Admissions Consultant Worth It?
A college admissions consultant is a great resource for students looking to get accepted into their dream school. These professionals can provide valuable guidance and assistance throughout the entire admissions process, from choosing a school, applying to schools, preparing for standardized tests, securing financing for college, and more.
Each student's situation is unique and as such, a college admissions consultant can provide tailored advice that's beneficial to the student's specific circumstances. Additionally, college admissions consultants can also provide behind-the-scenes insights into the colleges' admissions processes, popular majors, course requirements and much more. Ultimately, a college admissions consultant can help your application stand out among admissions committees and makes an impressive impact.
How Can a College Admissions Consultant Help Me?
If you are a high school student trying to plan for your future, an admissions consultant can help you in many ways. They can help you submit an application that will give you an edge when you apply for college. Improving your grades and scoring high on placement tests is a must when it comes to being accepted at the school of your choice. So, many companies offer academic tutoring and test prep services.
An admissions consultant is also valuable when writing an essay that speaks volumes about your character, commitment, and willingness to succeed at reaching your career goals. Your consultant can help you through the entire college admissions process. Working through any challenges you may face, they will help you build a resume that will get you into your favorite college and propel you forward after you graduate with your degree.
What are the Advantages of Hiring College Admissions Counseling Services?
When you hire a college admissions counselor it makes it easier for you to navigate the college admissions process. Many college counseling services hire former admissions officers with a wealth of expertise and knowledge. So, hiring a college admissions counselor or a college admissions consulting firm basically gives you access to a network of resources that allows them to efficiently provide personalized guidance. These professionals use their wealth of experience to streamline the process for prospective students. As a result, using college admissions services typically increases the chances of acceptance and also helps reduce stress and anxiety.
What are the Types of College Admissions Consultants? 
The top college admissions advisors may work for themselves for for a consulting firm. Below are the general types of consultants and college admissions consulting firms.
Independent College Admissions Consultants
These Individual Consultants are self-employed professionals who specialize in assisting prospective students with college admissions.
Small Firms 
Small college admissions consulting firms may be better able to Zero In on the unique needs of their clients and provide more specialized and tailored advice. Additionally, a boutique firm have consultants who specialize in specific areas such as SAT/ACT prep, college application essays, or college visits.
Large Education Consulting Firms
Most college admissions consulting firms offer different packages and a la carte services. These organizations typically assist with college admissions, including school selection, application guidance, and financial aid counseling. Generally, speaking, the larger the firm, the more options aspiring college students may have.
What are the Services Offered by the Best College Admissions Consultants?
Students that use a college admissions consultant can expect to receive multiple services when one is employed to help in this process. They offer a range of services for helping students gain admission. Below are some benefits that are potentially included when an admission consultant. 
College Selection
Developing a college list and selecting the right schools for a student's academic and personal goals is essential. Most college admissions consultants can also help to assemble and fine-tune a customized college list. 
Application Strategy 
A college admissions consultant can also help you outline academic and extracurricular accomplishments to create a successful application strategy. Additionally, your consultant can help you create a timeline for what needs to be done and when and an application budget so you can stay on track financially through the application process and college admissions process. 
College Essay Coaching
Drafting an authentic college essay takes work. A practical and persuasive essay can be the difference between acceptance and denial. However, college admissions consultants can ensure that an article reaches its desired effect. 
Financial Aid and Scholarships
Calculating the actual cost of a college education and discovering ways to reduce the financial burden is essential. Additionally a college admissions advisor can assist families with financial aid advice and finding the best options for financing higher education. Some also help with scholarship and financial aid applications.
Exam Preparation
Preparing for the college admissions entrance exams such as the SAT and ACT can be the difference between acceptance and denial. College admissions consultants can guide to help students get ready for these tests. 
Interview Preparation
Most schools will require applicants to participate in an interview process, either on campus or via Skype. Many consultants use mock interviews to improve these skills.
Career Planning and Major Selection
College advisers, faculty, and family members are all great resources when choosing a major. So when you navigate the competitive college admissions landscape, collect opinions, weigh options, and don't be afraid to ask questions and get advice.
Who Can Benefit from a College Admissions Consultant?
Anyone who needs help navigating the complex college admissions process can benefit from working with a college admissions consultant. This includes students with unique backgrounds or circumstances like student-athletes, first-generation, international, and individuals with learning differences. First-time college applicants and students targeting competitive schools can also benefit.
Students find help deciding their educational goals, finding the right college to apply to, researching program options, writing college applications and essays, developing an application strategy, preparing for college admissions interviews, and negotiating financial aid packages. College admissions consultants provide personalized guidance to students of all backgrounds to help ensure that the admissions process goes smoothly. 
First-Generation College Students
Most first generation students who are the first in the family to attend college need extra assistance and guidance. College Admissions Consultants can help first-generation college students with each step of the college admissions process, providing support through every stage, from researching and applying to schools, writing essays, optimizing financial aid packages, and more. College Admissions Consultants may also be familiar with specific scholarships, grants, or supports for which first-generation college students may qualify. Ultimately, a College Admissions Consultant can be an invaluable resource to support and enable a successful college journey.
Student-Athletes
College Admissions Consultants can help student-athletes in a variety of ways. They provide personalized advice about the application process, including choosing the right college, selecting appropriate classes and majors, writing compelling personal statements, and ensuring all application parts are completed thoroughly and on time. College Admissions Consultants also uniquely understand the NCAA and D1 admission process. They can help student-athletes craft their athletic profiles to make the most of their college applications. This expertise can prove invaluable as student-athletes navigate the college admissions process.
International Students
With the high-stakes nature of the college admissions process, it can take time for an international student to figure out the best way to stand out and make a strong impression on admissions officers. International students often face unique challenges when getting into college in the United States. This is where College Admissions Consultants can provide timely advice and help to maximize their chances of admission success. By working with someone familiar with the American college admissions process and experienced in working with international applicants, international students can quickly identify potential obstacles to their success and create strategies to overcome them.
Students with Learning Differences
A College Admissions Consultant could give students with learning differences the guidance and expertise they need to ensure that their applications are competitive with other applicants. They can provide applications that accurately reflect students' abilities, strengths, and interests. Specialized consultants can help students identify appropriate accommodations and explain the differences to admissions boards to ensure their needs are adequately understood and addressed. Overall, a consultant can give students with learning differences the confidence and representation they need to get into the college of their dreams.
What Should You Look for When Hiring a College Admissions Coach? 
You decided to use a consultant, so how do you choose a college admissions consultant? When selecting a college admissions consultant, it is essential to research and compare different options. Before choosing a consultant, you should determine your expectations, budget, and needs. 
Look for consultants specializing in a specific college admissions field, such as SAT or ACT preparation, essay writing, or interview prep. Additionally, it would help if you asked for references from past clients to ensure that the consultant is qualified to assist with your college admission process. Ultimately, the most crucial aspect of hiring a college admissions consultant is finding someone you trust and feel is a good fit for your situation.
How Much Do College Admissions Consulting Services Cost?
The cost of college admissions consulting services will vary depending on the type of service, the level of service provided, and the provider. For example, some companies offer comprehensive coaching packages that may cost up to a few thousand dollars. Others may offer more limited services for a few hundred dollars. You should research different services and decide which fits your needs and budget best.
What are the Typical Pricing Structures for College Admissions Consultants?
Pay structures vary. For example, some college admissions consultants might charge a flat fee for easy-to-tackle admissions essays and quick applications. In contrast, other consultants might charge an hourly fee for more comprehensive services such as essay editing, test prep, mock interviews, and extracurricular help. Many firms offer a free initial evaluation of a student's credentials to discuss the options in the future. 
Expect hourly service rates to range from $50 to $300 per hour, with some higher-priced applicants providing more personalized and strategic guidance. Generally speaking, if a consultant offers more comprehensive services such as essay editing, test preparation, and mock interviews, the total cost of services might go up to $4,000 or even higher. 
Some college admissions consultants may also have a package with a fixed fee, which includes a set amount of hours or services. Different packages may be available for other student needs or budgets. An expensive comprehensive admissions consulting package may cost over $50,000. However, the average cost for a complete admissions package from a national firm is around $3,000 to $7,000.
When Should You Start to Work with a College Admissions Consultant?
Many parents and students want to know when is the right time to begin a college coaching service. College admissions is a daunting task, so students and parents should start early. The earlier you start working with an expert college application consultant, the better. Ideally, it would help to start working with them a year before your intended college enrollment date. This will give you enough time to complete a comprehensive application, assemble a robust package, and save yourself some stress. 
Remember that an experienced college application consultant can help you with guidance related to your college and primary selection, financial aid options, and other pertinent areas.
Is a College Admissions Consultant Worth It?
A consultant can be helpful if you want personalized advice and support in the college admissions process and a knowledgeable resource to guide you. They can also help you identify schools that may be a good fit for you and assist you in preparing your applications. However, it is essential to weigh the cost and the availability of support when deciding to hire a college admissions counselor. Ultimately, it is up to you to decide whether or not you think a college admissions consultant is worth the cost.
What If I Can't Afford a College Admissions Consultant?
In the hyper-competitive world of college admissions, students can their families can be pressured into thinking that the only thing that matters is getting into the highest-tier school and that a costly consultant is their only option. However, that's not always the case. There are many consulting and counseling services with various pricing tiers, packages, and financial help. But for some low income students hiring a consultant is outside the budget. But, don't despair.
First of all, at College Consensus, we're big believers in the value of starting small and local. That's why we strongly recommend that students who are conscious of their money or don't feel confident about getting into their first choice take a year or two and attend community college. One dirty little secret about the higher-tier schools is that it is often easier to transfer in than to get accepted as a first-year student. First-year students who didn't cut it have dropped out, and colleges need enrollment to keep their doors open. 
There are also many other options, like taking a gap year to work or intern. Consider enrolling in a pre-college summer program, which can help you make connections at the college you want to attend and build more robust recommendations. There are many ways of building up your application than just paying a consultant. 
Why Do Parents and Students Choose to Pay for a College Admissions Counseling Service?
Each high school in the US has at least one guidance counselor. Unfortunately, the ratio of guidance counselors to students is low. Usually, these counselors must be better trained and motivated to help students. In many cases, they need more understanding of the business and industry needs, which will NOT enable them to guide their students to appropriate college majors and degrees for the student's future success.
The general perception is that much college admissions material is available online. However, the problem is that this material is scattered, not updated, organized for easy consumption, often inaccurate, and difficult to find when needed. The "insider college admissions track" is not known just by perusing this material.
Professional Organizations for College Admissions Consultants 
National Association for College Admission Counseling (NACAC) 

Independent Educational Consultants Association (IECA) 

Higher Education Consultants Association (HECA) 

Association for College Admission Counseling (AACAC) 

National College Access Network (NCAN) 

American Association of Collegiate Registrars and Admissions Officers (AACRAO) 

Enrollment Management Association (EMA) 

American College Counseling Association (ACCA) 

Collegiate Admission and Retention Professionals (C.A.R.P.) 

National Independent Educational Consultants Association (NIECA)
Related: