The best admissions consultants programs offer practical tools that an individual can use as they try to assist students in choosing the right career path. A college admissions consultant's job is to help students evaluate their career goals and then match them to a degree program that will provide them with the skills and abilities they will need to reach their goals.
Many students enroll in generic degree programs because they aren't quite sure what career they are interested in. Some start school and then start to explore their options once they have taken a few courses. It isn't until they have gotten a taste of what their degree program is really like that they make the final decision concerning their final career choice.
Who is Using College Admissions Consultants?
Many parents might think college admissions consultants are just for the wealthy, or for super-driven students who are intent on getting into the Ivy League or the most prestigious research institutions. But, high-profile scandals at elite schools notwithstanding, that's not at all the case. The fact of the matter is, college admissions are competitive, the process can be long and confusing, and many parents simply don't know how to get their kids in college. That's especially true of parents who didn't go to college themselves. That's why the best college admissions consultants have a range of pricing options and services, from essay help to a complete package. Parents and students have a lot of possibilities.
NOTE: The college admissions counseling programs featured here are presented in alphabetical order. Interested in an MBA? See our list of the Best MBA Admissions Consulting Firms 2022.
What Makes a College Admissions Consultant Worth It?
An admissions consultant's degree is well worth the time and money you put into it. Molding a student's future can be quite rewarding. When a student struggles with trying to achieve their goals, it can be overwhelming. Being able to help a student work through their challenges and explore the options they have access to, will offer you rewards that are long-lasting. Knowing that you have helped a student find the career path that is right for them means that you have changed their lives for the better.
Most people who work as college admissions consultants do so because they enjoy seeing students achieve their goals and take their first tentative steps on their career paths. Students look to admission consultants for the advice and guidance they need to be able to get an advantage when it comes to gaining a competitive edge as they enter college.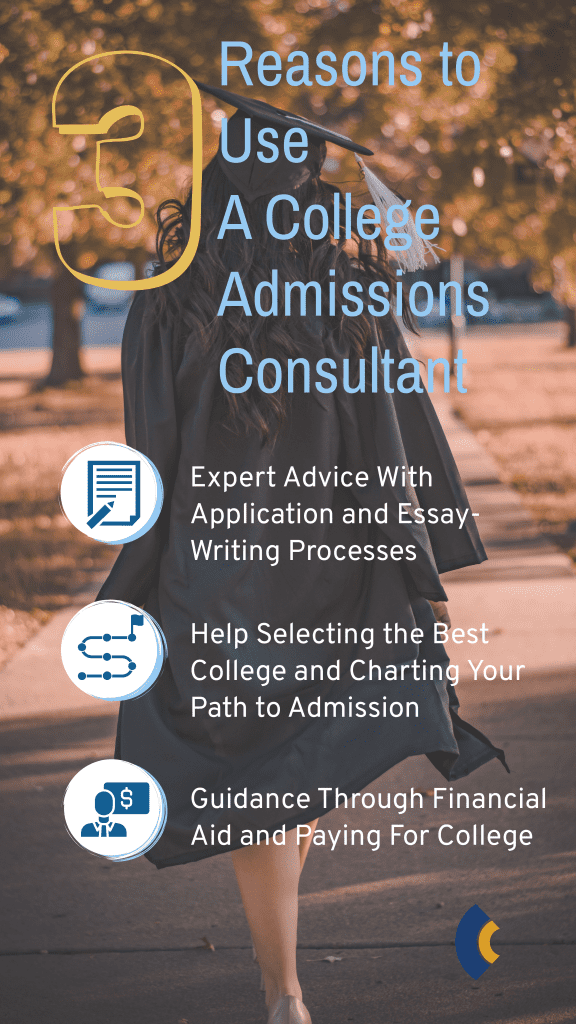 How Can a College Admissions Consultant Help Me?
If you are a high school student who is trying to plan for his future, an admissions consultant can help you in many ways. They can help you choose the right classes that will give you an edge when you apply for college. They can guide you when it comes to choosing extracurricular activities. Tutoring and test prep are also available. Being able to improve your grades and test high on placement tests are a must when it comes to being accepted at the school of your choice.
An admissions consultant is also valuable when it comes to writing an essay that speaks volumes about your character, your commitment, and your willingness to succeed at reaching your career goals. Your consultant is able to help you work your way through any challenges you may face and continue to work toward building a resume that will not only get you into your favorite college but also propel you forward after you graduate with your degree.
What If I Can't Afford a College Admissions Consultant?
In the hyper-competitive world of college admissions, students can their families can be pressured into thinking that the only thing that matters is getting into the highest-tier school, and that a costly consultant is their only option. However, that's not always the case. There are many consulting and counseling services with a variety of pricing tiers, packages, and financial help, but if hiring a consultant is just outside your budget, don't despair. 
First of all, at College Consensus, we're big believers in the value of starting small and local. That's why we strongly recommend that students who are conscious of their money, or don't feel confident about getting into their first choice, take a year or two and go to community college. One dirty little secret about the higher-tier schools is that it is often easier to transfer in than to get accepted as a freshman – freshmen who didn't cut it have dropped out, and colleges need enrollment to keep their doors open. 
There are also lots of other options, like taking a gap year to work or intern. You may also consider enrolling in a pre-college summer program, which can help you make connections at the college you want to attend and build up a stronger set of recommendations. There are many ways of building up your application than just paying a consultant.
Related:
Top 30 Pre-College Summer Programs
Ultimate Guide to Transferring from Community College to a 4-Year College