For students just graduating from high school, a four-year college is typically the dream they have of higher education. However, going to community college first makes sense for many students. Community colleges have flexible class schedules and cost less than four-year colleges and universities. Many international students choose community colleges to make the transition to living in a new country smoother.
Recommended Online Colleges & Universities
Visit sites to learn more about enrollment, tuition, and aid
Let's take a look at some of the advantages of community college and how to choose which community college best fits a student's needs. The information below is designed to help students who are considering going to community college first.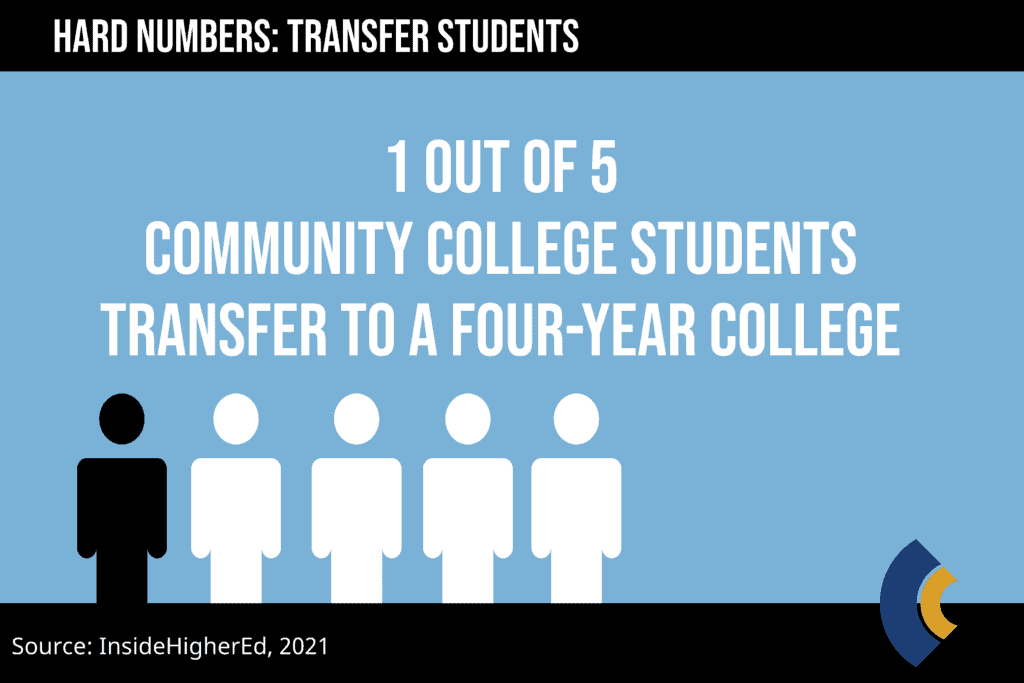 Why Start with Community College?
Freshman courses at four-year colleges often have hundreds of students in them. At the same time, community colleges often have around 30 students per class. For students new to higher education, this leaves more room for interaction with professors and deeper engagement.
Many of the professors and associate professors at four-year colleges have to publish or do research to honor their contracts. At community colleges, instructors typically have fewer responsibilities outside of teaching, leaving them more time to commit to their classes.
Why go to community college first? Students who attend two-year schools have more time to transition from high school to the rigors of University studies. Taking two years to mature and consider employment opportunities can give students the opportunity to take different classes and learn how to manage their personal time and study schedules.
Why Go to a Community College First?
Advantages of community college include:
Lower tuition cost: Paying for college can be tough. It's much cheaper to attend community college for a couple of years. This can decrease the amount of money students have to borrow to complete their education. Many students also apply for and get scholarships for community colleges.
Improve your transcript: For students who didn't do particularly well in high school, scholarships for universities may seem out of reach. However, attending community college can help students improve their transcripts. In fact, students who receive As and Bs in Community College often earn scholarships to complete their bachelor's degree.
Lower living expenses: Many students attend nearby community colleges, so they can live at home and save money on rent and other expenses. Even students who crave college life with the promise of socializing with people their own age will appreciate saving thousands of dollars when it comes time to pay off their student debt.
Flexibility to explore different classes: Just like attending four-year universities, going to a community college can herald an era of personal growth. Students often use this time to take classes in many subjects to determine which ones they like the best. Other students find out that a technical school actually is the best way to obtain a high-paying position.
Easier to juggle work and family life: Columbia University's Community College Research Center (CCRC) found that nearly 70% of students in two-year schools also work. In fact, one out of three college students work a full-time job. Other students have children to take care of and juggle school, work and parenting roles.
Ready to start your journey?
How Can Students Choose a Community College That's Right for Them?
First, students have to consider what they want to do with their degree. No one expects college freshman to have their professional life mapped out the first week of classes. However, when looking at community colleges, students should determine whether the school offers courses that support their current interests. Some community colleges have great programs for nursing while others concentrate on science and engineering. There are also schools that specialize in particular industries such as winemaking or beer brewing.
Even if they changed their mind later, students can inventory their projected professional aspirations and then compare that to the degree programs and reputations of the community colleges on their shortlist. This can help students narrow down their options, which include hundreds of community colleges that offer classes online.
Some students have a pretty good idea of what they want to study at a four-year university but go to community college to build a strong foundation in core classes needed to get into their degree programs. This can result in greater confidence once they begin to apply at universities with four-year degrees. On average, four-year universities charge at least twice as much as community colleges. So, students who want to firm up their knowledge of basic courses can do so for less money at the local community college.
By the time students reached their junior year of college, they are expected to have declared a major and begun working towards it. By spending the first two years at a community college, students can explore all their options before committing to a degree.
Second, students should investigate the relationship between different community colleges and the industries they are interested in. For students who hope to become teachers, there are many community colleges that specialize in preparing students for four-year degrees in education. Some potential employers even recommend coursework at local community colleges. This helps students make informed decisions and guarantee that they will graduate from a respected two-year school with a degree that might improve their employment prospects.
Third, it makes sense to visit the campus of several community colleges. Students can even take classes at different community colleges to determine which one is best for them. These credits are often transferable between community colleges with similar curricula. At the very least, students can ask for permission to attend lectures for courses that interest them. Most two-year courses published their course catalogs online, making it easy to choose classes to audit.
Many high schools have dual credit programs in partnership with local community colleges. This partnership allows high school students to graduate with college credits under their belt.
Fourth, prospective college students can make an appointment with academic advisors at several community colleges. Talking to an admissions counselor can help students ask questions about what to expect on various college campuses. Advisors often have lots of advice to offer incoming freshmen. By discussing their academic and professional goals, students can get a good idea of whether a particular school meets their needs. Also, students can gain confidence in their final decision by getting an inside scoop on each two-year college.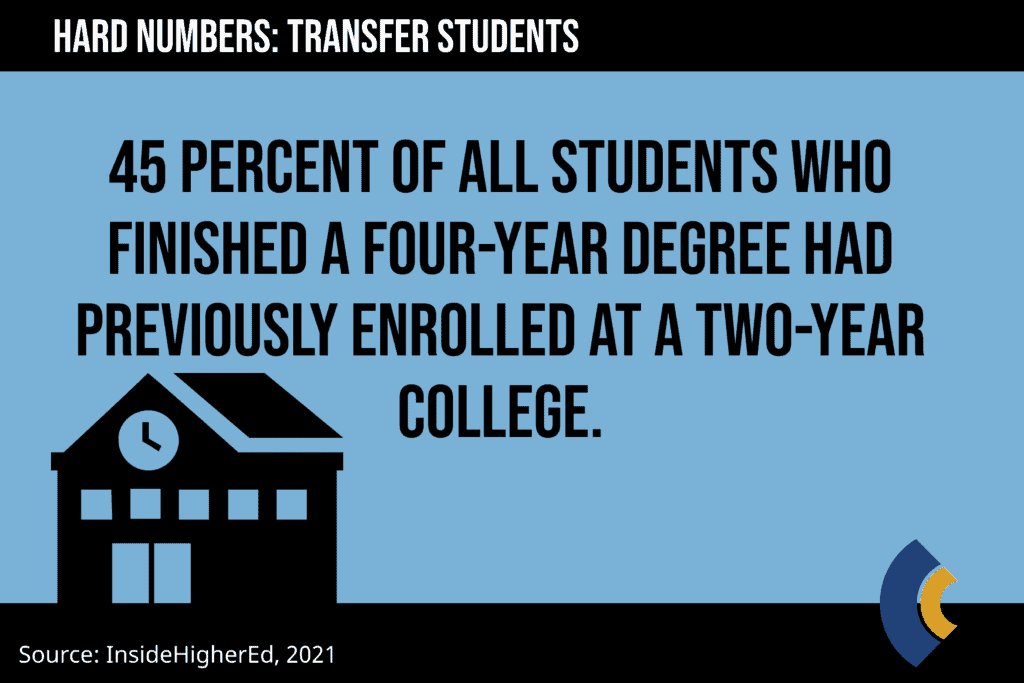 What is an Articulation Agreement?
College articulation agreements between two-year colleges and four-year universities can help students transfer their credits. According to US News, many colleges have agreements with other local institutions of higher learning that make it easy to transfer credits from a two-year school to a four-year university. According to a U.S. News and World Report study, many students lost 43% of their credits when transferring between public schools. Consequently, students ended up retaking many of these classes and owing much more money upon graduation.
Recommended Online Colleges & Universities
Visit sites to learn more about enrollment, tuition, and aid
What is an articulation agreement in terms of strategizing your school choices? By looking for community colleges with articulation agreements with reputable four-year institutions, students can save money and gain peace of mind that their transfer credits are safe. When meeting with academic advisors, students can ask about transfer credits and articulation agreements with universities in the area.
The different levels of transfer relationships are as follows:
No Relationship: When two colleges have no transfer relationship, it means the process of transferring credits from community college to the university will be harder. With no transfer agreement, the responsible parties will have to examine each course taken to determine whether it beats the academic standards at the four-year university. Many four-year universities also put a limit on the number of transfer credits they will accept from any school.
General Articulation Agreement: Community colleges and universities that have general articulation agreements have already matched course content to ensure it meets the standards of the four-year school. Because they already know what courses align with the four-year university, students are much more likely to receive transfer credits for approved classes. Still, this course-by-course model can slow down the transfer credit process and many classes will not be eligible for transfer.
General Education Articulation: Under this agreement, the university accepts all general education credits for the community college in question. This saves significant time and effort because the admissions team at the university doesn't have to look up every course to figure out if it aligns with their degree programs. This is a big win for students who received nearly two years' worth of credits.
Degree-to-Degree Articulation: This is the gold medal of articulation agreements. Under a degree-to-degree articulation, a university will accept all credits earned at the community college. Unfortunately, these programs are very rare. You can check local community colleges to see if they have a degree-to-degree articulation agreement with state schools. In this case, the community colleges are called feeder schools.
For students who already know what bachelor's degree they will pursue, making the decision on a two-year degree may go much more smoothly. Since every university has different requirements, students should definitely meet with academic advisors to discuss their professional plans and transitions between community colleges and regional universities. Advisors at the community college won't be able to help students much because they won't be completely familiar with academic programs at various universities. Therefore, students must meet with academic advisors at the university they wish to attend.
What is an articulation agreement? As discussed, an articulation agreement is a written agreement between community colleges and universities that guarantees students can transfer certain classes to a four-year program. These programs are invaluable tools for students taking the fastest route to a bachelor's degree after completing an associate's degree. Finding the right community college that can provide a solid education and transferable credits is the key to maximizing cost-saving measures by going to a two-year school first.
Articulation agreements vary by institution and by geography. For example, California and Florida have widespread articulation agreements between community colleges and public universities. In other states, articulation agreements are fairly rare. It can take some research to find schools with the right affiliation to meet students' needs. However, it can be worth the savings in time and money to do the research.
How Can Students Navigate Articulation Agreements?
Community colleges are much less expensive than traditional baccalaureate degrees. However, students may wonder how they can possibly find out all the information they need to transfer the maximum number of credits after receiving their associates degree.
Students can think of articulation agreements as road maps that can put them on the path to getting the maximum number of transfer credits. In this case, you could think of academic advisors at different universities as tour guides who could help you figure out which community college will produce the biggest return on investment.
Know What Courses to Take for a Smooth Transfer
When you take a trip, it's important to follow the GPS or road map carefully to avoid getting lost and losing time retracing your steps. The same principle applies when it comes to maximizing transfer credits between community college and bachelor's degree programs.
At the same time, students should also focus on the academic merit of each community college they consider. Some community colleges offer two-year degrees that can result in employment opportunities for savvy students. This can give students time to work and save money for a four-year degree.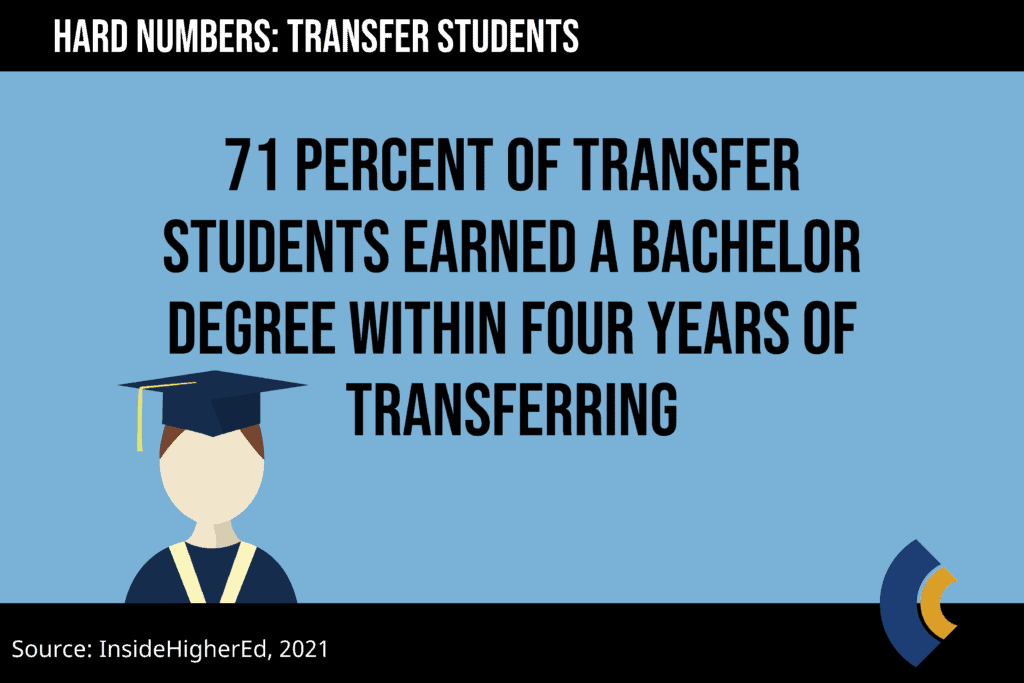 Can I Transfer Community College Credits to a University?
Yes, you can! When you transfer from a community college into a four-year program, many of your credits may transfer with you. As discussed in the previous section, some schools have varying degrees of articulation agreements that make transferring credits more difficult or easy. When seeking transfer credit from community college, students should work closely with academic advisors at the university to which they were accepted.
Transfer community college credits have many advantages, including saving students thousands of dollars in most cases. A community college transfer with or without an associate's degree can give students transferable community college credits to university programs, cutting the time it takes to finish a four-year program.
Many students spend 2 years at community college then transfer to university programs with the higher-level courses needed to obtain a bachelor's degree. It's important to remember that community colleges were designed to be a stepping stone to a baccalaureate program. Therefore, academic advisors do everything they can to assist students in transferring credit from community colleges to universities.
Students who can transfer classes from community college to university can begin their career at a four-year college as juniors, leaving only two years left to finish their bachelor's degree. So, sign up for a two-year program that will make it easy to transfer from a community college to a four-year college.
When meeting with an academic advisor, students should ask about transfer credit from community college to traditional institutions. By planning ahead, students can win approval to transfer community college credits to a compatible baccalaureate program. There are many places that students can turn to for help when it comes to finding out more about community college transfer agreements with public and private colleges and universities. So, students who hope to spend 2 years at community college then transfer to a university should also talk to the following resources:
Trusted high school counselor
Websites for two-year and four-year colleges
Counseling office at both two-year and four-year colleges
Transfer advisers at four-year schools
The key to success when it comes to transferring credit from community colleges to universities lies in planning ahead. Each baccalaureate program has its own requirements. That's why it's convenient to find two-year and four-year schools with articulation agreements. However, this still does not guarantee that all credits will transfer to the program you apply for.
When you plan ahead, you can find out what it takes to maximize transfer classes from community college to university. After finding out more about potential community college transfer credits, students can concentrate on getting into the four-year program of their dreams. First, get a rundown on transferable community college credits to university programs.
Having a common set of questions can help you compare schools more easily. Here are some helpful questions that can help you compare community colleges. You can take these questions with you when you meet with different academic advisors.
Does the community college have an articulation agreement with four-year schools?
How can I tell if a four-year college accepts transfer credits from my community college?
Is there a minimum grade for transfer credits (This will vary from school to school.)?
What is the GPA required by a particular college or university for a four-year program?
Use these examples to come up with your own unique questions. If you have an interest in a particular program, remember to include specific questions about your potential field of study.
How Does College Transfer Work?
When you transfer from a two-year college to a four-year college, your new school will review your transcripts and will request copies of syllabi for the various courses. After reviewing this information, the admissions team will determine how many credits to count toward your baccalaureate degree.
Most courses are worth 3 credits. Therefore, if you have 10 courses transferred, that equates to 30 credits that you would not have to take again. So, for the typical 120 credit bachelor's degree, you would end up needing 90 credits to graduate.
To summarize, here is what you have to gain by transferring as many credits as possible:
If the majority of your credits transferred from a two-year program, you will start at the four-year school as a third-year student (junior).
Credits that do not transfer may result in additional classes required in order to graduate at a four-year university.
Even if you spent two years at a community college, when you get a bachelor's degree, it only lists the four-year university.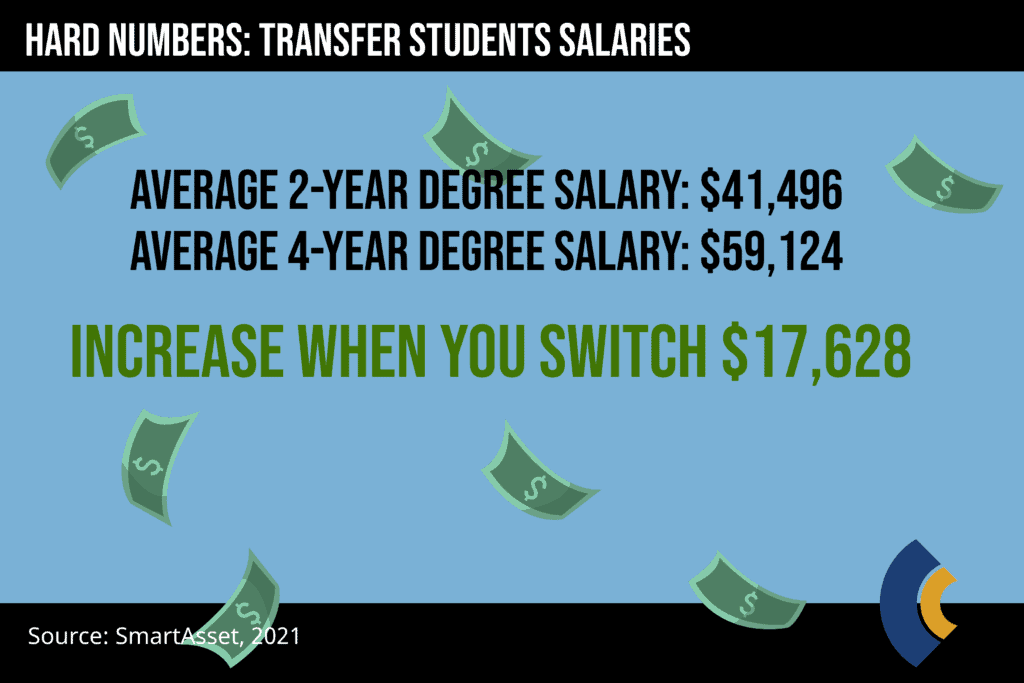 Will Online Community College Courses Transfer to a University?
Do community college online courses transfer? Taking online classes can help students who have children and jobs juggle school and their other responsibilities. Some students worry that credits from online community colleges won't count towards their bachelor's degree. It all depends on the individual agreement between the school where you got your associate's degree and the four-year school.
Do community college online courses transfer to a university? Whether you take in-person or online classes, make sure that you choose accredited programs recognized by the public and private four-year institutions.
Students fresh out of high school, adults looking for a career change, and adults going to college for the first time take advantage of the flexibility and affordability of local and online two-year colleges.
Some states have better plans in place when it comes to partnerships between two-year schools and four-year colleges and universities. For example, North Carolina has 16 public universities that all participate in the Comprehensive Articulation Agreement. That means that students in community colleges in North Carolina can transfer credits for a four-year program, automatically becoming a junior.
Individual students have to determine the best path to a four-year degree for themselves. When it comes to online bachelor's programs, there are many options that allow students to accelerate their learning by transferring credits from their associate's degree programs. Colleges and universities do their best to accommodate the needs of students and minimize cost. They accept work experience and older credits to help students save money.
Four-year schools are far more interested in the quality of the courses taken and students' GPA when it comes to the admissions process. Online versus on-campus comparisons are minimal. As long as you attended a community college with an articulation agreement, educators don't care whether you took the classes online or in person. That bias has disappeared as individuals do more and more activities online.
Now you know the tips and tricks of making the most of your transfer credits after earning your associate's degree. You can even earn transfer credits if you don't complete the two-year program. Whether you did poorly in high school or just want to save as much money as possible, starting your education and community college can boost your confidence and help you qualify for admission into a four-year college.
Recommended Online Colleges & Universities
Visit sites to learn more about enrollment, tuition, and aid
Related Rankings:
Most Affordable Technical and Trade Schools
Most Affordable Online MBA Programs