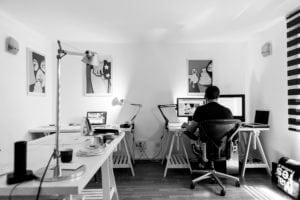 If you love to draw, paint, take photos, make things, and express ideas in a visual way, you may have considered going to school to become an artist.
And chances are, if you've spoken those thoughts out loud, someone said, "But you can't make a living as an artist!" It may have been a friend, a partner, or your mother (it was probably your mother), but you can answer with a confident, "Yes, I can!"
There are a multitude of career options that reward creativity, imagination, and craft, from the traditional studio arts to product design, marketing, and packaging. Colleges and universities all over the nation have developed innovative, cutting-edge art and design programs that prepare students for 21st century professional life in the creative fields.
So your mother can stop worrying. College Consensus has put together a helpful overview of the higher education and job market terrain for everyone who is considering a degree program in Art and Design, including the most in-demand concentrations and the careers on the rise.
What Are the In-Demand Major Options?
Of course, students of an artistic bent are always going to be drawn to the traditional studio arts like photography, sculpture, and printmaking, but the most in-demand majors – both for students and for employers – are the design-related programs that combine science and the arts, such as:
Human-Computer-Interaction (HCI)
Industrial Design
Product Design
UX/UI Design
These particular areas of art and design have some commonalities. They're all interdisciplinary, pulling together knowledge from not only the fine arts, but computer science, engineering, business, and more. It's not enough to have skill with traditional tools like pencils and paintbrushes; digital literacy is a must, as is a talent for adapting to different demands and tools.
Are There Any Online Options for Studying Art & Design?
It's the 21st century, and online degree programs have become a standard part of higher education. Nearly every college and university, at the very least, has incorporated at least some online classes, but many are developing fully online degree programs, even in art and design.
Fully online programs are less common in art and design than in some other fields, such as business or criminal justice, because of the hands-on nature of studio work, but online options in the more technological areas (such as UX Design) are becoming more available.
Online programs are particularly useful to working professionals who are already in the field and need credentials to move up – those in design or marketing, for instance, who want managerial positions. In art and design, prospective online students need to be wary that they are not getting caught up in a diploma mill that will not give them adequate support and guidance, and will leave them with a worthless degree.
Are There Complimentary Majors or Fields to Art & Design?
Depending on what kind of art or design career you are pursuing, there are a number of complimentary majors or minors that could potentially be useful:
Engineering/Physics/Chemistry – A double major or minor in a science discipline can be very valuable. If you're interested in Product or Industrial Design, a grounding in engineering, physics, material science, or similar field will directly apply to the job. The hard sciences can also be useful for fine arts and craft; for instance, a strong chemistry background can help ceramists and sculptors experimenting with materials and processes.
Business/Management/Entrepreneurship – Ask any working artist – the biggest financial downfall of many artists is a lack of understanding of business and economics. For independent studio artists, entrepreneurship courses can make all the difference in selling work, managing money, and more. For designers working in a firm or company, managerial skills can be the key to promotion and advancement.
Advanced or Alternative Degree Options?
In the arts, the Master of Fine Arts is usually the terminal degree; a Doctor of Fine Arts exists, but is a rare, and usually only honorary, degree. The MFA is all that is needed to teach at the post-secondary (college or university) level. A master's degree is also the standard in design professions or education, such as the Master of Design (MDes).
Many institutions offer post-graduate or graduate certificates in art and design, either for students with a bachelor's degree who want further professional credentialing, or students who have a master's degree in some related field who want a specialization. Such certificates may include a master's certificate in Graphic Design, for example.
In the more technical or digital areas of the field, such as UX Design or Human-Computer Interaction, numerous alternative education options have started appearing in just the last few years. Whether it's entrepreneurial start-ups or forward-thinking colleges and universities, there are even more options, such as accelerated programs that can be completed in just a few months, self-paced online courses, or intensive hands-on workshops. In many industries, an alternative certificate or credential is just as valuable as a formal degree.
What kind of Career might I pursue?
A degree in art and design can lead to a wide variety of careers. On the design-oriented end, you may become a:
Graphic Designer
Interior Design
Landscape Architect
Marketing Consultant
Packaging Designer
These are more technical, more likely to take place in a corporate or business environment, and, in general, more stable than traditional arts.
More traditional art careers include:
Illustrator
Photographer
Studio Artist
Theater Set Designer (Scenic Designer)
These sorts of careers are often independent, but may require some collaboration; the artist may make work for their own careers, as contractors to a business, or on commission. What they lack in financial stability, they make up for in freedom.
There are also careers adjacent to the arts such as:
Gallery Owner
Museum Curator
Teacher/Professor
These careers help support working artists and keep the arts going.
Required Skills or Personality Type?
If you're interested in a degree in an art and design field, it's important to do some experimenting and exploration. You should ask yourself some serious questions:
Do you feel more comfortable working with real hands-on materials, or computers?
Do you work well with partners and teams, or is your best work done individually?
Do you prefer making useful things, or things that are meaningful for their own sake?
Would you rather make things for people, or for your own satisfaction?
From there, think about the work environment you prefer. You know you want to work in a creative field, but other things may be up to you. For instance, do you prefer structure or freedom in your career; in other words:
Would you rather work in an environment where you have particular projects, requirements, and deadlines, such as in a design firm or marketing company,
or
Would you rather make your own decisions, taking on projects as you want, and doing them they way you want, as an independent contractor or independent artist?
There's another way of putting that question: is money or esteem more important to you? It's sad but true, that the too don't often go together. Independent studio artists (painters, sculptors, and the like) may earn acclaim, awards, and even fame, but only a very select few are able to make a stable living. As an artist, if you're not fortunate enough to be among the elite, you're probably going to struggle financially. But as Dave Chappelle jokes, you can always eat integrity sandwiches.
On the other hand, commercial work, marketing, product design, and other creative careers within a corporate environment can be very rewarding financially, but they can often be thankless jobs. Consumers may love the logo you design, but they will never know your name. If a stable income is more important than fame and fortune, the choice is clear.