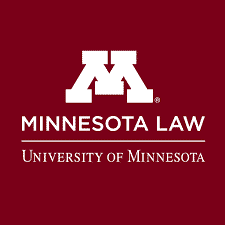 35%
Admissions Statistics | Acceptance Rate
3.8
Admissions Statistics | GPA (Median)
90%
Bar Exam Statistics | School's bar passage rate
80%
Bar Exam Statistics | State overall bar passage rate
87%
Employment Statistics | Graduates employed 10 months after graduation
$112,111
Full-Time Starting Salaries | Private Sector (Median)
$52,000
Full-Time Starting Salaries | Public Sector (Median)
5.0:1
Students & Faculty | Student-to-Faculty Ratio
590
Students & Faculty | Total Students
$13,778
Tuition and Expenses | Room and Board
$44,919
Tuition and Expenses | Tuition (In-State)
$53,607
Tuition and Expenses | Tuition (Out-of-State)
= Average
Founded in 1888 in Minneapolis, Minnesota, the University of Minnesota Law School (Minnesota Law) is widely considered to be one of the best public law schools in the country. The law school is well known for its notably small class size of roughly 200 students per year as well as the 7th largest law library in the country. In recent years, Minnesota law has ranked highly for placing students in clerkships in the federal court system. Graduates of the school are often called "Fighting Mondales" after the most famous alumni–former vice-president Walter Mondale. Additionally, the Minnesota Attorney General's office was held by a Minnesota Law graduate for 80 consecutive years. Minnesota Law has been an educational force for political and judicial roles in the State of Minnesota since it opened.
Education
In their first year, students take nine courses including the core subjects of Civil Procedure, Contracts, Criminal Law, Property, and Torts. During their spring semester, students are permitted to choose an elective from one of four choices: Civil Procedure II, Essential of Business for Lawyers, International Law, or Legislation and Regulation. Students are also grounded in a four credit course covering legal research and writing. The final course of the first year is a study of law in practice which touches on the real world of the legal practice.
Minnesota Law requires 88 hours for graduation. Aside from the required course of the first year, students must also complete a class in professional ethics, a class covering constitutional law with a focus on civil rights or civil liberties, a course on the legislative and regulatory process. Students must also satisfy the graduate level writing assignment either through participation on a moot court team, writing on a journal, or through a designated writing course. Students must also complete six hours of experiential education.
Additional Programs
Minnesota Law offers four additional degrees for students who wish to pursue their legal studies beyond the Juris Doctor. The Masters of Law (LL.M) program is designed for international students who wish to gain a solid grounding in American jurisprudence. The LL.M program offers either a focus on business law or a general LL.M with the ability to focus on one of 11 concentrations. The law school also offers a unique English language program taught by a law professor for international students who need additional English fluency.
In addition to the LL.M for international students, Minnesota Law also has two graduate programs focused on patent law. The first is an LL.M in Patent Law designed for students with a law degree and a technical background. This program is intentionally flexible and can be completed in 1-3 years with a schedule that mixes traditional learning with hands-on workshops to learn the practical side of patent filing. The law school also offers a one-year Masters of Science in Patent Law degree for non-lawyers that need a solid understanding of patent law in their careers. This degree does allow one to sit for the patent bar.
Minnesota Law offers one doctoral degree–the Doctor of Juridical Science–for students who wish to pursue a topic in legal academia. Along with their graduate programs, the law school has established a number of joint/dual degrees in conjunction with other graduate schools. Minnesota Law allows for over 200 combinations of degrees including the popular joint Juris Doctor and M.B.A. degree. Combining programs generally saves one year of coursework as credits can count for both programs.
Career and Career Placement
Minnesota Law is highly regarded for its career placement and average starting salaries. Within 10 months of graduation, over 96% of students are employed. For students in the private sector, the average salary is over $100,000 with the top 75% earning over $140,000 in their first careers. Public sector attorneys earn, on average, around $55,000 per year. Minnesota Law graduates frequently choose the public sector jobs with close to 30% of students opting for clerkships in State and Federal courts. For those students who enter law firms, graduates were as likely to choose small (or solo) firms as large 500+ attorney firms. Most graduates pursue their careers in the state of Minnesota with Illinois and New York being the next most common jurisdictions.
With only 600 students in the Juris Doctor program, the Minnesota Law Career Center staff of 7 counselors is able to provide substantial guidance to every student as they navigate their career path. Four of the seven staff members are former practicing attorneys with specialization in various legal fields including public interest jobs and judicial clerkships. The Career Center staff organizes on and off-campus interviews, participates in resume collections, liaises with recruiters, hosts diversity and public interest job fairs, and prepares students through interview preparation and resume counseling.
Experiential Learning/Distance Education
Minnesota law has one of the most robust experiential learning programs in the country with a range of options from clinical programs to courses that focus on practical trial skills to unique externships for students interested in public interest law. The school's clinical program includes 25 distinct legal clinics that focus on virtually every practice area of law. Under the laws of the Minnesota Supreme Court, students are allowed to represent clients in court while under the supervision of a faculty member. The clinical program reflects Minnesota Law's commitment to public service and over half of all students participate in the clinical programs. The law school also offers courses that are built around the teaching of practical legal skills including pretrial work, trial preparation, and alternative dispute resolution.
In the public interest externship program, select third-year students work for a year in a government or public interest office in order to build skills in the public interest sector. The school also offers simulations–called "Capstone" courses–where students spend a semester solving a real-world legal problem in the practice areas of health, environmental, or health law.

Students also build practical legal research and writing skills throughout their time at Minnesota Law.
Student Life
Set along the banks of the upper Mississippi River, the University of Minnesota Law School offers students a beautiful setting in one the best cities in the United States. On campus, students are able to take part in a deeply involved student life governed by the student-elected "Law Council." Along with the law school's many student-run organizations and journals, the school hosts an annual talent show and produces a spring musical starring its law students. The annual performance is a highlight of the year and is attended by thousands of students and alumni. The school is committed to the physical and mental health of its students and offers rooms for yoga and meditation as well as planned events to help students manage their stress and workloads.

Off campus, students are able to explore the vibrant metropolis of Minneapolis and its twin city St. Paul. The metropolitan area is famed for its entertainment, beauty, dining, and sports teams. Housing is abundant throughout the city and Minneapolis is well-known for both its public transportation options as well as its robust network of bike paths.
SEE ALSO