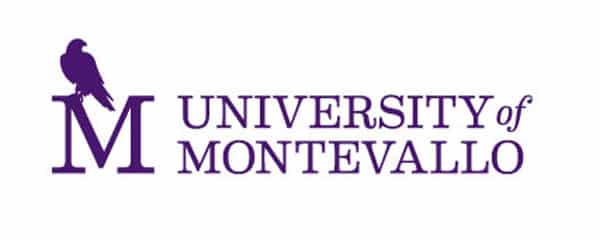 Accreditation
AACSB, Southern Association of Colleges and Schools, Commission on Colleges
The highly esteemed University of Montevallo is constantly praised for offering superior programs. U.S. News and World Report ranks Montevallo among the Top 15 Public Universities in the South, one of the Top 20 Most Innovative Schools, and within the Top 25 Best Value Schools. Additionally, Montevallo has been deemed a College of Distinction for eight consecutive years. The Stephens College of Business offers a variety of programs for blossoming entrepreneurs and ambitious business students. This AACSB accredited school is student-centered, with 21 students in an average class. Students will gain competitive, practical skills such as delivering a stellar presentation and writing persuasively. Professors work diligently towards producing future business leaders, and 95% hold the highest terminal degree. There are also many scholarship opportunities, and Stephens C.o.B. reports their students typically graduate with half the student loans in comparison to other comparable business schools.
Education
Students can begin their business education with a major in Accounting, Computer Informatics, Finance, Management, or Marketing. Minors are 18-credit hours, and options include Accounting, Business, Economics, Management Information Systems, and Nonprofit Studies. The Accounting curriculum qualifies students to sit for the CPA exam. Finance students will receive specialized security trading training. Students studying marketing will engage in real-world digital marketing campaigns.
Business students can complete their Master of Business Administration with only one additional year of study. The comprehensive MBA curriculum consists of 11 courses, covering fundamental business topics such as accounting, economics, marketing, management, information systems, and a culminating Strategic Management Capstone.
Student Life
Business student organizations include Phi Chi Theta, the American Marketing Association, and Beta Gamma Sigma. The Phi Chi Theta business fraternity hosts annual events such as Dress for Success, guest speakers, and a career fair. The AMA promotes careers in marketing through professional development, community service, fundraising events, etiquette dinners, and resume workshops. Beta Gamma Sigma is a prestigious honor society to recognize the achievements of business students.
The Granger Center for Professional Practice is committed to helping students transition from their studies to their careers. Some of the opportunities include networking events, mock interviews, internship and job placement, and mentorship programs. During the senior year, nearly 100% of students complete an internship, which frequently leads to full-time employment upon graduation. The close proximity to Birmingham provides numerous options for internship locations such as Deloitte, KPMG, PwC, and E & Y. Undergraduate students can participate in study abroad programs, and graduate students can participate in the Study Away program. This unique program offers service-learning projects, research assignments, field studies, and internships. Business students have the ability to graduate with a resume full of quality experiences.
Online Programs
Students can complete the Master of Business Administration program fully online. This program emphasizes leadership skills. The requirements are the exact same as the on-campus program, and students will never feel alone with all of the support services in place. Students have virtual access to the Harbert Writing Center, Career Development Center, Learning Enrichment Center, and Falcon Success Center. Students can experience campus life through the hybrid program.
SEE ALSO