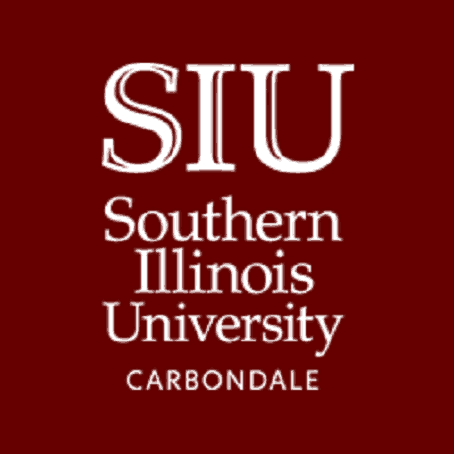 Accreditation
AACSB, Higher Learning Commission
The AACSB-accredited College of Business at Southern Illinois University Carbondale can trace its roots back to the first bookkeeping class offered in 1894. The School of Business Administration began in 1957. There are currently over 20,000 alumni, and 1,350 future business leaders enrolled in courses. The highly qualified and committed faculty members and the design of each degree program promote integrity, discovery, diversity, access, accountability, excellence, innovation, and knowledge-creation.
Education
Undergraduate students can pursue a Bachelors in Marketing; Accounting; Finance with specializations in Financial Institutions, Financial Management, and Investments; or Management with specializations in Entrepreneurship, Supply Chain Management, Global E-Business, and Personnel Management. Graduate students can obtain a Masters of Accountancy with concentrations in Taxation and Auditing & Accounting Information Systems, or a Masters in Business Administration with concentrations in Finance or Marketing. Doctoral students can earn a Doctor of Philosophy in Business Administration with concentrations in Finance, Marketing, Management, or Accounting. The CoB provides several financial aid opportunities through need- and merit-based scholarships, including the Caterpillar Excellence Scholarship, College of Business Chartered Financial Analyst Scholarship, and the College of Business Student Scholarship. Undergraduate students have the incredible optional opportunity to spend three weeks in Grenoble, France, and one week in Paris, France, studying business. They can also take part in International Exchange Programs with schools in Europe, South America, and Asia.
Student Life
For students that live on campus, there are the Living Learning Communities where business students live with other business students. This helps create a community of learning with common goals and interests that helps boost their educational experience. Many student organizations exist to help students engage with others and build leadership skills. Groups include the Accounting Society, American Marketing Association, Beta Alpha Psi, Blockchain Economics Club, Business Leadership Council, National Association of Black Accountants, Economics Club, and Women's Business Association.
Numerous opportunities for hands-on learning and career preparation are provided for business students. They can be involved in faculty research. There are career exploration trips to businesses in places like Chicago, St. Louis, and Nashville. The CoB Mentor Program connects students with older business students, professors, staff members, and alumni to aid in their developmental and preparation process. The Business Placement Center helps students with interview prep, networking, career tools, career fairs, resume assistance, finding jobs, career advice, and professional development events like the Etiquette Dinner. There is also the Burnell D. Kraft Trading Floor, the Saluki Student Investment Fund, and the Pontikes Center for Advanced Analytics & Artificial Intelligence, which all provide excellent experiential learning opportunities to prepare students for great success.
Online Programs
There are two entirely online degree completion programs: the Bachelors in Business and Administration and the Bachelors in Accounting. Also, the MBA program can be completed 100% online with concentrations in Agribusiness Economics or Analytics for Managers.
SEE ALSO