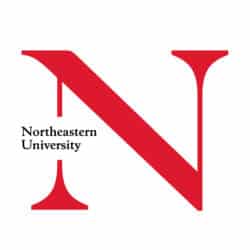 Accreditation
AACSB, New England Commission of Higher Education
The AACSB accredited D'Amore-McKim School of Business at Northeastern University will forever change the way you think about a typical business degree. D'Amore-McKim reimagines education and serves the needs of 21st-century students who are accustomed to living in a digital world. 
The D'Amore-McKim School of Business is on fire! In 2019 alone, these top-notch programs have received high rankings from the most reputable publications. According to U.S. News and World Report, the undergraduate international business program is ranked eighth in the nation, the business school ranks 58th, and the part-time MBA is among the top 100. 
Education
The Business school features a Bachelor of Science in International Business and Business Administration, with the option to add a concentration, such as Design, Computer Science, Economics, Information Science, Political Science, Entrepreneurship and Innovation, Management Information Systems, or Supply Chain Management. Dynamic minors such as Business Analytics, Emerging Markets, Entrepreneurship, Global Social Entrepreneurship, Leadership and Human Capital, and Sustainable Business Practices broaden students' business perspectives. Graduate students flourish in the Master's of Science programs in Accounting, Business Analytics, Finance, Innovation, International Business, Taxation, Technological Entrepreneurship, and Finance. Award-winning Master's of Business Administration degrees are also taught by world-class faculty, with specializations in Business Analytics, Corporate Innovation and Venturing, Entrepreneurship, Finance, Healthcare Management, International Business, Leading People and Organizations, Marketing, Supply Chain Management, Artificial Intelligence, Cybersecurity, Data Science, and Software Development.
Student Life
Students are encouraged to push boundaries through the Empower Campaign, embrace their entrepreneurial spirit, conduct research to explore the unknown, and combine majors to create their dream career. International study experiences are available in destinations such as London and Tokyo. Students can see what a daily schedule entails in the business world by participating in six-weeks projects, where they work for a corporation under the guidance of a senior manager, through the Northeastern's Experiential Network program. 
The Semester In program grants students the opportunity to spend one semester studying at NU's regional campus in San Francisco, a mecca for innovative businesses. After a sunny California get-away, students can participate in the Co-op program, where they spend six months gaining practical experience through employment with a leading corporation or innovative start-up. 
MBA students can also complete a corporate residency, and begin to establish their post-graduate life while they are still in the process of earning their degree. Students can also get involved locally by supporting non-profits with business initiatives, and on-campus through student organizations such as Mosaic and IDEA. The robust business programs through D'Amore-McKim transform students into C-suite executives!
Online Programs
Many online programs are available. These programs include several fully online programs, such as an MS in Business Analytics, MS in Finance, MS in Taxation, and MBA. Online Graduate certificates available include Business Administration, Corporate Finance, and Marketing.
SEE ALSO