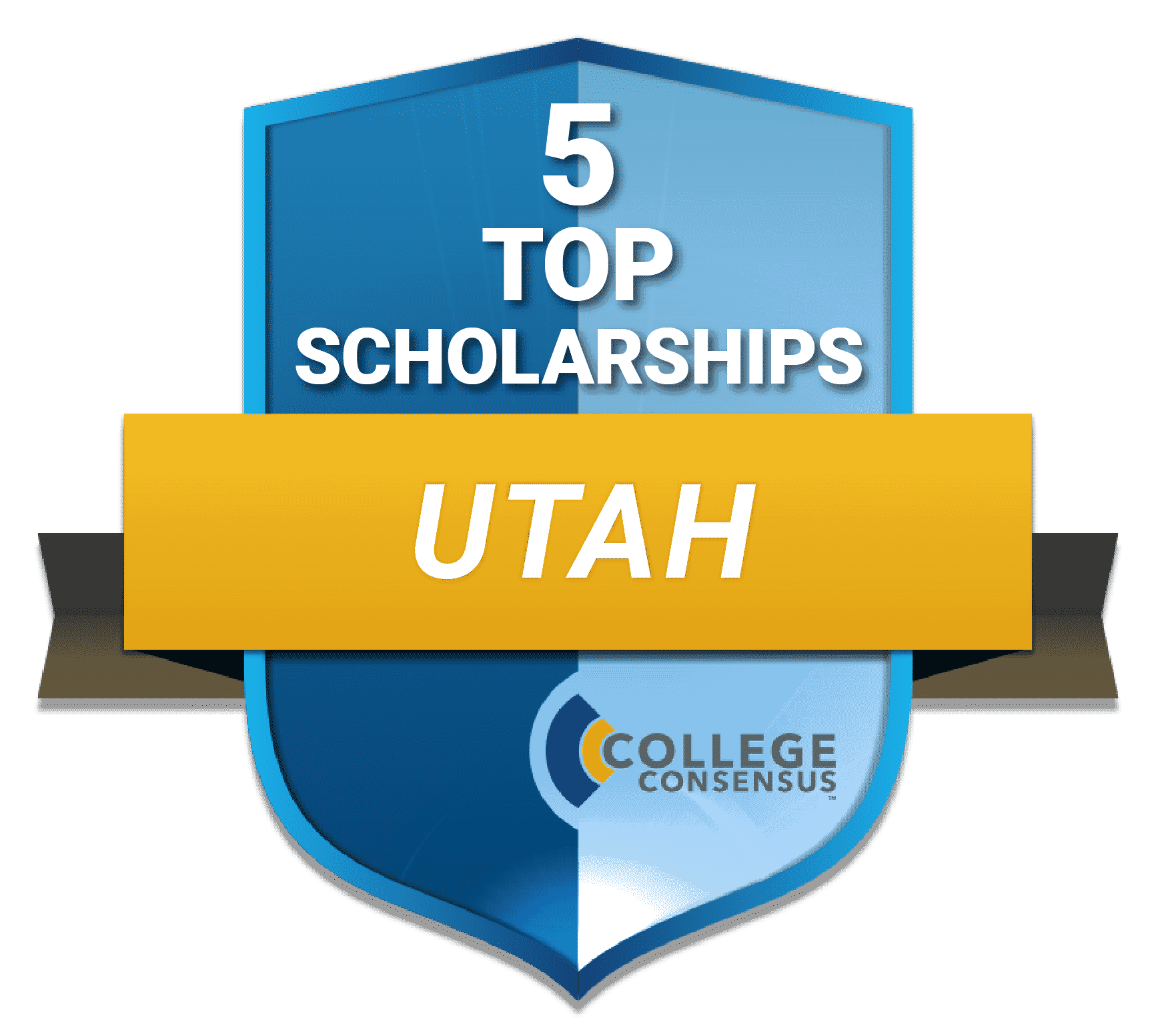 Utah has long been thought of as remote and insular, but not any more – today, it's one of the fastest-growing state in the US, attracting professionals from all over the US to a booming economy. But for people in Utah to fully participate in this great shift, a college education is the most important step. Students throughout Utah are looking for scholarship opportunities, whether they are underrepresented minorities or the first in their family to go to college. Working adults who want to move into a more lucrative field or advance in their career are also looking for a way to pay for college. That's why Utah scholarships are so important. 
For students in Utah who want to make the most of their education, College Consensus is giving you the little push you need to find scholarships and get your education paid for. Programs featured below are in alphabetical order.
See Also: Best Scholarships for Online Students
What is the Utah Regents Scholarship?
Utah state's Regent's Scholarship is designed to encourage high school students in Utah to prepare themselves for college early. At the time of this writing, more than 22,000 high school students in Utah have earned a Utah Regents Scholarship by taking the classes it recommends to them.
In the legislative year for 2019, some changes to the Regent's Scholarship program were made. Resources have been made available to help students learn which elective classes will allow them to qualify for the Utah regents scholarship program. Each school that offers high school courses may participate in the program by submitting their own English, Maths, Sociology, Science, and foreign language classes and materials for review.
Students who have been in attendance at schools that did not participate in the program have encouraged their schools to do so, to have access to the Regent's program. NOTE: high school students must apply during their freshman, sophomore, or junior year. Seniors will not have sufficient opportunity to complete all of the Regents courses before graduating from high school.
Does the State of Utah Offer Grants and Scholarships?
Like most other states, there is a long list of scholarships in Utah for college students and programs through which students and college-bound individuals can obtain financial assistance. Some of Utah scholarships and grants base qualifications on merit, while others base them on need, and some lay out a mix of the two as prerequisites for qualifications.
The two primary Utah scholarships for college students are The Utah New Century Scholarship Program and The Utah Regents Scholarship.
The Regents program is designed to help high school students prepare for college by taking a list of designated classes through their high school.
The New Century Scholarship Program is made available to high school students who are also taking an associate's degree at a university or state college.
In addition to these, there are numerous government and private scholarships in Utah, many of which can be obtained in many states, and some are available only locally.
Scholarships for college students in Utah are also available based on financial need, minority status, group membership, community service, other extracurricular activity, and more. A complete list of the available state grant and scholarship programs can be found at schools.utah.gov.
Are there Scholarships for Teachers in Utah?
Like many other states in the Union, the state of Utah has enacted policies and programs designed to promote further education for its teachers. Among these are a number of grants and teaching scholarships in Utah. As in most cases, scholarships are generally awarded based on merit, while grants are given in response to need or some other factor.
Here are two of the most prominent teaching scholarships in Utah:
Lynn Jensen Memorial Scholarship
Provided by: Utah School Counselor Association
Awarded to high school seniors planning on becoming teachers.
Award amounts vary
T. H. Bell Teaching Incentive Loan
Provided by: The Utah State Board of Education and the Utah State Board of Regents
Awarded to those seeking to pursue an educator preparation program and teach in the state of Utah.
Awards include a waiver of tuition fees and $995.00 each year.
It is important to note that to obtain an educator license in the state of Utah and to be granted teaching scholarships in Utah, applicants must submit to a background check, be fingerprinted, and have citizenship or a work visa allowing the individual to work within the United States.
Are there Scholarships for Minorities in Utah?
Also known as the "Beehive State," Utah is the second fastest growing state in the country. That means students from all over the country and abroad are turning to the state of Utah to finish their formal educations. And because Utah has a demonstrated interest in promoting the educational needs of its citizens, we find there are a number of scholarships for minorities, and Hispanic scholarships in Utah.
Among the most prominent of these are the following three programs designed to offer Hispanic scholarships in Utah.
SOMOS Foundation Scholarships: Funded by the Utah Hispanic Business Leadership Foundation (SOMOS), this scholarship recognizes academic achievement, leadership, community service, and financial need. Undergraduate and graduate students are accepted.
U-Dream: Utah Undocumented Student Scholarship Fund; This fund offers up to $2,000 for spring or fall semesters for undocumented Utah students, or students impacted by immigration policies, who exhibit academic excellence, and are actively engaged in their community. Undergraduate and graduate students are accepted.
Brazilian Initiation Scholarship: This scholarship seeks to contribute to the experience of students traveling from Brazil, to heighten the student's interest, and deepen his or her commitment to studies in the US.
To learn more about Scholarships for Minorities in Utah, visit The University of Utah Latin American Studies Scholarships.
Related Rankings: