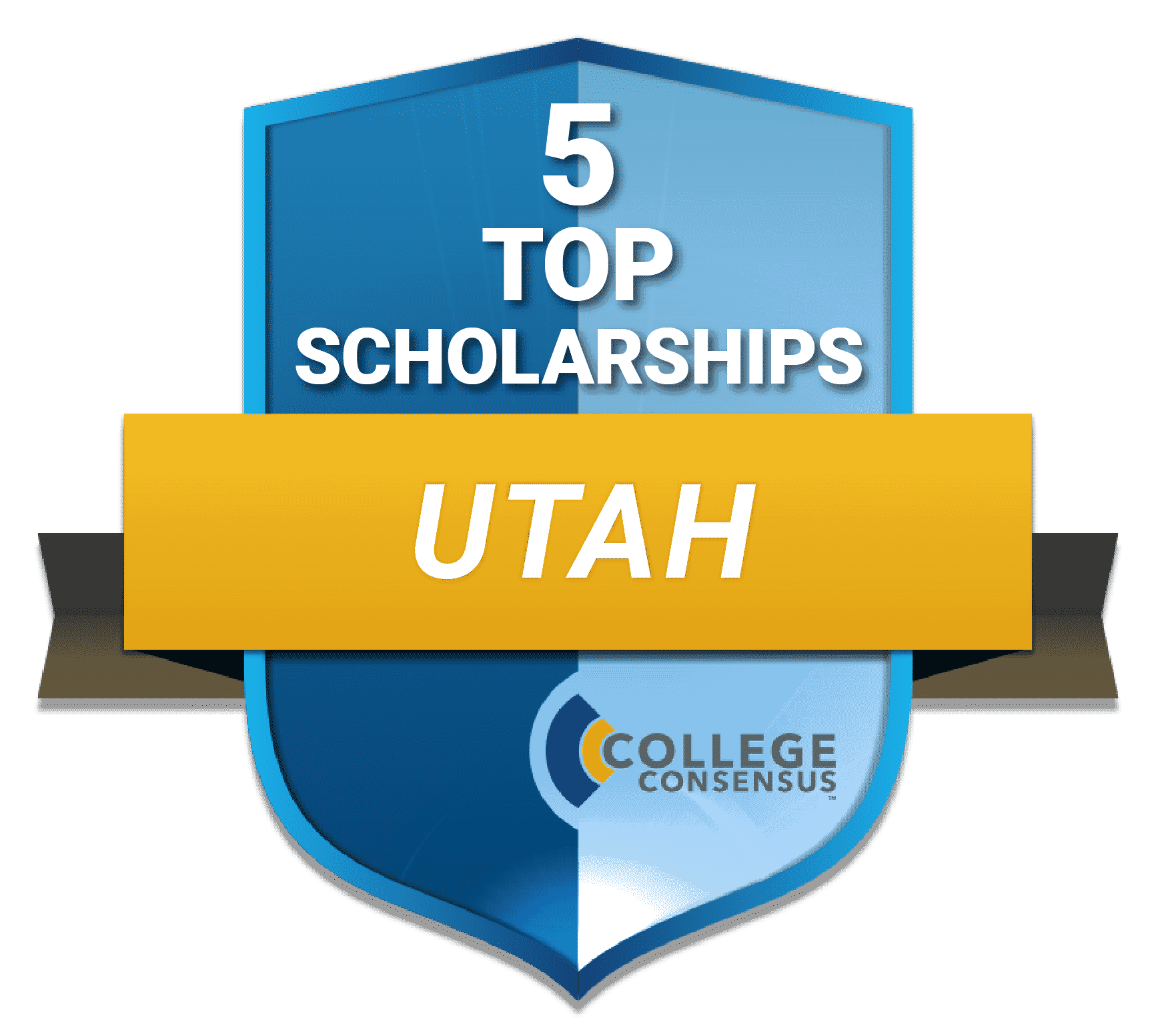 Utah has long been thought of as remote and insular, but not any more – today, it's one of the fastest-growing state in the US, attracting professionals from all over the US to a booming economy. But for people in Utah to fully participate in this great shift, a college education is the most important step. Students throughout Utah are looking for scholarship opportunities, whether they are underrepresented minorities or the first in their family to go to college. Working adults who want to move into a more lucrative field or advance in their career are also looking for a way to pay for college. That's why Utah scholarships are so important. 
For students in Utah who want to make the most of their education, College Consensus is giving you the little push you need to find scholarships and get your education paid for. Programs featured below are in alphabetical order.
See Also: Best Scholarships for Online Students
1
New Century Scholarship Program
The New Century Scholarship Program provides funding for high school students who wish to accelerate their education. To be eligible, students must either complete a special science and math curriculum or earn an associate degree by the time they graduate from high school. The associate degree must be completed at one of the seven participating schools. Students must have a high school GPA of at least 3.5 and a college GPA of at least 3.0. Applicants must also enroll at an eligible 4-year college or university and successfully complete the first semester of a bachelor's degree program. The award amount varies and the deadline for application is February 3.
UtahFutures is partnered with the Utah System of Higher Education (USHE), which is made up of the eight public universities and colleges in Utah. The organization also partners with my529 and the Utah Higher Education Assistance Authority to offer scholarships in Utah. UtahFutures provides information and assessments to help students find the right career and the right school.
2
NTA Utah-Keith Griffall Scholarship
The NTA Utah Keith Griffall Scholarship is one of the Utah scholarships offered by Tourism Cares. The organization provides more than 20 scholarships each year for graduate and undergraduate students studying tourism, travel, and hospitality. To be eligible for the NTA Utah Keith Griffall Scholarship, applicants must be US citizens living in Utah. The scholarship can be used during the sophomore, junior, or senior year. The application requires an essay and winners are determined based on academic achievement. The scholarship amount is April 1 and the award is up to $4,000.
Tourism Cares is a nonprofit organization that encourages companies in the tourism and travel industries to care for the people who live in the tourist areas that the industry relies on for its livelihood. The organization believes that when the local community prospers, the tourism industry does as well.
3
RMCMI Engineering and Geology Scholarship
The Rocky Mountain Coal Mining Institute seeks to promote the coal mining industry through education. Applicants for the RMCMI Engineering and Geology Scholarship must be full-time sophomores and juniors in college at the time of application. They must also be pursuing a degree in geology, mining, metallurgy, mineral processing, or a related field. Applicants must live in Colorado, New Mexico, Texas, Wyoming, Arizona, Montana, North Dakota, or Utah. This Utah scholarship can be renewed and the total award is up to $5,500 over two years. The application deadline is February 1.
RMCMI works to promote western coal. The organization has members throughout the United States and Canada even though its focus is on the western US. Members include equipment manufacturers, mines, utilities, law firms, coal transporters, financial institutions, and many others. The organization was founded in 1912 and still holds the same purpose: to promote education in the coal mining field, both within the industry and by distributing information to the general public.
4
Utah Association of Independent Insurance Agents Scholarship
The Utah Association of Independent Insurance Agents (UAIIA) awards at least three scholarships in Utah each year to high school seniors. To be eligible, students must have at least a 3.0 GPA and actively participate in extra-curricular activities through their churches, schools, or communities. To apply, students must submit an application along with financial information, transcripts, and a recent photo, which may be used for news releases. Selected applicants will be required to attend an in-person interview. The scholarships range from $500 to $2000, and in some years, as many as 13 scholarships have been awarded. The deadline to apply is April 1.
The UAIIA was established in 1919 by a group of independent insurance agents who wanted an organization that would advocate for them. Members include insurance companies, disaster cleanup companies, general agencies, and premium finance companies. The organization works hard to protect the rights of its members.
5
Utah Jumpstart Coalition For Personal Finance Literacy
America First Credit Union and the Utah Jump$start Coalition for Personal Financial Literacy are offering Utah students a chance to earn $1,250 for college by creating a 90-second YouTube video. The video must be on the topic of "how I plan to pay for college responsibly." There are no minimum GPA or ACT scores required for this Utah scholarship—just a simple online application. Students must consent to distribution for their video and describe how the financial literacy course they took in high school helped them plan their future in 200 words or less. The application deadline is November 30.
The Jump$tart Coalition for Personal Financial Literacy is a nonprofit organization that is dedicated to promoting financial literacy among young people. Jump$tart draws attention to the importance of financial education and financial literacy. America First Credit Union was founded in 1939 and provides quality financial services to its members. Its focus is on the financial well-being of its members. The organization has an employee volunteer program and participates in other philanthropic endeavors, such as its partnership with Jump$tart.
What is the Utah Regents Scholarship?
Utah state's Regent's Scholarship is designed to encourage high school students in Utah to prepare themselves for college early. At the time of this writing, more than 22,000 high school students in Utah have earned a Utah Regents Scholarship by taking the classes it recommends to them.
In the legislative year for 2019, some changes to the Regent's Scholarship program were made. Resources have been made available to help students learn which elective classes will allow them to qualify for the Utah regents scholarship program. Each school that offers high school courses may participate in the program by submitting their own English, Maths, Sociology, Science, and foreign language classes and materials for review.
Students who have been in attendance at schools that did not participate in the program have encouraged their schools to do so, to have access to the Regent's program. NOTE: high school students must apply during their freshman, sophomore, or junior year. Seniors will not have sufficient opportunity to complete all of the Regents courses before graduating from high school.
Does the State of Utah Offer Grants and Scholarships?
Like most other states, there is a long list of scholarships in Utah for college students and programs through which students and college-bound individuals can obtain financial assistance. Some of Utah scholarships and grants base qualifications on merit, while others base them on need, and some lay out a mix of the two as prerequisites for qualifications.
The two primary Utah scholarships for college students are The Utah New Century Scholarship Program and The Utah Regents Scholarship.
The Regents program is designed to help high school students prepare for college by taking a list of designated classes through their high school.
The New Century Scholarship Program is made available to high school students who are also taking an associate's degree at a university or state college.
In addition to these, there are numerous government and private scholarships in Utah, many of which can be obtained in many states, and some are available only locally.
Scholarships for college students in Utah are also available based on financial need, minority status, group membership, community service, other extracurricular activity, and more. A complete list of the available state grant and scholarship programs can be found at schools.utah.gov.
Are there Scholarships for Teachers in Utah?
Like many other states in the Union, the state of Utah has enacted policies and programs designed to promote further education for its teachers. Among these are a number of grants and teaching scholarships in Utah. As in most cases, scholarships are generally awarded based on merit, while grants are given in response to need or some other factor.
Here are two of the most prominent teaching scholarships in Utah:
Lynn Jensen Memorial Scholarship
Provided by: Utah School Counselor Association
Awarded to high school seniors planning on becoming teachers.
Award amounts vary
T. H. Bell Teaching Incentive Loan
Provided by: The Utah State Board of Education and the Utah State Board of Regents
Awarded to those seeking to pursue an educator preparation program and teach in the state of Utah.
Awards include a waiver of tuition fees and $995.00 each year.
It is important to note that to obtain an educator license in the state of Utah and to be granted teaching scholarships in Utah, applicants must submit to a background check, be fingerprinted, and have citizenship or a work visa allowing the individual to work within the United States.
Are there Scholarships for Minorities in Utah?
Also known as the "Beehive State," Utah is the second fastest growing state in the country. That means students from all over the country and abroad are turning to the state of Utah to finish their formal educations. And because Utah has a demonstrated interest in promoting the educational needs of its citizens, we find there are a number of scholarships for minorities, and Hispanic scholarships in Utah.
Among the most prominent of these are the following three programs designed to offer Hispanic scholarships in Utah.
SOMOS Foundation Scholarships: Funded by the Utah Hispanic Business Leadership Foundation (SOMOS), this scholarship recognizes academic achievement, leadership, community service, and financial need. Undergraduate and graduate students are accepted.
U-Dream: Utah Undocumented Student Scholarship Fund; This fund offers up to $2,000 for spring or fall semesters for undocumented Utah students, or students impacted by immigration policies, who exhibit academic excellence, and are actively engaged in their community. Undergraduate and graduate students are accepted.
Brazilian Initiation Scholarship: This scholarship seeks to contribute to the experience of students traveling from Brazil, to heighten the student's interest, and deepen his or her commitment to studies in the US.
To learn more about Scholarships for Minorities in Utah, visit The University of Utah Latin American Studies Scholarships.
Related Rankings: