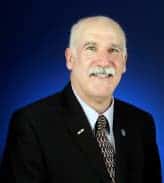 It can be daunting to research the wide variety of business schools out there. For a student who wishes to pursue a business degree, there are many questions about which business school is the right one to attend. They wonder which degrees are offered and how much it will cost. But beyond the data they can look up, what will it really be like to be a member of this business community? What is the real story? What will the entire experience be like? College Consensus had the privilege to connect with Dr. Lawrence Rose, Dean of the Jack H. Brown College of Business and Public Administration at California State University, San Bernardino, to find out the story.
California State University, San Bernardino is a public, four-year university that was established in 1965 and is regionally accredited by the Western Association of Schools and Colleges. Its main campus is located in the suburban foothills of the San Bernardino Mountains, and the other campus is located in the rural area of Palm Desert. Coyotes occupy much of the surrounding mountain area, which inspired the University to adopt the coyote as their mascot. The women's volleyball and men's soccer teams have earned regional and division titles for CSUSB. There are currently bachelors, masters, and doctoral degrees offered to over 20,000 students in attendance with over 84,000 alumni worldwide.
The AACSB-accredited Brown College of Business and Public Administration offers bachelors and masters degrees. There is a Bachelors in Information Systems & Technology and a Bachelor of Arts, Administration. Students pursuing the Administration degree must choose an area of concentration in Finance, Business Analytics, Accounting, Real Estate, Entrepreneurship, Management, Supply Chain & Transportation Management, International Business, Sports & Entertainment Marketing, Hospitality Management, Marketing, or Public Administration. Graduate students can pursue a Masters in Business Administration, Accountancy, Public Administration, or Information Systems & Technology. The Masters in Business Administration and the Masters in Public Administration are also offered 100% online. CSUSB is ranked in the Best Public Colleges & Universities and the Best Regional Universities-West in College Consensus' recent rankings.
College Consensus: Please tell us about your business school and what makes it unique?
Dr. Rose: The Jack H. Brown College of Business and Public Administration is a regionally, nationally, and internationally recognized and accredited College that goes beyond the classroom experience, focusing on engagement, innovation, and impact in our undergraduate and graduate degree programs. In addition to our scholarly academics in management, marketing, information systems and technology, finance, accounting, supply chain, and more, we have internationally-known experts and industry professionals who teach our courses. This blend of academic expertise and industry experience helps transform individuals and allows them to grow into responsible professionals within a globally connected world.
College Consensus: What do you look for in successful applicants to your business school?
Dr. Rose: All successful students are self-starters with strong decision-making, critical thinking, leadership, and communication skills. Each of our graduate programs (MBA, MSIST, MSA, MPA, MSEI) has specific requirements for entry, some including professional experience and references.
College Consensus: How do you support your business students to leverage them into a career after graduation?
Dr. Rose: We offer experiential learning in all of our programs. This includes cyber security competitions, student-managed investment projects, major event marketing, study abroad trips, service learning, practical internships, 90-second business venture pitch events, and community tax assistance. Integrating experiences into our curriculum provides the opportunity for our students to practice skills, build confidence, and develop essential attitudes such as resiliency and self-direction. We also provide career services such as workshops on resumes, cover letters, interviewing, job hunting, time management, life planning, and goal setting.
College Consensus: Is there anything going on within your business education community that you are particularly excited about?
Dr. Rose: With our recent AACSB International re-accreditation, we are among less than five percent of business schools that meet high academic standards. Our entrepreneurship program, which features a business accelerator program, is among the top 35 in the world recognized for innovation by AACSB International. In fall 2020, we will be offering a Master of Science in Entrepreneurship and Innovation. We are a national leader in cybersecurity, having been designated as a Center of Academic Excellence in Information Assurance by the National Security Agency and the Department of Homeland Security since 2008.
College Consensus: What can you tell us about your online offerings?
Dr. Rose: Our MBA Online for Professionals offers:
Managing classwork on your schedule to juggle school, home life responsibilities, and work
The chance to attend a top-ranked, highly accredited university from anywhere in the world
Waiving the GRE/GMAT for your two or more years of leadership experience
The opportunity to learn with world-class faculty who have real-world business experience
Financial aid, a flexible schedule, and the convenience of 100% online classes
College Consensus: Anything else you'd like to say about your programs and school?
Dr. Rose: In addition to the Online MBA program, we offer the four graduate and 19 undergraduate programs. Apart from our programs, we have six Centers for Excellence that enhance our educational mission, including the Cyber Security Center, Inland Empire Center for Entrepreneurship (IECE), Institute of Applied Research and Policy Analysis, Leonard Transportation Center, and Center for Global Management.
Crucial Characteristics
Expertise: When a professor stands up in front of a group of students and has an incredible amount of personal experience, conducted research, and extensive study in a particular industry field, students are more apt to respect, comprehend, and fully learn the material. These are the type of faculty members that teach at the Brown College of Business & Public Administration. Students can gain so much insight and glean an incredible amount of knowledge from the expertise of the professors. The internationally recognized expert faculty members fully understand everything that a student is facing and will face in the professional world so as to help best prepare them to enter into a career.
Innovation: We live in a fast-growing, ever-changing society, and education has to keep up or even be ahead of the changes around us. Innovative thought and a focus on innovation throughout the curriculum at the Brown College is vital to the development of every student. Business students have the privilege of participating in the internationally recognized innovative entrepreneurship program. Also, in this next school year, students can pursue a Masters in Entrepreneurship and Innovation.
Preparation: The preparation process for every student truly begins the very first day they set foot on campus or begin courses online, and continues to and beyond graduation. The Brown College takes the preparation process very seriously and has put countless academic and experiential steps in place. As Dean Rose stated above, they offer experiential learning in all of their programs. This helps prepare students for the real-world. Examples of these experiences include internships, mock interviews, academic competitions, community involvement, helping real people with their taxes, international trips for course credit, managing a real-life investment fund, job shadowing, and hands-on projects. More great resources for experiential learning are the Centers for Excellence that the University provides. Business students can gain priceless hands-on experience working with the faculty and the community in areas like cybersecurity, entrepreneurship, research and consulting services, regional transportation issues, and global business. Their ultimate goal is to fully prepare graduates to find great success in both life and their career of choice, and the Brown College has done an excellent job in fulfilling this mission through their preparation process.