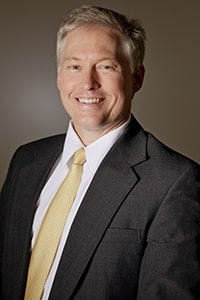 It can be incredibly overwhelming to begin the search for just the right business school. With the enormous variety to choose from, potential students will have numerous questions about what all the school has to offer. They will want to make sure it will best prepare them for their desired career. Well, they can read all the factual information on a school's website about history, tuition, faculty members, accreditation, required credit hours, and co-curricular activities. But what about the underlying story behind the facts? What drives the professors? Why do certain active learning opportunities exist? College Consensus had the benefit of speaking with Dr. Kevin Mason, Interim Dean of the College of Business at Arkansas Tech University, to find out the story.
Arkansas Tech University began in 1909, first offering classes that would help students obtain a high school degree. In 1919, when a freshman named John Tucker scored all 14 points in a 14-0 football game, the male athletes were nicknamed the 'Wonder Boys.' In 1975, the female athletes voted to change their nickname to 'Golden Suns,' as they were not pleased with being called the 'Wonder Girls.' The University is set amongst the Great Outdoors, surrounded by trees, state parks, and trails in Russellville, Arkansas. It has become the third-largest university in the state serving over 12,000 students who are pursuing associates to graduate-level degrees. It has held a regional accreditation from the Higher Learning Commission since 1930.
The College of Business has earned the prestigious AACSB accreditation, proving excellence and continuous improvement. Business students can obtain a Bachelor's in Business Administration degree in Business Management, Accounting, Entrepreneurship, Business Data Analytics, Digital Marketing, Human Resources Management, or Strategic Marketing. There is also an online Bachelor's in Management, and graduate students have the benefit of accessing the tech-focused Master's in Business Administration entirely online. It offers a General Track and concentrations in Digital Marketing or Business Data Analytics. College Consensus has listed the MBA in Best Online MBAs in Arkansas Ranking, and the University in the 100 Most Affordable College & Universities Ranking, Best Colleges & Universities in Arkansas Ranking, and the Best Regional Universities – South Ranking.
College Consensus: Please tell us about your business school and what makes it unique?
Dr. Mason: Our undergraduate Business Data Analytics program. It prepares students to manage and analyze big data to solve problems and formulate effective business strategies.
College Consensus: What do you look for in successful applicants to your business school?
Dr. Mason: We look for faculty who are dedicated to student success and are interested in developing experiential learning opportunities for our students.
College Consensus: How do you support your business students to leverage them into a career after graduation?
Dr. Mason: We provide excellent business foundation knowledge and effective problem-solving skills.
College Consensus: Is there anything going on within your business education community that you are particularly excited about?
Dr. Mason: Our College of Business has a Small Business and Technology Development Center (SBTDC). The SBTDC provides students with opportunities to engage in experiential learning projects and to provide economic impact in our region.
College Consensus: What can you tell us about your online offerings?
Dr. Mason: We offer an undergraduate major, and our MBA program, completely online. The undergraduate program is a Management major. In addition to the traditional MBA, we offer online tracks in Digital Marketing and Business Data Analytics.
College Consensus: Anything else you'd like to say about your programs and school?
Dr. Mason: All College of Business programs are AACSB accredited.
Crucial Characteristics
Uniqueness: With the incredible amount of business schools in our country, one that creates some point of uniqueness within the programming can be attractive and impressive to certain students. Professors can be unique in the way they teach. The business building can be unique in the resources it provides. The campus can be unique in where it is located. Programs can be unique in the degrees they offer, which is one of the unique points of the College of Business at Arkansas Tech. It has created a Bachelor's in Business Data Analytics. This degree combines technology and math concepts with the fundamentals and strategies of business to analyze and find solutions to the biggest economic and business issues of today. Graduates of this unique degree will acquire highly valued and in-demand skills that are desired by all types of organizations.
Foundation: For a building to stand strong and not waver, it must be built on a secure foundation. It is the same for students pursuing an education that will help them reach their career goals and aspirations. Through excellent degrees, co-curricular programs, and supportive faculty and staff, the CoB establishes a firm foundation full of business knowledge, theory, fundamentals, and principles that will give students the freedom to learn and grow and build upon that foundation to reach the highest levels of success.
Impact: There are several ways for business students to utilize their acquired knowledge to impact their peers, professors, staff, and even the community. One of the big ways is through participation in research and projects at the Small Business & Technology Development Center. The Center supports start-ups, entrepreneurs, and small businesses in the region by offering training, consulting, and guidance in helping them grow and develop. Students can get their hands on real-world business issues and work with real clients and directly apply what they have learned and are learning in class. In turn, students not only positively impact the regional community, but the entire economy of Arkansas.