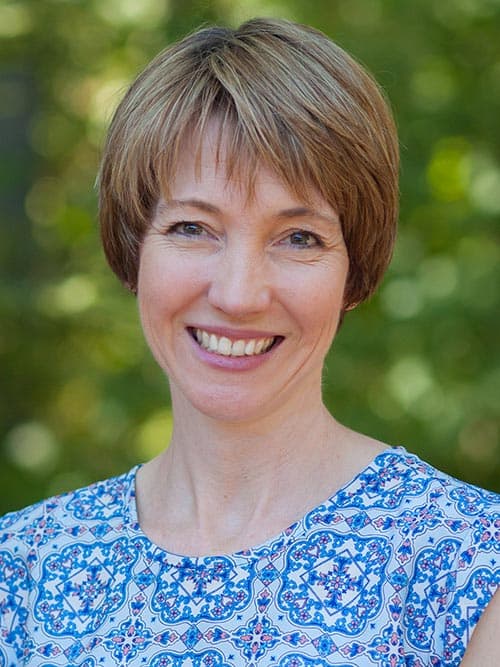 How does one begin the process of finding the right business school? What types of questions enter their minds? What kind of answers do they need to make their decision? As prospective students begin their search for the business school and program that will help them achieve their career goals, they can find an excessive amount of vital information online. Types of degrees offered, accreditation, faculty profiles, experiential learning opportunities, tuition, online offerings, and admission requirements can be found on business schools' websites. But what about the story that exists behind all of the data? College Consensus had the advantage of talking with Dr. Debby Thomas, Dean of the College of Business at George Fox University, to discover the story. 
Newberg, Oregon, is home to the nationally recognized and highly ranked Christian University: George Fox University. There are also teaching sites around Oregon located in Salem, Portland, and Redmond. This nonprofit institution offers the "Be Known" promise to its students in helping them discover their calling in life. It provides a supportive environment focused on personal attention, service, community, academic rigor, global opportunities, and spiritual growth. The University began in 1891 and is now home to over 4,100 students annually studying undergraduate, graduate, doctoral, and seminary degrees and is accredited by the Northwest Commission on Colleges and Universities.   
The College of Business prepares "trusted leaders" who value character, courage, competence, and community. The ACBSP-accredited programs promote and encourage ethical and servant leadership, global engagement, compassion, confidence, and social responsibility. Students benefit from small classes with a 14:1 student/faculty ratio, 100% Christian faculty and staff, international service opportunities, and many hours of corporate prayer, worship, and Bible study. Undergraduate business students can major in Economics, Accounting, Finance, Business Administration, Management, Global Business, or Marketing. They can also choose an interdisciplinary degree combining business with a discipline outside of business. Graduate students choose between an accelerated Full-time MBA to be completed in just 11 months or a Part-time MBA with concentrations in Finance, Strategic Management, Management & Leadership, or Strategic Human Resource Management. The Doctor of Business Administration is offered online with required four-day residencies a few times throughout the program. College Consensus has ranked George Fox University in the list of Best Regional Universities – West.     
College Consensus: Please tell us about the George Fox College of Business and what makes it unique? 
Dr. Thomas: The College of Business at GFU has a "Be Known" promise. We have small classes (generally 30 or less), and the professors are accessible to students. We are a Christian University with a robust spiritual life component. We offer concentrations in management, marketing, finance, economics, accounting, and financial planning. We have a great career services department as well as college-level connections that help us place many students in internships and jobs.
College Consensus: What do you look for in successful applicants to your business school?
Dr. Thomas: We look for students who want to be actively engaged in their education. They need to engage in class and in the many extracurricular activities in the COB and in the University.
College Consensus: How do you support your business students to leverage them into a career after graduation?
Dr. Thomas: Accounting and Financial planning have robust recruiting programs, and most of our students in these majors have a job when they graduate. In other majors, we encourage and support internships which often turn into job opportunities.
College Consensus: Is there anything going on within your business education community you are particularly excited about?
Dr. Thomas: We have started a new Business Analytics certificate for undergraduate students. We are coming out with a brand new part-time MBA program this year and are beginning a professional certificate program for those with MBAs, starting with Business Analytics.
College Consensus: What can you tell us about your online offerings?
Dr. Thomas: We have a few UG classes online, and we are considering a remote synchronous version of our new MBA program for the fall.
Crucial Characteristics
Be Known: Sometimes the college experience can be intimidating for students. There are times they can feel alone and lost in the crowd. But the moment students begin their college career at George Fox's College of Business, they enter into the "Be Known" promise. Like most of us, they just want to be known, valued, and understood by others. This is what the promise provides. Students are known by their professors, staff, and peers. Business courses and programs, along with campus activities and events, are designed around helping students "be known." Small classes allow for strong faculty-student relationships, where "professors connect with students personally, academically, and spiritually." With this mindset, students experience a safe place to be authentic, share ideas, find inspiration, and grow personally and professionally.   
Spiritual Life: George Fox is an active Christian University built upon the foundations of Christian beliefs. To extend the "be known" promise, one of the most significant aspects of the Christian faith is being known by God. Students experience integrating Christian doctrine with a robust business curriculum inside the classroom, with a 100% Christian faculty. Outside the classroom, business students find many opportunities for spiritual growth, including small group Bible study, church services, and chapel requirements that offer times of Bible teaching, worship, prayer, and communion. As serving others is another aspect of the Christian faith, business students find a plethora of service opportunities through on-campus activities, community events, and international trips.
Business Analytics: With the advancements in technology comes the ability to produce more and more data. Companies can utilize data collection to understand what customers need and want, streamline productivity, reduce risks, and increase profits. But it is a worthless effort to just collect data without a proper, accurate, and thorough analysis of it. There is an increasing importance of business analytics as technology advances and the world of business evolves. More and more universities are offering business analytics courses, concentrations, majors, and certificates. As Dr. Thomas mentioned above, the College of Business now offers an undergraduate certificate in business analytics. It is also starting a program that offers a professional certificate in business analytics for MBA students.