Pursuing a Master's in Marketing Degree is a great next step for marketing professionals interested in a higher education. Many make this move wanting more education in management issues, looking for advancement in pay attached to a master's degree, or the ability to be more marketable for leadership opportunities and advancement.
Students interested in earning a graduate degree in marketing may be interested to know that the Bureau of Labor and Statistics estimates that business and financial operations occupations are expected to grow by five percent from 2019 to 2029. This shift will add over 450,000 new jobs into the economy at a much faster rate than all other occupations. Marketing falls under this umbrella and offers an average median pay of $135,900 per year. This annual salary is significantly higher than the national average of $74,378. Some of the top industries for marketing managers include finance & insurance, company and enterprise management, manufacturing, wholesale trade, and professional, scientific, & technical services.
Earning a graduate-level degree in marketing is a great way to prepare yourself for management-level positions within many industries throughout the business world. Working towards a graduate degree is a big step! This guide for Master's in Marketing degrees will give you insight in the degrees available and answer some of the questions that you may have along the way.
Master's of Science in Marketing vs. MBA with a specialization in Marketing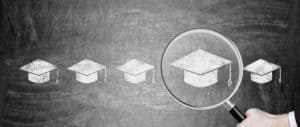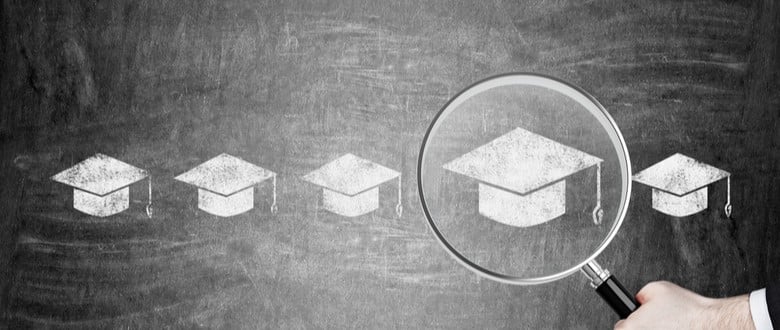 Prospective marketing graduate students mainly choose between Master's of Science in Marketing degrees and Marketing MBAs. Both degrees offer many advantages. Students generally choose based on preference, admissions requirements, and future career goals to decide which program will be the best fit for them.
Master's of Science in Marketing
A Master's of Science in Marketing degree is mainly based on the study of advanced concepts and strategies specific to the marketing field. Many MS degrees offer an easy admission process immediately out of a bachelor's degree and do not require years of professional experience to apply. Master's of Science in Marketing programs will focus heavily on key marketing concepts and will often have 10 to 12 marketing-specific classes within their curriculum.
MSM programs dive deep into key areas like digital marketing, marketing analytics, selling & sales management, product management, business consulting, and more. This format may be an ideal fit for those who intend to go into very marketing-specific fields and positions rather than those who are looking to gain some marketing knowledge in addition to their general business skills set.
Marketing MBA
An MBA in Marketing is a versatile degree that offers the benefit of academic growth and networking, internship, and study abroad opportunities. The education delivered through high-quality MBA programs is easily adaptable to a variety of industries and leadership positions.
MBA programs focus on tactical business management-related content with a few specialized courses in marketing. To this point, MBA programs generally consist of three to six concentration courses, as opposed to the MS in Marketing. These programs are made to be highly applicable to the current manager, including case studies, internships, and experiential learning opportunities to teach key concepts. An MBA gives a great boost to a resume, as it is a highly recognizable leadership degree, but many universities do require some professional experience for admission.
Choosing a Master's in Marketing degree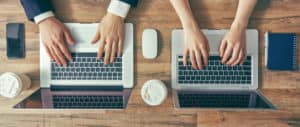 The world of business is constantly changing and evolving. High-quality programs work to keep up with those trends so that their students can receive the most up-to-date educational experience possible. Top programs carry accreditation through the AACSB, but accreditation with the ACBSP or IACBE is also a sign of a credible program. Graduate-level programs are about much more than completing courses. The most prestigious business programs do their due diligence to combine real-world knowledge and skills with academic concepts. Top programs also include networking events, internship opportunities, and leadership development components.
Rankings
There are many reputable business schools and Master's in Marketing degrees. So, it is important to know what makes a high-quality program that will support you through the academic process and beyond. Checking leading educational ranking systems such as U.S. News and World Report, Princeton Review, Poets & Quants, and Forbes is another way to ensure that the programs you are considering are of a high standard. College Consensus rankings such as our Best Online Marketing MBA, Best Online Master's in Marketing Management, Best MBA Programs, and Best Online MBA Programs do much of the work for you by prescreening programs through the lens of accreditation, prestige, and more. We also have several rankings specifically for people of color and women in business.
Prerequisites
Some programs welcome a variety of career and educational backgrounds, while others prefer those who are well versed in their specific industry. Many MBA programs with prior business education requirements offer an option to take prerequisite courses to build foundation skills before fully entering into their program.
Foundational MBA courses often cover key topics such as Marketing Management, Managerial Accounting, and Organizational Theory. Once foundations are completed, those interested in pursuing marketing as a concentration will have several courses that are taken as elective credits. MS in Marketing programs also follow this format and may have a few required courses such as Marketing Administration, Quantitative Analysis for Business Decisions, and Financial Accounting. The difference is that the majority of this degree will be centered around marketing from the beginning of the curriculum.
Online vs. On-campus Degrees
We are very fortunate to live in an era where online Marketing degrees from accredited business schools carry the same high regard as on-campus options. Business schools have been working for years to create the same high level of education available online, even though the format of the degrees have changed. There are also hybrid options available in many cases, which blend the flexibility of turning in additional coursework on your own schedule with the benefits of meeting with peers in person, on-campus.
The professors who teach on-campus classes also frequently teach online courses. Some programs even include real-time live videos that allow students to participate in live lectures when they are not able to attend classes in person. Overall earning an accredited degree is key. Online degree programs are convenient, often offered with tuition discounts, and currently are a safe alternative for students with health concerns due to the global pandemic.
Jobs
Marketing is a broad field that encompasses many occupations, from sales team members to marketing managers, and from brand managers to Chief Marketing Executives for corporations. Those with a graduate-level degree are setting themselves up for more reputable and high-paying positions such as PR specialist, head of sales, or media planners. Market research analysts are also a highly regarded position. These jobs blend the science of data with the creativity of marketing strategies.
Regardless of which focus to choose when pursuing a Master's in Marketing Degree, a few skills that are important to have in order to succeed are being excellent at communicating, up to date on the latest technology trends related to the field, able to work in teams, someone who thrives in a fast-paced environment, and knowledge of the latest marketing trends. These core success traits are highly focused upon in any master's degree.
Women in Marketing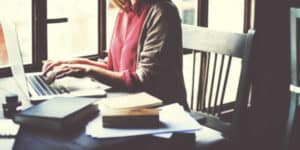 Deciding to prepare for top-level positions can be an intimidating process, but pursuing a master's degree is a great way to prepare women for upward mobility in business. In fact, studies have showed that women are almost 20% more likely to get hired for senior positions over men. Meaning, that taking the step to get an advanced degree in order to advance in business, is highly advantageous for women.
Still, there are programs with specific support and understanding of what it is like to be a woman in the primarily male-dominated business industry, and that can make all the difference. A recent study completed by the Forte' Foundation showed that completing an MBA provided "an economic mobility engine for women." This one-step increased graduate's annual salaries by 63% or more. You can learn more about the programs with extra support for female business students, schools with female faculty, info on what makes a campus safe, and more through our Best Business Schools for Women ranking!
Free Resources
Podcasts
Podcasts are a great free resource for those who are already holding top marketing positions or those who are working towards their degree. There are shows and episodes that cover every aspect of being a leader within corporations or personal companies.
The Social Pros podcast invites leaders from real organizations to share their social media strategies. On each episode, listeners will hear insights from industry leaders, thoughts from the hosts, and rapid-fire questions at the end that answer big questions of the industry. Recent episodes have covered topics like where Clubhouse fits into your social media strategy, how google uses social media globally, traits of social media leaders, and how diversity on social media creates opportunities for BIPOC.
This podcast shares insights on ways to live a life of success in all areas. The host of the show is an author, world-renowned speaker, and encourager. Dave Martin is also the founder of an international foundation that supports a variety of causes both locally in Detroit and around the world. The show has an average rating of 4.5 stars and discusses relevant topics such as determination, preparation, teamwork, strength, money, and more.
The This Old Marketing podcast has listeners in over 100 countries. Each week Joe Pulizzi and Robert Rose spend around 60 minutes discussing content marketing trends in the news and lessons that can be learned from past successful marketing endeavors. It is a great blend of current trends and relevant examples from the past. Some top episodes have discussed marketing predictions for 2021, the future of content marketing, and the content war for creators.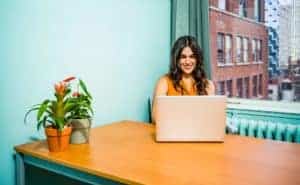 Websites
The following websites offer free content and up-to-date resources for all things marketing. Many websites also have connecting podcasts, newsletters, courses, and more, so be sure to check those out as well!
The Drum offers free content as well as member exclusives. It is a great resource for those in the marketing field and offers information on the latest trends concerning key areas such as branding, agency, digital, and creative media. Webinars and case studies are also available over topics like email marketing, retail marketing, the effects of the global pandemic, and avoiding burnout.
The Hubspot Marketing Blog offers templates, how-to guides, and resources. While some of the content may be a refresher, marketing managers will appreciate the ease of finding resources for certain topics and learning up-to-date ways of accomplishing common tasks. Hubspot would also make an excellent resource for teams who may need to review certain skills. Some of the recent articles have covered local SEO in 2021, how to utilize Clubhouse for your marketing needs, and the future of content strategy.
The Content Marketing Institute offers a variety of cost-free resources such as weekly webinars, creating engaging content, conversions, and more. Over 200,000 customers subscribe to their newsletter and come to their site to learn about building online communities, creating high-converting content, and the latest trends in branding and marketing. There are also research insights, training, and content specific to the marketing field.
Next Steps
Those looking to gain relevant, in-demand, and versatile skills within a variety of industries should definitely consider earning their Master's in Marketing degree. Whether you intend to complete an MBA with a concentration in Marketing or a Master's of Science in Marketing, this level of education sets you apart when it comes to top positions.
As we discussed before, taking learning to the next level with a graduate degree in marketing not only prepares marketing professionals for success through academics but also gives them the real-world skills needed for pay increases and advanced job opportunities. Earning a graduate degree in marketing is a smart choice that can open many doors towards success. Our Best Online Master's in Marketing ranking is an excellent place to continue your search if you are interested in earning your degree in a distance format.
Related Resources:
Best Online Marketing MBA
Best Online Master's in Marketing Management
Ultimate Guide to Becoming a Marketing Manager
Ultimate Guide for Market Research Analysts
What is an Associate's in Marketing Degree?
What is a Bachelor's in Marketing Degree?
What is a Doctorate in Marketing Degree?
Best Certificates in Marketing
Best Free Online Marketing Courses
Highest Paying Marketing Careers
Fastest Online MBA Programs