Students who are aspiring entrepreneurs can sharpen their skills and gain valuable knowledge with the right degree. The best choice depends on the individual's aptitude or preferred industry for business. For budding entrepreneurs, these are some of the most useful degrees that can span multiple fields.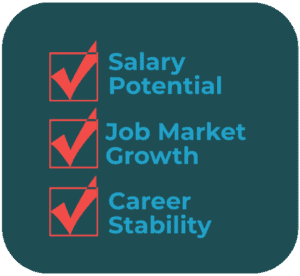 Recommended Online Entrepreneurship Programs
Explore our featured online programs to find the right match for you today.
According to the Bureau of Labor Statistics, these are some careers most commonly pursued by entrepreneurial studies majors.
| Careers Related to Entrepreneurs | Annual Median Salaries |
| --- | --- |
| Advertising, Promotions, and Marketing Managers | $138,730 |
| Sales Managers | $130,600 |
| General and Operations Managers | $ 98,100 |
| Personal Financial Advisors | $95,390 |
| Management Analysts | $95,290 |
| Operations Research Analysts | $85,720 |
| Financial Analysts | $96,220 |
| Logisticians | $77,520 |
| Purchasing Managers, Buyers, and Purchasing Agents | $131,350 |
| Market Research Analysts | $68,230 |
BLS, 2023
Top 3 Famous Entrepreneurs
| #1 | Elon Musk |
| --- | --- |
| Date of Birth | June 28, 1971 |
| Education | University of Pennsylvania (BA, BS) |
| Source of Wealth | Tesla, SpaceX, Self Made |
| Net Worth | $220 billion |
| #2 | Jeff Bezos |
| --- | --- |
| Date of Birth | January 12, 1964 |
| Education | Princeton University (BSE) |
| Source of Wealth | Amazon, Self Made |
| Net Worth | $169 billion |
| #3 | William Henry "Bill" Gates III |
| --- | --- |
| Date of Birth | October 28, 1955 |
| Education | Harvard University (dropped out) |
| Source of Wealth | Microsoft, Self Made |
| Net Worth | $135 billion |
Bloomberg – December, 2023
1. Business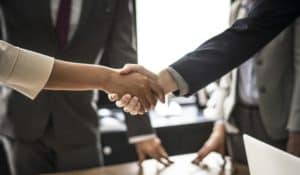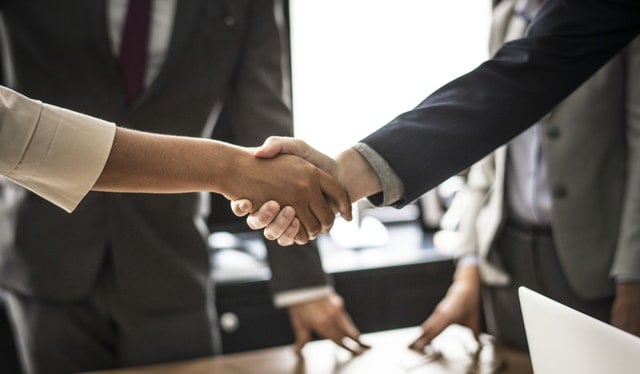 One of the biggest advantages of a business degree for entrepreneurs is upward mobility. Some entrepreneurs decide to work on a payroll and earn an income to cover their living expenses while they develop their own business ideas. Business is one of the most common degree paths for entrepreneurs since it gives them a thorough knowledge of every aspect of planning, launching, operating and protecting a business.
About the Degree Program
A business degree prepares a person to advance in any setting. Students learn how to form business plans based on short-term and long-term goals. They learn about funding options, private companies, publicly traded companies, the stock market, and many other issues that affect how a business evolves. In an undergraduate business degree program, a student learns important lessons about accounting, economics, market research, human resources, marketing, finances, forecasting, expansion, business law, etc.
Benefits for Entrepreneurs
This degree made the top of the list for entrepreneurs because it is useful in a wide array of industries from health care to retail. The basics of business success are the same whether a person wants to start a company that sells medical devices or makes arrangements for travelers. Entrepreneurs must be self-starting professionals, and a deep understanding of business gives them the confidence and knowledge necessary to make critical predictions and handle every business operation function smoothly. With a business degree, entrepreneurs are prepared to solve complex problems with innovative and insightful solutions.
Recommended Online Business Programs
Explore our featured online programs to find the right match for you today.
2. Finance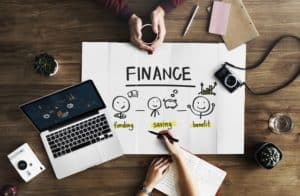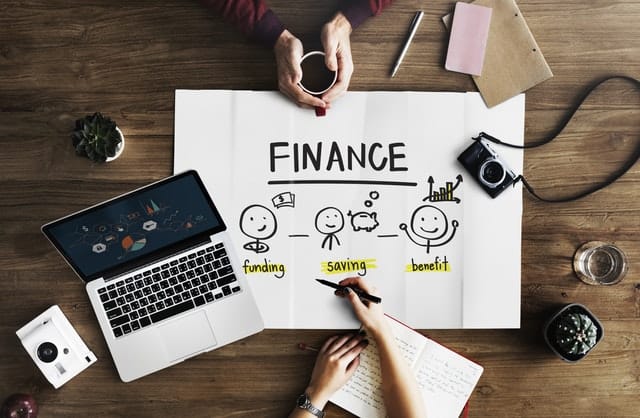 Although plenty of apps and software programs make accounting and tracking finances easier, entrepreneurs can benefit greatly from a better understanding of accounting methods, financial ratios and financial analysis. A degree in finance or accounting will provide critical knowledge for protecting a venture's financial future. As with a business degree, a finance degree can be applied to a startup in any industry.
About the Degree Program
Accounting and finance majors learn how to track cash flow, create financial statements, perform in-depth analyses of finances, and perform accounting functions. They learn how to read balance sheets and income statements to perform statistical equations or use financial ratios that show them important insights about business performance, debts, and the overall financial health of a company. They also learn about investing, lending, and much more. By the time they graduate, students develop a great eye for detail.
Benefits for Entrepreneurs
For entrepreneurs who want to start an accounting business, develop a finance app or just manage company finances, this degree path is a wise choice. According to finance statistics, over 80 percent of businesses fail because of cash flow problems. If an entrepreneur knows how to mitigate those risks, the likelihood of a startup's longevity is improved. Finance and accounting majors also develop an understanding of risks, which is essential for the survival of any business.
Recommended Online Finance Programs
Explore our featured online programs to find the right match for you today.
3. Marketing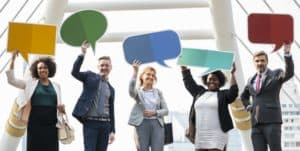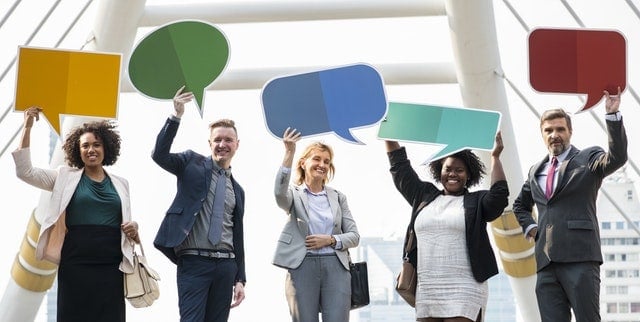 Every entrepreneur must understand the mechanics of marketing to stay competitive today. With the growth of internet marketing, there are many opportunities to save money and to reach a wider audience. No venture can become established and build a reputation without innovative marketing.
About the Degree Program
With a marketing degree, an entrepreneur can learn more than just methods. A degree program teaches students how to do research to identify a target market and tailor a marketing strategy to a specific market based on age or other factors. Students learn which social media platforms and advertising mediums are more effective for reaching certain groups and how to measure the impact of ad campaigns or promotions. Additionally, students learn how to create a unique value that will give them a competitive edge. They learn ways to increase market share, create effective promotions and do many other tasks that will help their future business ventures be more likely to thrive.
Benefits for Entrepreneurs
Entrepreneurs must know how to do everything from identifying a target market to building brand awareness. With so many competitors in every market and even in niche markets today, entrepreneurs must have a unique brand image, voice, and value proposition. A marketing program teaches students what makes a brand image stand out from competitors and how to create a strong but consistent brand voice that is ideal for the target market. Maintaining consistency is also essential for building a strong company culture, which is directly related to the brand's success. Also, entrepreneurs learn about feedback loops and how to use valuable feedback from employees, customers and other stakeholders to strengthen a business.
Recommended Online Marketing Programs
Explore our featured online programs to find the right match for you today.
4. Economics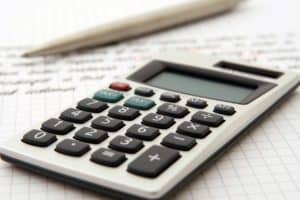 Many of the country's top Fortune 500 CEOs studied economics in college. Anthony Evans, economics professor and management textbook author, says anyone wanting to start a company should study economics. He said that one of the most important reasons for this is because students learn about markets and not just about how the economy works.
About the Degree Program
In an economics program, students learn what consumers consider valuable. This will help them make smarter business choices and collect valuable feedback that they can use to make stronger strategies in the future. Students who enroll in an economics program learn about microeconomics and macroeconomics. Each one affects the scope of business for any industry. In an economics program, students learn about pricing power, consumer surplus and other important cost considerations that allow them to maximize their earning potential in a specific market.
Benefits for Entrepreneurs
Understanding how markets work takes considerable education, and a bachelor's degree program in economics gives a student a much deeper understanding. When graduates know how markets work, they are prepared to identify hidden costs that they may not otherwise be able to predict. Entrepreneurs can benefit from an economics background when they conduct research. They learn to collect more in-depth information and quality reports that help them make important decisions in planning long-term goals. Also, entrepreneurs learn how to deal with an imbalance of information if one industry lacks significant data.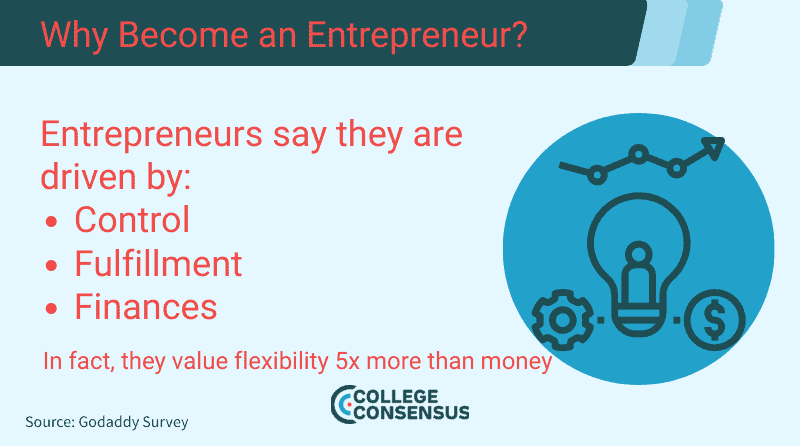 Recommended Online Economics Programs
Explore our featured online programs to find the right match for you today.
5. Communications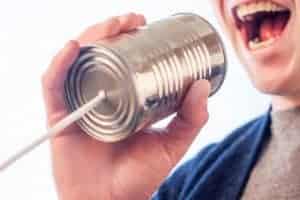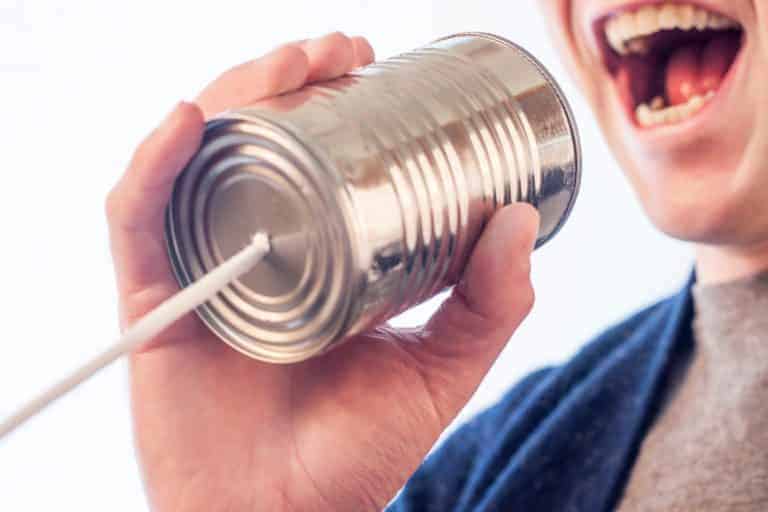 One of the most vital parts of business success is maintaining good relations with internal and external stakeholders, and a degree in communications gives a person the skills needed to accomplish that. People who earn degrees in communications often wind up in the fields of law, broadcasting, public relations, management, and human resources.
About the Degree Program
In a communications program, students first learn the basics of effective communication. They learn how to apply those skills to verbal and written forms of communication. Students study social sciences which gives them more confidence in reaching out to people and building professional relationships. They also learn how to engage people, make them feel valued, and understand messages from a recipient's point of view.
Benefits for Entrepreneurs
For entrepreneurs, these skills are important for everything from recruitment planning to customer retention planning. Business owners must be able to communicate with their workers to keep the company running smoothly, and they must be able to teach workers to communicate effectively with one another and with customers. When customer communication is good, customers feel more valued and more satisfied. They are likelier to remain loyal to a business that utilizes effective communication tools. Communication is also essential for dealing with vendors and maintaining good supplier relationships. A communications degree is especially useful for an entrepreneur who wants to launch a global company since it is challenging to work with foreign suppliers and customers.
Ready to start your journey?
6. Computer Science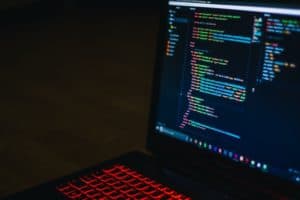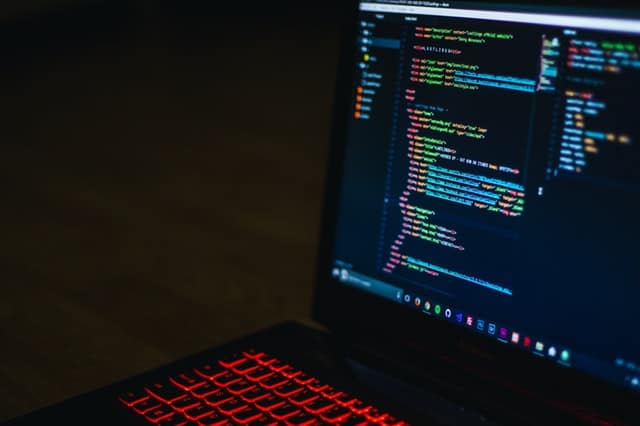 Today, most of the top competitors in every market have an app that makes shopping, connecting, or looking up account information easier for customers. People who understand software and app development can design more effective and useful app-based businesses. With a degree in computer science, an entrepreneur enjoys the versatile abilities to create a virtual or a brick-and-mortar business.
About the Degree Program
Computer science students learn programming languages that are relevant to many development applications from web design to software creation. They also learn some important basics of business. Today, many colleges offer additional programs that have emerged during the past decade. For example, some computer science majors take blockchain development classes. Blockchain is the technology that protects cryptocurrencies and is the basis for many high-level security programs. One entrepreneur's success story started with a computer science program in college. When David Vorick graduated with a degree in computer science, he had already developed a cloud storage business and a cryptocurrency. However, entrepreneurs also have many other opportunities.
Benefits for Entrepreneurs
This degree is great for entrepreneurs who want to launch tech startups. New technologies and trends emerge daily, and computer science provides entrepreneurs with a foundation of understanding for those changes and a competitive edge in any industry. An especially lucrative field of computer technology for entrepreneurs today is online security. With hackers becoming more sophisticated every year and larger companies losing millions because of compromised information, the need for stronger security solutions is always growing and evolving. Entrepreneurs with computer science degrees are in a better position to develop and test security programs.
7. Environmental Science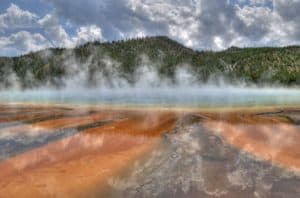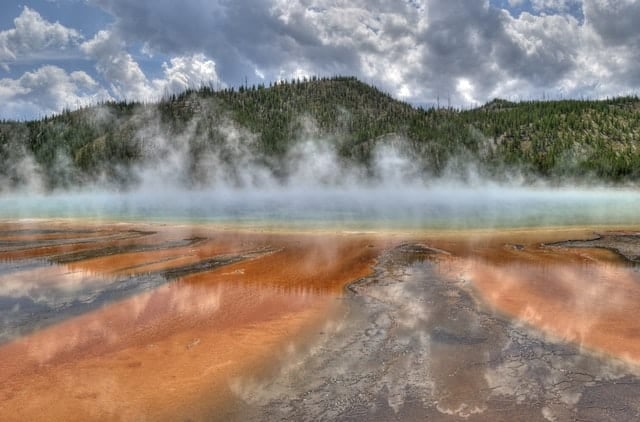 Environmental science is a valuable bachelor's degree choice for an entrepreneur interested in making green improvements to any industry. Today, environmental entrepreneurs are often called eco-entrepreneurs or ecopreneurs. They usually develop disruptive startups that make beneficial green changes that save consumers money in a category of products or services. Since unsustainable consumption is at an all-time high, environmental scientists consider eco-entrepreneurs a valuable part of protecting the world's future.
About the Degree Program
Environmental science majors learn how to become problem solvers and how ecosystems work in various applications. From farmland and lake management to city planning, students gain insights into many ways to make green improvements everywhere. They also learn how to conduct their own research and where to find the tools. Additionally, they learn how laws work and ways to promote green changes or initiatives. Although some courses may be based online, several classes expose students to hands-on fieldwork that gives them practical experience in environmental research, development and management.
Benefits for Entrepreneurs
Since more pressure exists to protect the world's natural resources as the population grows, the need for eco-friendly innovations continues to grow. For entrepreneurs with an environmental science degree, the concept of a green economy is clearer. They have the skills and knowledge necessary to identify problems with existing products, services and systems. Every top entrepreneur's success story starts with the solution to a problem. Eco-entrepreneurs often look at market failures and find ways to mitigate risks with good solutions for people and the environment. They often focus on small-scale businesses and activities rather than large corporations. In some cases, eco-entrepreneurs are also farmers. For example, some creative individuals have started a niche market of farm tourism that promotes education, sustainability and profitability. Tourist farms are functional farms that are large or small but similar to bed-and-breakfast venues.
8. Engineering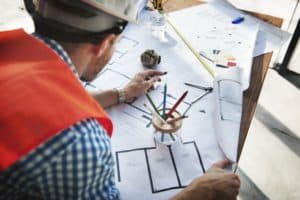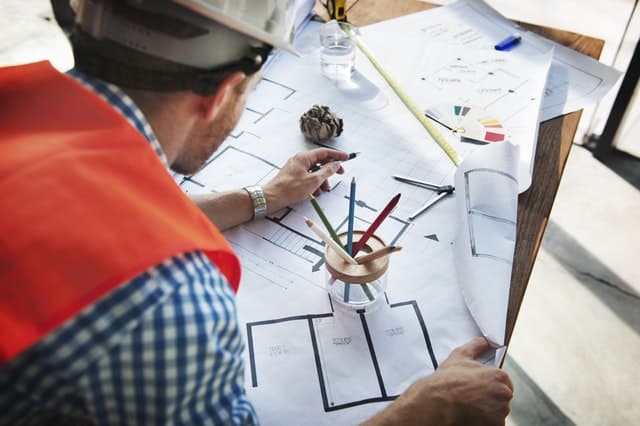 As technology and the world change, the field of engineering is becoming more multidisciplinary. The skills entrepreneurs gain in this degree program help them in every aspect of planning a business, launching a startup, and keeping a company going. There are several options for choosing a bachelor's degree program in engineering. Some people pick civil engineering, chemical engineering, or another specific application if they know which path they want to take.
About the Degree Program
Engineering ranks among the top 10 degree choices for undergraduate students because it is versatile enough to be beneficial for people who want to work for another company or for people who want to start a business. Graduates typically secure top-paying jobs or start businesses that bring plentiful profits. Engineering programs are exciting and challenging for aspiring entrepreneurs who like math and science. Most classes involve equations and teach students how to become critical thinkers and problem solvers. Since the field is becoming more comprehensive, students learn various skills such as international relations, accounting, leadership, communications, research, quality management, and much more.
Benefits for Entrepreneurs
Educators have realized the benefits of instilling an entrepreneurial mindset in engineering students. The Journal of Engineering Entrepreneurship encourages higher education institutions to adopt initiatives to teach engineering students to develop this mindset. Since the skill set students gain is much more comprehensive now, it is ideal for every aspect of starting a business. Entrepreneurs in engineering have the applied knowledge of a chosen field and knowledge of finances, accounting, customer and vendor relations, market research, leadership, and business management duties. The biggest choice for aspiring entrepreneurs to make is which application of engineering to pursue. Although there are several broad field majors, there are also more specific concentrations.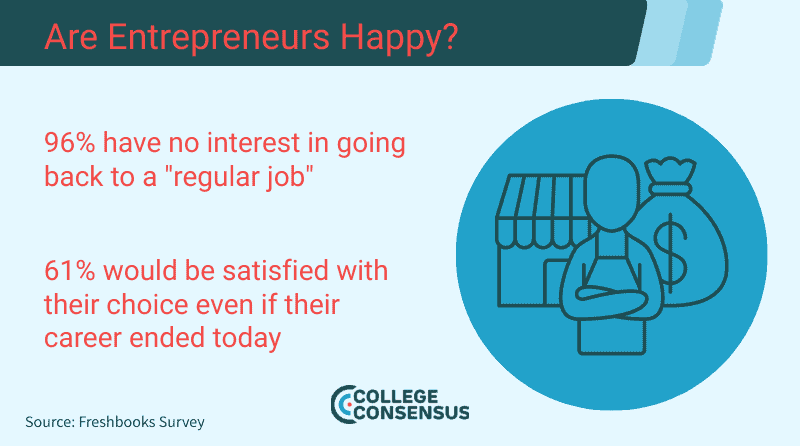 9. Entrepreneurship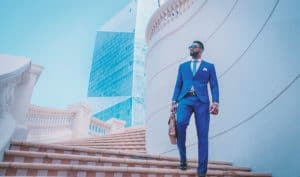 There is much more to being an entrepreneur than having a solution to a problem and the drive to succeed. Although some entrepreneurs learn along the way, many fail because they lack the knowledge and skills to keep a startup's physical or virtual doors open. However, some people know they want to be entrepreneurs and have ideas spanning multiple disciplines. A bachelor's degree in entrepreneurship is a good start for such individuals if they do not want to spend extra years in school seeking training for opportunities in multiple industries.
About the Degree Program
The program starts with important basics such as communications, public relations, and ethics. These form a good foundation for starting any business. Students also learn how to build marketing strategies and use online and print sources to reach a target audience. They learn how to do market research, identify a target market, build a brand, and customize their communication and marketing strategies to engage an audience. Also, they learn how to measure performance, manage business operations, build a business plan, secure funding, and adhere to important business laws. They learn how to form ideas, test them, and predict which ones will work.
Benefits for Entrepreneurs
Overall, the benefit of the entire bachelor's degree program in entrepreneurship is developing a comprehensive skill set that allows a graduate to plan, start, and maintain a business. Businesses fail due to poor location choices, inadequate cash flow, poor management practices, and ineffective advertising. The classes in an entrepreneurship degree program help students become aware of these problems and learn how to prevent them. Also, the comprehensive knowledge that students gain helps them determine if an idea will likely turn into a successful business or if they should abandon the idea and develop a new one.
10. Psychology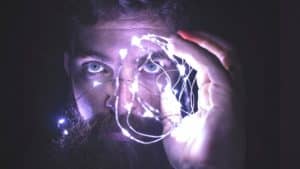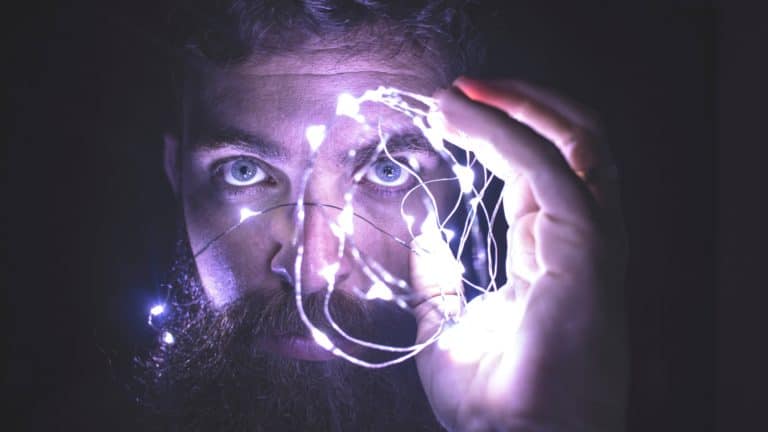 Some of the most successful entrepreneurs have a deep understanding of people. They know how to identify the relationships between different types of problems and behaviors. Also, they know how to inspire their team to perform better, work together, and be more innovative. They are often charismatic and can interact well with customers or vendors because they understand everyone individually and treat them with respect. Having a good understanding of psychology is useful to entrepreneurs whose business ideas rely on winning people over to boost loyalty or maintaining top-notch teamwork.
About the Degree Program
Students who major in psychology learn about every aspect of human development from birth to death. Additionally, students learn how various development stages affect current and future behaviors or mental health using multiple theoretical models. They learn how to identify dangerous behaviors and how to help people work through their problems. Also, they learn how to talk to different types of people and how to characterize people based on their personality traits. While there is no complete manual to demystify the human brain and how it affects behavior, a bachelor's degree in psychology gives students a much better understanding of it.
Benefits for Entrepreneurs
For entrepreneurs, the biggest benefit of this degree choice is the ability to understand more about people and why they do or say what they do. This is useful in making sales, planning marketing strategies for a specific group of people, choosing ideal employees for the business and interacting effectively with vendors and customers. It can also be helpful in creating, building and maintaining a cohesive company culture and a stronger brand. Another benefit for entrepreneurs is that they learn more about themselves. They learn their own personal strengths and weaknesses and how to improve any issues that may be hurdles to their success as business owners. Since psychology courses involve plenty of research and writing, entrepreneurs who choose this degree path also develop good communication and research skills.
Entrepreneurs who want to further their education after completing an undergraduate degree often choose an MBA program with a concentration in entrepreneurship. Many of these programs are based completely online, and they help prepare graduate students for the complex world of business with specific insights for entrepreneurs.
Recommended Online Entrepreneurship Programs
Contact schools for information on enrollment, tuition, aid and more.
Related Articles