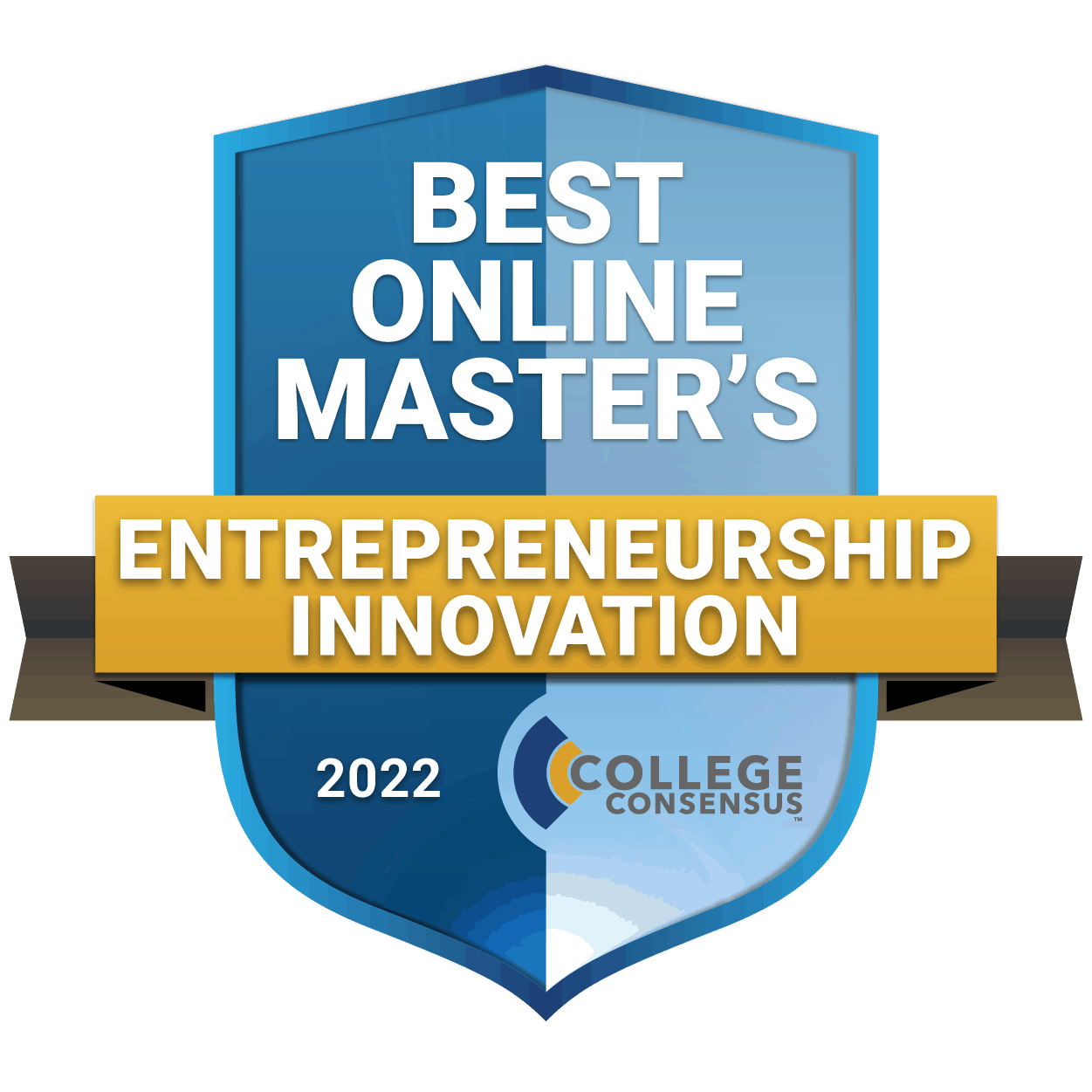 There are many master's degrees and business specializations to choose from. Choosing the right business focus can sometimes feel as daunting as picking the program itself. Marketing, Operations Management, Technology Management, and Financial Leadership are just a few of the most in-demand specializations for business students. Another addition to this list is entrepreneurship. According to data collected from the Global Entrepreneurship Monitor, there are more than 31 million entrepreneurs in the United States alone, making Entrepreneurship and Innovation a relevant topic for a large majority of business students. The following is a ranking list of the most well-rounded and highly recognized Online Master's in Entrepreneurship & Innovation.
Online Master's in Entrepreneurship & Innovation
Online Business Programs have continually been on the rise over the past decade. Online graduate degrees provide a way for students to fill the gaps in their personal knowledge and business experience. There are various pathways that a business degree can take you. An Online Master's in Entrepreneurship and Innovation will be an advanced business degree specifically tailored to the business leaders who are pushing boundaries and making the innovations that are leading business industries. This ranking aims to help prospective students quickly find programs with a focus on entrepreneurship and innovation that have elite reputations. The following list is a list of the most notable Online Business Degrees in the field of entrepreneurship and innovation.
Methodology
This ranking list of the best Online Master's in Entrepreneurship & Innovation Programs is a consensus ranking, which combines information from five leading business school ranking systems: The Economist, Bloomberg Businessweek, The Financial Times, and U.S. News and World Report, and Forbes. The ranking data for each program was averaged and placed on a 100-point scale to reveal each entrepreneurship degree's Consensus Score. To break any ties, the base tuition of each master's degree was used.
There are many benefits to earning an Online Master's in Entrepreneurship and Innovation. According to data from Guidant Financial, a few of the top reasons that individuals choose to become entrepreneurs include pursuing an individual passion, a desire to leave the corporate world, joining a new opportunity, and finding work after a job loss. An Online Master's in Entrepreneurship & Innovation offers the unique benefit of preparing students for independent ventures while also giving them the credentials needed for top positions within the traditional workforce. Before you begin your degree, here are a few points to consider.
Are online degrees thought of as highly as traditional on-campus programs?
Accreditation is an important key to any online business degree. Programs that are designated by the top accrediting agencies like the AACSB, IACBE, or ACBSP deliver the same high-quality educational experience as on-campus degrees. Many online business programs include synchronous components such as real-time video meetings that allow students to listen and actively participate in lectures without the stress of a commute. Hybrid programs allow participants to take part in face-to-face networking opportunities and class sessions while turning in assignments at their own pace. The on-campus professors are also frequently those who deliver online courses. In general, the delivery method of an accredited business degree is just a matter of preference and schedule. Most programs do not list online or on-campus on final diplomas, meaning that completing a degree is what is important. The programs on this ranking have already been vetted for prestige and accreditation so that you can feel confident in the online entrepreneurship and innovation degree that you choose.
How can I reduce the cost of my online graduate degree in business?
Students pursuing graduate degrees can easily end up paying between $20,000 to $40,000. Even some of the private schools and prestigious programs can cost upwards of $100,000. Reputable business schools will have transparent pricing, but even online programs may have additional fees to consider. Things like out-of-state tuition fees, technology costs, books, or required campus visits can all add up quickly. A few things that can help reduce the cost of an Online Master's in Entrepreneurship and Innovation are:
Distance learning scholarships.
Employee tuition reimbursement.
Checking into the College Level Examination Program.
Participating in MOOCs (Massive Open Online Courses).
Looking at competency-based programs.
Taking prerequisite courses at the community college level before beginning your graduate degree.
Earning an Online Master's in Entrepreneurship and Innovation is a great investment in yourself and your future career. Even if you are not ready to venture into the world of self-employment just yet, the skills acquired will benefit your overall understanding of the business world and how to serve customers in whatever field you choose. We hope that this list of the Top Online Master's in Entrepreneurship and Innovation degrees will take the guesswork out of finding a high-quality degree in this competitive field.
Related:
Best Online Entrepreneurship MBA
Ultimate Guide to Business School
10 Best Degrees for Small Business Owners