22 SCHOOLS in VERMONT
There's a lot about Vermont that is small – it's one of the smallest states by land size, and the 2nd least-populated. Montpelier has the lowest population of any state capital, and its biggest city, Burlington, has the lowest population of any "most populous" city – the smallest biggest city in America. But Vermont is huge in culture, character, and cool. It was hard won; after the Seven Years' War, the area now known as Vermont was given up to Britain by the French, but the colonies of New York and New Hampshire fought bitterly over who the land belonged to. During the American Revolution, the Green Mountain Boys, a Vermont militia group, liberated the region and established the Vermont Republic, an independent nation that lasted until it joined the United States in 1791 as the 14th state. Vermont established its reputation for progressiveness early; as a republic, Vermont was the first region in America to outlaw slavery, as well as giving all men the right to vote (as opposed to men who owned property) and mandating the creation of public schools. And that tradition continues today – it was, for instance, the first state to legalize same-sex marriage.
Vermont is one of the best-educated, healthiest, and most economically stable states in the union, a heritage of its commitment to public and higher education. While agriculture, forestry, and rock quarrying accounts for much of the state's economy, tourism and business – especially insurance – are also significant. With the beautiful Green Mountains, Vermont is a leading destination for outdoor adventure enthusiasts, from skiing and snowboarding to fishing and hiking. It's also one of the safest and healthiest states in the US, due in large part to its high education rate and low unemployment.
Like the rest of New England, Vermont's higher education system is dominated by the many small liberal arts colleges that provide undergraduate, and some graduate, education; institutions like Middlebury College, Bennington College, and Marlboro College are well-known for their innovative disruptions of higher education, and in many cases became models for new approaches to education. Vermont's major public land-grant research university, the University of Vermont, stands as one of the nation's top institutions, while Norwich University defined military higher education and still leads the field.
Bennington College
Bennington, VT
Castleton University
Castleton, VT
Champlain College
Burlington, VT
College of St Joseph
Rutland, VT
Goddard College
Plainfield, VT
Green Mountain College
Poultney, VT
Johnson State College
Johnson, VT
Landmark College
Putney, VT
Lyndon State College
Lyndonville, VT
Marlboro College
Marlboro, VT
Marlboro College Graduate & Professional Studies
Marlboro, VT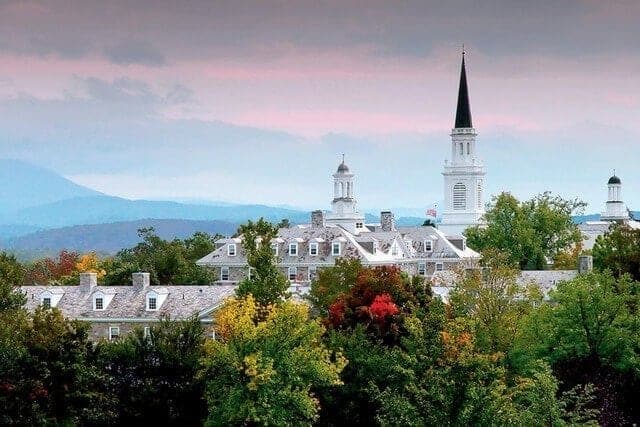 Middlebury College
Middlebury, VT
New England Culinary Institute
Montpelier, VT
Norwich University
Northfield, VT
Saint Michael's College
Colchester, VT
SIT Graduate Institute
Brattleboro, VT
Southern Vermont College
Bennington, VT
Sterling College (VT)
Craftsbury Common, VT
University of Vermont
Burlington, VT
Vermont College of Fine Arts
Montpelier, VT
Vermont Law School
South Royalton, VT
Vermont Technical College
Randolph, VT