15 SCHOOLS in NEVADA
Nevada is a world of its own, by design – settled by free-thinkers, entrepreneurs, and fearless iconoclasts, Nevada is one of the largest states in size, and least dense in population, characterized by vast deserts. Some three-quarters of Nevada's population lives in Las Vegas and Reno, with the rest spread out across the state. Nevada's unusual configuration makes higher education a challenge; Nevada's two public universities, the University of Nevada, Reno, and UNLV, are located in Nevada's two major cities, while regional education is left to a scattering of community colleges, junior colleges, and some small liberal arts colleges.
With a largely uninhabitable landscape, Nevada has turned creativity into its greatest economic asset. Early on, the silver rush drew miners to Nevada, and mining is still a major part of the Silver State economy, as is cattle ranching and the agricultural needs that go along with it. However, those are not what the world knows Nevada for – Nevada's libertarian social policies are. With the common sense and practicality of the frontier, Nevada saw the economic wisdom in providing what other states did not, including gambling, lenient divorce laws, and loose censorship ("Keep Tahoe Blue" may be an environmental outcry, but it's also a sly nod to Lake Tahoe's infamous "blue" comedy scene, where comics of the 20th century could try out their riskiest material).
Today, Nevada is known for tourism, entertainment, and hospitality, and, not surprisingly, their colleges and universities are some of the best in the world for programs in business, hotel management, and entertainment law. However, the legacy of mining and agriculture in a harsh environment has also made Nevada one of the best choices for engineering and environmental science. Nevada continues to be a world unto itself, but the world is taking notice – watch Nevada, and learn.
Arizona College-Las Vegas
Las Vegas, NV
Chamberlain University-Nevada
Las Vegas, NV
College of Southern Nevada
Las Vegas, NV
DeVry University-Nevada
Henderson, NV
Great Basin College
Elko, NV
Nevada State College
Henderson, NV
Roseman University of Health Sciences
Henderson, NV
Sierra Nevada College
Incline Village, NV
The Art Institute of Las Vegas
Henderson, NV
Touro University Nevada
Henderson, NV
University of Nevada-Las Vegas
Las Vegas, NV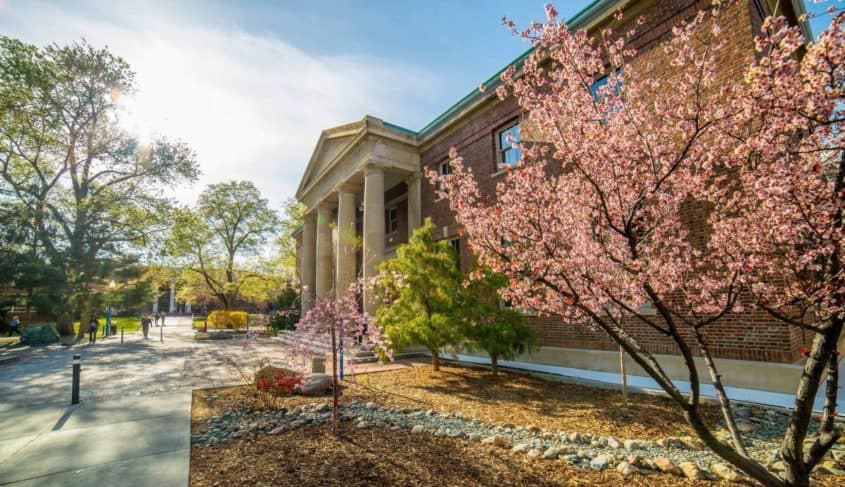 University of Nevada-Reno
Reno, NV
University of Phoenix-Nevada
Las Vegas, NV
Western Nevada College
Carson City, NV
Wongu University of Oriental Medicine
Las Vegas, NV