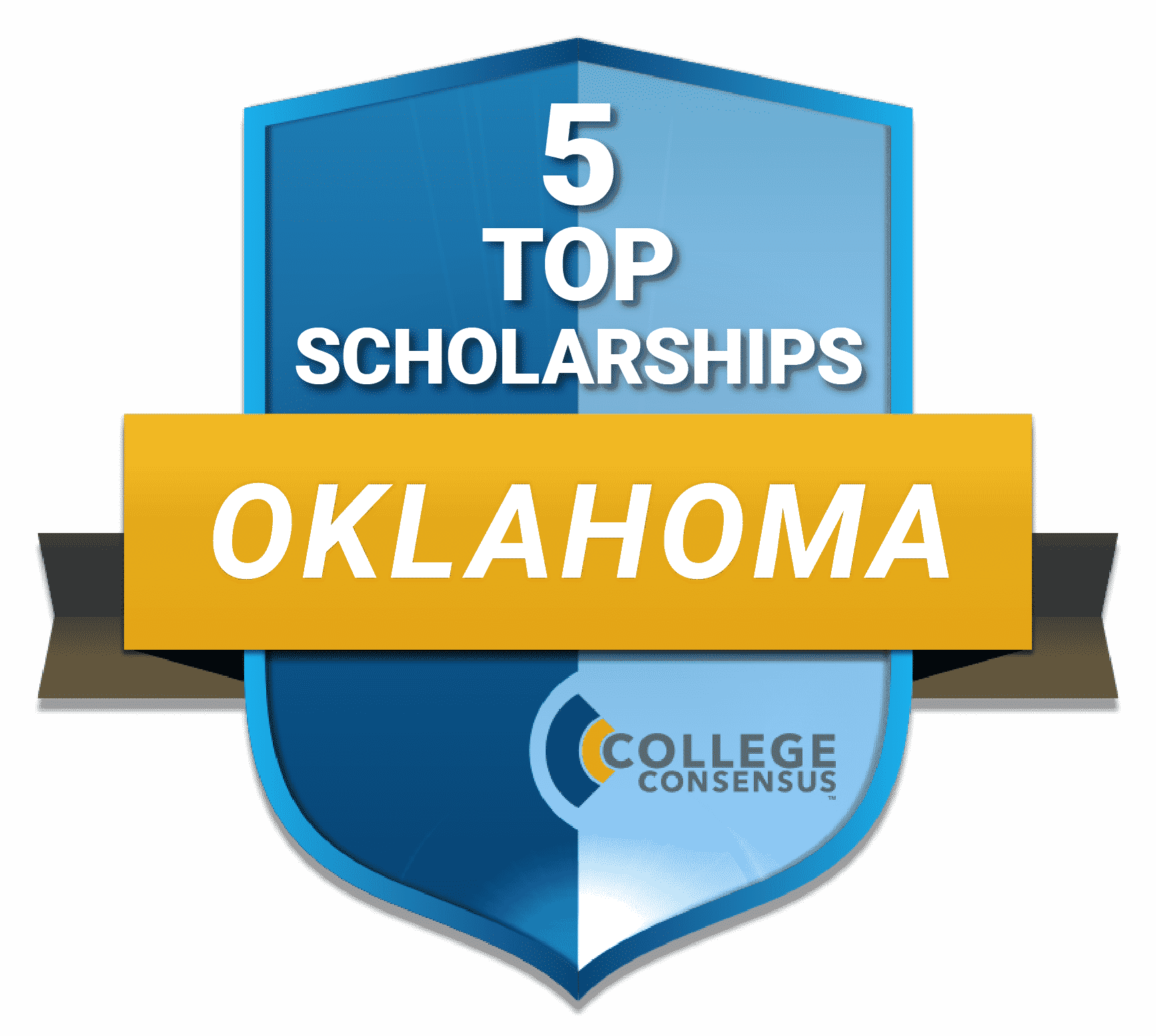 The Sooner State is in a period of significant change, as its old agricultural heritage shifts to a modern economy, and many working adults, as well as traditional-aged college students, are looking for an education that will prepare them for the future. The decision to pursue an education in Oklahoma may raise concerns about your options for financial assistance. The state offers a variety of scholarships designed to assist students with the process of obtaining a degree. Oklahoma scholarships for high school seniors may also apply directly to the college or university. If students decide to pursue a scholarship through the college or university, they will want to evaluate the details and deadlines to determine qualification requirements.
College Consensus is dedicated to helping anyone who wants to go to college find the route best for them. That includes scholarships for students in Oklahoma. The programs featured here are listed in alphabetical order.
See Also: Best Scholarships for Online Students
1
Early Childhood Association of Oklahoma Scholarship
The Oklahoma Association for the Education of Young Children Scholarship offers scholarship opportunity for students who are earning degrees in early childhood education or in a related field, such as childhood development or family studies. Applicants must also already be employed in the field, and at least 5 years of experience or more is preferred. This scholarship is intended for students who are already committed to early childhood education and who want to increase their credentials and expertise.
The OKAEYC is an independent organization with six chapters throughout the Sooner State. In addition to publishing a journal and newsletter, the OKAEYC offers educational opportunities, webinars, and a well-attended annual conference.
2
Jimmie L. Dean Foundation Scholarship
The Jimmie L. Dean Foundation Scholarship is intended to reward the qualities that Jimmie L. Dean exhibited in his life – hard work, dedication, and a faith in education. Applicants should not only show academic excellence, but leadership and service, and the foundation prefers applicants who have demonstrated their commitment to providing for their own education, such as working through school and planning responsibly.
The Jimmie L. Dean Foundation was founded in honor of a local business leader in Washington County, OK, who grew from a working-class background to success in the oil business. To apply for the scholarship, students must have letters of recommendation, transcripts, and a 500 words essay.
3
Nolan Moore Education Foundation Scholarship
The Nolan Moore Memorial Educational Foundation Scholarship is set aside specifically for students who are pursuing a career in printing and publishing technology or management in the field. To qualify, students must be in an accredited printing technology or management degree program and live in Oklahoma, Texas, Kansas, or Missouri.
The Nolan Moore Memorial Education Foundation honors Nolan Moore, an executive at the printing company PIE-Mid-America. Moore believed in the power of the printed word to change the world, and the Moore scholarship is intended for students with the same faith.
4
Oklahoma Youth With Promise Scholarship
The Oklahoma Youth With Promise Scholarship is offered to students who are aging out of the foster care system and who need support to go to college. Foster kids are often left without support when they come of age, and the opportunity to earn a degree and start an independent life is difficult to come by. The Youth With Promise Scholarship gives these young people the chance to show what they are capable of.
To quality for the Oklahoma Youth With Promise Scholarship, students must be under the age of 25, formerly in the foster care system, and enrolled in an accredited, non-profit university or college. They must also keep a 2.0 GPA to maintain their scholarship.
5
Three Point Scholarship Program
The Three Point Scholarship Program, offered by the John Starks Foundation, is a little unusual – student in the New York Tri-State Area, and in the Tulsa, OK area, are eligible. That, of course, is because the foundation is named for NBA legend John Starks, a native of Tulsa, OK, who played for the New York Knicks. With his success as a basketball star, Starks seeks to provide the same sort of opportunity for young people in the places that shaped his life.
To qualify for the Three Point Scholarship, students must exhibit financial need, have a high level of academic achievement, and show a commitment to community service. A wicked slam dunk is not necessary.
Does the State of Oklahoma Offer Scholarships and Grants?
The Oklahoma Promise Scholarship, also called Oklahoma's Promise, assists with the costs of college when students qualify for the program. Students must sign up for the program between 8th and 10th grade, and must comply with the standards for the scholarship. It is designed around the needs of students who fall below a certain income threshold, so students will need to provide details about a family's income situation.
Students can also consider the Oklahoma Regents academic scholarship. The Oklahoma Regents for higher education scholarship is designed around a student's merits and skills. Students qualify for the scholarship if they are a National Merit Scholar, a National Merit Finalist, or a United States Presidential Scholar. Students can also qualify for the scholarship if they score above the 99.5 percentile on the ACT or the SAT exams.
The Oklahoma State University scholarship deadline details usually depend on when the student plans to attend the college. It usually requires students to apply for the scholarship in the year prior to entering the college, so students should look into the details of the scholarship to avoid missing the deadline and wasting time.
Are there Scholarships for Nurses in Oklahoma?
Oklahoma nursing scholarships and grants offer an opportunity for students in nursing to address their concerns regarding the costs of a degree. The Oklahoma Nurses Foundation offers a small grants program that helps with the costs of a degree in nursing. The grant is designed for students who are already registered nurses and are in good standing with the Oklahoma Nurses Foundation. They must also be enrolled in a master's degree program or higher to qualify.
Students may also qualify for grants and scholarships available through specific colleges or universities. The options available through a college or university may vary; however, the University of Oklahoma offers a representative undergraduate scholarship for nursing students who show that they have a financial need for assistance. The school also offers a scholarship for students who pursue a higher level of education and plan to obtain a master's degree or a doctoral degree. The scholarships have strict standards for student achievement and a student must have a 3.75 GPA or higher to qualify and maintain the scholarship.
What About Scholarships for Women in Oklahoma?
Oklahoma scholarships for women are designed around the specific concerns that may arise when women return to college or start to attend college after high school. The Patsy Takemoto Mink Award is one of the Oklahoma scholarships for single mothers designed for women who plan to pursue a degree and have a low income. The scholarship offers up to $5,000 for mothers, and it may assist with tuition costs associated with returning to school.
Women pursuing a degree in engineering may qualify for the Society of Women Engineers scholarships. The scholarships offer between $1,500 and $2,500 per year for women in engineering courses.
The options available for women vary based on their situation and goals. Many colleges also offer financial aid to single mothers or women who are pursuing specific majors or programs. Women should be aware that they may also qualify for scholarships that are merit-based or focused on student needs, so the options available to women in Oklahoma varies significantly based on personal situations and goals.
So For Real – Are there Rodeo Scholarships in Oklahoma?
When it comes to rodeo scholarships in Oklahoma, students do have options to help with their educational goals. Miss Rodeo Oklahoma offers rodeo scholarships to women who win the Miss Rodeo pageant and pursue a degree in certain colleges or universities. The scholarships apply to the winner of a pageant as well as the top three runner-up for the pageant. In some cases, it offers as many as four scholarships to the winner and the next three runner-up winners.
Students may also qualify for a rodeo scholarship through a college or university's rodeo team. The scholarships for a rodeo team are similar to other sports scholarships and may have limitations on the amount of funding available based on the number of positions on the team. Students may qualify for a full scholarship or a partial scholarship when pursuing a rodeo scholarship through the school's team. The exact details for a scholarship offered by a university or college may vary based on the school's sports and teams, as well as the amount of funding available for the year. Students should clarify if a school has a rodeo team to determine if scholarships may be available.
Related Rankings: 
Best Online Colleges in Oklahoma