The history of the General Education Development (GED) test dates to 1942 and World War II. During WWII, when large numbers of Americans left high school to enter the military and deploy overseas. Countless other Americans delayed their education, dropped out of school, and went to work in, primarily, wartime industrial factories to support their families and the war effort.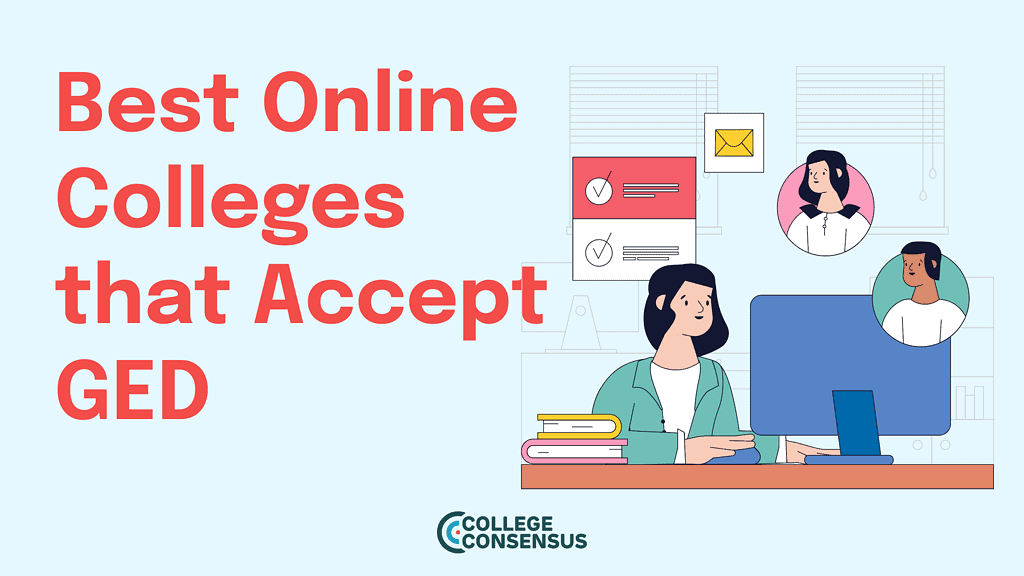 Who Gets Their GED?
There are many reasons why students may not be able to finish their high school degree. Students may have to enter the workforce to help support their families. Health issues may force them to leave school. Being a member of, or living in an underserved area of the country, may cause students to leave high school through no fault of their own. There is any number of reasons that may cause someone to be unable to finish their public education. If you're reading this, you probably were determined and earned your GED and now you want to go to one of the best online colleges.
Recommended Online Colleges For You
Explore our featured online programs to find the right match for you today.
Why you may have been unable to earn a high school diploma hasn't stopped you from making the decision to get a GED. Many colleges are happy to accept GED students. Having a GED demonstrates a commitment to education and prepares students to enter the job market, college, or vocational school. Earning a GED demonstrates a dedication to your education that is appealing to schools from vocational schools to Ivy League universities and other colleges and universities that admit students with GEDs. Some schools provide special scholarship funds for students with GEDs.
Just as with students with high school diplomas, colleges and universities welcome applications from students with GED scores that fall within a certain range. You may even qualify for federal financial aid (you'll need to file the Free Application for Federal Student Aid (FAFSA), available online, to be considered for assistance.) Be sure to talk with your admission advisor on what you'll need to complete and when.
With your GED, you can find a community college or online college to get your associate or bachelor's degree. Online universities – especially an accredited university like Southern New Hampshire University – offer college degrees designed for nontraditional students. High school students who didn't excel in th conventional high school curriculum might still be college ready.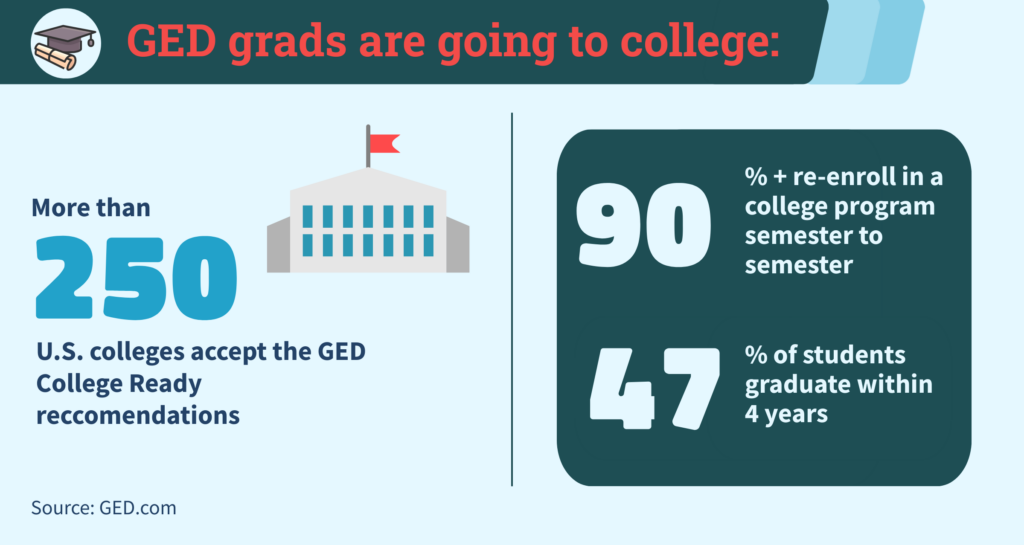 What Is the GED Test?
The GED Testing Service designs the GED to measure your understanding of four subjects: math, science, social studies, and language arts. You'll be able to prepare for the test by taking online practice questions. The online GED Test offers multiple-choice questions and/or drop-down answers. You won't have to submit any answers in writing but will choose from a list of answers. For math questions, you'll have access to a calculator. Depending on your state of residence, you can take the GED exam online or may need to take it in person at a GED testing center. Some states use the HiSET (High School Equivalency Test) which is similar to the GED. Information on your state can be accessed online.
How Do I Earn a GED?
Every state sets its own requirements for the GED Test. Some of the requirements may include residency status, age, photo ID, preparation requirements, high school enrollment specifics (i.e., how long have you been out of school, etc.)
You can access GED preparation tools online that explain in detail the tests and how to get ready to take the exams. You'll have a set amount of time to complete each of the four sections and you don't have to complete all four at the same time. For instance, the social studies segment takes 70 minutes, science 90 minutes, etc.)
What's A Passing GED Score?
In order to pass the GED exam, you need a minimum of 145 points in each subject. Passing scores of 165-174 are good scores for college. Colleges and universities may have a minimum GED score in order to be considered for admission. Be sure to check the school's admission webpage or talk with an admission advisor to find out the requirements for that particular school.
How Do I Find Information on the GED?
You may want to check with your local school system, area adult education services, or state GED Test websites, to find out how to begin working on your GED.
When Do I Send My GED Scores to the College?
GED test scores are treated the same as if you were submitting high school academic transcripts. You can obtain your scores through the GED testing center. College applications for incoming, first-year students will ask for the necessary information and how to submit it, whether you're attending in-person or online.
Can I Get Financial Aid for College with a GED?
Absolutely, just like any other student. If you're admitted to an accredited college or university and can demonstrate financial need by filing a Free Application for Federal Student Aid (FAFSA), you can be considered for financial aid. As an online student, you may qualify for federal and state grants, loans, and scholarships. Some online schools may even offer work-study opportunities. The FAFSA forms are available on October 1st and you should file as soon as possible. Be certain to have the FAFSA sent to the school you're going to attend and meet the school's financial aid deadline as well.
How We Chose the Best Online Colleges that Accept GED
The College Consensus 10 Best Online Colleges that Accept GED specifically looks at schools that are accredited regionally and reputable. With these elements in mind, our team looks at college programs according to their record of providing a return on investment. Our list of the 10 Best Online Colleges that Accept GED Programs shows the best combination of market reputation, educational quality, and rewarding income. We hope there is a program on this list that inspires you to take the next step.
College Consensus congratulates you on earning your GED and supports your goal to advance your education and earn a college degree. Good luck!
Ready to start your journey?
The schools presented below are listed in alphabetical order.
1. Bowling Green State University Campus

This Ohio school has a unique online program recognized as one of the country's best. You can earn your undergraduate degree at Bowling Green State University eCampus. The four online undergraduate degrees at BGSU include Quality Systems, RN to BSN, Allied Health, and Management and Technology. Classes are offered on the eCampus platform, seven-week sessions, and are 100% online. Many BGSU faculty members are award-winning and national experts in their respective fields.
eCampus application fees are waived for undergraduate and graduate students, and ACT/SAT test scores are optional for Fall 2022. You'll need your GED transcript and FAFSA to apply, along with other documents. You can access an advisor online with any questions you may have.
# of Online Programs: 4
% of Online Students: 7
2. Colorado State University-Global Campus


We agree with U.S. News and World Report's ranking of CSU Global as one of the best online bachelor's programs in 2022. CSU Global was the first fully-accredited online state university in the country. You can choose from 15 online programs in fields such as Finance, Computer Science, Information Technology, Healthcare Administration and Management, and Criminal Justice among them. Courses are taught 100% online by faculty who are specially trained in online education and use multiple technologies in real-world simulations, multimedia lectures, ebooks, etc. The online school also provides extensive student services for online students.
In applying for admission, among the documents you'll need is your GED transcript and submit your FAFSA information. CSU hasn't raised its tuition in more than ten years, and you'll be "locked in" at the tuition rate, which won't change from start to finish.
# of Online Programs: 15
% of Online Students: 100
3. Northern Michigan University Global
Northern Michigan University Global has ten undergraduate programs offered online, which you may be interested in after completing your GED. Most programs are 100% online, although some are hybrid and require some campus attendance. A few of the entirely online programs include studies in Criminal Justice, Psychology, Loss Prevention Management, Clinical Lab Sciences, etc. The school has added a new major in Native American Studies. You'll be supported in your online studies by a dedicated staff with experience in all aspects of distance education. NMU also provides online tutoring with TutorMe Instant Online Tutoring.
Admission to this program is now test-blind/test-free, meaning the ACT/SAT scores aren't required, but you will need to submit your GED transcript demonstrating a passing score on the test score. NMU actively supports first-generation students and offers two programs to assist underrepresented students: Student Support Services funded through the U.S. Department of Education's TRIO program and the McNair Scholars Program. If you're the first in your family to attend college, ask about these benefits.
# of Online Programs: 10
% of Online Students: 10
4. Oregon State University Ecampus

Your GED can help you join the over 28,000 students worldwide who are earning their degrees from one of the nation's top online bachelor's programs. Oregon State University Ecampus has over 30 BA or BS degree programs from which to choose over 110 subjects, and more than 1,600 online classes. The experienced and award-winning OSU faculty teach online classes just as the on-campus students receive. The school's website has a terrific "online course multimedia showcase" to give you a sampling of what you can expect taking online courses.
With a GED, you'll be considered for admission if you fall into one of these scores as described on the website: "1) 58, if taken prior to January 2022, 2) 580, if taken between January 2002 and December 2013, or 3) 680 (total from 4 subject tests), if taken in January 2014 or later." With a GED, you don't need to submit ACT/SAT scores.
# of Online Programs: 30
% of Online Students: 26
5. San Jose State University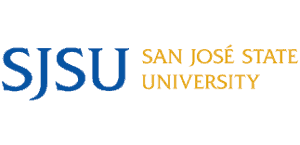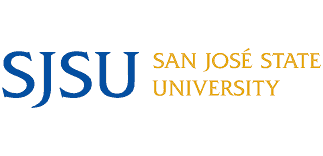 Established in 1857, this university has provided exceptional on-campus and online educational opportunities for California residents and beyond. Described as a transformative university, San Jose State University eCampus offers two fully online BA degrees in Information Science and Data Analytics and Interdisciplinary Studies (with Educational and Community Leadership concentration.) Departments at SJSU are developing more programs as part of the university's strategic plan, "Transformation 2030." Among the online teaching tools, the school uses are Canvas, Zoom Web Conferencing, Canvas Studio, etc.
Your GED qualifies you to apply for admission consideration, along with an application. ACT/SAT test scores are suspended for Fall 2022. You should submit your FAFSA to the school for financial assistance, including grants, loans, and scholarships.
# of Online Programs: 2
% of Online Students: 92
Recommended Online Colleges for You
Explore our featured online programs to find the right match for you today.
6. University of Arizona Global Campus

With your GED, you can apply for admission to these highly ranked online programs at the University of Arizona Global Campus. You're sure to find what you need from one of the university's 30 online undergraduate programs. This student-centered school doesn't require an application fee, no SAT/ACT requirements, and will allow you to take an online course for three weeks risk-free. You can even earn credit for your work and life experiences and can enroll in accelerated 5-6 week courses. Some of the programs are Health Care, Criminal Justice, Social and Behavioral Sciences, Business, and more.
Before applying, you'll talk with an Enrollment Services Advisor who will help you find the right program for your goals. The application process is simple and requires your GED credential information and other materials. Financial Aid is available, and you'll want to ask about UAGC's new grants available for first-time UAGC students.
# of Online Programs: 30
% of Online Students: 100
7. University of Memphis

The University of Memphis Global division offers one of the best nationally-ranked online bachelor's programs, and we can't argue. The list of accolades for UM-G is long and the school is consistently ranked #1 in Tennessee for online colleges. Your GED will allow you to apply for admission to one of UM-G's 22 online bachelor's programs. You'll be able to earn a degree in Business, Humanities, Health, or Social Science disciplines. Not sure if online learning is right for you? UM-G lets you take a complimentary online course to give you an idea of what you could expect.
This is a simple admission process asking for your GED/HiSET information, ACT/SAT scores, some general, personal information, and more. Be certain to have your FAFSA sent to UM-G to be considered for financial assistance.
# of Online Programs: 22
% of Online Students: 15
8. University of Wisconsin System Extended Campus

If you're looking for an Associate of Arts and Sciences degree you can earn online, you should look at the University of Wisconsin System eCampus, which welcomes your GED transcript. The university offers an Associate of Arts and Sciences and Bachelor of Science degrees online in various subject areas in Health Care, Business, Information Sciences and Technology, Cybersecurity, etc. This online degree program uses a competency-based format (UW Flexible Option) that will allow you to demonstrate mastery of the subject matter through projects or other assessment methods. More than 98% of graduates recommend the Flexible Option
You can begin your studies in any month and study at your own pace. This flexible model is able to keep your tuition low by offering a flat tuition rate where you take as many courses as you want in a 12-week period. The school calls this the "All-You-Can-Learn" option. If you want to take courses slower, you can choose to pay one course at a time.
# of Online Programs: 11
% of Online Students: 55
9. Washington State University Global Campus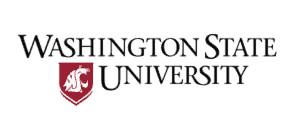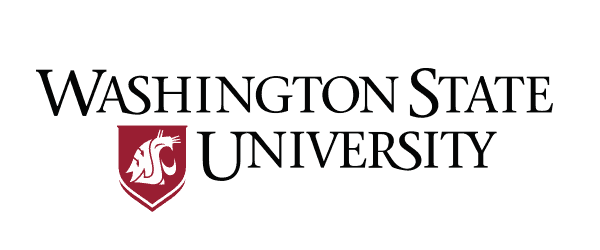 A GED will help you join other students earning their undergraduate degrees from the nationally recognized Washington State University Global Campus. You'll have a choice of 21 bachelor's programs in areas such as Science and Technology, Communication, Data Analysis, English, Hospitality Business Management, Marketing, Political Science, Social Sciences, and more. Classes are all offered 100% online. If you have a hard time deciding the best major for your goals, WSUGC has Career Advisors to help. The WSU Global Campus is an experienced global education provider and has been awarding degrees since 1992.
You'll request your official GED transcript from the testing agency as part of the admission process along with other application documents, like the FAFSA, resume, etc. WSU no longer requires the ACT/SAT test scores to be considered for admission.
# of Online Programs: 21
% of Online Students: 11
10. Western Governors University

We have several reasons to rank Western Governors University in our top 10 online schools accepting the GED. This university was established 25 years ago by 19 U.S. governors to help working adults earn their bachelor's degrees online. WGU offers 8 programs with degrees in Nursing, Business, IT, and Teaching and has a unique and highly flexible competency-based education model. Simply put, this model lets you progress through your studies as soon as you demonstrate mastery of the subject matter.
You don't necessarily need to live in one of those 19 states to apply for WGU admission. You'll need to provide your GED transcript as well as an application. Be sure to apply for federal financial aid. You'll also want to look into the Online Access Scholarship. This scholarship covers the installation cost and internet access for students who may otherwise not be able to get online. The scholarship will also provide a refurbished laptop with a webcam.
# of Online Programs: 8
% of Online Students: 100
Related:
Best Online Colleges with Rolling Admissions
Best Online Colleges with 100% Acceptance Rate
Best Online Colleges that Accept Transfer Credits
Best Online Colleges that Accept FAFSA