18 SCHOOLS in DISTRICT OF COLUMBIA
Legend has it that Washington, DC, was built on a swamp – a handy metaphor for poor bureaucratic decision-making – but it's just that – a legend. Instead, the 10-mile square of land donated by Virginia and Maryland, bordered by the existing towns of Alexandria and Georgetown, was chosen because of the Potomac River, a thriving transportation route. The site of Washington, DC, was chosen by Washington himself, set at the border between the Southern and Northern states so neither could dominate. Through the trials of the War of 1812 – which nearly destroyed the city – the Civil War, and all the threats and dangers of the 20th century, Washington, DC, has remained a central influence on American life.
Obviously, as the nation's capital, life in Washington, DC, revolves around government. From the service industry to transportation, tourism to education, every aspect of DC's economy and culture is dedicated to the needs of the federal government and all of the businesses, industries, nonprofits, and other agencies that government attracts. The District is a center of media, the arts, tourism, and finance, thanks to the influence of the government, while law, medicine, scientific research, and technology are all driven by federal funding and a collection of some of the greatest colleges and research universities in the nation.
It makes sense that the nation's capital would be a center of higher education as well, but it was not an immediate development. George Washington himself dreamed of a national university in the capital city, but the stock he left in his will to establish the school was wiped out by economic troubles. In time, however, George Washington University and American University – both private research universities – would step forward to claim the title of national university, while the Catholic University of America would become the nation's central Catholic college. Georgetown University, the nation's first Catholic college, is DC's own answer to the Ivy League, while Howard University and Gallaudet University defined education for marginalized students – African-Americans and deaf and hard-of-hearing people, respectively.
American University
Washington, DC
Catholic University of America
Washington, DC
Gallaudet University
Washington, DC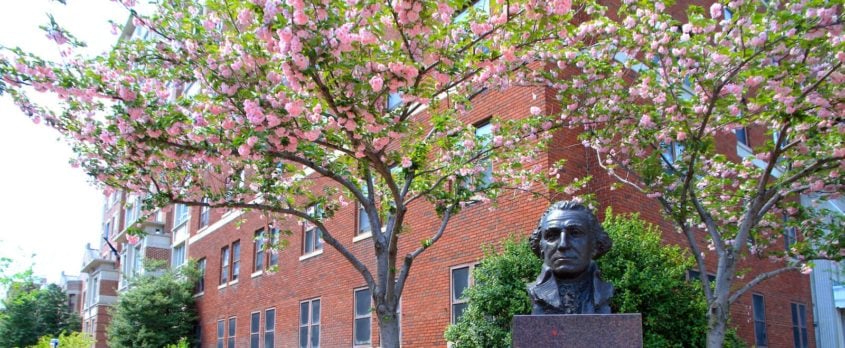 George Washington University
Washington, DC
Georgetown University
Washington, DC
Howard University
Washington, DC
Institute of World Politics
Washington, DC
Pontifical Faculty of the Immaculate Conception at the Dominican House of Studies
Washington, DC
Pontifical John Paul II Institute for Studies on Marriage and Family
Washington, DC
Strayer University-District of Columbia
Washington, DC
Strayer University-Global Region
Washington, DC
The Chicago School of Professional Psychology at Washington DC
Washington, DC
Trinity Washington University
Washington, DC
University of Phoenix-Washington DC
Washington, DC
University of the District of Columbia
Washington, DC
University of the District of Columbia-David A Clarke School of Law
Washington, DC
University of the Potomac-Washington DC Campus
Washington, DC
Wesley Theological Seminary
Washington, DC