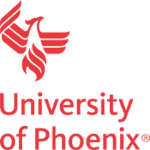 The University of Phoenix is one of the most recognizable names in online higher education, but not always for the best reasons. This online university offers more than 100 undergraduate and graduate degree programs. One of the largest online schools, it has a student body of over 500,000 students and offers degrees in business, health sciences, information technology, education, and many other fields. The University of Phoenix has been a pioneer in online learning since 1975.
Address: 4615 East Elwood Street Phoenix, AZ 85040-1958
Website: http://www.phoenix.edu
Recommended Online Schools
Explore our featured online programs to find the right match for you today.
---
What Type of School is the University of Phoenix?
The University of Phoenix (UOPX) is one of the largest online colleges in America. This for-profit, predominantly online university offers more than 100 degree programs to students at the undergraduate and graduate levels. Popular programs among students who chose UOPX include business, health sciences, information technology, and education degrees.
It is not a traditional brick-and-mortar campus with classrooms and dormitories, instead it utilizes online learning platforms and virtual classrooms. The online college has the same classes and education as a traditional college, but uses an online format to deliver course material. Course work for online classes includes recorded lectures, writing assignments, discussions, and also projects.
---
Is the University of Phoenix a Reputable College?
When looking at the student outcomes, graduation rate, college rankings, and reputation among employers, it's hard to classify the UOPX. It endured many scandals, and has a bad reputation for misleading advertising and shady business practices in the early 2000s. Although UOPX has had its troubles, the online school has also seen an upturn in the last half-decade. Since 2020, new growth and improvements made it a force in online education once again.
---
How are Students at the University of Phoenix Different From Other Schools?
One of the reasons it's difficult to compare UOPX with other universities is its non-traditional students. The University of Phoenix Online specializes in adult education for the working professional with a full time job. And there are a few key ways in which students may differ from students at other colleges and universities.
Age and Life Experience
The UOPX caters primarily to working adults and non-traditional students who may have families and full-time jobs. This means that the average age of students is often older than at other universities. As a result, they typically have more life experience and different priorities.
According to the National Center for Education Statistics (NCES), most students are over twenty-five. Additionally, all students at the University of Phoenix online are full time, so students finish in a timely manner.
Online Learning Format
The University of Phoenix is known for its online learning format, which may attract students who are looking for the flexibility and convenience of attending classes remotely. However, students with different learning styles and needs may also find the format appealing. So, compared to students who attend traditional on-campus programs, the online student demographic can be very different.
Additionally, the school utilizes shorter class terms with just one class each term. And there are up to 10 opportunities each year to begin your first class of a program. These features offer enormous flexibility and make the overall experience different from the traditional university experience.
| Key Difference | University of Phoenix Online | Other College / Traditional |
| --- | --- | --- |
| Course Load | one class or one course at a time | 4 to 5 classes at a time |
| Start Dates | Multiple start dates per year | Semesters or quarters |
| Course Schedule | Available 24/7/365 | Scheduled Class or Video Sessions |
| Instructors | Faculty with real-world experience | Professional academics |
Key difference in delivery of online courses at UOPX versus a traditional college.
Diversity and Inclusivity
The University of Phoenix has a diverse student population, with students from all different backgrounds and walks of life. This may result in a more inclusive and varied learning environment compared to other schools.
Educational Background
Many students who choose UOPX are returning to school after being in the workforce. They have different educational backgrounds and levels of academic preparation compared to students at other schools. And this experience can provide unique perspectives and experiences in the classroom.
Ready to start your journey?
---
Is University of Phoenix a Good School?
One of the indicators that UOPX has struggled over the years is demonstrated by the fact that the five-year student loan default rate on student loans was almost 50% in 2016. However, according to the National Center for Education Statistics, the level of defaults dropped to 2.6% by 2019.
The quality of the education in some of the degree programs has been found to be lacking by experts in relevant fields, and students may find their degree doesn't deliver on the promise of getting a good job after graduation. UOPX is a private, for-profit school that is currently owned and managed by a private equity firm. It admits all applicants, but has been experiencing declining enrollment since 2010. The school itself has been the center of controversies and lawsuits since 2000.
At one point, UOPX opened satellite campuses across the US to attract more students, but those campuses are being closed and the school is moving towards an online-only format.
---
What are the Most Popular Degrees at the University of Phoenix?
The most common degrees conferred by the university include Business, Healthcare Management, and Information Technology. However, the school offers degrees in areas of concentration that include Education, Nursing, Criminal Justice, Behavioral Science, Psychology, and also Liberal Arts.
Masters degree programs include a general MBA program and a competency based MBA. And the Master of Health Administration, Master of Information Systems, and the Master of Arts in Education all have several specializations. UOPX also offers a business administration PHD program. Other doctorates include a Doctor of Education, a Doctor of Health Administration, a Doctor of Management, and also a Doctorate in Nursing Practice.
---
Is the University of Phoenix Accredited?
Accreditation is a process that evaluates the quality of education offered by an institution. The University of Phoenix's accreditation ensures that the education provided by the university meets certain standards and is of high quality. This ensures that students receive a quality education that meets industry standards. It also qualifies students for financial aid, ensures transfer credits, and employers recognize it as a legitimate institution.
Institutional Accreditation
The University of Phoenix is regionally accredited by the Higher Learning Commission (HLC), a regional accrediting agency recognized by the US Department of Education. This accreditation allows students to qualify for federal financial aid, including grants and loans to help pay for their education.
Programmatic Accreditation
Additionally, the university has programmatic accreditation for some of its specific programs, which may also impact eligibility for financial aid. It holds accreditation for many of its programs. Some of the colleges at UOPX hold specialty accreditation while others are in a pre-accreditation status. The accrediting agencies are recognized by the Council for Higher Education Accreditation (CHEA). The accreditations UOPX currently holds include:
Accreditation Council for Business Schools and Programs (ACBSP)
Teacher Education Accreditation Council (TEAC)
Commission on Collegiate Nursing Education (CCNE)
Commission on Accreditation of Healthcare Management Education (CAHME)
Council for Accreditation of Counseling and Related Educational Programs (CACREP)
Council on Social Work Education (CSWE)
Why is Accreditation Important?
Accredited institutions are recognized and accepted by other accredited institutions. This means that if a student wishes to transfer credits from the University of Phoenix to another accredited institution, their credits will be recognized and accepted. This provides students with the flexibility to continue their education at other institutions, if they choose to do so.
Accreditation is important for students who need financial aid or funding to support their education. Many funding sources, such as government grants and loans, require students to attend an accredited institution. Therefore, the university's accreditation makes it possible for students to receive financial assistance to pursue their education. So the accreditations ensure students receive an education that's on par with the standards outlined by the accrediting bodies for these programs. Credits earned from UOPX are transferable to other schools that accept transfer credits.
Employers often prefer to hire graduates from accredited institutions as it assures them that the candidates have received a quality education. The University of Phoenix's accreditation is a testament to the university's commitment to providing students with the knowledge and skills necessary to succeed in their chosen fields.
---
Does University of Phoenix Have a Campus?
University of Phoenix currently has one main campus located in Phoenix, AZ, but plans to close it by 2025. All of its current satellite campuses in California, Hawaii, and Texas are not accepting new students, and will close after students graduate. UOPX plans to become an online-only school.
---
Recommended Online Degree Programs
Explore our featured online programs to find the right match for you today.
University of Phoenix Rankings
Both traditional and online school rankings aim to assess the quality, resources, and success of a school in providing a valuable education to its students. However, the specific criteria and weight given to each factor may vary between traditional and online rankings. It's important for students to carefully compare and consider the rankings and factors that are most relevant to their own educational goals and needs.
College rankings for traditional schools and online schools are calculated differently because they have different criteria and methodologies. For traditional schools, rankings are usually based on factors such as a school's reputation, student selectivity, faculty credentials and resources, graduation and retention rates, and financial resources. These factors are usually measured through surveys, data from the school itself, and third-party sources.
On the other hand, online colleges are ranked based on factors such as program offerings, online technology and support, flexibility and accessibility, affordability, and student success and satisfaction. These factors are also measured through surveys, data from the school, and third-party sources. Additionally, online school rankings may place more emphasis on factors such as program accreditation, online learning tools and resources, and the quality and accessibility of virtual support services.
Rankings from different indexes offer different insights as to how the school performs in specific degree programs and fields. Some popular sources include US News and World Report, College Factual, and Niche (more). For example, College Factual ranks UOPX for best value in business management and marketing and also business administration and management. Additionally UOPX is one of the best overall colleges nationwide for homeland security, law enforcement, and firefighting schools.
If you want to find a school based on your personal needs, check out the New York Times Build Your Own College Ranking tool.
---
What is the University of Phoenix Admissions Acceptance Rate?
The University of Phoenix has an acceptance rate of 100%. This means that all applicants who complete the admissions process are accepted to the university. Keep in mind that this may vary each year and is subject to change.
---
What is the Tuition Cost at the University of Phoenix?
The cost of tuition at the University of Phoenix varies depending on the degree program, but the average cost for an undergraduate program is approximately $398 per credit hour. Other expenses, such as textbooks and fees, may also apply. It is recommended to contact the university directly for an accurate estimate of costs.
---
What are the Median Earnings for University of Phoenix Graduates?
According to data from PayScale, the median earnings for University of Phoenix graduates are $79,000 per year. This includes information from both bachelor's and master's degree holders who have 1 to 20 years of work experience. This information was compiled from over 3,400 individuals reporting salary information.
Graduates of the University of Phoenix Jobs and Salary
| Job Title | Salary Range | Average Salary |
| --- | --- | --- |
| Human Resources (HR) Manager | $50k – $106k | $76,234 |
| Operations Manager | $47k – $111k | $77,569 |
| Human Resources (HR) Director | $67k – $117k | $88,463 |
| Project Manager | $57k – $123k | $75,076 |
| Director of Operations | $61k – $155k | $101,176 |
| Financial Controller | $60k – $126k | $86,264 |
| Office Manager | $39k – $74k | $54,157 |
University of Phoenix Top Jobs by Salary
---
University of Phoenix Student Reviews
The biggest complaint from UOPX students involves the feeling of wasting their time and money after attending the school. UOPX relies on students getting student loan assistance for attendance, leaving students to graduate with poor career prospects and a student loan debt burden. The administration often fails in handling the needs of their students in just about every area. Some other students report not getting their diploma for well over a decade, while others find they have to pay more money for classes after their student loans are processed. Another issue is getting charged for withdrawing from classes during the grace period.
But some students felt that the school delivered a solid education and improved their career prospects. They felt that the instructors did a great job of delivering the material, got a sufficient amount of support from the administration, and enjoyed the opportunity to learn at their own pace. Additionally, students with positive reviews tend not to post about their post-graduate employment experiences, and it's hard to gauge how their UOPX education has benefited them.
---
Related: