The American Bar Association–the accreditation agency for most U.S. law schools and a requirement to sit for most state's bar exams–requires that coursework be completed "in residence." However, in recent years, the ABA has allowed law schools to offer students a hybrid program that blends traditional residential coursework with a variety of distance and online learning options for law. In a recent interview, the ABA noted that while these programs were "experimental" they might also signal a new opportunity for law schools to provide legal education to students where the traditional three-year residential program is not feasible.
In general, hybrid programs combine live, interactive courses with online learning modules that are supplemented with short blocks of in-person learning. These hybrid programs all mirror the traditional requirements of legal education but offer students tremendous flexibility in completing the requirements. However, each program tackles the problem of a hybrid education differently.
Here are the top 10 hybrid online law school programs accredited by the ABA ranked according to the school's overall reputation and 2020 bar exam passage rate.
1
University of New Hampshire
School of Law
The University of New Hampshire Franklin Pierce School of Law is one of the only hybrid programs featuring a tailored focus–Intellectual Property, Technology, and Information Law. The narrow focus of the program is targeted specifically at professionals in technology and IP fields who wish to earn a Juris Doctor with minimal interference in their professional careers. The residential portion of the UNH School of Law's program is minimal: three periods of 3-5 days of residential study per year). The program stretches across 3.5 years and requires study during 10 consecutive semesters. Online modules include live and pre-recorded lectures, remote writing assignments, virtual assessments, and message board engagement. Hybrid students also engage one-on-one with faculty during virtual office hours. The school of law also provides 24 hour online support for technical issues. Hybrid law students also enjoy access to the school's bar preparation classes which have helped the school garner an 87% bar passage rate for first-time test takers. The programs focus on intellectual property is also important as the Franklin Pierce School of Law is one of the leading programs in the country.
The Juris Doctor Interactive (JDi) program at Syracuse Law School was the first hybrid program of any law school in the U.S. The JDi program has identical admission and graduation requirements as the residential Juris Doctor program. The program is completed in ten semesters (including summer semesters) in roughly 9-10 credit hours per semester. The heart of Syracuse' JDi program are real-time, live online classes where students interact with their law professors. The classes mirror in-person education and account for the core courses of the JDi program. Additionally, all JDi students complete six residential modules that cover a variety of legal topics as well as practical skills to prepare them for the practice of law. Some online coursework is also available in a self-paced, online format. JDi students also complete an externship to help prepare them for their professional careers and satisfy the ABA's requirement for experiential education. All JDi students are eligible to join the law school's prestigious Law Review as well as utilize all career and student support services.
With its prime location in Newark, New Jersey, Seton Hall Law School's part-time hybrid law program blends self-directed learning and remote discussion with professors along with intense, residential coursework on alternative weekends. The approach relies heavily on technology based learning as well as nearly 15 hours of residential course every other weekend. Practically, students are only on campus for 19 days each semester for their first two years (where almost 50% of required credits are earned). After completing their first four semesters, hybrid students can combine weekend coursework with daytime, evening or additional online coursework until they complete their degree requirements. Students learn remotely through a combination of interactive discussions with their professors, message board engagement with other students, and self-directed study. While hybrid students can participate in all clubs and journals, Seton Hall Law also tailors co-curricular activities specifically for hybrid students.
4
Loyola University Chicago
School of Law
Situated in the Chicago metropolis, the Loyola University of Chicago School of Law offers a part-time "Weekend JD" program that combines weekend, in-person classes with online learning through the Sakai Learning Management System. The residential portion of Loyola's program requires students to spend only 16 weekends per year on campus. During the first two (of four) years, these weekend classes provide students with a strong foundation in their core courses. The final two years allow students to blend additional online options with experiential educational opportunities to meet their academic and professional goals. The Sakai Learning Management System is an award-winning online learning system that allows for highly interactive engagement between students and their law professors. Hybrid students can satisfy a  number of the course credits using the Sakai system as well as additional flexible programs including intersession and independent coursework. In total, hybrid students complete 86 hours of blended coursework prior to graduation.
Located in the busy metropolis of Denver, Colorado, the Sturm College of Law offers a hybrid program that allows students to complete one-third of their degree through self-paced, online learning with the remainder being completed in eight weekend sessions per semester. Weekend residential course work is approximately 12 hours on alternating weekends until the first forty hours of required courses is completed. The second half of the program offers additional flexibility for students including two focused professional tracks for hybrid students–corporate and intellectual property law or, public interest and criminal law. Students also have the opportunity to take weekday classes in person as well engage with the college of law's externship, law clinics, and entire online course catalog. The online portion uses self-directed modules to help reinforce the core lessons from in-person classes. Additionally, professors hold "virtual" office hours where students may engage with their professors one-on-one through a Zoom call. In total, students complete 90 hours of blended coursework to earn their hybrid J.D. from the Sturm College of Law.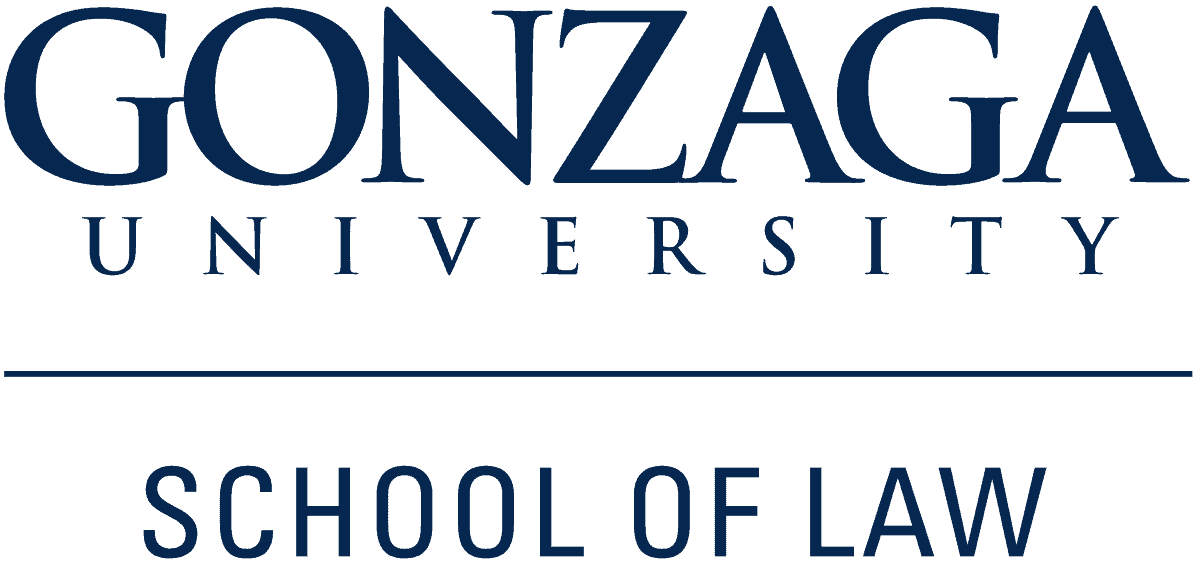 The Gonzaga University School of Law Executive two-year J.D. program is the only hybrid law programs designed to be completed in two years. Even within the compressed timeline, executive J.D. candidates still satisfy the school of law's requirements for 90 hours of coursework as well as 30 hours of public service. As the name implies, the executive program is designed and tailored for highly motivated, diligent, and industrious students. Students complete all requirements in an accelerated six term schedule where students earn 15 credits per term. Each term students complete their coursework through a blend of in-person courses along with online components. Courses are taught by a variety of professionals including legal and business experts. Like all Gonzaga Law students, executive students must complete eight hours of experiential learning. 
The University of Dayton School of Law's hybrid program places students virtually in classrooms where they can interact with their professors alongside their in-person classmates. Additionally, hybrid law students rely on interactive videos and one-on-one conversations to master key legal concepts through the Socratic method. The entire program takes under four years to complete. During this time, students attend 10 residential stints on the law school's campus in Dayton, Ohio. The law school has also produced unique online material for students to master case law. Each hybrid student also participates in a semester-long legal externship where they work alongside practicing attorneys to develop real-world legal skills. Dayton's hybrid program will allow graduates to sit for the bar exam in almost all jurisdictions.
The Mitchell Hamline School of Law offers two unique hybrid law programs both of which combine residential coursework with online learning, weekend work and independent study. Both approaches allow a graduate to sit for any bar exam in the United States. The first approach–the "hybrid" J.D. program–combines 11-12 weeks of online coursework with 10 residential periods over the course of the four year program. The "executive" program minimizes residential work to only two on-campus visits per semester as well as intensive weekend case-study workshops. Executive program students also complete 11-12 weeks of online coursework. During the first two years, the coursework is roughly ⅔ in person with remainder being online. Unlike other programs, online coursework is not live–allowing students to move at their own pace. Both hybrid and executive students enjoy access to the School of Law's extensive externship, clinical, and career support services.
9
Jacob D. Fuchsberg Law Center
The Touro College Jacob D. Fuchsberg Law Center (Touro Law) offers a "Flex Time" Juris Doctor program that allows traditional part-time law students additional flexibility in order to manage professional or familial responsibilities. The Touro Law Flex program is designed to be completed in four years utilizing focused residential coursework alongside online instruction. Flex students attend in-person classes for 10 Sundays per year as well as 3-4 additional remote, live sessions on Sundays. While applicants must meet all the typical standards for admission to Touro Law, Flex Time students must also demonstrate their ability to work independently and must have completed their undergraduate degree prior to applying. Admitted students to the program also benefit from the law center's commitment to make "substantial" scholarships available for Flex Time JD students. During the first two years (six semesters), Flex Time students complete their core education before shifting their focus to elective and experiential course for the remaining year and a half. As students prepare for graduation, Touro Law offers extensive career placement and support services.
The Southwestern School of Law solved the commuter problems of its Los Angeles home by developing a one-of-a-kind part-time evening Juris Doctor program that combines residential coursework on only two nights per week with innovative distance learning. Southwestern Law's program takes four years to complete. The coursework–both residential and remote–is taught by the same faculty that teaches their day program. All student resources and services are extended into evening hours to accommodate students in the hybrid program. Additionally, students enjoy a dedicated career counselor to assist with job placement as well as experiential learning opportunities designed for an evening schedule. Over the course of the four year program, students complete around 10 hours per semester which is split between evening classes and online modules. The first two years of the program focus on core legal classes followed by two years of electives, specialization, and experiential learning.