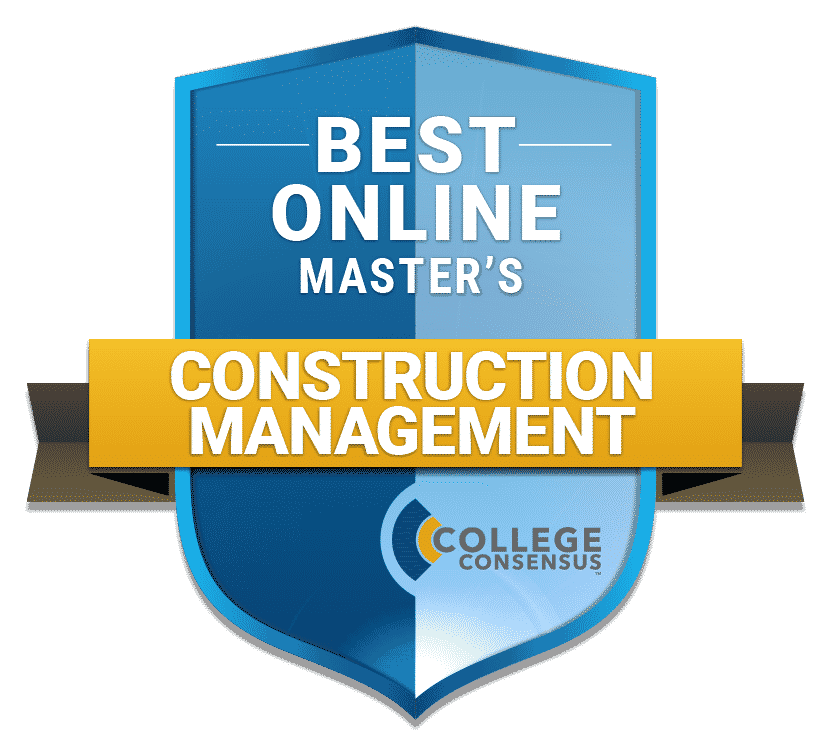 An Online Master's in Construction Management is designed to prepare graduate students for successful careers in construction, project management, and engineering. Professional candidates with a master's degree in construction management will automatically qualify for senior roles in the construction industry, including careers that incorporate focused areas of construction like LEED certification, sustainability, and civil engineering. The best online graduate degrees in construction management produce construction managers that are capable of advanced project management and possess leadership skills specific to the field of construction. Construction management will often deal with commercial, retail, industrial, or residential construction organizations.
The road to a career in construction management may begin in vastly different environments. Some construction managers take the academic route and start an undergraduate degree in business or construction before moving on to a job position with a construction firm. Some professionals may get years of work experience in construction before thinking about going back to school for a construction degree. These employees may begin their careers getting on the job training before realizing that there are more opportunities for them when they open themselves up to higher education.
Many of the nation's best Online Master's in Construction Management prefer for graduate students to possess some work experience for several reasons. Students who have already proven themselves as responsible employees may have an easier time when adjusting to an active schedule that online coursework requires. Some incredible online engineering and business schools allow students to take 100% of their classes through distance learning. However, unlimited access to course materials will be difficult for students who struggle to set a schedule for themselves outside of the traditional classroom. For this reason, online master's degrees in construction management will often assign students with advisors who can help the distance learner set a schedule for assignment and course completion. There is no doubt that there are many benefits to an Online Master's in Construction Management. Here is a ranking of the very best ones currently available in the United States.
Methodology
To find the best Online Master's in Construction Management degrees available, schools offering online or hybrid master's degrees in the area of construction management were examined. These master's programs were ranked upon their reputation, convenience, and affordability.
Reputation
To find the reputation and prestige for each degree, data was combined from US News and World Report, The Princeton Review, and each university's College Consensus Score. The data from these sources was averaged and placed on a 100-point scale. This became the Reputation Score, which attributes to 33% of the final ranking score.
Convenience
The convenience of each distance-based program in this ranking is based on if the GMAT/GRE test score requirement is waived or omitted during the application process, and if the degree can be completed 100% online. This data is combined for the Convenience Score, which attributes to 33% of the final ranking score.
Affordability
The total base tuition, sans fees and books, is calculated for each degree in this ranking. Every piece of financial information was taken from each university's website. The tuition was inverted and then placed on a 100-point scale. This is the Affordability Score, which attributes to 33% of the final ranking score.
What Is Construction Management?
A construction manager is a business professional who manages a construction project from start to finish. This manager is one who will plan, coordinate, budget, and supervise all aspects of construction and building. While an undergraduate degree is a minimum requirement for most entry-level positions in the field, most employers will prefer candidates with a graduate degree for advanced positions, including supervising managers. The United States Department of Labor's Bureau of Labor Statistics reports that the Median Annual Salary for a Construction Manager currently sits at $93,370, and there is also a Projected Growth Rate of 11% between now and 2028.
Developmental projects will always need construction managers with experience in large-scale construction and management technology. Construction managers with master's degrees can choose from elite positions, including public, private, and commercial project management. Managers concentrated in construction can earn a handsome annual salary while the top earners are currently in nonresidential building and civil and heavy engineering construction.
Should I Pursue an Online Master's in Construction Management?
Construction management is an exciting field of business with some broad career opportunities that typically attract students who are interested in architecture, building technologies, and engineering. Some graduate students pursue construction management as a specific course of study within an MBA degree. A graduate degree in construction management equips students with skills and knowledge in project management, scheduling, leadership, and budgeting.
Certification is not required of all positions in construction management, but some candidates pursue CCM or CPC credentials and certification to become more competitive within the building market. Most industry certifications usually require a degree in construction management and at least four years of work experience in the field.
Many of the best schools in the nation currently offer students the chance to choose between a traditional or online construction management graduate program. While a program like this does not always include a mandatory field experience, many construction management programs require some culminating experience like a thesis, written test, or final project. Many graduate degrees in construction management can be completed 100% online, while some schools may require campus coursework or short residencies. Students should consider the appropriate program format based on their location, existing professional and personal obligations, and program availability.
What Positions Do I Qualify for with an Online Master's in Construction Management?
Graduates holding a construction management graduate degree qualify for positions in construction, civil engineering, and industrial management. Most entry-level stations in construction management only require an undergraduate degree and no previous experience. Job candidates with a master's degree can assume senior roles in organizations working within logistics, public planning, and real estate. Civil engineers often begin their careers in construction management before going on to earning a certification or degree in the engineering field.
How Do I Choose an Online Master's in Construction Management?
When considering a Master's in Construction Management, a student should consider several factors like tuition cost, completion time, and location. Engineering school candidates should also make sure that the school in question offers a specific concentration or emphasis on construction management.
Graduate students with family and work obligations may prefer the convenience of an online graduate degree in construction management. Online programs will often include faster completion times and give students the chance to work on assignments in the location of their choice. Schools all over the nation offer tuition discounts for online students or flat-rate tuition for in-state and out-of-state distance learners. Active students may enroll in courses part-time, either online or on campus.
Students looking for a hybrid program which includes coursework to be completed on a traditional university campus should also consider the school's location when researching a Master's in Construction Management. Additional program costs will include the cost of living in a particular city, employment opportunities in the surrounding area, and a city's cost of living.
How Important is Accreditation when Considering an Online Master's in Construction Management?
Graduate students should only consider a degree in construction management offered by a school with robust accreditation through a regional or national agency under the United States Department of Education. A business or engineering school's accreditation indicates that a school meets stringent quality standards of academic performance and that it prioritizes financial aid, transparent education, and job opportunities. Many Master's in Construction Management programs also receive programmatic accreditation through organizations governing a particular specialty or division of construction management.
Trusted accrediting bodies for construction management degrees include the National Architecture Accrediting Board, the American Council for Construction Education, the Accreditation Board for Engineering and Technology, and the Association for Technology, Management, and Applied Engineering.
What Are Some Admissions Requirements of an Online Master's in Construction Management Program?
A student's application to an online graduate degree in construction management will include proof of an undergraduate degree, GPA report, and standardized test results. While the GMAT and GRE have long been the placement test scores required by business and engineering schools in the past, many admissions offices today provide placement test waivers or do not list scores within admissions requirements. Additional application requirements for graduate degrees in construction management will vary by school and region. Candidates will do well to complete the applications well in advance of their chosen school's next admission cycle. Many experts in higher education recommend graduate students apply to a maximum of six programs.
A prerequisite to a graduate degree will be an undergraduate degree. An Online Master's in Construction Management will want a student to have completed a bachelor's degree from an accredited college or university in civil engineering, construction management, or a closely related field of study. Professional experience will go a long way for a business and engineering school candidate. Some master's degrees in the area do not require any years of professional experience. Applicants should expect to submit a current resume with their application that outlines relevant skills and work experience. While GPA requirements may slightly vary, online graduate programs in construction management will usually require at least a 3.0 GPA for admission.
An Online Master's in Construction Management builds skills in technology, management, and business. The field gives students diverse options for specialization as some schools provide a construction management master's degree as an emphasis on management, while others feature unique programs in emerging areas like construction tech and sustainable construction. No matter where you have started in your quest for a position within construction management, an online degree in this field is a great idea for the future.
Related Resources: