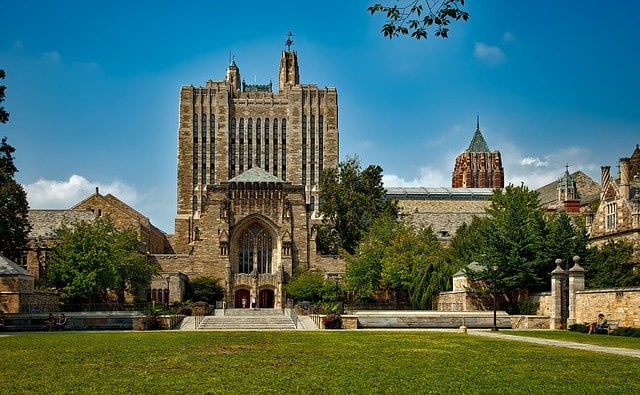 One of the key parts of a law school application is the Law School Admission Test (LSAT) score. This standardized test provides a uniform score to assess prospective law students academic potential. The LSAT plays such a crucial role in acceptance since undergraduate performance is often dependent on the caliber of the school. In other words, all GPAs are not equal. The LSAT is a level playing field for all test takers. Every law school has a range of scores that are accepted each year. Applicants who fall in the higher end of that range are much more likely to be accepted to a particular school. Given the importance of the LSAT score, most applicants find it important to prepare for the test using an LSAT preparatory course. There are now a range of online LSAT prep courses for every budget and student. Here are 10 of the best resources:
The Princeton Review has been around since the early 1980's and has grown into one of the largest test preparation companies in the United States. Their LSAT preparation course is one of the most thorough. The course is not cheap, however, Princeton Review offers a unique 165 score guarantee which would put a test taker in the median range for most top 25 law schools. To help their students achieve this lofty goal, Princeton Review's course has over 8,000 practice questions, hundreds of hours of online tutorials, and over 80 hours of instruction taught by an LSAT expert. Princeton Review does offer self-paced study options for as little as $799 as well as a middle ground course which combines self-paced study with instructor time for 3 hours per week.
Magoosh has one of the leading LSAT preparation courses for the value they offer. First, Magoosh offers a guarantee that their preparation will raise your score by 5 points or they will refund your money. In addition, applicants who qualify for the LSAC's financial assistance program automatically qualify to receive the Magoosh course for free. Finally, Magoosh's prices are unbeatable with their full 12 month program available at $149. They also offer 3 month and 1 month versions. The program includes lessons, videos, the 5+ score guarantee as well as mobile applications to help students study anywhere.

3. Kaplan LSAT Prep

Kaplan has been preparing students for standardized tests since 1938. Since that time, they have grown into one of the largest test preparation companies in the world. Kaplan's LSAT preparation programs reflect a company that has a lot of resources and options for every type of student. Foremost, Kaplan has an extensive group of LSAT teachers who are selected based on their success on the LSAT and their ability to help students learn the strategies to be successful. Kaplan offers both live courses or on-demand videos. Plus, since Kaplan has been around for a long time, they have gathered an extensive set of practice materials including every official practice question that has ever been released by the LSAC. Courses range in cost from $800 to $1,700. There are also private tutoring courses which start at $2400. If you are budget conscience, Kaplan does have a selection of free materials.
4. LSAC Online Materials

The Law School Admissions Council are the creators and administrators of the LSAT. This makes their preparation material an excellent resource and a great place to start for online preparation. While the LSAC does not provide a typical online course, the do provide video tutorials that do an excellent job of demonstrating what each section of the exam looks like. They also provide sample practice tests which are old LSAT tests making them a perfect way to practice for the exam. The LSAC also sells a number of handbooks for LSAT preparation for the student who prefers a written textbook instead of online videos.
5. Khan Academy

Founded in 2008, Khan Academy was founded by Salmon Khan who wanted to provide a completely free, online education available to anyone with internet access. Since 2008, Khan Academy has expanded from its early offerings of math to include all types of online learning including an excellent LSAT preparatory offering. The Khan Academy course begins with a diagnostic test which identifies each test takers strengths and weaknesses. Based on this diagnosis, there are personalized lessons that intend to work on the weaknesses and maintain the strengths. Khan Academy's course is completely online and does include a full length practice test. Best of all, the Khan Academy course is free. This is an excellent option especially for students who are self-motivated or on a budget.
6. LSATMax

Although LSATMax is one of the newer players in LSAT Preparation, they have quickly established themselves as one of the best due to their substantial supply of practice exams and money back guarantee. Founded by a Harvard Law graduate who raised his score almost 35 points, LSATMax offers three levels of their course. All three levels include their standard LSATMax Full course which combines hours of video lessons with live interactions with LSAT instructors, access to live chat and message boards with LSAT instructors, and simulated practice tests. The Premium version of the course also includes 70 additional practice exams; the Intensive version of the course includes 3 hours of private tutoring. The plans range from $800 to $1300. LSATMax also bundles of prep tests for students who want additional practice tests.
7. LSAT Center

For over 20 years, the LSAT Center has been offering a free LSAT prep course online. The course includes hundreds of on-demand videos, practice questions including many of official questions released by the LSAC, and a sample diagnostic LSAT to help guide test takers in where they should focus their practice. The LSAT Center also offers a unique learning module that uses video games to master some of the LSAT's hardest concepts. The LSAT Center's unique and free selection of online prep materials make it a perfect starting point for preparation and planning for the LSAT.

8. QS LEAP
LEAP stands for "Learn and Prepare with Friends" and is one of the most unique preparation institutions around as it is a completely free social and preparation platform. LEAP's award winning preparation platform uses a combination of online modules, practices questions, as well as social interaction through message boards and Q&A sessions. LEAP uses artificial intelligence to help create learning tools specific to each test taker therefore enhancing the learning curve.

9. PowerScore

PowerScore offers some of the most flexible options of any LSAT preparation team to accommodate different types of students with different budgets. Aside from their in-person class, PowerScore offers a full online course for $1,195. However, they also offer on-demand lessons for a low monthly fee of $195. This allows students to focus on those areas where they still need practice and tailor their own program. PowerScore also offers accelerated courses for anyone short on time and advanced courses for students who just need a refresher on the LSAT. PowerScore also offers a wealth of information on the LSAT and law school generally including their LSAT podcast which covers topics related to the test and admissions generally.

10. Alphascore
Alphascore has been in the LSAT preparation business for over 15 years and offers a range of affordable lessons that cover everything from a complete LSAT prep course to targeted lessons that focus only on one area of the exam. Their complete course is competitively priced at $389 and includes a year of practice questions, quizzes, online lessons and 10 practice exams as well as personalized instruction. For an additional $400, their premium course an additional 5,000 practice questions and another 50 practice exams. Alphascore also offers a free version for one month for students who want to explore the class before purchasing. Finally, Alphascore has classes that focus on each of the three LSAT sections for students who want to focus on only one section of the test.
Additional Resources