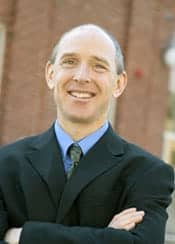 Prospective students are curious about so many different factors when it comes to choosing the right business school. With a myriad of possibilities and opportunities out there, it is important for each student to focus on the experience they want to have in their education. It is easy to find answers to inquiries like what degrees are offered, how much it will cost, what is the background of the professors, what types of online programs there are, and what is the school's reputation? But what about the driving force behind all the numbers? College Consensus had the honor of speaking with Dr. Jeffrey Stinson, Dean of the College of Business at Central Washington University, to hear their story.
Central Washington University is located in the small, rural town of Ellensburg, WA. To help serve as many students as possible in their very own communities, the University shares locations with community colleges in eight other towns across the state. These locations are in Des Moines, Everett, Kent, Lynnwood, Wenatchee, Steilacoom/Puyallup, Yakima, and Moses Lake. CWU is a public, four-year university regionally accredited by the Northwest Commission on Colleges and Universities. Central has made a huge impact on online education, offering it to more students than any other Washington state university. Since it was established in 1891, the University has grown to educate over 13,000 students pursuing 135+ majors.
The College of Business caters to the undergraduate student, providing bachelor's degrees in Economics, Accounting, and Business Administration. BBA students can personalize their degree by specializing in Finance, Human Resources Management, Personal Financial Planning, Supply Chain Management, Marketing, or Leadership & Management. Every business degree program strives for excellence, which is proven by the AACSB accreditation. The CoB also partakes in online education by providing an entirely online Bachelor's in Business Administration for those who have obtained a Washington State Business Direct Transfer Agreement (DTA) Associates degree. It can be completed pretty quickly full-time. It comes with specializations in General Business or Supply Chain Management. Those who have acquired an applied science or technical Associate's degree can pursue an online Bachelor's in Applied Science Supply Chain Management degree.
College Consensus: Please tell us about your business school and what makes it unique?
Dr. Stinson: The College of Business at Central Washington University carries esteemed accreditation through the AACSB and has educated many notable businessmen and women such as Christine M. Day, the CEO of Luvo, Inc., and Doug Wood, the CEO of Tommy Bahama.
The core themes for the business program are public service and community engagement, teaching and learning, inclusiveness and diversity, resource development and stewardship, and scholarship and creative expression. These skills are integrated within each program's curriculum to ensure a well-rounded experience and career preparedness for all students.
The College of Business at CWU has four on-campus locations in Ellensburg, Des Moines, Lynnwood, Pierce County/Joint Base Lewis-McChord. Bachelor's programs include Accounting, Economics, and Business Administration. Certificates in Sports Business, Personal Financial Planning, Supply Chain Management, and Accounting, can also be obtained at many locations.
College Consensus: What do you look for in successful applicants to your business school?
Dr. Stinson: The CWU College of Business accepts all students meeting our admission requirements of 30 quarter-hour credits (or equivalent) of college coursework with a GPA of 2.25 or higher and completion of two college-level English composition courses with a grade of C- or higher in each course. We value accessibility and diversity and welcome all students meeting admission criteria.
College Consensus: How do you support your business students to leverage them into a career after graduation?
Dr. Stinson: Professional and career development activities are required in both curricular and co-curricular activities. Student professional development culminates in the annual LAUNCH conference for graduating seniors. Panels, speakers, activities, and keynotes focus on the transition from student to professional life.
College Consensus: Is there anything going on within your business education community that you are particularly excited about?
Dr. Stinson: There are many extra-curricular activities for CoB students to expand their learning outside of the classroom. There are career workshops, internship opportunities, a business mentoring program, and specialized tutoring. Within the mentoring program, successful professionals are assigned to a student, who they work with to help develop relevant job skills. Some of the activities include shadowing, reviewing resumes and professional documents, and participating in mock interviews.
The CWU College of Business also offers a unique Living Learning Community program. In this program, students enrolled in similar academic subject areas live in the same residence hall, which can facilitate stronger peer connections, both in the classroom and out. For those business students looking for more ways to get involved, there are a variety of business-specific clubs such as the Central Marketing Association, Women in Business, Accounting and Finance, and the Society of Human Resource Management.
College Consensus: What can you tell us about your online offerings?
Dr. Stinson: CWU students can earn online bachelor's degrees in Business Administration with specialization in either Supply Chain Management or General Business, or s BAS in Supply Chain Management. Online minors include Sports Business, Human Resource Management, and Supply Chain Management. All three of these programs are offered entirely online and give students the ability to work on their degree on a full-time or part-time basis. Full-time students can finish their degree in as little as five to six quarters.
Crucial Characteristics
Supportive: It is not easy to try to get through a degree program on your own. The College of Business highly encourages students to get involved in activities, seek out engaging opportunities, and take full advantage of every resource the University has to offer. CWU's College of Business provides an incredibly supportive environment on many levels. In the classroom, students find academic support through challenging curriculum, tutoring, and dedicated faculty who offer personal attention to each student. Students receive support from business professionals sharing their expertise, experience, wisdom, and guidance in the mentoring program and job shadowing opportunities. There is peer support through study groups, classroom projects, and living in the same dormitory as other business students. Also, participation in internships, mock interviews, workshops, career advisement, and numerous experiential learning opportunities all support the career preparation process. As Dr. Stinson stated, there are many business-specific clubs. These student organizations support the development of leadership skills, relationships, and professional connections. CWU business students are sure to find the right amount of support to help them fully develop into confident and successful business leaders.
Accessibility: When students start looking for business schools, they tend to first research the schools closest to their current location, especially if they have secured a job and cannot relocate. The University has been able to open campuses all over the state to make sure their quality education is accessible to as many students as possible. The College of Business has followed suit with offering business programs at four total locations, including Ellensburg. These on-campus locations allow more students to access the excellent CWU business degrees. For limitless accessibility, students can also access a 100% online Bachelor's in Business Administration, an entirely online Bachelor's in Applied Science in Supply Chain Management, and several online minors. These online degree programs make it possible for those who work full-time, are raising a family, or have any other obligations, be able to access a degree of higher education. With online offerings, business degrees are accessible to students from all over Washington, the United States, and even internationally.