Pursuing a Bachelor's in Healthcare Management Degree is a great step for budding healthcare managers. Healthcare administrators and managers stand at the forefront of the business side of healthcare as they oversee budgeting, scheduling, and formulating new ways to improve organizational efficiency and patient care. This position leverages professionals' stellar communication and leadership skills while allowing them to make a tangible difference in others' lives. Healthcare managers spend much of their days coordinating and managing health services in facilities like nursing homes, clinics, and hospitals. It's a position that is both rewarding financially and philanthropically.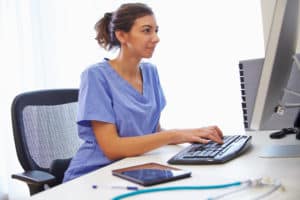 Many prospective health and medical services administrators hold a Bachelor's in Healthcare Management degree. They may also choose to pursue an undergraduate degree in business administration, health management, nursing, or public health administration. Programs that focus on both healthcare and management combine a business-related education with courses in health information systems, medical terminology, and hospital organization. Health administration and health information management programs will often include courses in human resources administration, health services management, accounting and budgeting, health information systems, strategic planning, law and ethics, and health economics.
A health services manager's median annual salary was $100,9800 in 2019, according to the United States Department of Labor's Bureau of Labor Statistics. The job forecast for these roles is promising as well, with employment numbers projected to soar at an average rate of 32% through 2029.
Let's answer some questions about a bachelor's degree and a career in healthcare management.
What types of facilities do healthcare management professionals work in?
Most of the nation's healthcare administrators work in a hospital, clinic, or outpatient setting. Clinic or physician's office settings provide healthcare managers the chance to oversee many disciplines— from budgeting to marketing and human resource-while a large state or private hospital will offer advancement opportunities to move into CFO, CEO, and CMO positions. Healthcare administrators should note that many years of experience and advanced degrees like doctorates in healthcare management are needed for executive roles.
Healthcare managers also work in residential care and nursing facilities which, in addition to the business and administrative responsibilities that come with managing a healthcare facility, includes engaging with patients and their families. Some professionals direct their expertise to work for insurance companies. In contrast, others work for the local, state, and federal government by overseeing health education programs, conducting research, and addressing public health concerns.
What can one expect from a Bachelor's in Healthcare Management degree?
A degree can often look exceptional on paper, but you may have no idea how to prepare for program requirements, coursework, and other vital details. This information can be helpful in your decision-making process. Here is a brief snapshot of what a healthcare management program includes, so there are fewer surprises down the road.
Healthcare Management Curriculum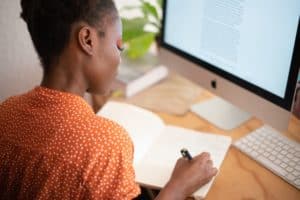 All students are curious about the required classes within their prospective degree. Here are some of the courses students can encounter while pursuing an undergraduate degree in healthcare management:
-Advanced Healthcare Law and Ethics
-Quality Improvement in Healthcare
-Healthcare Marketing
-Foundations of Managed Care
-International Healthcare
-Business Project Management
Current program websites prove to be a valuable tool for today's potential business school students. Most programs list required courses, electives, and specialization offerings. When researching a possible healthcare management program that does not provide course descriptions on a website, make sure to contact business school counselors, advisors, or admissions department representatives for more information. Look for coursework that incorporates scenario-based simulations and hands-on experience so that you will be prepared to lead a team of healthcare workers by providing them with what they need to put their patients first.
How long will it take to complete a Bachelor's in Healthcare Management degree?
In addition to making sure you will be entering a course schedule you can be excited about, you will also want to know how long it will take to complete a degree. While most healthcare management positions require an undergraduate degree, rest assured that the days of a bachelor's taking four full years to achieve are a thing of the past. Depending on a student's prior academic experience, one could earn a Bachelor's in Healthcare Management degree in as few as two years as some business schools offer various formats. Whether healthcare management students prefer to learn in the classroom, online, or a hybrid of both, there is a program out there that will synergize with their active lifestyles.
What positions in healthcare management are currently available?
Healthcare management features numerous and attractive job opportunities. How can one make sure it's the best fit? Here is a quick overview of the top healthcare management skills and positions that can help an undergraduate student determine if it is the right field of study to pursue.
In-demand healthcare management knowledge and skills
An ideal career puts professionals' inherent skills to good use. It is easy to assume you need a myriad of technical skills to enjoy success in the healthcare industry. Still, an accomplished healthcare manager will possess well-developed soft skills, too.
Not only will a career in healthcare management place leaders in charge of teams of healthcare workers, but it will also mean working closely with doctors and physicians and representing a healthcare facility at community events and staff meetings. The extensive range of responsibilities required calls for a unique blend of skills.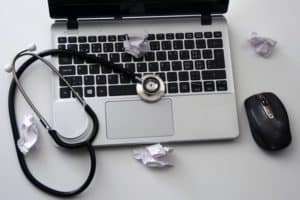 A real-time job analysis software used to examine nearly 80,000 healthcare management job postings revealed the specific skills employers require of healthcare management candidates. Top technical skills included budgeting, staff management, business administration, scheduling, and basic patient care. Top transferable skills included problem-solving, research, collaboration, planning, and public speaking and communication.
Typical Healthcare Management Position Titles
Once managers have mastered these in-demand skills, it is important to discover what kind of job prospects are out there. These examples of healthcare management positions listed by the U.S. Department of Labor gives us an idea of what future options could be:
-Clinical director
-Office manager
-Health and social services director
-Medical records manager
-Practice administrator
An advantage of launching a career as a healthcare manager is that you won't be forced to remain in the same position indefinitely. The field features a variety of potential paths for advancement. Healthcare management professionals can get promoted into higher-paying roles with more responsibilities, like working as an executive within the organization or overseeing a hospital's health information system. It should be noted that a master's degree may be needed for many of these senior-level positions.
How will I know if a healthcare management degree is right for me?
It is unnecessary to be on the front lines of medicine and healthcare to work within an industry that saves peoples' lives daily. Earning a bachelor's in healthcare management degree is a great first step toward working towards the administration of a healthcare facility. From there, graduates are eligible for many types of advanced positions—but it's up to the student to make the most of all the opportunities a healthcare management program offers.
It comes as no surprise that the behind-the-scenes operations and logistics of healthcare providers can be complicated. Between payment and billing, managing numerous facilities and departments, and maintaining the quality of healthcare, there are many components to navigate and understand.
All careers start with a plan with steps to take along the way. Not all steps will cover the same distance, but it's essential to know what lies ahead. What does the roadmap of arriving in a healthcare management position look like? Here is a quick step-by-step guide that explains how to become a healthcare administrator to answer that all-important question.
1. Chart your Educational Journey
Different business schools offer different types of degrees, and you want to figure out which university and school will prepare you best for the future you desire. While most hiring entities prefer at least an undergraduate degree for healthcare managers, it is becoming common to complete a graduate degree in the field. Some employers favor a more advanced degree as it shows a higher level of commitment, and graduate programs shape professionals into self-starters and motivated job candidates.
In the modern healthcare environment, a degree can be essential to obtaining a job and being considered for promotion in the future. A broad business degree like an MBA with a healthcare management focus will provide even more future opportunities. After deciding what type of degree you want, start vetting programs and figure out if you'd like to attend class with a professor and classmates in person or learn through distance education by connecting through an online program. Blended programs allow business students to participate in courses through a combination of in-class and online learning.
Another issue for students to consider, especially if they are leaning toward earning a graduate degree, is whether they would like to complete all of their schooling upfront. Administration positions often require previous management experience no matter a student's education level, so it may benefit students to first earn an undergraduate degree and then gain some on-the-job experience before pursuing a graduate degree.
2. Pursue that Degree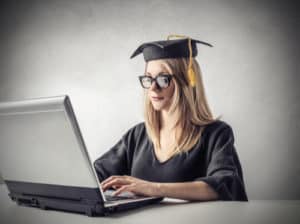 This is certainly easier said than done. However, graduating with a degree is an essential step. The hours spent by business students studying will prove to be a big help while working within a complex industry.
A Bachelor's in Healthcare Management degree combines business-related learning with healthcare-related courses that give future professionals a solid foundation of knowledge in health information services, medical terminology, and hospital organization. Combine this knowledge with lessons in risk management, financial management, statistics, and healthcare regulations, and students will be well-equipped with a lot of the know-how they will need to succeed in a healthcare management position.
It may seem overwhelming to commit four or more years to a program. The knowledge that you are securing a bright future, gaining needed confidence in a field of interest, and ensuring future career prospects can make all the difference in the world. It is essential to keep your chin up and keep pressing forward. Successful leaders never regret the time they spend preparing themselves for what lies ahead. Business school students have the chance to connect with passionate and informative instructors while learning about healthcare industry best practices.
3. Seek Valuable Work Experience
Healthcare management careers require some healthcare experience, whether it is a paid position like a Certified Nursing Assistant or an administration intern. Applying for positions with nothing more than a recent degree completion could prove difficult given that healthcare is a specialized area. Experience is essential no matter what job potential hires hope to get. Healthcare management jobs are no different. While you may have received an education to be qualified for management roles, you will still need to work your way up the professional ladder. Managers will often get their start in a clinic or hospital's billing department or work as an administrator for a pharmaceutical company or medical device. Fortunately for today's modern workers, there are many potential entry points into healthcare's business side.
Procuring your first healthcare position after college can prove to be a struggle if you lack work experience, so it is crucial to take advantage of any experience-building opportunities. College programs that offer internships and programs that include shadowing professionals in the field can be golden opportunities to gain valuable experience. These programs allow students to grow by asking questions, learning from their mistakes, and gaining exceptional experience that will serve them well for years to come.
Working your way up the career ladder is never a simple process. A fruitful career in healthcare management will be filled with challenges, setbacks, and victories. Since career advancement can prove to be a grind, you will need to stay determined and not get easily discouraged as you face setbacks along the way.
Related Resources:
Online Healthcare MBA Ranking
Best Online Master's in Healthcare Management
Best Online MBA Programs for Physicians
Highest Paying Online Healthcare Degrees
What is an Associate's in Healthcare Management Degree?
What is a Master's in Healthcare Management Degree?
What is a Doctorate in Healthcare Management Degree?
Best Free Online Healthcare Management Courses