What if I told you that getting a start in finance does not always take an expensive advanced degree? What it takes is brains, ambition, determination, and salesmanship. An associate's degree in finance is more than adequate to get you started, so you can get into an internship or land that entry-level job at any one of the prominent investment banks that keep the gears of the finance world turning. Large corporations like Bank of America and Citigroup are known for finding talent that couldn't afford or was not interested in a traditional four-year degree from a university. We have to take it at its word when the JP Morgan career page proudly advertises "All Minds Wanted." For years the most successful Wall Street firms and organizations have started hunting for candidates with the instincts it takes to win among potential candidates possessing only a two-year degree like the Associate's in Finance.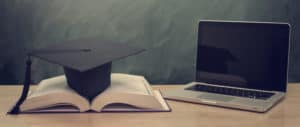 Keep in mind that as you continue to explore your finance and business-related degree options, it is common for students to begin down one degree path only then to change their direction after their first or second term. This is a natural result of being exposed to more opportunities and resources within higher education. As students begin to network with other students and business school staff, they often discover job titles in finance they did not know existed before starting their education.
What is the Best Associate's Degree for a Career in Finance?
Students looking to work in finance have several options to choose from at the associate's level. The most obvious choice would be to find an Associate's in Finance as a traditional on-campus program or online through distance learning. Many business schools across the nation now also offer degrees like these:
-Associates in Banking and Finance
-Associates in Accounting
-Associates in Financial Services
-Associates in Business
-Associates in Economics
While it is possible to get your professional foot in the door with degrees like these, it is wise to consider some of the specific positions you plan to pursue in the future and find a program with a corresponding curriculum and content before you commit the time and money into a program.
You will discover that most of those degrees are offered in one of three categories, depending on the school that features them:
An Associate's in Applied Sciences : An AAS degree is a highly specialized program designed exclusively for direct and immediate career training. This type of degree will not include the general studies requirements usually needed for transferability, so there is less flexibility associated with this program.
An Associate of Arts : An AA stands as one of the most traditional formats. It will include more humanities and liberal arts study courses. This degree dovetails nicely into transferring into a standard four-year degree program.
An Associate of Science : This degree offers a more technical approach to the specific subject matter. There will also be a more substantial emphasis on math and science. An AS is typically highly favored for immediate entry into the job market and transfers adequately into four-year programs.
Your personal choice between these three types of programs can be significant based on your long-term professional goals, so it's wise to consider the implications carefully.
Can I Transfer Credits from an Associate's in Finance?
If you think that transferability is a major asset for an associate's degree in finance, you are 100% correct. Many students use an associate's degree as an affordable and expedited springboard into a four-year program. And an undergraduate degree dramatically improves both a professional's salary and career prospects in finance.
Simply put, the burden of planning ahead and ensuring that the courses you take within an associate's degree will transfer into higher education is 100% on the student's shoulders. However, this fact is no great mystery, and business schools are well-staffed with program experts who can answer all questions about transferability and course qualifications.
Optimally, you will want to find an associate's program that houses credits that fulfill the requirements for the initial two years of an undergraduate degree. The specific type of degree is vital. If you hope to go onto a Bachelor's of Business Administration, for instance, you may waste time and resources going in with an Associate of Science in Finance. In this case, an Associate of Arts in Business will probably hit all the marks.
Generally speaking, two- and four-year institutions in the same regional area tend to have transfer relations that will make the process seamless and all but automatic. It would be best if you asked this of admissions office experts before enrollment.
If transfer agreements are not in place, your next step is to carefully compare the accreditations and curricula of your optimal schools and programs. A four-year degree will usually be aware of and evaluate associate's degrees based on how the coursework compares and contrasts to their own and the weight of accreditations the two-year college holds.
What Type of Curriculum is Found in an Associate's in Finance?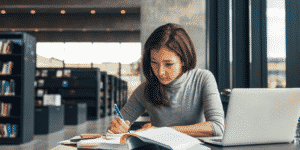 Most associate-level programs are lean and mean when it comes to the curriculum. Both on-campus and online associate's students get a ton of education packed into two years. For transferability and career preparation, curriculum designers will dedicate most of the class time to core requirements and include only a handful of elective choices.
The most crucial decision is to choose the type of degree that includes content relevant to the desired career path. Here are some examples:
Finance or Economics Courses : These classes are typically heavy in math and analysis, with a substantial serving of macro and microeconomics.
Business and Finance Math : These courses teach fundamental business math concepts, including depreciation, interest formulas, and statistics.
Business or Business Administration : These courses include more analytical, organizational, and decision-making topics.
Financial and Managerial Accounting : Accounting courses deal with financial theory and tax law, capital investment analysis, budgeting, and performance evaluation.
Securities and Investments : This topic provides a better understanding of securities and markets. These courses cover the processes of making investment decisions which include technical analysis and establishing client portfolios.
Business Law : Business law courses deal with the judicial process and dispute resolution, knowledge of varying business structures, and teaches over contract and employment law basics.
How Crucial is Accreditation When Considering an Associate's in Finance?
Accreditation from one of the major regional accrediting agencies approved by the U.S. Department of Education and the Council for Higher Education Accreditation is vital for both transferability and reputation. These entities evaluate programs based on their administration, curriculum standards, policies, and instructors to ensure that the basis of education stays in line with the expectations of American employers. Accreditation is a general standard that any legitimate school will value as a matter of integrity. Avoid any programs that do not value accreditation.
Many of the programs you might consider for a route into finance would benefit from a specialty accreditation. Here are the two CHEA-recognized specialty entities that feature associate-level program accreditation in business and accounting:
–International Assembly for Collegiate Business Education (IACBE)
–Accreditation Council for Business Schools and Programs (ACBSP)
Between the two, ACBSP exists as the sole specialized accrediting body for business programs offered at schools that offer an associate's degree as their highest degree awarded, like a community college. Four year colleges and universities which offer associates programs can be accredited by ACBSP or IACBE.
Choosing a specialty accredited program means meeting subject-specific standards set by the sponsoring business community, including the National Association of State Boards of Accountancy. While not mandatory, it is a way to get off on the right foot with both employers and four-year schools that will be looking into where you earned your associate's degree.
Are Entry-Level Positions Available to Graduates with an Associate's in Finance?
Countless employees work on the first floor of broker-dealer organizations and investment banks that work behind the scenes to keep Wall Street well-oiled, both with corporate investors and individual retail investors.
Those first-floor positions carry titles like:
-Clerk
-Client Service Representative
-Sales/Trader Assistant
-Fund Operations Specialist
-Loan processor/administrator
-Loan Officer
Other positions you are qualified for if you have an Associate's in Finance:
-Bookkeeper/ Accounts Receivable Coordinator/Accounting Clerk
-Human Resources Assistant/Benefits Coordinator
-Business Analyst
-Financial Administrator
-Customer Service Manager
-Insurance Sales Agent
-Real Estate Broker
-Operations Manager
-Purchasing Manager/Agent
-Medical Billing Specialist
-Administrative Assistant
-Manufacturing Sales Representative
-Business Services Representative
-Computing Business Coordinator
-Entrepreneur
In many cases, these workers in finance are just a step away from a more lucrative and prestigious position they can achieve with further education and more training. In others, these roles represent stable career journeys in their own right, like in fund operations and loan processing.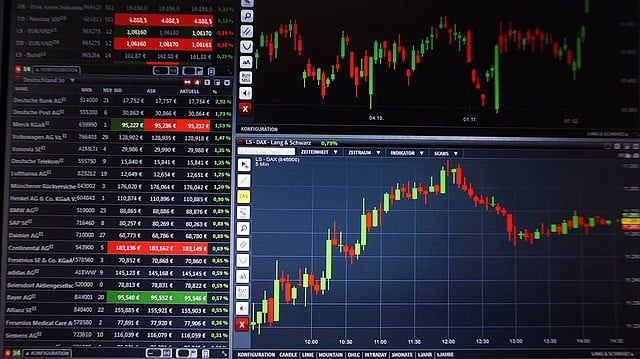 Suppose the notion of becoming a stockbroker excites you. In that case, you'll need to pursue a position within a broker-dealer firm that operates as a sponsor for the FINRA Series 7 stockbroker licensing exam you'll need to take. You won't qualify to take the exam without first being hired as an employee and sponsored. The Series 7 license allows professionals to sell stocks and other investment products and drum up new business for the organization. Before this can happen, the hiring firm needs to see strong potential in you for this kind of work.
You may be the most charismatic and impressive salesperson Wall Street has ever seen. Still, it is not likely that an investment bank or broker-dealer will consider you a viable candidate who deserves sponsorship until you have an associate's or undergraduate degree in finance.
This is why the associate's degree is such a great idea. An Associate's in Finance gives you the valuable knowledge and skills you will rely on for entry-level work. A bonus is that those earned credits can also be transferred to an undergraduate program later. Gaining industry experience within an entry-level position while you pursue your bachelor's will make your resume shine much brighter than only a four-year degree could.
What Kind of Salary Can I Expect with an Associates in Finance Degree?
Finance is all about the money. The things you can learn with an associate's degree in the field will put all other two-year degree career paths to shame. Even still, the big bucks come in the form of bonuses, commissions, and other fiscal benefits typically reserved for brokers and others in the firm ranks who are directly responsible for creating revenue. Until you qualify for those kinds of positions through a combination of education, FINRA licensure, and on-the-job experience, your associate's degree still gives you the potential to earn a healthy salary.
Next Steps
Now that you have a better idea of what an associate's degree in finance is, what kind of educational choices are out there, and what you can do with the degree, it's time to start forming a plan to pursue this valuable credential.
1. Begin by spending time in a quiet, uninterrupted space, considering where you want your career to go. Dream big. Write ideas down. Define what success looks like and try to realize what it would be like to have your dream job.
2. Once you have an idea of what the end will be, start with the beginning. What are you looking for in an associate's degree in finance? Do you want to stay put in your current city or job? Look for local programs or online degrees in this case. Are you ready to move to a new area? Do a quick search online for business schools in the region of your choice. Your greatest asset at this point will be your computer as you can learn much about programs all over the country from the comfort of your couch or dining room table.
3. Start contacting admissions experts at some of the nation's best business schools that offer associate's degrees in finance. These schools also employ career advisors who can share program and professional information that will prove invaluable.
You may be just a few clicks away from an incredible Associate's in Finance degree.
Related Resources:
Best Online Finance MBA
Best Online Master's in Finance Management
Ultimate Guide for Financial Managers
Ultimate Guide for Financial Advisors
What is a Bachelor's in Finance Degree?
What is a Master's in Finance Degree?
What is a Doctorate in Finance Degree?
Best Free Online Finance Courses
Best Free Online Accounting Courses