It's rush hour and you forgot to fill up the night before and there is not enough gas in the tank to make the entire morning commute. You get to the gas station and discover your bank card is overdrafted. You call the bank and it looks like there are some suspicious charges on your account. A cold sinking feeling comes over you as you realize you've been hacked. One and four Americans in the United States have felt that same feeling. A disappointing fact yet encouraging if you are considering getting a cyber security degree. This staggering statistic shows us that there is only room for growth in this career path. 
Everyday companies, organizations, individuals, tech companies are being hacked, phished and terrorized over the digital network. Cyber security is a systematic practice put in place to interrupt cyberattackers, and hackers who are intent on destroying information, extorting money, or sabotaging organizational online structures. As more businesses than ever before join the digital space they become vulnerable to cyber attacks. To prevent this, organizations are aggressively looking for skilled cyber security professionals.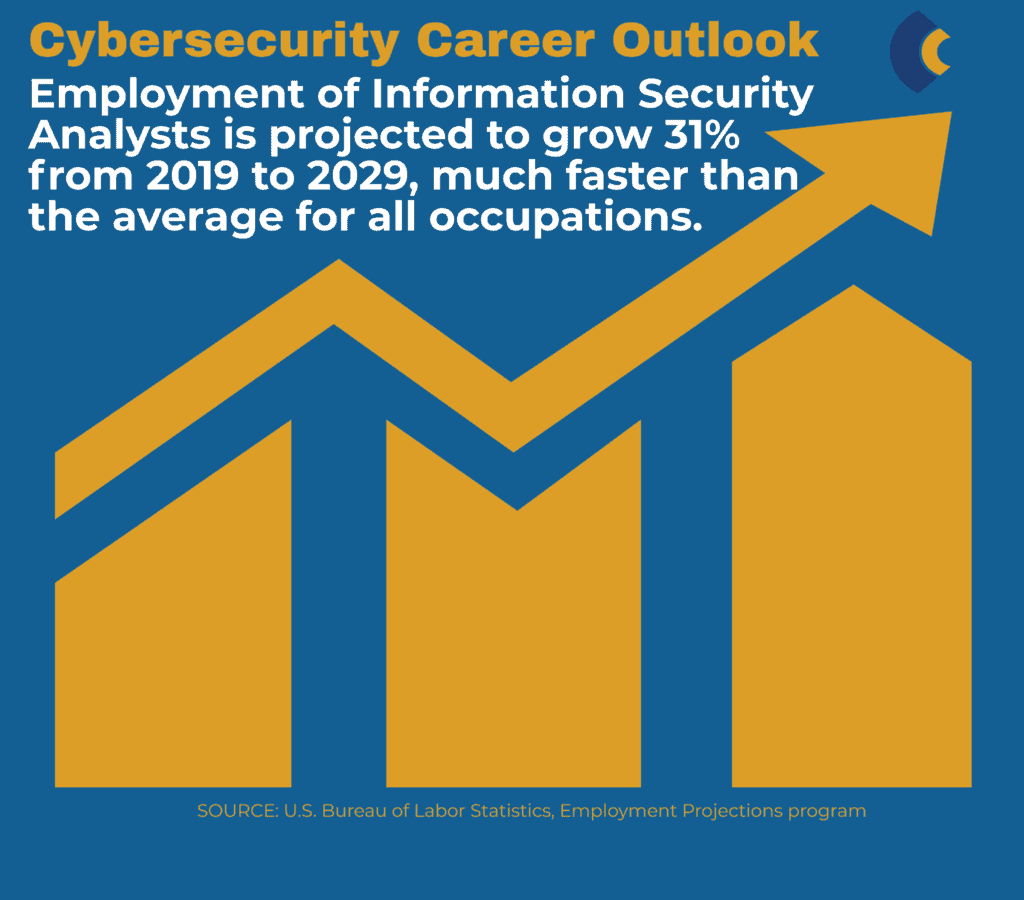 If you are creative, have an affinity for detail oriented work, like science and math, maybe it's time you considered a career in cyber security. Currently there are more cybersecurity jobs than there are professionals in the United States. As a result, it is one of the highest paying entry level career paths in the country. For this very reason many people are asking is cyber security a good career for me? 
Starting a career in cybersecurity would be a huge shift for most people. This guide will map out the different educational pathways for cybersecurity beginners. If you don't have an in-depth understanding of how the applications, websites, and internet networks actually work, don't be discouraged. The benefits of learning some of the basic skills required to become a cyber security professional will far outweigh the effort. This guide will attempt to help you decide if a cyber security degree is worth it?
Accreditation: How to choose a Cyber Security program?
To get a firm grasp on the idea of cyber security let's introduce some of the critical aspects of a program to look for. At the forefront of advancement in the education of cyber security are several government and non profit organizations dedicated to perfecting the curriculum and setting the standards of learning for cyber security programs. This process of vetting a program for quality and assurance that it offers the highest standard of education is what makes an accreditation process. When looking into programs, it is important that you look for programs that are accredited. The Accreditation Board for Engineering and Technology (ABET) is responsible for cyber security accreditation as well as all of the disciplines related to the use of technology and computers. The quality standards are set by professional experts in the field that volunteer their time to maintain the integrity of their industry. 
There are some other stamps of approval to look for when choosing a degree in cybersecurity online. The National Center of Academic Excellence in Cybersecurity is an organization run by the National Cryptologic School at the National Security Agency. The mission of this program is to collaborate with community colleges to establish and maintain standards for cybersecurity. Institutions with this designation can fit into three different categories: cyber defense education, cyber research, and cyber operations. So, depending on the pathway you choose, look for this cyber security accreditation. There is a plethora of information and resources to peruse on your cybersecurity journey. It's important to become familiar with all of them. Programs sporting a CAE or ABET cybersecurity accreditation ensure they are safe educational investments.
Cyber Security Associate's Programs
Cyber security online associates degree programs can offer a start to a promising career pathway. Cybersecurity programs are offered at both community colleges and universities. Studying at a four year college or university can be a huge benefit if you decide you want to continue on a bachelor's degree. In addition, many community college programs have extensive transfer offerings. An online associates degree program in cyber security is a sure fire way to get your foot in the door of the computer and technology industry. Most associate programs are two years or less and create the foundation for success in the field of cyber security. If you are a novice and have never taken an advanced level math class or are naturally computer savvy you want to prepare for your educational experience. Some of the things you should do to prepare for beginning an associates degree in cybersecurity:
Familiarize yourself with coding
Find an interdisciplinary Program
Assess if cybersecurity is the right career for you
With a two-year online associate's degree, you will receive a concise and concentrated education. An associate program will teach students safe software development network security and cloud technology, as well as teamwork and problem-solving skills. What is great about an associate's degree is you are taking courses with the intention to join the workforce. Many programs partner to combine subjects that will prepare students to take key certifications, which is an important aspect of becoming a cybersecurity professional. Some of the foundational knowledge you will learn in a cyber security associate's degree includes:
Foundational computer forensic skills
Technical and real-world problem solving skills
Knowledge of cyber security that spans across platforms
A keen understanding of hacking
An understanding of the types of cyber threats
Technical and interpersonal communication skills
Risk assessment and monitoring strategies
Once you graduate with an associates degree, cyber security jobs will be the least of your worries, companies love to see credentials on a resume. When you start to search you may come across some positions that will require a bachelor's degree. Don't be discouraged, because while you were in school you will most likely have had the opportunity to intern at an IT company or organization. Having some real world experience coupled with an associate's degree is just what you need to get in the door. There are so many entry level positions that can be achieved straight out of graduation from your associates program.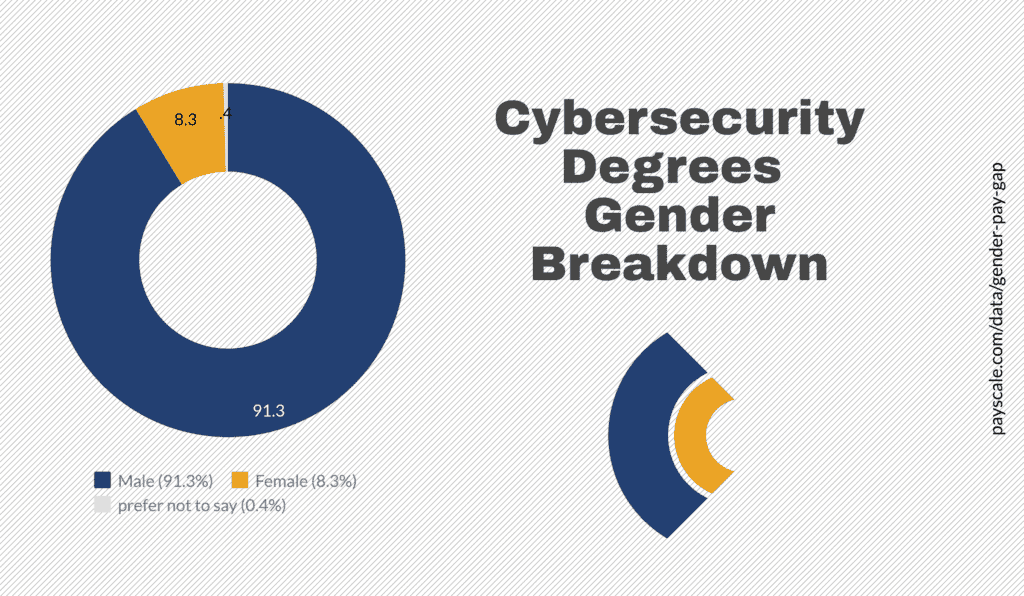 Associate's in Cyber Security Jobs and Salaries
I imagine you want to ensure you will have career opportunities beyond your academic program. There are so many career options in cyber security as well as relevant applications. This is a shortlist of the cybersecurity jobs and salaries from payscale with an associates degree:
Cyber Security Analyst – $85,872
Data Scientist – $84,446
Network Administrator – $58,880
Information Security Specialist – $76,846
These entry level cyber security jobs with an associate degree have a hefty potential earning power. Though it is important to have soft skills as well, some major attributes that will make you good at these jobs include organization, communication skills, and attention to detail. Just because you are computer whisperers, information security specialists do more than analyze existing systems, monitor the network, write code fixes, and communicate systems status. As a cyber security professional you will do a little bit of everything. Communicating technical jargon in plain language, submitting reports, and managing budgets are among the tasks a skilled cyber security professional undertakes on a daily basis. There are some main industries where cyber security positions are more highly sought after, including:
Financial Services
Government
Ecommerce/Retail
Health Care
Manufacturing
Each of these pathways have moved to an online dependent system to function in the majority of their business, making them extremely vulnerable. The medical field, for example. 89% of healthcare organizations have experienced data breaches, according to a HIPPA Journal report. This is causing a rise in the need for cyber security professionals in hospitals, urgent care centers, nursing homes, and every other aspect of the field. While associates in cybersecurity jobs are plentiful, you want to be sure you put your best foot forward. Having some hands on experience is important to securing a position right after graduation.
Cyber Security Bachelor's Programs
Obtaining an online cyber security bachelor's degree is a straightforward path to a promising and financially rewarding career in cyber security. We have ranked 25 of the best online bachelor's programs in cybersecurity. This is a great opportunity to excel in a specialization. Choose your path now, because there are many applications for cybersecurity so don't spend four years doing something you are not truly passionate about. Some specialization you can choose from include:
Cybersecurity policy
Cyber terrorism
Ethical hacking
Forensics
Threat intelligence
Vulnerability management
In an online cyber security bachelor's degree you'll spend a lot of time becoming familiar with the basics of cybersecurity. When considering a bachelor degree you may want to explore scholarships through the university you choose or other organizations. As the job gap for thi industry continues to grow, organizations are trying to reach out to different minority and gender groups to grow the number of women and African American in cyber security. There are several scholarship available we created a shortlist from Unigo cyber security scholarship organizations incentivizing the study of cybersecurity:
Women in Cybersecurity Scholarship is provided by ESET
KnowBe4 Scholarship for Black Americans in Cybersecurity
Malwarebytes $100,00 for STEM college or graduate student
For students considering cybersecurity as a new career path, there are several interdisciplinary skills that are transferable to a bachelor's degree in cyber security. Being a detailed orientated individual helps, reporting, tracking, and protecting the internal controls and information within the technology system. In cybersecurity being flexible is important, the responsibility for these positions are continuously changing with the development of this field. Cyber security program will teach you a wide range of skills some of the core topics you'll cover in a bachelor program:
Information Systems
Digital Forensics
Ethics, Policy, & Laws
Cyber Defense
Data Communication & Networking
Cybersecurity is that too good to be true kind of career, with all the perks and freedoms no other careers seem to offer. This industry is the perfect way to incorporate your passions with the profession, maybe you don't get a degree in art history but you can definitely secure the online networks of major art museums. If it's been a while since you've gone to school consider an online cyber security bachelor's degree, that way you can learn from home, and continue to work while you learn enough to take advantage of the increased earning potential offered as a cyber security professional.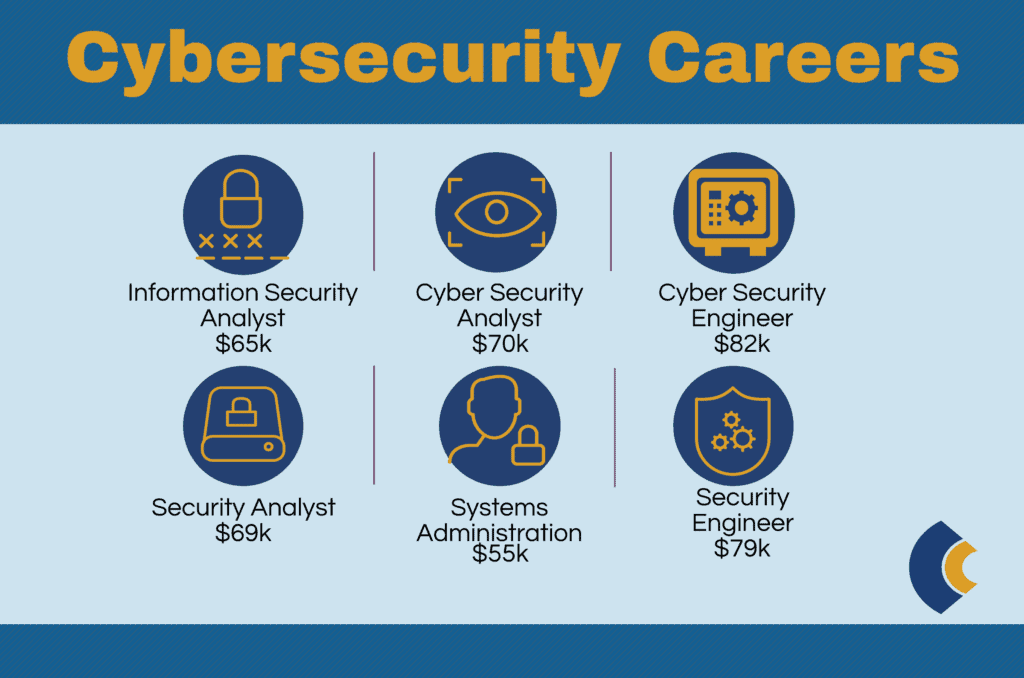 Bachelors in Cyber Security Jobs and Salaries
With a bachelor degree in cybersecurity, getting a firm understanding of the job market is a great way to choose which job to go after. What job you get and the potential salary can change depending on your location. Over time digital hubs have naturally developed, there are IT hubs all around the country, one of which is silicon valley in San Francisco, CA. In an IT hub potential employers may offer a higher salary. Below we have compiled a cyber security careers list and salaries of the possible job with a bachelors in cyber security:
Information Technology Auditor – $68,431
Information Security Analyst – $72,723
Cryptographer – $99,157
Security Software Developer – $71, 979
Forensic Computer Analyst- $74,199
Cyber Security Specialist – $108,724
These job options are becoming more and more available and are perfect for those who have completed a bachelor's in cybersecurity. There are also some other factors that can affect cyber security salaries, years of experience. As cyber security degree salary can change significantly with experience according to Payscale a cyber security engineer will make an average salary of $96,772, yet depending on your experience will determine which end of that average you will make. There are many more jobs to add to this list. However, these are the most popular with cyber and network security salary at a competitive rate in a high demand profession. With a cyber security degree salary predictions are promising there are several other factors that can affect cyber security degree salary and cyber security jobs:
Degree Type/Certification
Experience
Location
Organization/Agency
With an understanding of these factors, salaries can range as low as Cyber Intelligence Analyst with a government agency like the National Security Agency will make according to glassdoor a base average of $25,240-$27,143. Which is a huge difference from if you worked as an IT Security Analyst with Facebook. When deciding where to apply, discovering the potential max benefit for your skillset is key to locking down a position with excellent earning potential.
Master of Cybersecurity Degrees
Obtaining an associate's or a bachelor's degree in cybersecurity are both strong pathways if you want to get your foot in the door of cyber security. Yet, advancing to a leadership role in cyber security generally requires a master's degree in cybersecurity. Online degrees are a great option for working professionals. With an online cyber security master's degree, you set the schedule with a learn-at-your-own-pace program. As cybersecurity continues to become one of the most sought after professions, it is also now one of the most competitive industries. To keep a competitive edge in the industry, obtaining a masters in cyber security online is a great way to gain a promotion, or to advance in another company.
A cyber security master's degree program is going to build on the foundation of your real world experience and the bachelor's degree you have already achieved. Pick a particular speciality you want to focus on. A graduate program is a great place to build on the skills you already have and work your way up to an expert level in your chosen specialization. Choosing a concentration will help narrow your program choices as well. Some areas of focus to consider when researching cyber security masters online programs include:
Computer security
Cyber security Engineering
Cyber security management and Policy
Cybersecurity and Cloud Computing
This is just the tip of the iceberg. There are countless specialities in cyber security. More and more there are becoming new needs for these advanced skills, including cyber security training of executives. So don't get stuck in a position that you are tired of. With the creation of a new software and a master's degree, there will be newer job opportunities with a rise in salary. A cyber security master's online will gain the respect of fellow colleagues and impress them with a new speciality that can make you more of an asset to the organization. A masters degree is a significant investment in time and money. To ensure you will get a return on your investment, choose an in demand speciality. Some topics you will probably study in this advanced degree include governance, risk management, and compliance within your ms cyber security online program. Digital and computer forensic and cryptography is also a great pathway to securing your place in the cybersecurity field. As you can see, there are so many options!
Master's in Cyber Security Jobs and Salaries
Taking the next step in your career in cybersecurity can lead to potential financial gain. In this next section, we will look at some careers you can begin with a master's degree in cybersecurity and the potential salaries for each one. With the job outlook for computer technology, such positions are projected to grow 31% from 2018 to 2028, according to the US Bureau of Labor Statistics. You can confidently enter the job market with a master's in cyber security online. Some of the topmost in-demand jobs in cybersecurity:
Cyber Security Engineer – $96,772
Malware/forensics Analyst – $74,388
Governance, Risk and Compliance Professional – $58,749
Cloud Architect
Database Administrator
Programmer Analyst
System AnalystSoftware Developer
Cyber security engineers also referred to as information security engineers, offer one of the top cybersecurity master salaries. According to payscale the average annual salary for this position is $96,772. This is the best master in cyber security job for those that are confident in their development, programming, and coding skills. However, it is important that these credentials accompany the experience. In other words,  most of the top tech companies offer these salaries based on the experience of the applicant. Cybersecurity management and policy salary is a game-changer for IT professionals looking for a promotion. Cyber security and management jobs are the meat and potatoes for a cyber security professional with a master's degree. It gets you in the door of a government agency to track down cyber criminals.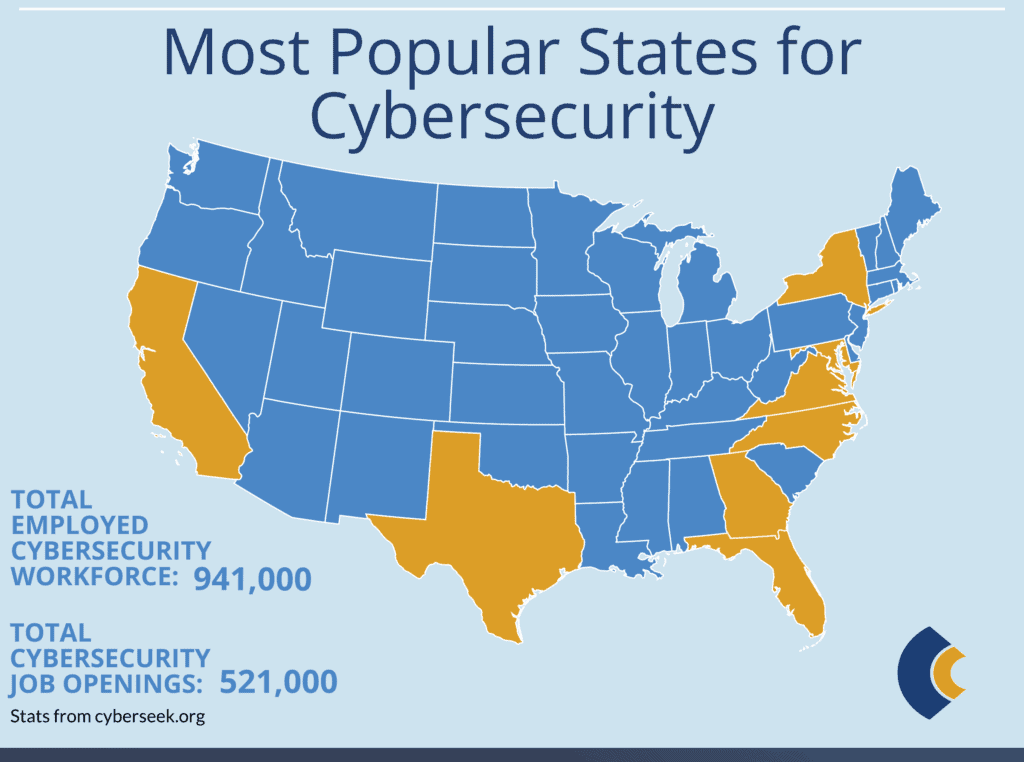 Cybersecurity Graduate Certificate Programs
Make note of the fact that graduate certificates are different then certificates. A certificate is generally accomplished by someone who has not yet earned a college degree, while a graduate certificate can be taken along with a graduate program or on top of an already earned bachelors degree in a related field. There are some graduate certificates that don't require prior postsecondary education, however, they often require prospective students to achieve some prerequisite coursework before matriculating into the program. If you are considering a cybersecurity graduate certificate online you are most likely already working in the field of computer technology. A graduate certificate takes less time than a masters program, yet the coursework can transfer over if you decide to continue into a graduate program. Some topics covered in cybersecurity certificate programs include:
Security Administration
Database Management
Ethical Hacking
Network Systems and Security
Cryptography
Digital Forensics
Cyber Law
Risk Management
Operational Security
Data Communications
All of these positions can be achieved following the completion of a graduate certificate in cybersecurity. Look closely at certificate programs to ensure you are finding the right fit for your career goals. As is true for all programs, it is important to make sure you are investing in an opportunity that effectively meets your criteria.
Graduate Certificate Jobs and Salary
The cybersecurity certificate jobs list below are positions that come with a mastering of advanced cybersecurity skills. Before you start asking Can I get a job with a cyber security certificate?, let's understand the positions you can obtain once you have a graduate certificate in cyber security. The cyber security certificate salary will vary depending on location, position and type of company. Once you finish your graduate certificate there will be the question of, what jobs can I get with a cyber security certificate. Let's look at some cybersecurity certificate jobs as well as their associated cybersecurity certificate salary:
Penetration Tester/ Ethical Hacker-$85,615
Information Security Manager-$118,261
Cyber Security Architect-$124,619
Cyber Security Consultant-$85,430
Cyber Security Analyst-$98,350
Systems Administrator-$59,804
Network Administrator-$55,936
As you can see, there is quite a range in cybersecurity salary with certificate, as there is with cybersecurity certificate jobs. As aforementioned, many people use a certificate program as a starting point for a master's degree in the field, which will offer even more earning potential in most cases.
Related:
Best Online Associate's in Cybersecurity
Best Online Bachelor's in Cybersecurity
Best Online Master's in Cybersecurity