Cybersecurity is one of the fastest-growing careers on the planet, with about 3.5 million cybersecurity jobs expected by 2025 across the world. Being on the cutting edge with a bachelor's or master's in cybersecurity puts students in a great position to chart their own course in whatever niche they want.
There are select online cybersecurity degree programs designed to prepare students for ever-challenging and evolving scenarios. These programs are the top in the field, accredited with the most stringent standards. Many of these online cybersecurity degree programs are approved by the National Center of Academic Excellence in Cyber Defense or Cyber Security from the National Security Agency (NSA) and the Department of Homeland Security (DHS). To have this designation is a prestigious honor, with only 4% of these best online cybersecurity programs holding this designation.
What is Cybersecurity?
Cybersecurity is the practice of protecting networks, systems, and programs from digital attacks. These attacks are usually aimed at accessing, changing, or destroying sensitive information, extorting money from users, or interrupting normal business processes.
Cybersecurity is essential in today's world as it helps protect individuals and organizations from data breaches and cybercrime. It also helps to ensure the integrity of digital assets and secure communication between systems. Cybersecurity involves a wide range of measures such as firewalls, antivirus software, encryption technology, user authentication processes, and more.
Why Choose Cybersecurity as a Major?
Cybersecurity is one of the most important and rapidly growing industries in today's world. With the rise of digital technologies, businesses and governments are becoming increasingly vulnerable to cyber attacks. As a result, there is an ever-growing need for professionals who have the knowledge and skills to protect organizations from these threats.
Choosing cybersecurity as a major can open up exciting career opportunities in the field. It will give you the tools to identify vulnerabilities in systems, develop strategies for preventing cyber attacks, and respond quickly when they occur. You will also gain valuable insights into how technology works, which can be applied to other areas such as business or finance. With the right preparation and dedication, you can become an invaluable asset to any organization looking for someone with cybersecurity expertise.
Who is a Good Fit for a Cybersecurity Career?
A career in cybersecurity requires a blend of technical skills, problem-solving abilities, and an understanding of the latest threats. But who is a good fit for this demanding yet rewarding field?
The answer depends on your interests, skillset, and goals. Cybersecurity professionals must have strong analytical skills to identify potential vulnerabilities in networks or systems, as well as the ability to think outside the box when it comes to finding solutions. They should also be comfortable with technology and have a thorough understanding of computer networks and security protocols. Additionally, they need to stay up-to-date with the latest trends in cybercrime so they can anticipate potential threats before they become an issue.
Admissions Requirements for an Online Cybersecurity Degree
Every program is different, but there are some basic standards when it comes to applying to a cybersecurity degree program.
Most programs will require a high school diploma or equivalent (like a GED), passing an entrance exam, and providing official transcripts from all post-secondary institutions attended.
Additionally, some programs may require applicants to submit letters of recommendation or take additional courses in cybersecurity topics.
There are also often online-specific requirements. Many online cybersecurity bachelor's programs are degree-completion programs, offering only the last two years of a four-year degree. To apply to a degree-completion program, you usually need an associate degree, or the equivalent number of transfer credits.
You may also have to take some foundational courses in math or computer science if you didn't get them in your previous credits.
One nice aspect of an online degree-completion program is that they expect you to be experienced, and many programs will offer credits for work experience or certifications you've taken.
Degree Types for Cybersecurity
Cybersecurity is a relatively new area of study, so there are many different types of cybersecurity degrees. The most common online cybersecurity bachelor's degrees are:
Bachelor of Science in Cybersecurity
Bachelor's in Cybersecurity
BS in Information Technology
Bachelor of Engineering in Cybersecurity
Bachelor of Computer Engineering in Cybersecurity
Bachelor of Business Administration in Cybersecurity
Bachelor of Computer Science in Cybersecurity
Depending on what department or college they are offered in, an online cyber security degree will have different areas of focus. An engineering or computer science degree, obviously, will be more technically focused. An online bachelor's in cybersecurity business degree will be more oriented toward the practical business uses of cybersecurity.
Cyber security degree programs may not be called "cybersecurity" or "cyber security" either. There are numerous variations, like:
Cyber Operations and Resilience
Computing and Security Technology
Information Systems Security
Cyber Operations
Cybersecurity & Digital Forensics
Cyber Defense
As with different degree types, these different names might indicate different focuses, such as national defense, business and banking, or criminal justice. With an online degree program, cybersecurity graduates may work as ethical hackers, computer forensic analysts, information security analysts, computer systems analysts, and more.
What Courses Will I Take in a Cybersecurity Program
A Cybersecurity degree is a great way to gain the skills needed for a career in the ever-evolving world of information security. In a cybersecurity degree program, online students will gain an understanding of computer networks and how to secure them from malicious attacks. In addition, you will develop the knowledge and skills needed to design secure systems and prevent data breaches.
In an online program, you'll learn how to use hardware and software programs and data security tools as well as make it your goal to protect our digital infrastructure from malicious attacks. In addition, you will look at the financial impacts of cybercrime on businesses including identity theft, computer fraud, and government espionage.
So what does the cybersecurity curriculum look like? Some courses your online cybersecurity degree programs might include:
Digital Forensics
Information Assurance
Fraud Investigations
Network Security Management
Platform and Network Technologies
Cyberlaw and Privacy in a Digital Age
Cybersecurity and Ethical Hacking
Computer Forensics
Computer Forensics
Computer Security
Cybersecurity Management
Cybersecurity and Information Assurance
Cybersecurity Threats
Computer Network Defense
Will Employers Trust an Online Cybersecurity Degree?
Cybersecurity is the major leagues of IT careers, top government agencies, Fortune 500 companies, and Educational institutions worth billions rely on cybersecurity professionals to protect their information. So if you want to impress employers it is pertinent that the online cybersecurity degree program you choose is accredited. Online education is a great way for cybersecurity students to build their technical and critical thinking skills.
While the growth of the field of cybersecurity is motivating an increase in online programs, there are cybersecurity accreditations to ensure that the curriculum is up to the standards of the Department of Homeland Security and the National Security Agency. Together they have set guidelines for programs to follow to obtain designation as a CAE or Center of Academic Excellence. The National Cybersecurity Center of Excellence is a collaborative organization working to remain ahead of the ever-evolving technology, and legal aspects pertaining to cybersecurity.
Online Cyber Security Degrees: Reputation
When choosing an online cybersecurity bachelor's degree reputability is something employers look at when evaluating candidates right out of college. This speaking to the reputation and success rate of your program. In the above list, there are several programs in which faculty and department staff members hold long-standing connections with businesses, agencies. By evaluating the professors and department heads, students can evaluate the reputation of the program they are considering. An online bachelor's degree prepares students with just as strong a cybersecurity education as traditional programs. An online course in an online school offers the same cybersecurity courses. Online degree programs are perfect for cybersecurity as well; online programs are state-of-the-art.
Is a Cybersecurity Degree Worth It?
Today's programs need to be flexible enough that students can obtain their degrees from anywhere in the world. These institutions were curated to offer the best foundations, offering in-depth coursework and hands-on opportunities that are needed to protect the infrastructure of systems now and in the future. Designed to set students up for success, graduates will be able to acquire employment across the spectrum of careers in this field.
When preparing to enter new fields, having the knowledge and resources available that provide guidance is key. This list outlines the best and brightest programs of this nature with specializations that may not have been an initial consideration. If this career path sounds interesting, these institutions are a good starting point to begin the exploration process.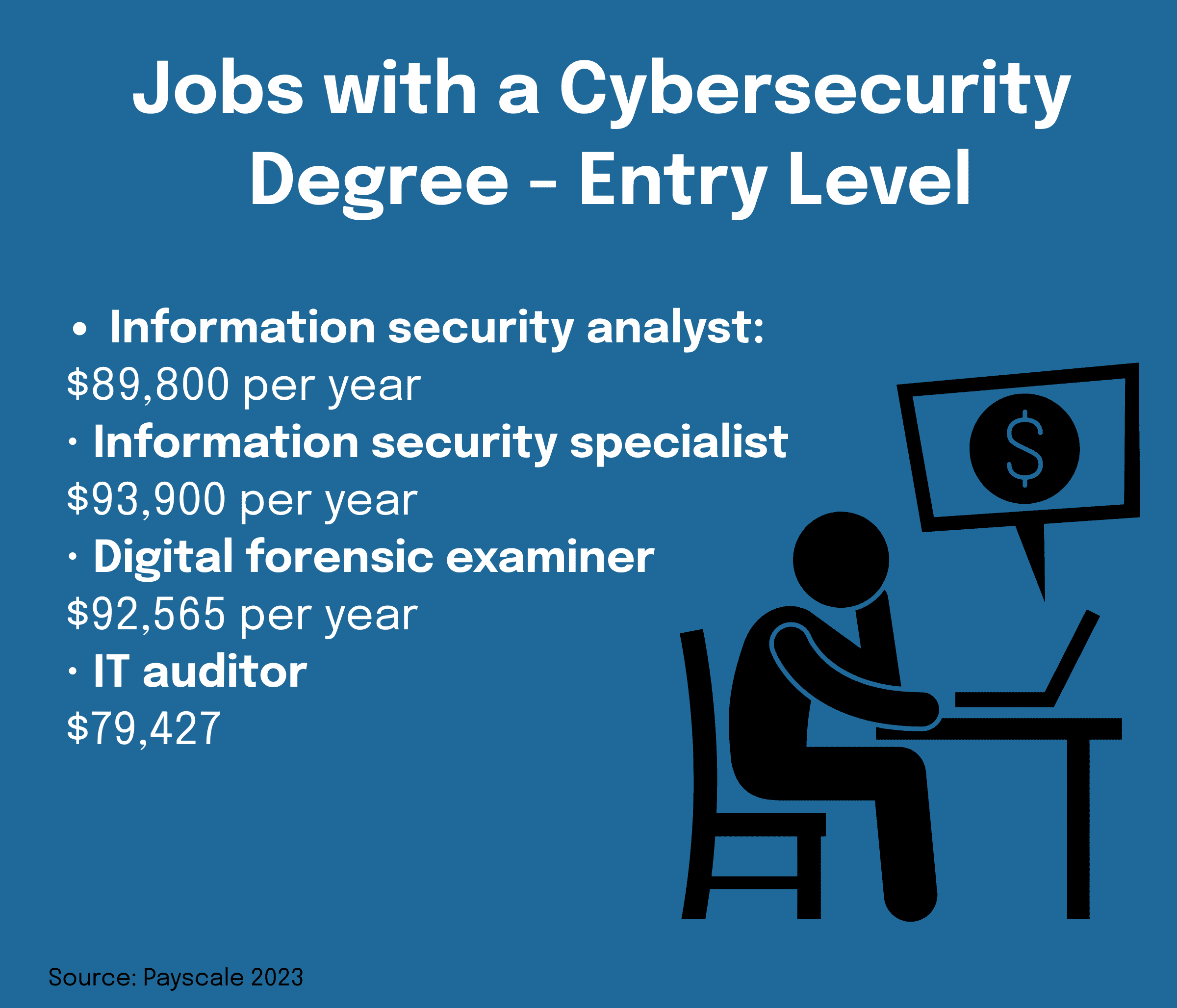 What to Consider When Deciding on a Cyber Security Degree Online
Obtaining a cybersecurity degree is a big decision to make, with many factors to consider. Cost, effectiveness, and outcome. As mentioned earlier this position is highly sought after, and it easy to become overwhelmed with the evolving technology processes ever-changing policies, its easy to overlook the importance of certain information. With a degree, you will become engrossed in an in-depth process to master the techniques to innovate and evolve with the industry. What is becoming increasingly popular in the wake of student loan debt and unemployment highs are students seeking out certifications to qualify to get hired. While this is a great option there are some differences to a degree. Certificates focus on one part of the whole subject of cybersecurity. In a degree program, students will get the whole picture, not just a small part. Certificate programs are one to three months long, with a degree student can network connect and make connections to veterans of the industry. To determine, is a cybersecurity degree worth it? You have to assess your learning objectives and career aspirations.
How Much Can I Make with a Cybersecurity Degree? What Do the Labor Statistics Say about Salary?
Earning potential is the foundation of answering is cybersecurity a good career? The key to success is finding what you're passionate about than figuring out how to make a living at it. Cybersecurity degree salary is among the most competitive salaries in the world. Creating a secure environment for the average person to function is at the heart of the economic stability of our global economy. Entry-level positions start way above the average salaries. For example, a cyber and network security salary is an average of $90,148 annual salary. According to payscale, this is the average pay for a professional with cybersecurity skills. Now the average for those with a bachelor's degree in cybersecurity is $70,623 annually. With these labor statistics you can see why cybersecurity is one of the fastest-growing industries today.
How We Ranked the Best Online Cybersecurity Bachelor's Degree Programs
To rank the Best Online Cybersecurity Degrees College Consensus editors have focused on factors important to real-world students. With tuition costs going up, and confidence in college at an all-time low, Consensus wants students to know their cyber security programs will really impact their lives. That's why we ranked cyber security programs based on four factors, using data from IPEDS:
Total Cost
Percent of Students Receiving Financial Aid
Graduation Rate
Percent Increase in Cost
Related: 
What Can I Do with a Bachelor's in Cybersecurity?
Best Online Master's in Cybersecurity
Best Online Cybersecurity Graduate Certificates