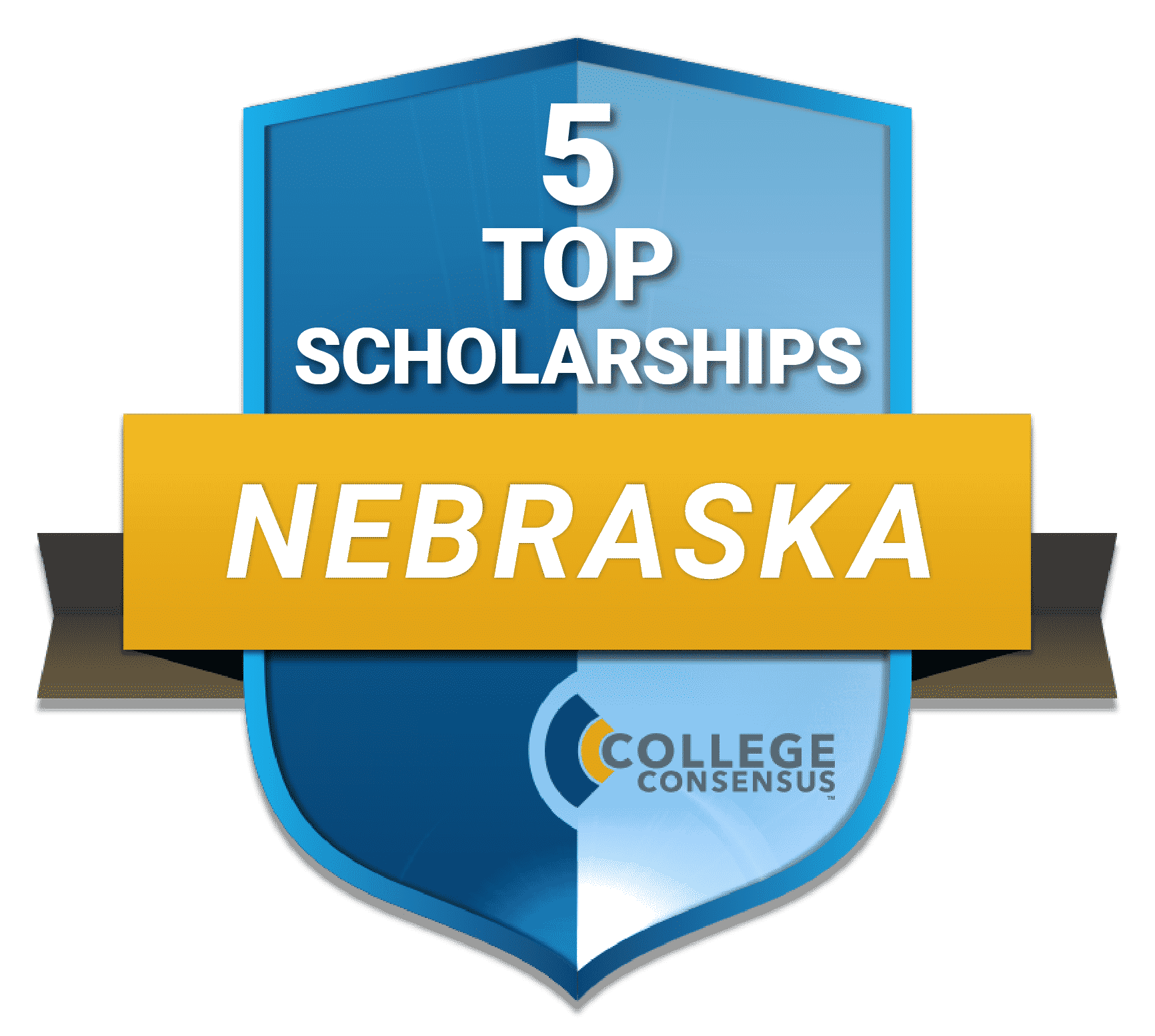 Nebraska got the name "The Cornhusker State" honestly, by establishing a reputation as America's grain capital. With over 82% of the land in Nebraska devoted to agriculture- many people incorrectly assume academics is not a Nebraskan strong point. They are wrong. Nebraska has 16 private institutions of higher learning and 8 regional community colleges. Nebraska's state university has five locations offering a host of academic and trade level training programs. Needless to say, Nebraska state college scholarships are in good supply, as are state of Nebraska grants.
For Nebraska students looking for money for college, College Consensus has put together a list of 5 scholarships designed for the needs of Nebraskans. This is just a starting point – there are many more opportunities. Scholarship programs are presented alphabetically.
See Also: Best Scholarships for Online Students
Do I Need Good High School Grades to Get a Scholarship?
Most scholarships are designed to reward and promote high academic performance, and that's not likely to change any time soon. However, there are Nebraska scholarships for high school seniors that are meant to look at more of the person than just their GPA. We all know and agree that many of the world's smartest people did not do well in the primary grades, and there are scholarship programs out there that take a deeper look at the student.
Another thing to keep in mind is that what some people call "good grades," say a 3.0 GPA, might be great grades in someone else's mind. The AQHF Nebraska Quarter Horse Youth Scholarship is one such scholarship program. Eligible candidates must have no better than a cumulative 2.5 GPA. Some people would say that's quite poor. But This program, like many others, do not. It also comes with a much higher than average award of $8,000. The deadline is December 1.
If you looking for full-ride scholarships in Nebraska, and you haven't got a "great" GPA, you might have to look a bit harder. Though, to be fair- at some schools, $8,000 is a full ride.
Does the State of Nebraska Offer Scholarships and Grants?
There are three primary sources for scholarships and Nebraska grants for college. In addition to these, there are numerous scholarship and grant programs available through private organizations. The three main sources for financial aid in the state are as follows:
The Access College Early Scholarship: This program is intended for low-income students seeking early or dual enrollment.
The ACE Plus Scholarship Program: This program is for full-time students who have once qualified for the above program. It offers up to $1,000.
The Nebraska Opportunity Grant: The NOG extends financial aid t students who endeavor to stay within the Nebraska higher education school system.
Nebraska rightly prides itself on its quality post-secondary education system. They maintain their high level of quality by rewarding their highest achievers who choose to contribute to academics in their home state.
What is the Nebraska Regents Scholarship?
The Regents Scholarship offers full tuition to resident Nebraska students with a GPA of no less than 3.5 in high school. They must also uphold this GPA through their college courses in order to remain eligible. It requires a commitment to no less than 135 credit hours or the successful completion of a bachelor's degree. The Nebraska regents scholarship qualifications also consider students in the upper 25% of their high school class, in the event that none have the normally requisite 3.5 GPA- which does occasionally happen.
For consideration, freshmen are required to complete their admissions application and submit all of the supporting documents by the first of February. These documents include the SAT or ACT. Online applications are available at admissions.unl.edu/apply.
Additional Requirements:
The commitments can be renewed as long as the student maintains a cumulative GPA of 3.5 (or a student ranks in the upper 25% of the class in an accredited undergraduate college), and 24 credit hours are completed each year, and a minimum of nine graded hours (pass/no pass are not considered for eligibility) are successfully completed each semester.
Are there Scholarships for Nurses in Nebraska?
Nurses and the valuable services they provide are in higher demand than ever, and the demand will only rise according to all relevant projections. In recognition of this, scholarships and grants are available through private institutions, public education institutions, healthcare organizations, major hospitals all across the country, and more. This is just as true in the state of Nebraska as it is anywhere else. That means, if you're a Nebraska resident who wishes to study nursing and do not want to leave your home state for training and work- the world is your oyster- as there are numerous Nebraska nursing scholarships available.
The following programs offer nursing scholarships in Nebraska and tuition assistance to undergraduate nurses, and nurses pursuing postgraduate training;
Nebraska Legion Auxiliary Licensed Practical Nursing Scholarship: Directed at veterans and their families. Visit www.nebraskalegionaux.net.
Nebraska Legion Auxiliary Nurse's Gift Tuition Scholarship: Similar to the above fund, this scholarship program differs each year and can be obtained through the same site.
Bill and Mary Russell Health Care Scholarship: For students currently enrolled in a nursing program who are residents in one of the four counties in the Midwestern Four Corners service region. See www.heartlandfoundation.org.
Jerry Maki Scholarship: Directed at nursing students in need of financial assistance. Visit the Foundation to learn more.
Related Rankings: 
Best Online Colleges in Nebraska