The United States is in the midst of an exciting demographic shift, as the American population is expected to reach a non-Caucasian majority by the year 2050. The fastest-growing minority population in the US is Latinx, and a large proportion of those people are children. In fact, it's estimated that Latinos make up one of the nation's youngest ethnic/racial groups. Incredibly, over the next two decades, about 1 million Latinos will turn 18 each year.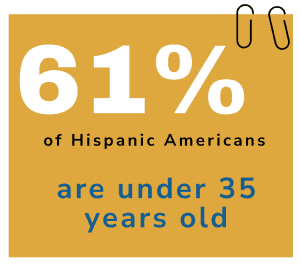 As more Hispanic and Latinx young people reach adulthood and choose to go to college, the higher education system will see significant changes. Just a few generations ago, college was almost exclusively for the white upper and upper-middle-class; today, colleges are some of the most diverse places in the nation.
Nearly 95% of Latino youth (not yet 18) have been born in the United States. Young Latinos had parents who were a member of the generation that lost about two-thirds of its wealth in the 2008-2009 recession. According to Pew Research, the largest group of Americans in the United States that are under the age of 35 have Hispanic heritage.
What is the Difference Between Hispanic & Latino?
It's important for prospective students and their families to know how different institutions define their terms. Hispanic and Latino/a have years of usage, but when it comes to issues like scholarship and grant qualifications or recruiting, how a college defines Hispanic and Latino can have real impacts.
The terms Latino and Hispanic refer to one's cultural or ethnic identity. These terms share cultural overlaps (like race, and physical features, among others), making them a bit confusing. But the fundamental difference between the two terms is that Latino refers specifically to a geographic location – Latin America.
Hispanic (which is a word that has been derived from the Latin word for the word Spain) is a reference that is closely related to one's language. It refers to those whose heritage includes any Spanish-speaking country. People who hail from Mexico, Cuba, or Argentina represent those whose cultures overlap and belong to both Hispanic and Latino cultures.
What is Latinx?
Latinx is a gender-neutral term. Its use has been documented for over a decade by either Hispanic or Latin American LGBTQ community members. Latinx is used to replace the gender-specific Spanish terms Latina (feminine) or Latino (male). The term Latinx does not refer to someone's race but is a direct reference to their culture. Latinx was thrust into the headlines after the tragic mass shooting in Orlando's nightclub Pulse. The plural of Latinx is Latinxs.
What is a Hispanic-Serving Institution?
An HIS (Hispanic-Serving Institution) is a recognized institution of higher learning that meets the following criteria –
A Hispanic-Service Institution is defined as an eligible institution, which is, in part, includes being accredited and operating as a not-for-profit. (20 USC 1101a(a)(2))
A Hispanic-Service Institution has an undergraduate Hispanic enrollment of full-time-equivalent (FTE) students that exceeds 25% of total enrollment. (20 USC 1101a(a)(2))
In the school year 2020 – 2021, there were 559 Hispanic-Serving Institutions (HSIs) in Washington DC, Puerto Rico, plus 29 states. Two-thirds of Hispanic-Service Institutions operate as public higher learning institutions, and six out of ten are four-year schools. Hispanic-serving Institutions have diverse sizes and serve a wide variety of communities.
These Hispanic-Service Institutions represent about 2/3 of enrolled undergraduate Latinos and about 18% of all higher learning institutions. The following chart represents a breakdown of all Hispanic-Service Institutions' student enrollment. Note that the Hispanic or Latino enrollment at Hispanic-Service Institutions does not even reach 50%, which speaks to the quality of the education offered.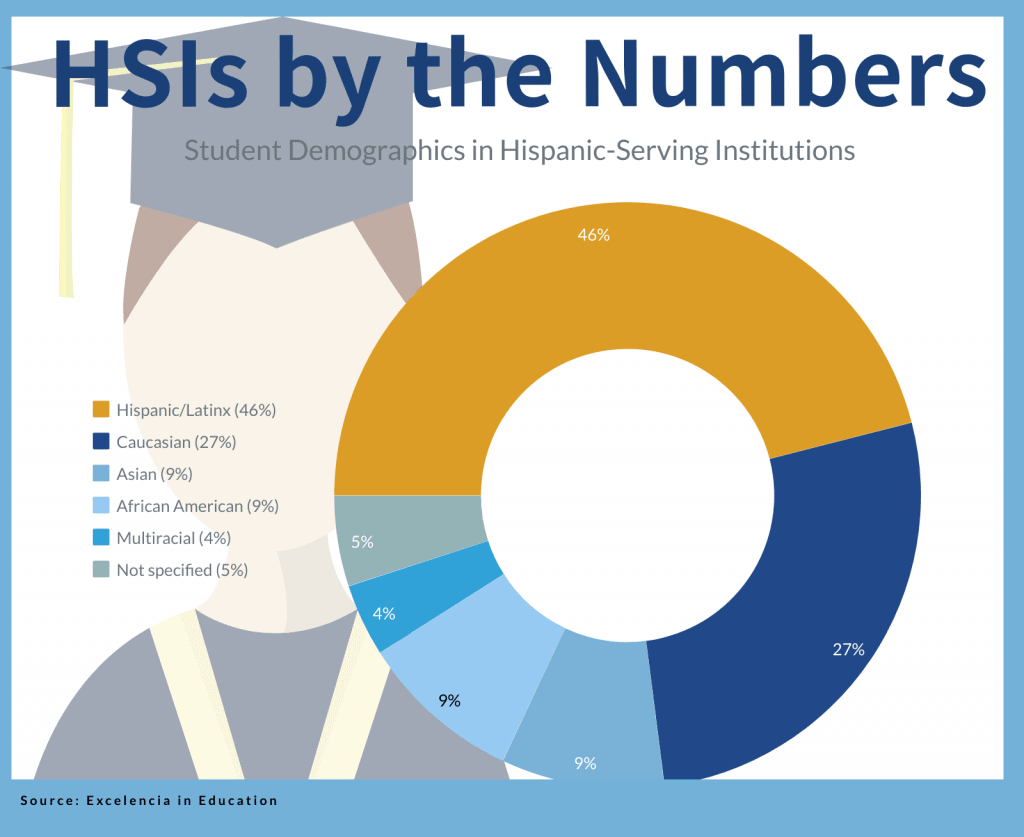 The Seal of Excelencia
Excelencia in Education issues the "Seal of Excelencia" as a means to identify those higher learning institutions that went beyond enrollment to enhance service to Latino learners. The award is based on criteria that include practice, data, and leadership. Of the two dozen institutions that have been awarded the Seal of Excelencia – 23 are recognized as Hispanic-servicing Institutions.
Hispanic/Latinx Student Debt Stats
Approximately 72% of Latino/Hispanic students use student loans in order to attend college, which is about 10% more than their non-Latino/Hispanic counterparts at (66%), according to the SBPC (Student Borrower Protection Center – "Disparate Debts," studies have shown that student debt issues are disproportionately swallowed by black and Latinx college students.
The financial disparities for non-Hispanic student borrowers are even evident a dozen years after a student graduates, when –
Latino student borrowers had a student loan balance of 83% of the original balance – or 17% had been paid off.
White student borrowers had a student loan balance equal to 65% of the original balance – or 35% had been paid off – more than twice the amount paid by a Latino student borrower.
Hispanic and Latinx Entrepreneurship
Growing numbers of Hispanic and Latinx college graduates are making a major impact on business in all professions. According to All Business, small-business ownership has exploded among Hispanic and Latinx entrepreneurs. The Latino Business Action Network (LBAN) and the Stanford Latino Entrepreneurship Initiative (SLEI) has found that in the last decade, Latin-owned businesses have grown by 44%, employment at Latin-owned businesses is up by 55%, and this growth is in all business sectors – including 19% in the tech industry.
We can only expect to see more Hispanic and Latin-owned businesses over the coming decades. The growth in Hispanic and Latinx college enrollment means more diversity across sectors and professions.
Legal Resources for Hispanic and Latinx College Students
Hispanic and Latinx college students face obstacles that many other students do not, particularly those who are first-generation Americans, first-generation college students, or undocumented. Even those who fit none of those descriptors may face discrimination from administration, faculty, or other students.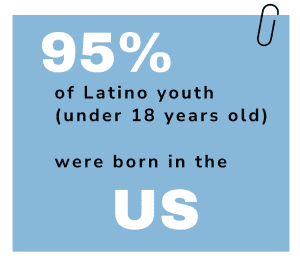 Fortunately, there is a variety of legal resources available to Hispanic and Latino students if they need guidance with regard to their rights as a student, citizens, and borrowers/consumers. Their services vary and may include assistance, advice, or legal representation if the situation warrants it.
CLUES
CLUES – Comunidades Latinas Unidas En Servicio was founded in the early 1980s as a nonprofit developed to advocate and serve the Latino community.
The Commission on Hispanic Legal Rights & Responsibilities (ABA)
The American Bar Association maintains the Commission on Hispanic Legal Rights and Responsibilities to support education and other initiatives of diversity and inclusion.
DACA Legal Resources – The Hispanic Association of Colleges and Universities (HACU)
Founded in the mid-1980s, the Hispanic Association of Colleges and Universities represents 500+ schools globally. DACA students in need of legal guidance can search HACU's legal resource page specifically designed to serve DACA students.
Latino Justice
Latino Justice, established in the early 1970s, is an organization that champions civil and human rights. Latino Justice seeks to create a just world by empowering the community with legal resources.
MALDEF
As the country's leading civil rights organization for Latinos, MALDEF is a tremendous legal resource for a Latino Students. MALDEF seeks to defend/protect Latino rights in America.
Campus Resources for Hispanic and Latinx College Students
Most schools offer students the resources they need as they negotiate their college careers, but many other needs are met by organizations and clubs on campus. Many schools host chapters of larger organizations designed to support the needs of specific slices of the student population. The following offers a variety of campus resources for Latino and Hispanic students.
Destino
Destino's history reaches as far back as the 1950s, with a vision to mobilize the Latino population. They are not located in seven cities and maintain nearly three dozen chapters across campuses in the United States.
Excelencia in Education
Founded in 2004, Excelencia in Education has played an integral role in helping to advocate and set trends for higher education policies that relate to Latino students.
The Hispanic Association of Colleges and Universities
The Hispanic Association of Colleges & Universities is a leader in higher education for Hispanic students across the globe – from the United States to Spain and Latin America. HACU represents more than 500 institutions of higher education across the world.
The Hispanic Outlook on Education Magazine
This magazine for Hispanics and Latino educators offers a variety of resources – from legal to technology, media, and financing, among others.
SACNAS
SACNAS is a science-based organization that was developed to serve Hispanics, Chicanos, and Native Americans. SACNAS offers a variety of helpful community resources and networking opportunities in STEM-related fields.
Scholarships for Hispanic and Latinx College Students
The push for diversity in higher education has prompted many organizations to provide scholarship and grant opportunities to give Hispanic and Latinx students a more even playing field. Scholarships are a type or form of financial aid that require no repayment. Some scholarships are awarded on an as-needed basis, while others may be granted based on ability or academic recognition. Most scholarships require an application but usually have no application fees.
Full list of Hispanic/Latinx scholarships here
The American Chemical Society's ACS Scholars Program
The American Chemical Society was founded in the 1870s. They have awarded scholarships to more than 3,000 students. The current American Chemical Society's Scholars Program awards $5,000 towards academic support.
The Brown and Caldwell Minority Scholarship (BCMS)
Founded in the 1940s, this Brown and Caldwell Minority Scholarship was developed to help solve diversity disparities in the environmental profession. This $5,000 scholarship is awarded based on academic achievement to those majoring in civil or environmental sciences.
Latino Student Fund (LSF)
The Latino Student Fund offers information and academic services to Latino students from kindergarten to twelfth grade, plus a variety of support and networking options for students who have graduated high school.
Hispanic Scholarship Fund (HSF)
The Hispanic Scholarship Fund has been awarded since the 1970s. The scholarship is awarded to exceptional Latino/Hispanic students. To date, the Hispanic Scholarship Fund has awarded more than $500 million to exceptional Latino/Hispanic students.
The NBCC Minority Fellowship Scholarship
This National Board Certified Counselors Foundation (NBCC) scholarship awards $11,000, which is one of the largest available to Latino or Hispanic students. Students who want a mental health career are eligible.
The HENAAC Scholarship
The HENAAC Scholarship has been awarded since the late 1980s. The program is available to those students of Hispanic descent who show excellent leadership skills and are pursuing a STEM-related career.
The Actuarial Foundation's Actuarial Diversity Scholarship
Established in the 1990s, the Actuarial Diversity Foundation is a nonprofit that promotes financial literacy and the actuarial industry. This $4,000 diversity scholarship is eligible to Latino/Hispanic students with a career interest in a field related to the actuarial industry.
National Hispanic/Latinx Organizations
Larger nonprofits and companies operate on the national level. The following are nationally recognized Latino/Hispanic support organizations that provide support, mentorship, networking opportunities, and more for Hispanic and Latinx college students, youth, and young professionals.
The Association of Latino Professionals for America (ALPFA)
The Association of Latino Professionals for America has been supporting Latino Professionals for five decades. More than 100,000 students and professionals from the Latino community are members with a passion for giving back. This organization's network has access to more than 50,000 paid internships during the summer.
The Hispanic Heritage Foundation (HHF)
The Hispanic Heritage Foundation is a nonprofit organization that was founded in the 1980s by the White House. Its mission is to inspire and prepare leaders throughout the Latino community. HHF offers a leadership program (LOFT Leadership) that is award-winning.
The League of United Latin American Citizens (LULAC)
As the oldest and the biggest Hispanic organization in the nation, the League of United Latin American Citizens' mission is to advocate for improvements to the lifestyle and civil rights of Hispanic Americans. More than 130,000 members belong to the League of United Latin American Citizens in the United States and Puerto Rico. The League of United Latin American Citizens serves all Hispanic nationalities.
MANA, A National Latina Organization
MANA was established in the mid-1970s by a group of women professionals in the nation's capital. It has developed into an important support organization for pan-Hispanic/Latina women. MANA's advocacy efforts are numerous and cover federal and state agencies, congress, the Supreme Court, Coalition Advocacy, and Social Media Campaigns, among others.
The National Hispanic Institute (NHI)
Established more than four decades ago, the National Hispanic Foundation was founded to serve students as well as higher learning institutions that help to advance the Hispanic community's quality of life. The NHI has helped more than 100,000 students through its various programs designed to develop the next generation's leaders to guide the Hispanic community.
UnidosUS
UnidosUS, previously called the National Council of La Raza, is recognized as the most prominent civil rights advocacy organization in the nation that serves the Hispanic community. The organization offers an affiliate network, various programs, and expert research to members in Puerto Rico and the United States and has helped more than ½ million US citizens register as voters.
Hispanic and Latinx Student Associations
Student associations are typically found on most campuses. A Student Association, as its name implies, is run by students. Membership is based on one's affiliation with the school – either a current student or an alumnus.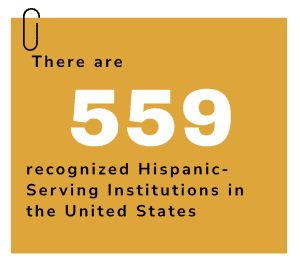 The Hispanic Latinx Law Students Association (HLLSA)
The Hispanic Latinx Law Students Association at the Chicago-Kent College of Law (part of the Illinois Institute of Technology) was established in the late-1980s to support members of the Latinx & Hispanic communities negotiate the legal arena. They offer great resources plus programs and related events throughout the school year.
The Latino Medical Student Association (LMSA)
The Latino Medical Student Association was established more than two decades ago to empower doctors to better serve the Hispanic and Latina/o/x communities within the country. The Latino Medical Student Association also offers mentorships, educational opportunities, and a Latino Medical Student Association membership that provides multiple benefits.
The National Association of Latino Fraternal Organizations
The National Association of Latino Fraternal Organizations includes seventeen fraternities/sororities that serve more than 5,000 students across the country each year. The National Association of Latino Fraternal Organizations' alumni network extends to more than 30,000, who work together to help enhance Latino communities
PorColumbia
PorColumbia is recognized as the most extensive network for professionals and students living in North America who are of Columbian descent. PorColumbia operates fifteen chapters in five states, promoting leadership initiatives and developmental opportunities. In addition, PorColumbia operates twelve campus chapters – mostly on campuses located in the eastern part of the United States.
Related:
Biggest Scholarships for Latino and Hispanic Students