Times have changed. It's impossible to argue otherwise. LGBTQ visibility is higher than just 10 years ago, and official recognition of gay rights made major strides in recent years, with issues such as same-sex marriage, the end of Don't Ask, Don't Tell in the military, and increased awareness of trans rights. However, for LGBTQ young people, it can still be a frightening time. GLAAD surveys have seen rollbacks in LGBTQ acceptance in recent years, as American political life has become more polarized, and discrimination and hate crimes are on the rise again after years of reduction. Even for online college students, discrimination can be an issue.
In short, college life might be easier for LGBTQ young people than it was a generation ago, but it's still a scary time. Preparing for college, for LGBTQ+ students, means a lot more than filling out applications and buying comforters. LGBTQ youth contemplating college have a lot of questions to ask about their recognition on campus, their opportunities to shine, and, unfortunately, even their safety. For gay, lesbian, bisexual, trans, asexual, non-binary, and every other queer youth, College Consensus has put together a comprehensive guide to determining what colleges are LGBTQ-friendly, and how to take measures to make your own college more tolerant and affirming.
To get right to the point, though, students may want to check out the Top Consensus Ranked 25 LGBTQ Friendly Colleges for 2021.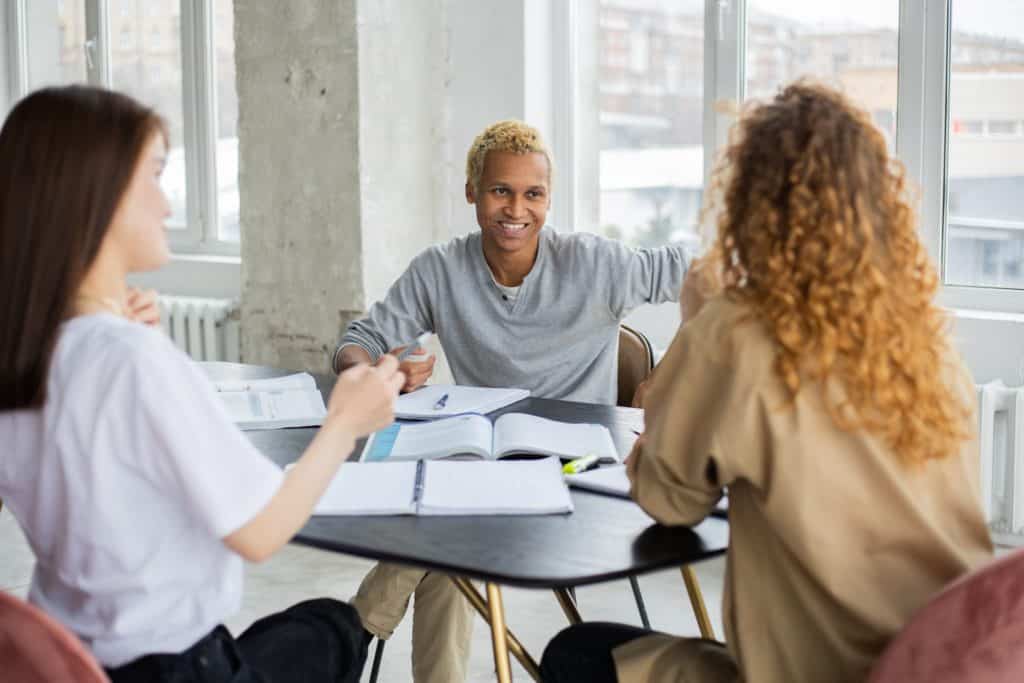 Some questions students should ask before choosing a college include:
Does the school have clearly stated policies on inclusion and diversity (beyond what might be mandated by law)?
Are on-campus counseling and advising services available?
What kind of extracurricular activities, clubs and organizations are offered on campus?
Does your school offer inclusive housing?
List of Organizations Helpful to LGBTQ College Students
The Campus Pride Index is an excellent resource for young LGBTQ students choosing a college. Campus Pride is a nonprofit dedicated to creating safe environments for queer students across the US, and the Campus Pride Index rates institutions based on their support for LGBTQ students.
The Center – short for New York's Lesbian, Gay, Bisexual & Transgender Community Center – is one of the world's most significant LGBTQ advocacy networks, including extensive youth outreach, education, and leadership training for young people.
CenterLink helps local LGBTQ community centers connect and support each other on a nation-wide scale. CenterLink currently helps more than 250 centers across 45 states.
GLAAD is probably the best-known LGBTQ advocacy organization, dating back to 1985. Today GLAAD is an influential voice in media for queer people of color, trans people, and all parts of the LGBTQI+ spectrum.
The Human Rights Campaign's 3 million members and supporters have spent more than 40 years advocating for fairness and equality for LGBTQ people in every avenue, from labor and housing to healthcare and, of course, education.
Founded by the parents of the young man tragically murdered in 1998, the Matthew Shepard Foundation has worked for decades to enact hate crime legislation and provide training and resources for communities to stop hate.
PFLAG is the first and the largest organization for families and allies of LGBTQ people, beginning in 1973 as a support network for the parents of gay young people. Today, with more than 400 chapters nationwide, PFLAG is a major advocate for LGBTQ youth, their families, and their loved ones.
The Trevor Project is an essential national organization dedicated to suicide prevention and crisis intervention for LGBTQ youth under 25 years old. Young people can reach out anonymously to connect with a trained counselor.
Transgender-Specific Resources
Make a Checklist!
Trans students choosing a college face struggles that overlap with other LGBQ students, but must also cope with challenges unique to their experience. Here are some important questions trans, nonbinary, and nonconforming students must consider in choosing a college:
Campus Living:
Are there gender neutral restrooms on campus?
Is there an inclusive housing option?
Student Life:
Is there an active LGBTQ student center/organization?
Are there any transgender student clubs/suppoort networks on campus?
Does the student ID policy allow trans students to use their updated name?
Are transgender students allowed to participate in college athletics in their correct gender?
Student Health:
Does student healthcare have resources for trans health?
Do student insurance policies address trans health?
Are counselors in the Student Mental Health Center experienced with/certified in transgender student concerns?
Resources
Mental Health for LGBTQ College Students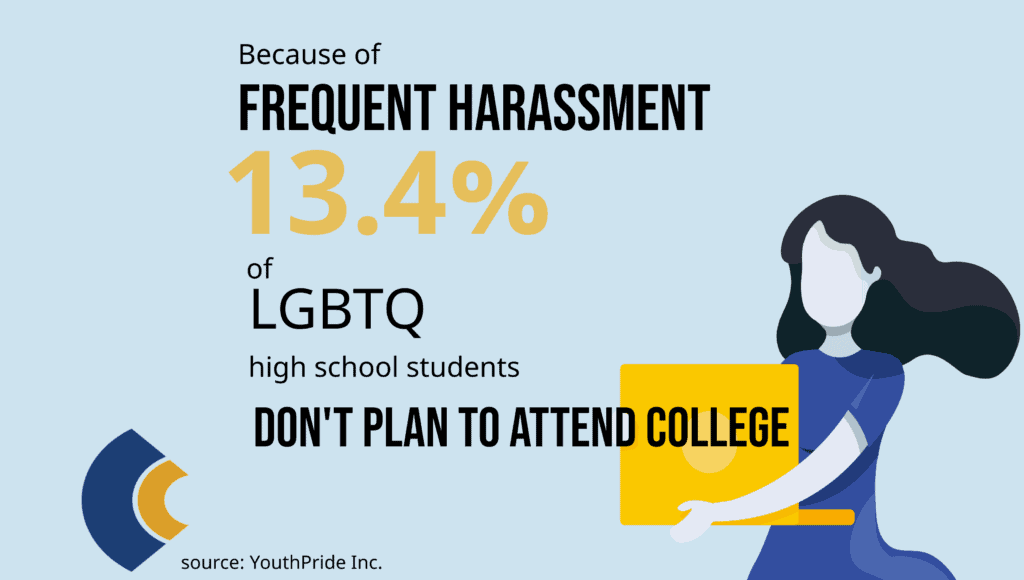 LGBTQ Campus Safety
LGBTQ-Specific Scholarships and Grants
Political Resources: Understanding Your Rights
Because of the sacrifices and labor of previous generations, LGBTQ college students today have a wealth of resources, support, advocates, and allies in academia that students of yesterday could only dream of. But the campaign for inclusion, equality, and fairness is by no means over. Anti-LGBTQ forces are working just as hard to overturn advances and protect discriminatory practices in private and public education. The long battle over the Equality Act is just one of the most prominent. These contests take place in the courts, in state and federal legislatures, in city councils, and in the boardrooms and faculty meetings of colleges and universities across America.
Some resources for LGBTQ students who face discrimination: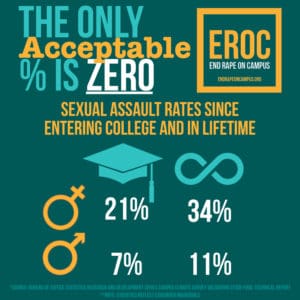 Student-Led Organizations
Many colleges have student-led organizations. For instance, Tufts University has student-led organizations, support groups, discussion groups, and outreach teams. They have Team Q, which is a Peer Leader program for first-year and transfer students. Peer Leaders are just that, current students enrolled at the same school to provide peer support to fellow students. It allows students to meet new people and learn about gender in a welcoming, supportive, and open place. They offer guidance and resources and plan social events as a great introduction to the University. These types of organizations instill campus pride in students and creates a community. Discussion groups meet to discuss a pre-determined topic; usually one group talks about the same topic or issue at every meeting. When choosing LGBT-friendly colleges, students should make sure there are organizations such as these available.
For students currently at a college, or would like to go to a school that doesn't currently have a student led organization that fits their needs, they can start a group. Every school has a list of standards or a guidebook for creating student organizations. Before starting a group, there are some considerations a student should make.
1. First research and make sure to know the rules and standards of the school and any specific organization requirements if it's a new chapter of an existing organization.
2. Have a mission in mind and write it down. Students will have to present the idea for this organization and they should have clear goals and objective outlined.
3. Students should also have a plan of how to achieve the goals. Students should put together some requirements for membership, offers duties, and any fundraising ideas. Get participation from friends and classmates who may be interested in this organization. The more people that are excited about this group, the more likely it can be established. The school may require that there are a minimum number of participants to get the group started.
4. Students should get faculty sponsorship. Reach out to an administrator or instructor that might be willing to sponsor, or advise the group. Gaining buy-in from instructors who might help champion the cause is always a smart move.
After taking these steps, it's time to get the club approved by the school. It is hard work to start up a student run organization, but it is just as much work to keep it going. Once the group is approved, students must work hard to gain and keep momentum.
Many schools offer official mentorships as a part of their mission. In other situations, mentorships happens in more unofficial ways. A mentor can be someone that offers guidance or support during a challenging time, or during a school year. A mentor is someone to whom a student can turn to help them navigate the rigors of study, the new challenges of being a freshman, or even someone struggling with identity, sexuality, and gender.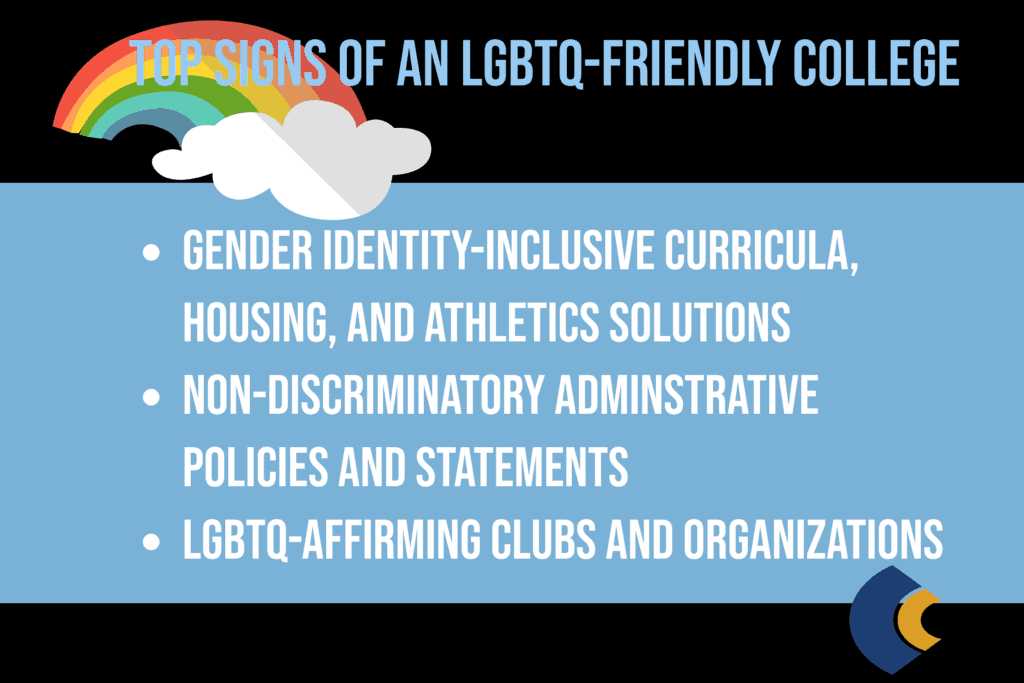 What Official College Organizations, Centers, and Resources Are Available?
Many colleges and universities have dedicated LGBTQ centers. Each of them offer something a little different. Students should look closely at the LGBTQ center at their school of interest. It may be called something a little different like Q Center, or Queer Resource Center, or LGBT Equity Center. One of the best colleges for LGBT students is Princeton. They have a LGBT Center. Their mission is to support lesbian, gay, bisexual, transgender, queer, questioning, intersex, and asexual students and employees through education, community building, and initiatives. They want to affirm students exploring their identities in a/sexuality, a/gender, race, ability, religion, and class. In addition to offering education, counseling, and a safe and supportive place, they offer a programming calendar with weekly events ranging from lectures and lunch discussions to films and performances. LGBTQ resource centers may also offer special scholarships for LGBTQ students.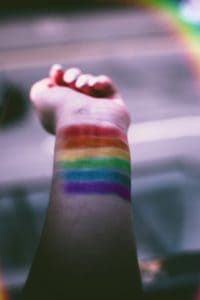 Students should look for a school that has a zero tolerance policy for bullying. In addition to having anti-bullying campaigns in place, they also may offer a task force responding to criminal acts of bullying and misconduct. Students should feel that they are safe and protected on campus, so they should be sure to know the schools policies and the ways that the school enforces those policies. Make sure there is action behind the words. Counseling is essential for students and staff alike. Students need to have a safe outlet in which to talk about issues they are having. It may be personal issues, or issues within the school, or issues with a specific person.
Even in the most open and welcoming school, faculty and staff, and even other students may not understand what it means to be open. We are in the midst of a deeper understanding about identity and gender and some have difficulty with changing thoughts or philosophies. It may be a matter of needing education and training. LGBT students should be sure to pick a school that offers constant education to students, faculty, and the administration. Education in proper use of pronouns and how to have a conversation with someone about proper pronouns without being offensive. Most importantly, how to apologize when someone has been offended. Educational seminars or trainings in sexuality, or asexuality, gender and understanding gender, and the true meaning of consent are important to offer often on campus. Education is the greatest tool when it comes to beating ignorance and misunderstanding. People are often afraid of what they don't understand, so be sure to go to a school that strives to help people understand.
What Housing Policies Should A School Have?
Schools have many different types of housing policies. LGBT students should make sure that the school in which they are interested has the right housing arrangement for them. All students have a right to housing that make every student feel safe and comfortable and have an enjoyable living on campus experience. The different types of housing could be gender neutral housing, which is when a student is placed in a room without regard for gender or sex. Students may be roomed with someone of the same or different gender or sex assigned at birth. All students assigned to gender neutral housing are agreeable to be in that type of housing. However, many colleges do not allow Freshman to select gender neutral housing. The Human Rights Campaign provides a list of schools that offer gender neutral housing.
Coed dorms are buildings that have different genders living in the same building. The individuals in the rooms are the same gender. The genders may be separated by floors, wings, or halls, but they may not be. There may be students of one gender living across the hall from students of a different gender.
Gender Inclusive Housing is similar to gender neutral housing but it just a little different. It is available to students who would like to share a room with two or more other students regardless of their gender identity, gender expression, or sexual orientation.
These housing choices gives students broader opportunities for roommates and helps ensure living arrangements that are welcoming and inclusive for all members of our community. There are beneficial to those beginning to discover their gender identity, or those who choose not to identify themselves by gender. They are open to members and allies of LGBTQ+ communities and students who feel more comfortable with a roommate of a different gender. These are the kinds of things an LGBTQ student should take into consideration during campus tours.
What Inclusive Policies Should A School Have?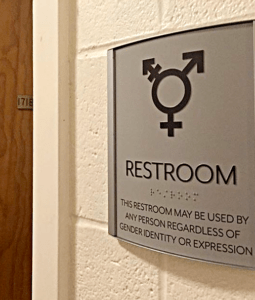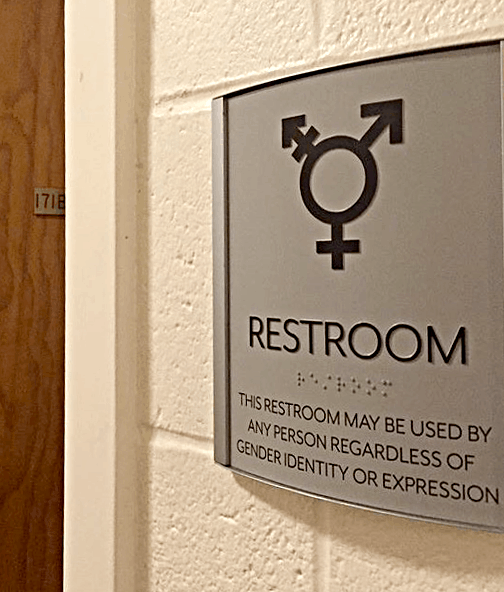 LGBT students should look into the inclusion policies of any school of interest. LGBT schools offer things such as safe bathroom policies, safe athletic policies and have inclusive hiring policies. Gender neutral bathroom make sure that everyone is able to use the right bathroom for them. They have signs on them to indicate gender neutral or all gender. Many schools are adding single occupancy bathrooms with gender neutral language. Small changes such as these can go a long way to prevent LGBT discrimination on college campuses.
GLSEN.org states one third of LGBT students avoid PE classes and four in ten avoid locker rooms because of feeling unsafe or uncomfortable. Students should look for schools that have athletic policies to protect LGBT athletes. Some schools offer all use locker rooms which provide a sink, toilet, and shower all in one locking room to be used by all genders. College recreation centers should also be aware of the needs of trans and non-binary students in their locker room policies. LGBT schools are mindful of the issues that students face and they work hard to put programs in place to provide assistance and remove barriers.
Many colleges across the country are embracing the use of gender neutral pronouns. Schools are allowing students to pick the pronoun that is comfortable for them. The student can select the pronoun upon registration and it will be used on all school records and in school databases. Professors of students choosing a different pronoun are alerted before classes start so they are sure to use the correct pronoun. In addition, schools are offering education to professors, instructors, administration, and students on which pronouns are used, how to ask someone what pronoun to use, and how to apologize when a mistake is made. Educating people across campuses across the country is just as important as being accepting. Look for colleges that are willing to educate, as well as be accepting.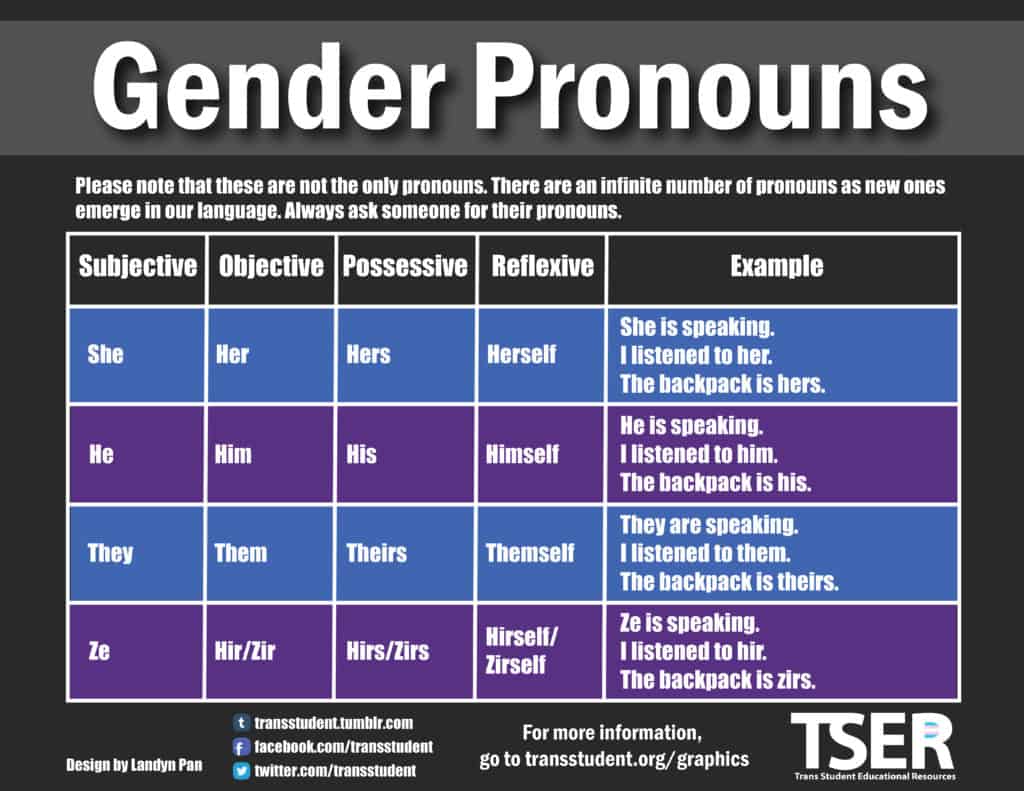 Students should look at the staff and instructors of the university in which they are interested. Students should make sure the school prohibits discrimination in hiring based on sexual orientation and gender identity or gender expression. LGBT students should be sure the school they choose has a staff in which they can relate and turn to for mentoring, or even guidance through difficult situations.
What Health Services Should Colleges Provide?
The National Center for Biotechnology Information (NCBI) performed a study showing that LGBT students are more likely to use health services, such as counseling, but this population of students may have more trouble accessing the help they need. Complete health services for LGBT students includes mental, physical, and emotional care. Most universities and colleges offer health insurance and have a healthcare facility on campus, but only some cover the range of needs specific to LGBT students, especially trans students. It is important for LGBT students to make sure whichever college they choose, it has appropriate health services. The confidentiality policies of the school are also incredibly important. Students need to feel comfortable with every person in which they interact. Students should choose a school that protects every students identity, and whatever issues they may be having.
Wellness centers should make students' wellness and health a priority and part of their campus life. Students should be able to discuss and address issues of stress, mental health, resilience, happiness, personal and academic goals. Wellness should be a focus on multiple areas pertaining to the individual. A student should be encouraged to focus on emotional health and learn to work through all emotions, good and bad. Students should be taught to learn from their experiences and develop and grow, but also work on techniques to help them deal with everyday situations. Sexual wellness should also be a priority where students are taught respectful conduct with sexual consent. Other issues should be addressed such as contraception, condoms, STDs, HIV/AIDS. HIV education, as well as free and anonymous HIV/STI testing, should be one of the top topics of discussion centered around sexual health.
The purpose of these centers are to empower students and health partners to advance their own wellness in their lives and on campus. Faculty and the administration work with students to help them build a culture across campus by allowing them to be open and human to strengthen themselves and the community. They offer LGBT trained doctors, nurses, and counselors, in addition to LGBT specific counseling. They offer health insurance covering hormone therapy, gender reassignment surgeries, and voice modification programs. They also take care to respect and use the students preferred name and pronoun.
A wellness center should have trans-affirming policies and healthcare that includes access to comprehensive services including primary care, gynecological care, and counseling. They should have gender affirming hormone therapy and gender affirming gynecological and sexual health care, including cervical cancer screening and pelvic exams. The wellness should be able to make referrals for gender affirming surgery and to specialists and other trans competent providers in the local area.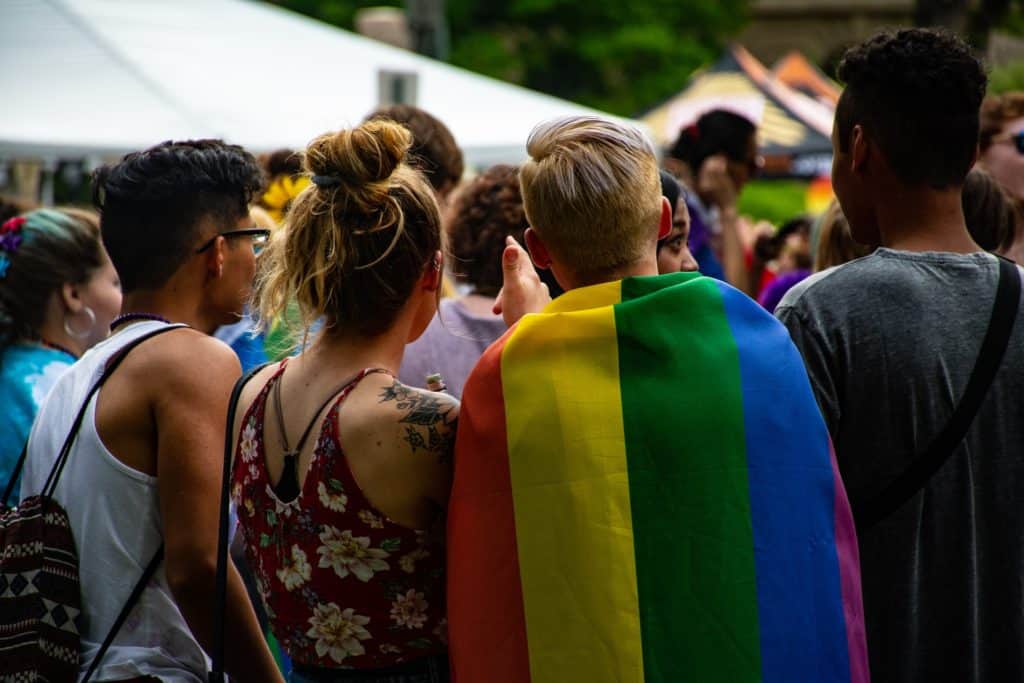 What Events And Educational Opportunities Should A School Provide?
Educating and training students, staff and administration should be a constant priority of all colleges and universities. These gender activities for college students and staff should encompass many areas including, but not limited to bias, trans inclusion, hate crime prevention, and use of language, names, and pronouns. Many LGBT Resource Centers offer free trainings and workshops, including LGBT speakers. One of the best LGBT friendly schools, Rutgers has their LGBT leadership in classrooms teaching about language, nonconforming identities, and building inclusive communities. Many schools offer workshops and discussion groups on subjects such as how to be an ally to the LGBT community, transgender identities, and many other important and current topics. Resources such as these have a far and wide reach into the community to encourage awareness, inclusively, and breaking down the walls of bias and hate.
Many colleges have incorporated Queer and LGBT studies into their Woman and Gender departments, and degree programs. This area is growing quickly and the demand is high for experts in these areas. Even though students may not want to acquire degrees in LGBT or Women's studies, they should still ensure that the college of their choice has a diverse offering in these areas. They should ensure that there are courses devoted to encouraging students to think about and understand areas of sexuality, identity, desire, race, relationships, being and becoming. Sexuality isn't what people once thought it was. Gender, identity, sexuality are all fluid concepts and ideas. Students should make sure they pick a school that allows them to explore the different thoughts and ideas in all areas. Students should look for courses that encourage discussion about gender and sexuality as part of the formulation of self.
Students should look for schools that incorporate the works of lesbian, gay, bisexual, and transgender individuals into their coursework. There should be LGBT writers, scientists, scholars, and leaders present throughout the curriculum, even if the course isn't geared towards an LGBT concentration. Students should look at syllabi and ensure there is work from women, people of color, and LGBT individuals. There should be a LGBT specific library. Schools should have LGBT faculty, administrators, and staff that are out. There should be a heavy emphasis on multi-disciplinary approach to coursework.
Students should make sure their school encourages student engagement in ethical and political debates about equality and justice in the world, the community, and even the school. Students should be free to openly engage in conversations about identity and gender and sexuality. They should have the freedom to talk openly about their own identity or the path they are currently on in discovering their own identity. Students should also have the freedom to ask questions about things they don't understand in the hopes of gaining an understanding and to be able to supportive of the community around them.
What To Do If Your College Is Not LGBT Friendly
All colleges and universities have substantive non discrimination policies that reflect a fundamental priority on student protection and service. Some schools post their policies online. Campus Pride provides a full checklist of how to support LGBT students and what to look for in a campus to check to see if they have inclusive policies. Even if schools don't seem to be outwardly LGBT friendly, it doesn't mean that they aren't. They could be slow in openly showing their acceptance. They may not know the right way to go about showing their acceptance. It is possible that they are not accepting of LGBT students. Some of the policies that students should look for are non discrimination statements that include gender and orientation. The school should allow students to change their names and gender identity on school forms. Students should look for a LGBT advisory committee. Schools should offer health insurance to same sex partners of faculty, as well as health insurance covering specific LGBT issues.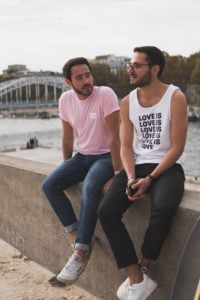 LGBT students have a right to feel safe at any school in which they choose to enroll. The Gay, Lesbian, Straight Education Network's (GLSEN) School Climate Survey reported 55.5% of LGBT students felt unsafe at school because of their sexual orientation, and 37.8% because of their gender expression. It also stated over a third avoided gender-segregated spaces in school because they felt unsafe or uncomfortable. 74.1% of LGBT students were verbally harassed because of their sexual orientation and 55.2% because of their gender expression. 36.2% were physically harassed because of their sexual orientation and 22.7% because of their gender expression. 56.7% of LGBT students who were harassed or assaulted in school did not report the incident to school staff, most commonly because they doubted that effective intervention would occur or the situation could become worse if reported.
LGBTQ students feel that interactions with well informed and understanding instructors and faculty means the difference between success and failure in college. Schools that are aware of this ideal and offer employees orientation and training courses on subjects pertaining to the LGBTQ student population. They should offer LGBTQ faculty and peer mentoring programs, which pairs students with LGBTQ faculty members or upperclassmen to provide help with the often difficult adjustment to college life. Mentors provide advice in many areas including academics and personal, social, and career goals.
Students who attend school at an institution that doesn't currently have services that are LGBT friendly should start an organization that would be a safe place for LGBT students to gain information, support each other, and be in a sensitive and caring place. Students can create a social media program or discussion group that can connect and discuss issues and concerns. Students could run for a student council office to position themselves in a position where they can make real changes in the school. Because many LGBTQ students may feel intimidated or in danger, this is a place where straight allies can be crucial. The work you do now will make the difference for LGBTQ college students now, and tomorrow.