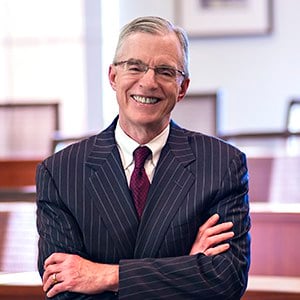 As prospective students begin to search for a business school with the right business degree, their minds are filled with many questions. Most business school websites reveal information about tuition, professors, online programs, co-curricular activities, credit hours, degree options, and volunteer opportunities. But, what is the underlying story behind it all? What motivates the administrative decisions? How is the curriculum designed? College Consensus had the honor of connecting with Dr. John Delaney, Dean of the Kogod School of Business at American University to discover the story.
American University sits on 84 acres of beautiful land within our nation's capital, Washington, D.C. It is a private research university accredited by the Middle States Commission on Higher Education and began in 1893. It takes pride in its diversity and inclusivity, and carries the slogan: "For God and Country." It has over 14,000 students working towards Bachelor's, Master's, and Doctoral degrees through the eight different schools and colleges. AU graduates have become Congressional members, mayors, senators, CEOs, political analysts, the President of CBS News, and even the President of Sierra Leone.
In 1955, the Kogod School of Business opened its doors as the first business school in D.C. It has been AACSB-accredited since 1991. Undergraduate business students can earn a Bachelor's in Business Administration, Finance, Business & Entertainment, Accounting, or Business, Language & Cultural Studies. Graduate business students pursue a Masters in Business Administration, Marketing, Analytics, Sustainability Management, Accounting, Finance, Taxation, or Real Estate. Business specializations include Entrepreneurship, International Business, Management, and Information Systems & Technology. For easy access and added flexibility in schedule, Kogod offers an online MBA, Masters in Analytics, Masters in International Relations & Business, and an online Masters in Marketing Analytics.
College Consensus has ranked American University among the Best Online Colleges & Universities in Washington, D.C., Best Colleges & Universities in Washington, D.C., #15 Best Online Masters in Analytics Management, Best Online Masters in Marketing Management, and Best Online Masters in International Management.
College Consensus: Please tell us about the Kogod School of Business, and what makes it unique?
Dr. Delaney: At Kogod, we are driven by a singular purpose—to enact meaningful change through business. That purpose comes to life though through our approach to learning—learning by doing. We like to say that many schools teach business, but Kogod uses business as a force for meaningful change. Our location in Washington, D.C. is central to our ability to succeed in this ambitious goal. It is one of those areas that has immense potential to change the world. Our thriving business community, combined with many non-profit, NGO, and governmental organizations with local headquarters but global reach, creates the perfect climate for innovation and impact.
College Consensus: What do you look for in successful applicants to your business school?
Dr. Delaney: As a school, we look at every applicant in their entirety—their accomplishments thus far, but also their goals, hopes, and dreams. Ultimately, we seek to find impactful innovators—those who are motivated to leave a lasting impact on business and society. We give students exposure to the government regulation and policy world, so they understand how to navigate and make a bigger difference.
College Consensus: How do you support your business students to leverage them into a career after graduation?
Dr. Delaney: At Kogod, every student has a dedicated team of career coaches who can offer access to an exclusive network of sought-after employers and who prepare them to translate skills and interests into a successful career. However, the centerpiece of our approach is to provide students with systematic engaged learning to produce outstanding career outcomes. The initiative at the center of this value proposition is called Kogod in Practice. It offers students access to co-op programs, exclusive internships, opportunities for pro-bono consulting on real company projects, and full-time jobs.
Activities included in many of our courses also fit under the umbrella of Kogod in Practice, including global consulting practicum requirements for students in MBA and sustainability business programs, industry certifications built into our programs, capstone practicum projects in most of our disciplines, and the Financial Services and Information Technology (FSIT) Laboratory. Kogod in Practice is particularly valuable at a time when the COVID-19 crisis threatens job outcomes for all schools. Through this initiative, we partnered with a startup to create a custom AI platform to match student skills to those exclusive jobs and internships.
College Consensus: Is there anything going on within your business education community that you are particularly excited about?
Dr. Delaney: Although the past few months have been difficult for all schools and universities, I am incredibly encouraged by the way we leveraged digital approaches to provide high-quality classes to students during the pandemic. The situation accelerated many advances that were years in the making and promises to improve students' educational options and experiences. We showed that we could move at an anxiety-inducing pace when necessary, and this will guide in a brand-new era of creativity and innovation in our programs.
College Consensus: What can you tell us about your online offerings?
Dr. Delaney: American University's Kogod School of Business has run top-ranked online business programs for more than five years. The success of our programs is grounded in the design of the immersive experience, both online and in-person, which was informed by our belief that you learn best by doing. In fact, we are now using our experience of running successful online programs to enrich our residential experience and continue to deliver top-quality education in an immersive and safe way.
The U.S. News & World Report recognized Kogod as the #12 Online MBA for Management and #7 Online MBA for Marketing in 2020. Other rankings media have also given Kogod strong marks. The online MBA was ranked #17 in North America in the latest CEO Magazine, Princeton Review ranked us #20 in the U.S., and QS placed the online MBA program #6 in the U.S. and #19 in the world.
A significant driver for these wonderful recognitions has been our investment in creating online offerings that include synchronous and immersion elements—the exact same approach we will be taking this fall for all of our programs.
College Consensus: Anything else you'd like to say about your programs and school?
Dr. Delaney: We are at a pivotal moment for humanity, in which changes in our environment are threatening the health of our people, the economy, our livelihood, and our planet. This pivotal moment affords a unique opportunity to make a difference. As businesses respond to these unimaginable circumstances and race to implement safe and sustainable practices, they will seek inspired and skilled talent ready to advance those ambitions from day one. This is where Kogod can help. We pride ourselves in that we leverage data to understand, teach, and apply sustainable practices throughout every business discipline. Each of our many graduate and undergraduate programs is designed to tackle those big and previously unimaginable challenges that we now seem to face daily.
Crucial Characteristics
Meaningful Change: I think it is safe to say that most people desire to positively and meaningfully affect change, in some way, throughout their lives. Change can impact people personally or professionally and can affect an entire society, from locally to globally. Whether they succeed at this venture is entirely up to them and their choices along the way. As Dr. Delaney stated, the Kogod School of Business strives to "enact meaningful change through business." Throughout the application process, they look for students who are motivated to make a difference in the world of business. Kogod has designed each degree program to provide students with experiential learning opportunities. These opportunities, along with the location of the University in Washington, D.C., are filled with incredible knowledge, experience, and influences, which will greatly prepare students to achieve meaningful change in the world.
Immersion: To immerse yourself in something is to involve yourself deeply, to absorb all you can. To carry on the "learn by doing" mentality, Kogod provides an incredible amount of opportunities for students to immerse themselves in the professional business world throughout their educational process. This immersion allows students to see, first-hand, how businesses are managed, and how they function, interact with professionals, apply what they have been learning, and gain hands-on experience. One way students experience immersion is through the initiative: Kogod in Practice. Through this initiative, business students participate in real-world consulting projects and have access to prestigious co-ops, internships, and jobs. The immersion experience is a priority in both residential and online degree programs and sets students up for excellent career success.
Online Offerings: We live in a digital world where information is at our fingertips and can be found, shared, and discovered instantly through the internet. Virtual classrooms have become a standard option in many educational institutions. To provide an accessible, affordable, and flexible online platform that offers as excellent of an educational experience as in-person classrooms is a great feat. Kogod has succeeded in creating and providing excellence in its online business degree programs, proven by the many top rankings the Online MBA program has received. Dr. Delaney stresses the importance of how they integrate immersion experiences into the online programs. With the current happenings involving COVID-19 and schools turning to more online classes, Kogod is ready to provide excellent online offerings for its business students.