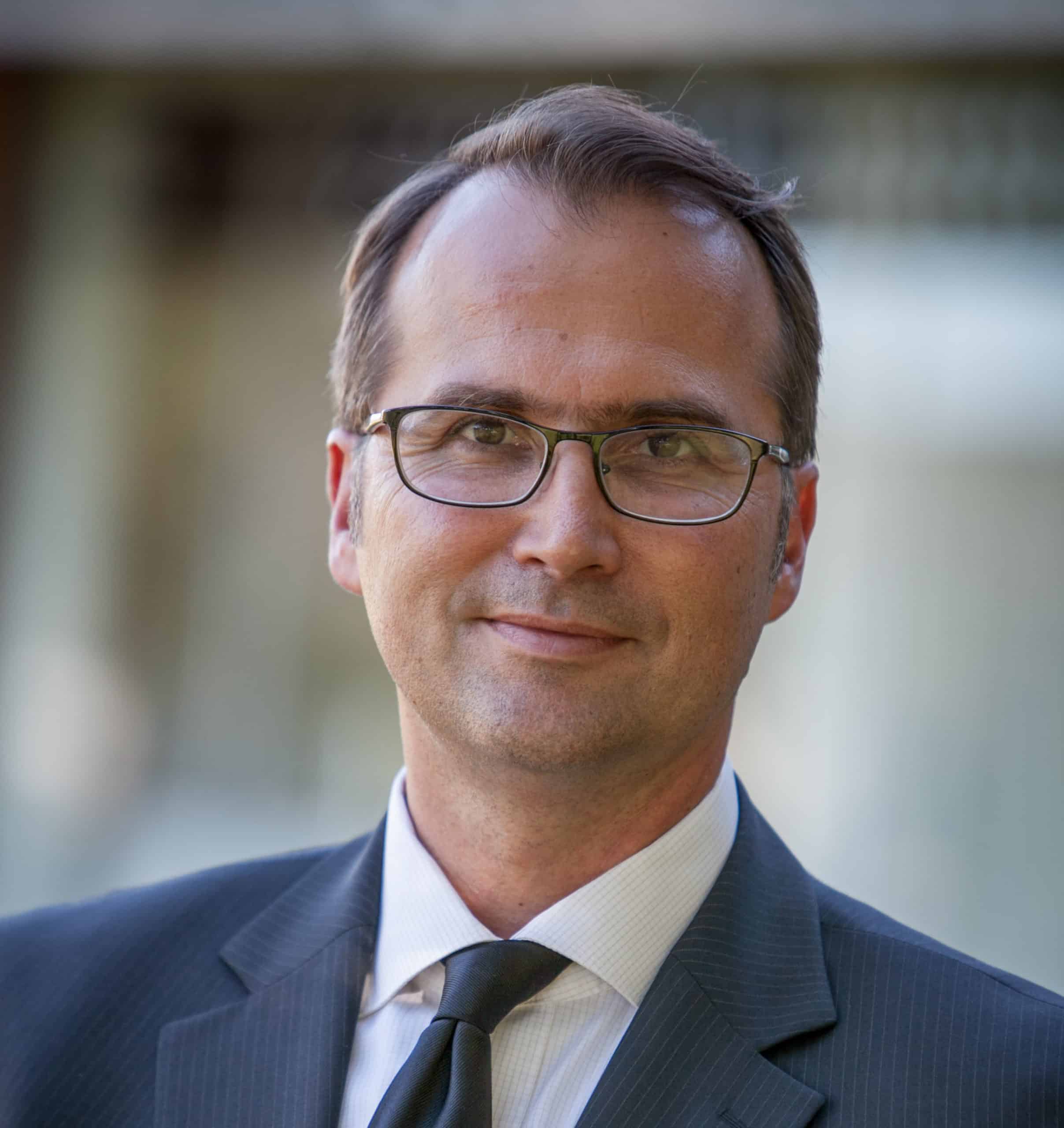 There is a colossal amount of quality business schools in the United States. It can be intimidating to decide which school is the best and offers the right degree to equip students for their desired career. Many questions about the schools and their programs fill prospective students' minds as they begin their search process. Facts about scholarships, majors, degree options, online offerings, faculty bios, accreditation, co-educational programs, and costs are readily available on school websites. But what about the more in-depth story behind these facts? College Consensus had the privilege of communicating with Dr. Gerhard Apfelthaler, Dean of the School of Management at California Lutheran University, to uncover the story.
The campus of California Lutheran University sits on a beautiful 225 acres in Thousand Oaks, California. It is about 45 miles from Los Angeles and Santa Barbara and only 20 miles from the Pacific Ocean. This private university has earned accreditation from the Accrediting Commission for Senior Colleges & Universities of the Western Association of Schools & Colleges. It was started by the Evangelical Lutheran Church in 1959 and is grounded in the Christian faith. The diverse student body of over 4,000 students represents 49 countries and many faith backgrounds, and they complete one or more of the bachelor's, master's, and doctoral degree programs available.
Of the 4,000 students, 1,400 are pursuing a business degree at the School of Management, a candidate for the ACBSP accreditation. Business students choose from undergraduate majors in Business Administration, Accounting, Sports Management, Economics, or Hospitality & Tourism Management. Graduate students have online and on-campus options. A Master's in Quantitative Economics, Information Technology, and Management can be completed on campus. A Master's in Management, Financial Planning, Business Administration, an MBA in Financial Planning, and a Master of Public Policy & Administration can be completed entirely online. The MBA offers tracks in Finance, IT, Enterprise Innovation & Entrepreneurship, Marketing, International Business, and Human Capital Management. The School of Management hosts over 120 annual events, including professional development events like Dinner with the Dean, the Entrepreneur Speaker Series, Executive Talent Management Series, and Paths to Professionalism.
College Consensus has ranked California Lutheran University among the Best Online Christian Colleges & Universities, the Best Regional Universities – West, and the Best Colleges for Veterans.
College Consensus: Please tell us about your business school and what makes it unique?
Dr. Apfelthaler: Cal Lutheran's School of Management offers both undergraduate and graduate degrees in Business, Technology, and Public Policy/Administration. We have been educating students for 35 years, have a great reputation, and have innovated continuously. For instance, we've been the first business school to offer a fully online MBA in Financial Planning nationwide, and we have programs at the cutting edge of Data Analytics and Cybersecurity. We have a program for every career stage – from our Master in Management for fresh graduates from the Sciences or Humanities to the traditional MBA for those in early career stages to an Executive MBA to mid-career professionals who are at the cusp of the next big step in their careers.
College Consensus: What do you look for in successful applicants to your business school?
Dr. Apfelthaler: We take a holistic view of our candidates for all of our programs. Apart from the usual formal admissions criteria, we look for candidates who have a passion for learning, who want to advance their careers, but who also understand that they are part of communities and that they serve society at large. We found that these are the ones most likely to succeed in our programs and in their professional lives.
College Consensus: How do you support your business students to leverage them into a career after graduation?
Dr. Apfelthaler: Over the years, we have established an excellent network with employers. For instance, through our advisory council that includes C-level executives from some of the most visible brands in California and the nation, we have access to industry leaders that we leverage for alumni. We have also structured our MBA program in a way for students to complete a guided internship as an alternative capstone, which helps both students and employers to explore how good of a fit they are.
College Consensus: Is there anything going on within your business education community you are particularly excited about?
Dr. Apfelthaler: What I am very impressed with is the work that my faculty colleagues do to augment education in the classroom. For instance, we operate a Center for Innovation and Entrepreneurship that includes a co-work and incubation space for entrepreneurs, which has created several successful startups that employ our students and graduates. Our Center for Economic Research and Forecasting is part of the Wall Street Journal's panel of economic forecasters, where students get hands-on experience.
College Consensus: What can you tell us about your online offerings?
Dr. Apfelthaler: We have been offering all of our MBA courses online since 2009. While most students opt to take their program hybrid, many have completed it as a fully online MBA. We are also adding more online offerings to our MS in Information Technology and our Master in Public Policy and Administration programs. We are replicating our intimate in-person experience in all of our online courses. We keep class sizes small and have compulsory weekly live chats that students must attend in addition to asynchronous activities such as pre-recorded lectures or discussion boards.
College Consensus: Anything else you'd like to say about your programs and school?
Dr. Apfelthaler: We make sure that we serve our students well through a high-touch approach. Our average class size in the MBA program is around 15 students, so the experience is very interactive. All of our staff and faculty members are accessible and have one goal – to see our students succeed. We also believe that education doesn't only happen in the classroom. Therefore, we offer extra-curricular activities such as events with industry speakers, case competitions, and our annual new venture competition where students can test their skills and network with the business community.
Crucial Characteristics
Leading-edge: With how technology is rapidly changing before our eyes, businesses need to employ those who have acquired an in-depth knowledge of technology's evolving concepts and functions. The business education programs that focus on using technology in business and adapting their programs to prepare students for the current and growing technological advances provide unique advantages for their students. The School of Management delivers leading-edge technical programs, including graduate certificates in Information Technology Management, Data Analytics, and Cybersecurity; a Post-MBA Certificate in IT Management; and a Master's in IT with tracks in IT Management, Cybersecurity, and Data Analytics. The advances in technology also impact the financial industry. As Dr. Apfelthaler mentions, the School of Management was the first in the nation to create an entirely online MBA in Financial Planning. These innovative, leading-edge programs truly prepare students to succeed in the competitive world of business.
Service: Being a part of a university that values Lutheran traditions, the School of Management integrates Christian principles throughout its degree programs. One of the principles involves community engagement through service. The University's mission states they are "committed to service," and the School of Management's mission states that they "prepare students through community engagement." As stated above, it is essential for applicants to actively serve their communities and continue to do so after becoming students. The University provides services opportunities through the Community Service Center, where students can volunteer for an Alternative Spring Break trip, the SEED (Sustainable Edible Education) Project community garden, or complete an internship with a non-profit organization. Service sets students up for personal and professional success.
Professional Network: Students need to connect with local business leaders, executives, entrepreneurs, and professional alumni during undergraduate and graduate studies. The School of Management creates incredible opportunities through events, activities, and associations, where students can network with employers. Connections with employers and the local business community happen through the Entrepreneur Speaker Series, the New Venture Fair, the annual New Venture Competition, Paths to Professionalism, and internships.