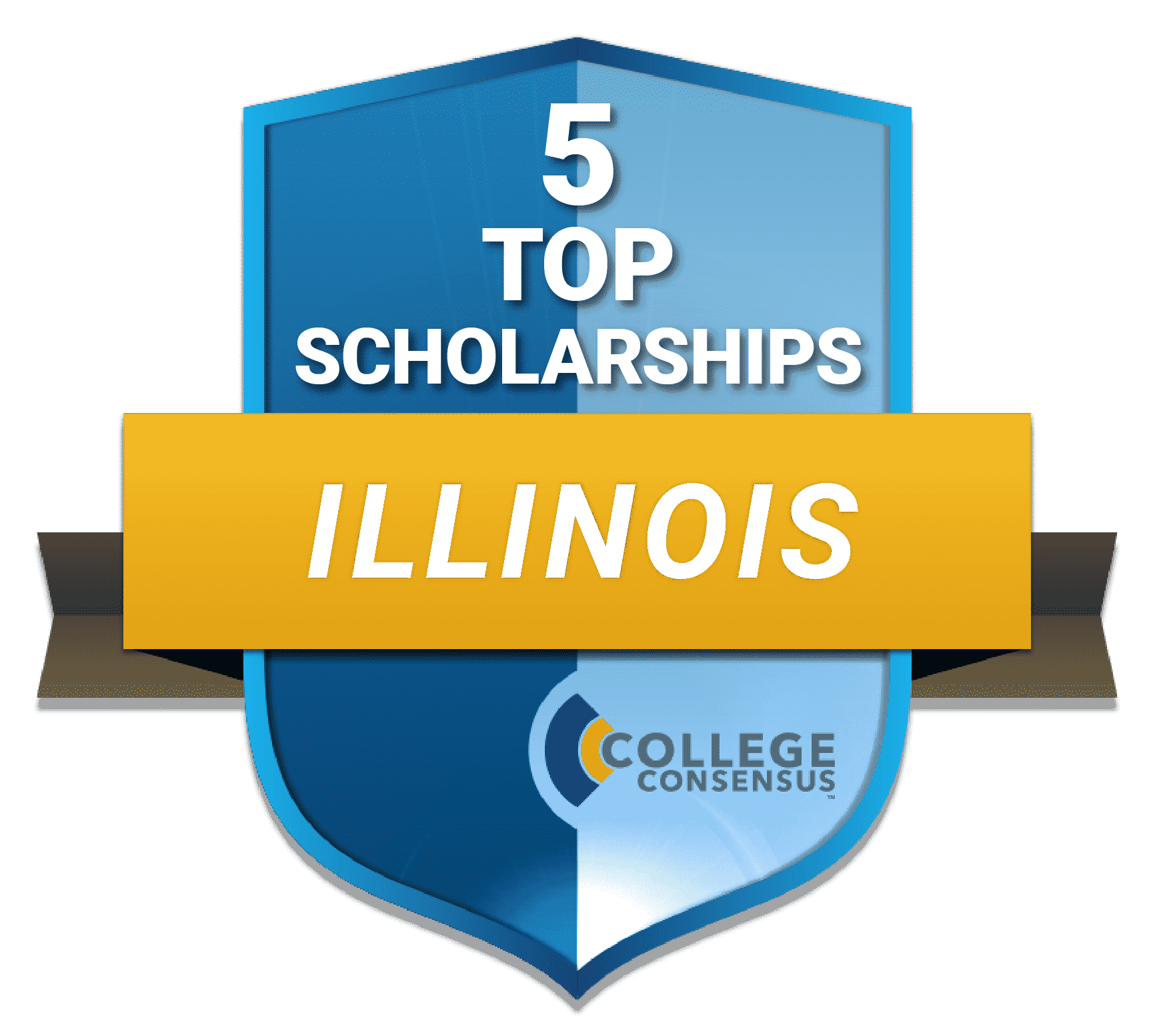 College students in Illinois are a highly diverse lot, from minority students in cities like Chicago and Springfield, to rural students in Illinois' agricultural regions, to working adults throughout the state. What they all have in common, though, is that nearly everybody needs help paying tuition. It is possible for a student to receive a full ride scholarship in Illinois from a college. Generally, a student finds these by searching "merit scholarships Illinois" because they're usually dependent upon either a student's academic achievement or sports performance. Therefore, it's important for a high school student or current college student to obtain a high grade point average. Even if a student doesn't earn a full ride scholarship, it's still possible to attend school for free by applying for other scholarships as well as financial aid through the government.
This listing of Illinois scholarships is designed by College Consensus to help you start your search. We are presenting relevant programs in alphabetical order.
See Also: Best Scholarships for Online Students
The Crystal Charitable Fund grants helps extend educational experiences during the spring and summer breaks for students in the Chicago area aged 13 to 19 who have difficult financial and family situations, and have good academic standing. These experiences can be a study abroad trip, a course on a college campus or other types of programs of this nature.
Up to $4,000 per student is provided. There is a rolling application basis, but applications must be received at least six weeks prior to the anticipated travel date. One of the few Illinois scholarships for youth while still in grade school, this provides a learning opportunity, as well as an opportunity to go beyond their normal environment.
2
Era L. and Frances L. Walker Scholarship
Another one of the scholarships in Illinois, The Era & Frances L. Walker Scholarship provides resources for African American males to pursue higher education. Applicants must be a senior and graduating from a Rockford Public Schools high school and have a GPA of at least 2.9. The student should also be involved in community service and share the values of family, service and the compassionate treatment of others. Applicants are also required to write an essay on why they are the best candidate to receive this scholarship, outlining the values, importance of family, service to the community and compassion towards others align with your values. The deadline for applicants is February 1 and the award amount varies.
Era L. Walker was a huge advocate of service, giving to his church and the community. He was employed by the City of Rockford Headstart program as a bus driver. His memory lives on through this scholarship, as he was a loving and caring son, father, grandfather and friend who was cherished by everyone he knew.
3
Herman J. Neal Scholarship
Minority scholarships for college in Illinois includes The Herman J. Neal Accounting Tuition Scholarship is part of the Illinois CPA Society Accounting Scholarship Program. This particular scholarship is awarded to African-American accounting students who meet the following qualifications: be a U.S. citizen or permanent resident. Applicant must also be an Illinois resident. The student must be enrolled in an Illinois college or university; have a cumulative GPA of at least 3.0 or equivalent; plan to sit for the Illinois CPA exam within three years of the scholarship application date, and demonstrate proficiency in the accounting course of study; demonstrate achievement and financial need. Additionally, the student must be a senior or graduate student for the upcoming academic year, but juniors are also eligible to apply.
This scholarship was established to memorialize Dr. Herman J. Neal's commitment to providing opportunity and education for African-Americans. Applications are due by April 1, and awards are $4,000 per year. The Illinois CPA Society was founded in 1903 and is one of the largest state CPA societies in the nation. Their goal is to help promote success through customized and convenient education, timely and relevant information, influential advocacy and opportunities in making professional connections.
4
The AAF-Greater Evansville Scholarship Award
The AAF Greater Evansville Scholarship award is for high school or college students. Applicants must plan to pursue careers in marketing, public relations, advertising or graphic design. If the applicant is already in college, their enrolment must be at a college in the following counties: Edwards, White, Wabash or Wayne. Applicants should also have a minimum GPA of 3.0, and submit a typed, one-page essay about themselves and why the skills and goals in this industry qualify them for the scholarship. Applications are due by March 25, and awards are $5,000.
The American Advertising Federation- Greater Evansville is a professional organization in Evansville which serves the advertising and marketing industry through educational programming, volunteer opportunities and network, and providing unique opportunities for members to share ideas, engage with experts and give back to the community.
Are there Scholarships for Single Mothers in Illinois?
Single mothers have a number of hurdles that interfere with them being able to obtain a college education. For one, a single mom may struggle to make ends meet after living expenses for her and her children. Fortunately, scholarships for single mothers in Illinois are available to assist. One option is the LouEllen Dabbs Scholarship. This is available to single parents who wish to pursue a career in banking, finance, or business. To qualify for this opportunity, a single must have a GPA of at least 2.35.
One of the other scholarships for single mothers in Illinois is the Frances M. Dunn Memorial Scholarship. Frances Dunn's children pick students to earn up to $500 each year. The program is only for single mothers. The individual must have a GPA of at least 2.5 to qualify. Additionally, a student interested in this program must submit an application and a resume.
The Michael S. and Jeffrey C. Hagler Scholarship Fund isn't just one of the scholarships for single mothers in Illinois. It's for any student who classifies as a non-traditional student. This program is only for students who wish to attend either Boise State University or the College of Western Idaho.
Another option for single mothers is to receive state or federal funding based on their household income.
Are there Scholarships for Veterans in Illinois?
A student may apply for an Illinois veterans scholarship through the state of Illinois' educational department. Veterans themselves may also qualify for an Illinois veterans scholarship through the school of their choosing. The state offers a grant program for veterans. It's known as the Illinois Veterans Grant Program. It provides funds for tuition and other mandatory fees students face when earning a higher education. This grant is available for students who want to attend a college or university supported by the state. The student must have had an honorable discharge and have served for at least one year in the U.S. Armed Forces. The state also offers grants for students who served in the National Guard. In addition, scholarships are available through organizations for students who served in the army.
Illinois' educational department offers scholarships for the dependents of veterans. The student must be the dependent of a veteran who was a prisoner of war, went missing in action, or who died while serving. The student may also qualify for this funding if his or her guardian became 100-percent disabled or died as a result of a disability he or he obtained while serving.
What Does it Take to Get a Full Ride Scholarship in Illinois?
One of the schools that offers full-ride scholarships in Illinois is Knox College. This educational institution offers merit scholarships for pupils who have high GPAs and SAT scores. Only students with the highest grades and scores may earn a full-ride scholarship. However, as one of the search results for "merit scholarships Illinois," a student may receive at least partial funding for having a GPA of at least 3.0. Other options for full-ride scholarships in Illinois are from schools like the Illinois Institute of Technology.
What is the Illinois Tax Credit Scholarship?
An Illinois Tax Credit Scholarship is for students who wish to attend a private school in Illinois but aren't financially able to attend. The Illinois Tax Credit Scholarship may cover the total cost of a student's tuition at a private educational institution in Illinois. Generally, the maximum is $13,000 per year, which is the average cost of education in the state. Students who have special learning needs may qualify for a larger sum of money. Usually, this amount is up to $26,000. Students who are gifted or who are learning the English language qualify for the Illinois Tax Credit Scholarship for special needs students.
The Illinois Tax Credit Scholarship program is through the Empower Illinois program. This is an independent association. It's a non-profit organization that helps students of various religions and even secular students.
To qualify for this program, a student must be a K-12 student. The income of the student's household must be below 300 percent of the federal poverty level. As of now, this is $73,800 for a family of four. Students who have a household income of 185 percent below the federal poverty level or less are top priority for this scholarship. The area a student lives is also taken into consideration for eligibility.
Related Rankings: 
Best Online Colleges in Illinois
Best Online MBA Programs in Illinois