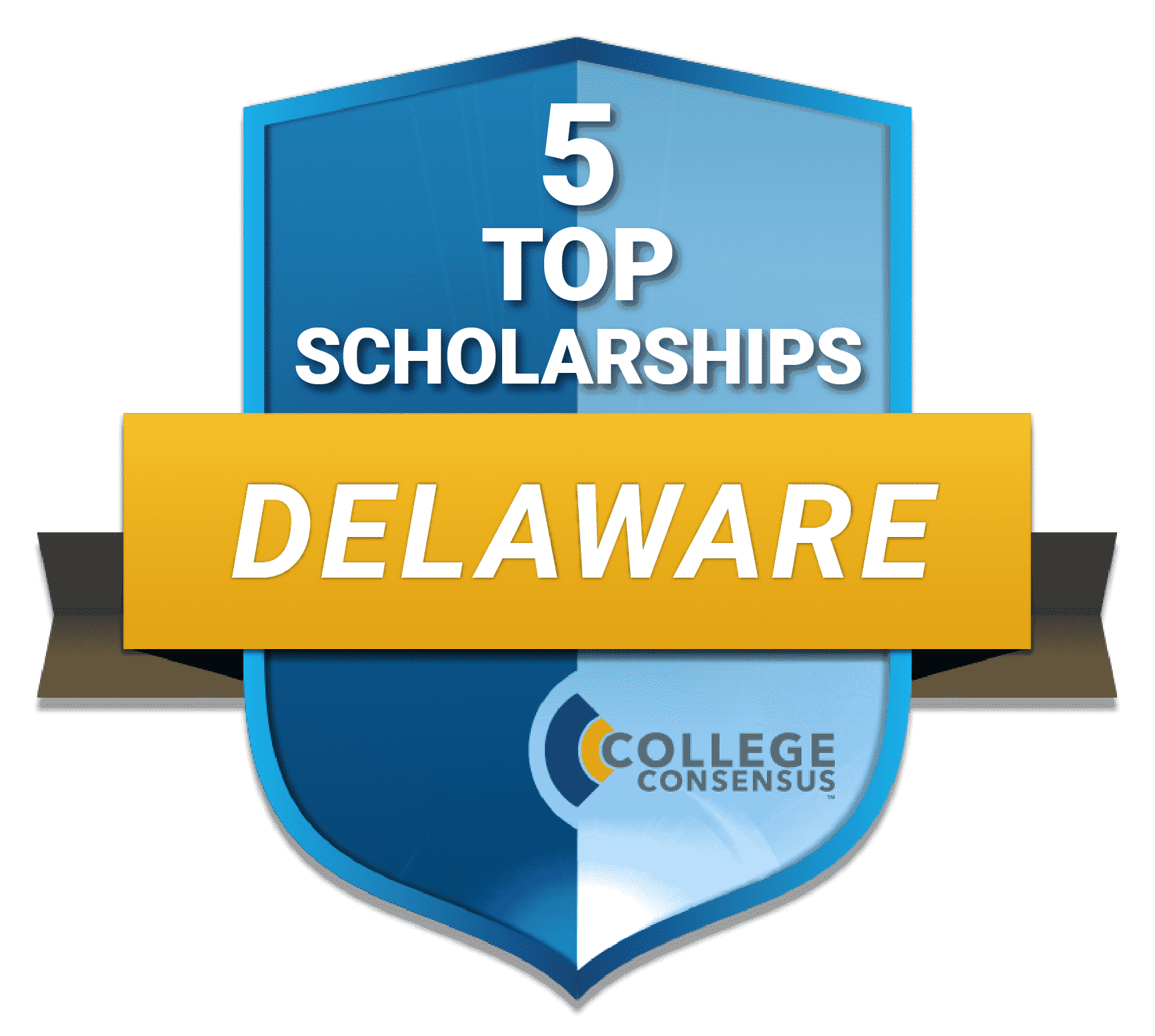 The First State – Delaware's official nickname, since they were the first to ratify the Constitution – is a tiny state, but it's packed with people. Like any other state, Delaware's college students rely on scholarships to pay for college. You may find scholarships through the state of Delaware. In fact, you may find both Delaware scholarships and grants, and it's as simple as performing searches and filling out the appropriate paperwork. It's vital when it comes to Delaware grants and scholarships that you act quickly once you receive acceptance in a school. You have deadlines you must adhere to be eligible for these types of financial assistance. Keep in mind, there's a limited number of scholarships available, and you could lose your chance to earn one if you wait.
College Consensus editors have put together a list of scholarships for Delaware students. We have organized scholarship programs alphabetically by title.
See Also: Best Scholarships for Online Students
Does the State of Delaware Offer Scholarships?
The Delaware Higher Education Office is a government-sponsored educational organization that oversees higher education in the state of Delaware. Students may visit their website or contact their office for an application for grants and scholarships. You'll need to fill out a separate application for each one of the Delaware Higher Education scholarships you think you're a candidate for. Delaware higher education scholarships are available for both fall and spring semesters. The state offers options for prospective nurses, teachers, and optometrists, among others. Delaware also has a grant program for both undergraduate and graduate students. This is money that the state provides to students to help them achieve an education. It doesn't need to be paid back unless the individual doesn't complete his or her education.
What is the Delaware Community Foundation?
The Delaware Community Foundation, also known as the DCF, is a community organization in the U.S. This nonprofit association offers funding to both individuals and organizations in the state of Delaware and the general vicinity. Numerous individuals, groups, families, and businesses contribute to DCF. Collectively, this organization allots about $15 million each year. This organization has a history of more than 30 years of helping.
Delaware Community Foundation scholarships and grants are available to students. The DCF offers more than 30 scholarships to students each year. One example is a scholarship that's available only to students with chronic illnesses. You can apply for a nursing scholarship or are attending a Historically Black College or University, among other options. In addition to Delaware Community Foundation Scholarships, students have the ability to apply for grants if they meet certain requirements. For instance, grants are available to individuals who suffer from certain circumstances, so they can better their lives.
What is the Delaware SEED Scholarship?
The Delaware SEED scholarship program is for full-time students who are going to complete a college degree program. SEED stands for Student Excellence Equals Degree and was created for students who aren't able to attend school due to financial blocks. Students must meet certain requirements in order to qualify for this scholarship program. For instance, high school students must have at least a GPA of 2.5 or higher. Additionally, the pupil must immediately attend the program following high school. Moreover, a student must not have any felony convictions. The only way a person is eligible for the Delaware SEED scholarship is if he or she is enrolled in a program that provides at least 24 credits each year. If the student would like to apply for the scholarship the following year, he or she must maintain a GPA of at least 2.5 in his or her first year. This scholarship is only for pupils who have a financial need. In fact, it's awarded to the students who have the most financial need based on their FASFA.
Are There Scholarships for Nurses in Delaware?
Since this position is so in demand, many scholarship programs exist for prospective nurses in Delaware. Those who aspire to find financial aid to attend college in a nursing program may find nursing scholarships in Delaware by searching online. One of the options for nursing scholarships in Delaware is the Delaware Nursing Incentive Program scholarship. Students may earn $5,000 for one year if they want to attend an undergraduate degree program in nursing. Students may qualify for the Delaware Nursing Incentive Program scholarship if they want to become an LPN or RN. LPNs or RNs may qualify if they would like to further their education in the field of nursing and earn a bachelor of science in nursing (BSN). To qualify for this scholarship, individuals who apply and are still in high school must have a GPA of at least 2.5. The same applies if a student is enrolling in an undergraduate degree program and applying for this scholarship for the first time. A pupil may apply for the incentive program up to three times but has to maintain a GPA of at least 2.75.
Bayhealth Healthcare Scholarship Fund is another option for nursing students. This option is for residents of Delaware, Maryland, and Virginia. Students may receive this scholarship for up to four years. It's not just for nursing students, either. Pupils who desire to earn other healthcare degrees may get this award, too. Prospective students could also enroll in the Margaret A. Stafford Nursing Scholarship program, but this is only given to one person each year. These are just some of the options.
Related Rankings:
Best Online Colleges in Delaware
Best Colleges & Universities in Delaware
When are Application Deadlines for Colleges